Welcome to my Scenes From the Week series! In these posts, I share the highlights from my previous week ranging from the simple, everyday things to the more memorable events. One of the primary reasons that I blog is to keep a scrapbook that I can look back on in the future, and these posts help serve that purpose.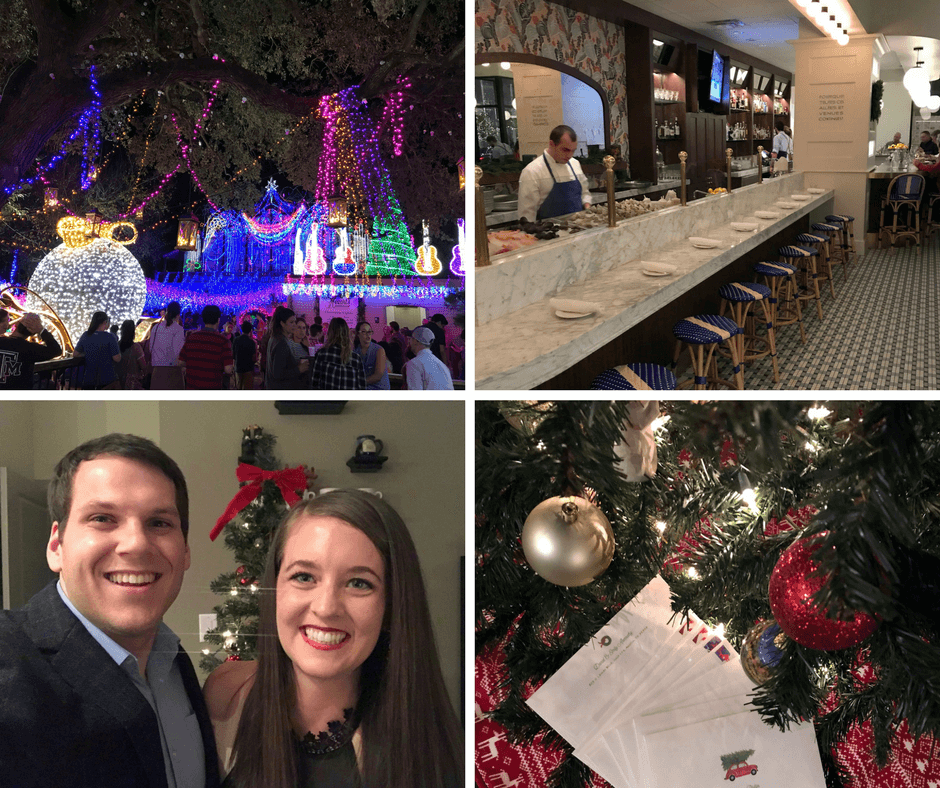 And the Christmas festivities continue! We are packing in as much Christmas as we can get around here. The season goes by in the blink of an eye, and I want to soak it all in. Also, we leave for Copenhagen on Tuesday (the day after this post is going up), and we cannot wait to continue the festivities by exploring the Christmas markets, Danish neighborhoods, castles, and Scandinavian food and coffee scene. We may be able to pop over for a quick trip to Malmo, Sweden too!
Photos from the week, top left to bottom right:
(1) Monday night we popped over to Mozart's Coffee Roasters for their annual Christmas light show. It was packed as always, even on a Monday night, but it was magical! Unfortunately, it was pretty warm on Monday, which takes away from the Christmasy feel, but we tried to make the most of it. 🙂
(2) Daniel's work Christmas party was scheduled for Wednesday night, but it ended up getting canceled. The party was set to go to Miracle on 5th St, a pop-up Christmas bar downtown, and then dinner afterward at Le Politique, a new French restaurant. We were so bummed when the party was canceled that we ended up going to the restaurant anyway. We loved it! The food we ordered (gnocchi with veggies for Daniel, and French onion soup and brown butter trout for me!) was wonderful, and the interior decor is beautiful!
(3) Friday night was my company holiday party. We never remember to get full-length photos of us dressed up for these parties, so this selfie in front of our Christmas tree will have to do!
(4) We got our Christmas cards in the mail this week! I spent Tuesday night stuffing envelopes while we watched Love Actually.
Not Pictured:
Stopping by our favorite local spot for coffee beans, Fleet Coffee Co. We love chatting with the baristas there about the different beans they are selling. We left with a wonderful 49th Parallel Colombian roast. Also, I mentioned that we were going to Copenhagen next week and that I was wondering if they happened to know of a good coffee shop or roaster there, thinking there was no way they'd know. But, to my surprise, one of them knew immediately to suggest The Coffee Collective as the place to go in Copenhagen. We will definitely be checking it out!
Wrapping nearly all of our Christmas gifts on Saturday. Yay! We just have a couple more gifts to buy.
Going to see The Nutcracker performed by Ballet Austin at the Long Center Saturday evening. The show was lovely. We had a pre-show dinner at Juliet. Their handmade spaghetti bolognese is fantastic.
Austin got snow this Thursday! Unfortunately, we really didn't see much more than the frost on the trees outside our windows because we worked from home Friday and chose to stay in our pajamas instead of venturing out to the snow. We saw lots of pretty, snowy photos that our friends took though!
A wonderful Sunday: The morning was spent at a beautiful advent service at church followed by breakfast tacos. In the afternoon, I ran to Target and then tried to prepare a little for our trip. Then in the evening, we went to our small group for pizza and a white elephant gift exchange.
Have a great week! (And please share any Copenhagen or Malmo recommendations below, if you have them!)
Click here to see all of my Scenes From the Week posts. I'm linking up with Biana at B Loved Boston for the Weekending link-up!
{Thanks for reading! Want to know a little more about me? I'm a CPA learning how to balance a career with frequent travel while planting roots at home in Austin, TX. When I'm not exploring my home city with my husband Daniel or cuddling with our chubby orange cat Banana, I'm probably planning, packing, traveling to, or daydreaming about our next adventure. After all, my travel mug collection is never complete. If you have wanderlust too, be sure to follow me on Instagram (and InstaStories!), Pinterest, and Facebook, or subscribe to my blog!}