Welcome to my Scenes From the Week series! In these posts, I share the highlights from my previous week ranging from the simple, everyday things to the more memorable events. One of the primary reasons that I blog is to keep a scrapbook that I can look back on in the future, and these posts  help serve that purpose.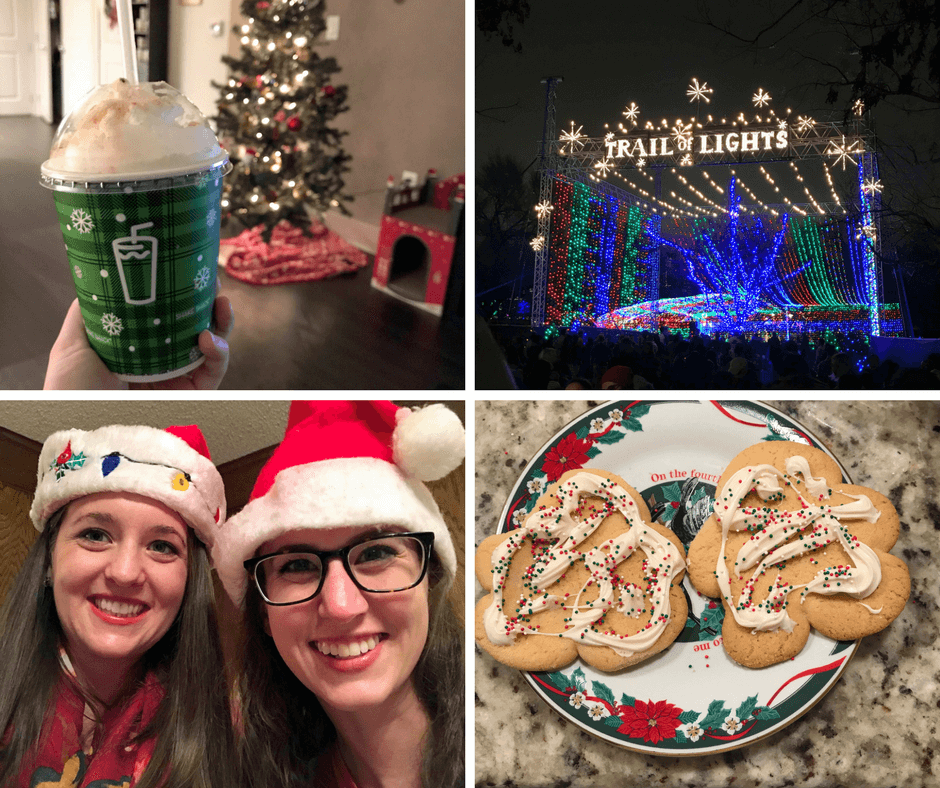 I hope all of you had a lovely, restful Christmas with family and loved ones. We certainly did. And it is still continuing! We spent a perfect Christmas weekend with my family in Waco these last few days, and the day that this post goes up, we are headed to Fort Worth to spend a few days with Daniel's family, including his sister, twin brother (and his fiance), and  grandmother who all flew to Texas to be together for the holidays! Since we are soaking up lots of family time and rest right now, I'm going to keep this post brief, sharing the true highlights of this Christmas week.
Photos from the week, top left to bottom right:
(1) Even though I was fighting a terrible cold all week (so bad that I stayed home from work), it was bearable because I used the extra time at home to watch more Christmas movies, read books, and enjoy my cozy Christmas apartment. Daniel was sweet enough to walk across the street for a Shake Shack Christmas Cookie milkshake one evening for me to enjoy while we watched The Holiday. (Have you tried this shake yet? It's delicious!)
(2) Despite being sick, I had in mind that I wanted to do a few Christmasy things around town before we left Austin for Christmas. One of those things was going to the Trail of Lights at Zilker Park. It's fun to get out and do these community events, especially during this time in our lives that we are able to live so close to the action!
(3) Saturday was our first family Christmas gathering at my great aunt's house in Garland. My immediate family all rode together in the mini van from Waco to Garland. In Garland we got to see our grandparents, aunt, cousins, and the newest addition to the family, my cousin's baby Ryker (who is a top contender for cutest baby on the planet!). Anyway, we ate a wonderful brisket lunch, played games, did our Secret Santa exchange, and all wore Santa hats, which is how the above photo of me and one of my sisters relates to this description. 🙂
(4) Christmas Eve and Christmas Day at my parents' house was absolutely perfect. We had a wonderful time with the family. We sat around the fire place and watched hours of Christmas movies, read books (I finished Mr. Dickens and His Carol and loved it), exchanged gifts, ate lots of snack foods (including my grandmother's delightful homemade cheese ball), played games, and decorated Christmas cookies. Our poor gingerbread men sugar cookies got fat in the oven, and I have zero cookie decorating skills. But they were delicious! I'm going to be looking back fondly on Christmas 2017 for years to come!
Not Pictured:
A stop into the cute Christmas pop-up bar, Miracle on 5th, at The Eleanor in downtown Austin. It was adorable and lots of fun to see, but it is quite the wait both to get in and to get drinks.
Trying out another delicious bag of holiday coffee beans, Verve Coffee Roaster's Holiday Blend, which was a definite favorite for us!
A beautiful Christmas Eve service at my parents' church where we were reminded of the true reason for this beautiful season – the birth of our Lord & Savior.
Have a great week!
Click here to see all of my Scenes From the Week posts. I'm linking up with Biana at B Loved Boston for the Weekending link-up!
{Thanks for reading! Want to know a little more about me? I'm a CPA learning how to balance a career with frequent travel while planting roots at home in Austin, TX. When I'm not exploring my home city with my husband Daniel or cuddling with our chubby orange cat Banana, I'm probably planning, packing, traveling to, or daydreaming about our next adventure. After all, my travel mug collection is never complete. If you have wanderlust too, be sure to follow me on Instagram (and InstaStories!), Pinterest, and Facebook, or subscribe to my blog!}