Welcome to my Scenes From the Week series! In these posts, I share the highlights from my previous week ranging from the simple, everyday things to the more memorable events. One of the primary reasons that I blog is to keep a scrapbook that I can look back on in the future, and these posts  help serve that purpose.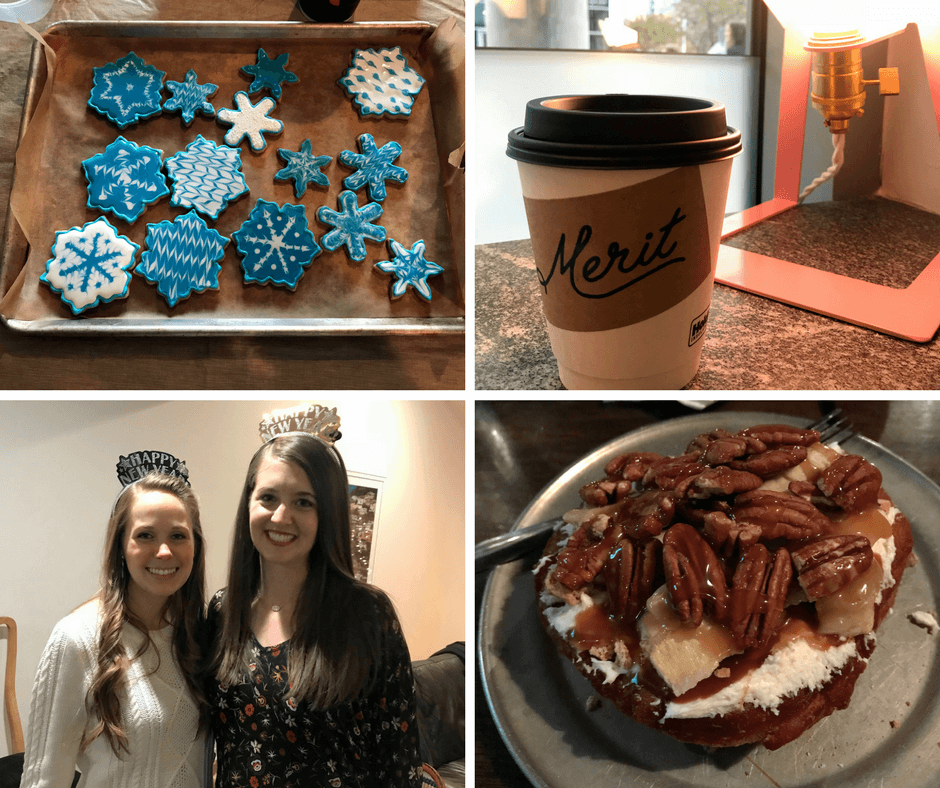 Happy New Year! I hope that you are having an amazing, refreshed start to 2018. I'm feeling very motivated this year to tackle my goals and get things back in order. I'll be sharing my thoughts for the new year in an upcoming post. We spent the few days following Christmas in Fort Worth with my in-laws and extended family, and we had so much fun. We drove back to Austin on Friday night, and then we had a wonderful New Year's Eve weekend with time spent both with friends and some time spent staying home.
Despite this new year motivation, I am really struggling to let go of Christmas…. Christmastime was so wonderful this year. I basically started celebrating two months ago, so you'd think I'd be ready to move on, but I'm really not. I've told myself I need to take down Christmas stuff by this Friday before we have guests for the weekend, so I'm soaking it in over the next couple of days.
Also, I had so much leftover vacation that I'm taking this week off from work (on top of last week). I'm calling this my "nesting week" – I'm organizing, planning, dreaming, writing and reading. It's glorious! Now, on to the specific highlights from the week!
Photos from the week, top left to bottom right:
(1) My mother- and sister-in-law are so, so talented. They made and decorated these cookies to pass out as Christmas gifts! I told Lazara (my mother-in-law) that she should open up a cookie shop. I did decorate one myself, but that one is not in the photo for obvious reasons. 🙂
(2) Back in Austin, we went to the new coffee shop in town, Merit Coffee Roasters, after church on Sunday. We loved it! It has already made my list of top coffee shops in Austin, and as an added bonus, it is the only one in my favorites that roasts their own coffee beans! We had visited the original location a couple years ago when we were in San Antonio (formerly called Local Coffee), and that visit was the beginning of our journey into the world of coffee. It was one of the first places where we asked questions about the coffee beans used and methods of brewing.
(3) On New Year's Eve, we went to Kaelin and Andres's house for their NYE Open House. It was so fun to catch up with them after not seeing them for a month. We didn't stay until midnight because Daniel was getting sick, and I just don't stay up late anymore, so by 11pm, we were home on the couch watching the NOLA NYE Countdown to midnight. We went to bed shortly after. It was wonderful! I feel so old….
(4) Since Daniel and I both had a free day on New Year's Day, we decided to let ourselves have a few more treats before starting to count calories for a January eating "reboot". We ended up having more than just a few treats. We made pancakes and eggs for breakfast, had chips and queso at Alamo Drafthouse during a movie, ate Indian food at Tarka for dinner, and ended the evening at Gourdough's for donuts. I ordered the donut in the picture, Granny's Pie, and it. was. INCREDIBLE. It was my first time to go to the actual brick-and-mortar location (and not the food truck), and we had a great time enjoying our final indulgence of the holidays before heading home for a cozy night in.
Not Pictured:
Going to see the new Star Wars movie with Daniel's family. I am not super into Star Wars, but I LOVED this movie. It had such a good story with wonderful character development on top of some beautiful scenery and landscapes. I would watch it again.
Playing a fun couple of rounds of The Name Game with Daniel's family. This game has various names – you've probably played some version of it. Each player writes down three things (anything you want) on three slips of paper, and then you go through four rounds of drawing the slips, and in each round, the person who draws has to do something different to make their team guess what they drew (the first round, you describe, the second, use one word, third, charades, and fourth, make sound effects). We had lots of laughs together!
Daniel and I both had a little computer work we needed to do during our time in Fort Worth, and we discovered a new coffee shop that we just love, Craftwork Coffee Co. It's an adorable space with wonderful coffee. We went three times in three days!
Exchanging Christmas gifts with Daniel on Saturday. This was actually our first Christmas that we exchanged gifts that weren't experiences, and it was a lot of fun. We love giving each other experiences: travel, dinners out, spa treatments, etc, but it was a lot of fun to shop for Daniel this year!
Volunteering at our church's nursery on Sunday morning. We had the two-year-olds, and they were all so stinkin' adorable!
Enjoying NYE brunch at Kim and Jordan's house and getting to spend a little time with their sweet daughter Loretta
Finally starting to read Marie Kondo's The Life-Changing Magic of Tidying Up. I wanted something to motivate me during "nesting week", and this definitely has! I know I'm going to at least use her method for clearing out my clothing this week.
I got an in-shower bluetooth speaker for Christmas, and I am so excited! I've always wanted to be able to use time in the shower to listen to audiobooks. I'm starting out my "shower reading" by listening to Michael Hyatt's new book, Your Best Year Ever: A 5-Step Plan for Achieving You Most Important Goals.
Learning to truly love reading again. I've always loved reading, but I haven't been able to make much room for it in my adult life. I read 9 books in December, and I'm fairly certain I have never read that much in one month during my lifetime. Now, some of those books were really short, so I don't want to give myself too much credit, but it was still a lot of reading for me. This resulted in sparking a renewed love and motivation for books, and I'm excited to work toward my new (ambitious) goal of reading 40 books during 2018. I'm counting on having lots of reading time while nursing once baby is born in April.
Trying to work through all of our holiday roasts we received from our Mistobox subscription this year. I got a little over-excited and ordered way too many bags of coffee beans this month, but there were so many fun holiday roasts to try! So far, my favorite has been the Verve Holiday Blend. I just looked at Mistobox, and it seems like they have some of these holiday roasts still available as of the date of this posting, if you are interested!
Starting to work on my Power Sheets for the New Year. Bring it on 2018!
Whew, I had a lot to share this week! Have a great week and start to 2018, everyone!
Click here to see all of my Scenes From the Week posts.
{Thanks for reading! Want to know a little more about me? I'm a CPA learning how to balance a career with frequent travel while planting roots at home in Austin, TX. When I'm not exploring my home city with my husband Daniel or cuddling with our chubby orange cat Banana, I'm probably planning, packing, traveling to, or daydreaming about our next adventure. After all, my travel mug collection is never complete. If you have wanderlust too, be sure to follow me on Instagram (and InstaStories!), Pinterest, and Facebook, or subscribe to my blog!}