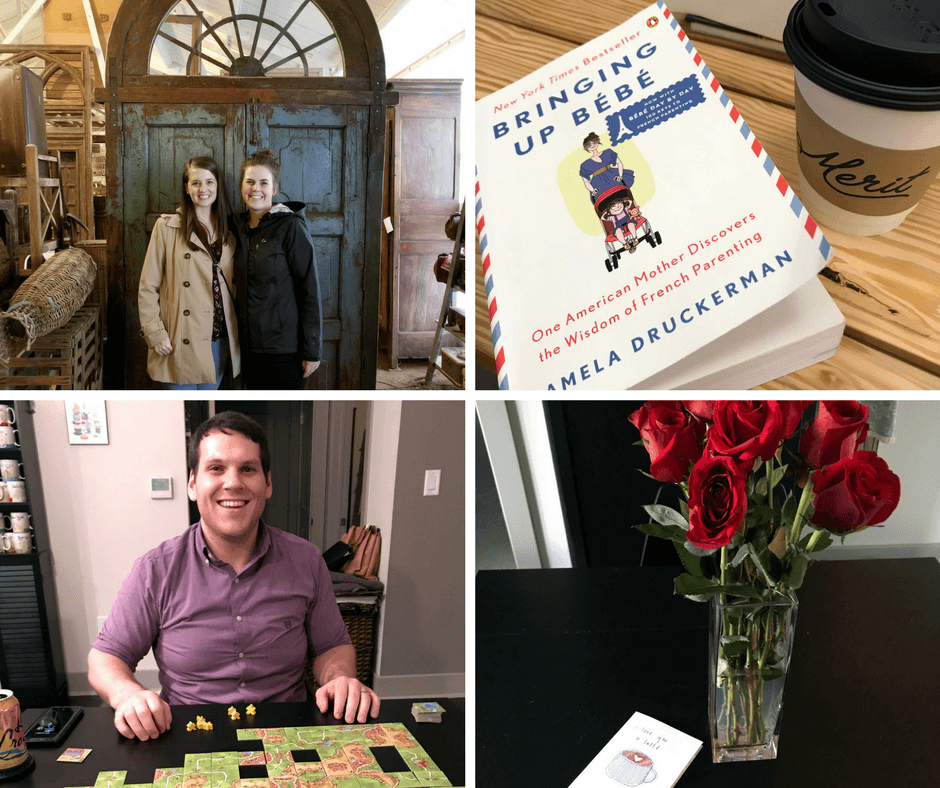 The first part of January was a wonderfully inspirational and slow-paced time. I had so many hopes and dreams for getting the year started on the right foot and having lots of time to enjoy my final months without a child. But I really should know better by now after six years in public accounting. Every year, once Christmas is over, and I take a few more days off in January, I head back to work, and then BAM…. All there is time for is work. Busy season in public accounting is no joke. Last week things finally started to slow down a little bit, but it was still a 55 hour week. Now, I don't want to sit here feeling sorry for myself, but I did want to mention this as the reason I've not posted on the blog in nearly a month.
So, what has been going on over here other than work? For the most part, not much, but we have been having fun planning for Baby Boy any time we get a free few minutes. I'm 30 weeks as I write this – only about 10 weeks to go until our end-of-April due date. We have built our registry and picked our pediatrician and nursery theme, but we still have a lot left to do. I'm already at the point where I have appointments every two weeks with my OB. Our hospital classes start in a couple of weeks. I read a fantastic book on raising babies (Bringing Up Bebe – pictured above). We are not really any closer to picking a name than we were when we first found out that he is a boy. All of the names that I love, Daniel doesn't love, and vice versa. There is still time though, so I'm trying not to panic about that. Everyday, we get more and more excited as we get closer to meeting our little man. Oh, and he is a wiggle worm, and we have lots of fun feeling him move and staring at my stomach as it does gymnastics. 🙂
A couple weekends ago, we did head out for a one night trip to Round Top with our friends where we stayed in a very cool and stylish Airbnb-turned-shipping container, ate at some wonderful restaurants, and browsed adorable antique stores and gift shops. In the top left photo above, my friend Kaitlin and I are standing in front of one of the many beautiful antique doors that could be purchased from this massive international antique shop. It was very cool to browse through furniture and artifacts from all of the world, including giant elephant doors from India!
This past week was Daniel's birthday. We celebrated by meeting friends at Batch Craft Beer and Kolaches (where we got to listen to some live jazz music) and saw the Black Panther this past weekend (pretty good movie!). For Valentine's Day, we had a wonderful dinner at Launderette, and Daniel got me some gorgeous roses and a very cute card. I was able to take this past weekend off, and it was glorious – I tried out a prenatal yoga class, spent several hours reading The Woman in the Window, played a game of Carcassone with Daniel, organized the clutter around the apartment, and got some neglected errands done.
I'm hoping this week will be slower at work, and if it is, I'm hoping to have a travel post up this week. We will just have to see how it goes. I've missed writing in this space so much!
Have a great week, everyone!
Click here to see all of my Scenes From the Week posts. I'm linking up with Biana at B Loved Boston for the Weekending link-up!
{Thanks for reading! Want to know a little more about me? I'm a CPA learning how to balance a career with frequent travel while planting roots at home in Austin, TX. When I'm not exploring my home city with my husband Daniel or cuddling with our chubby orange cat Banana, I'm probably planning, packing, traveling to, or daydreaming about our next adventure. After all, my travel mug collection is never complete. If you have wanderlust too, be sure to follow me on Instagram (and InstaStories!), Pinterest, and Facebook, or subscribe to my blog!}