Welcome to my Scenes From the Week series! In these posts, I share the highlights from my previous week ranging from the simple, everyday things to the more memorable events. One of the primary reasons that I blog is to keep a scrapbook that I can look back on in the future, and these posts help serve that purpose. I recently took a huge break from these posts (and all posts), but I'm excited to get back to them. I won't be back every week, but I want to share them when I can. Now that I have a baby boy, everyday moments are extra special!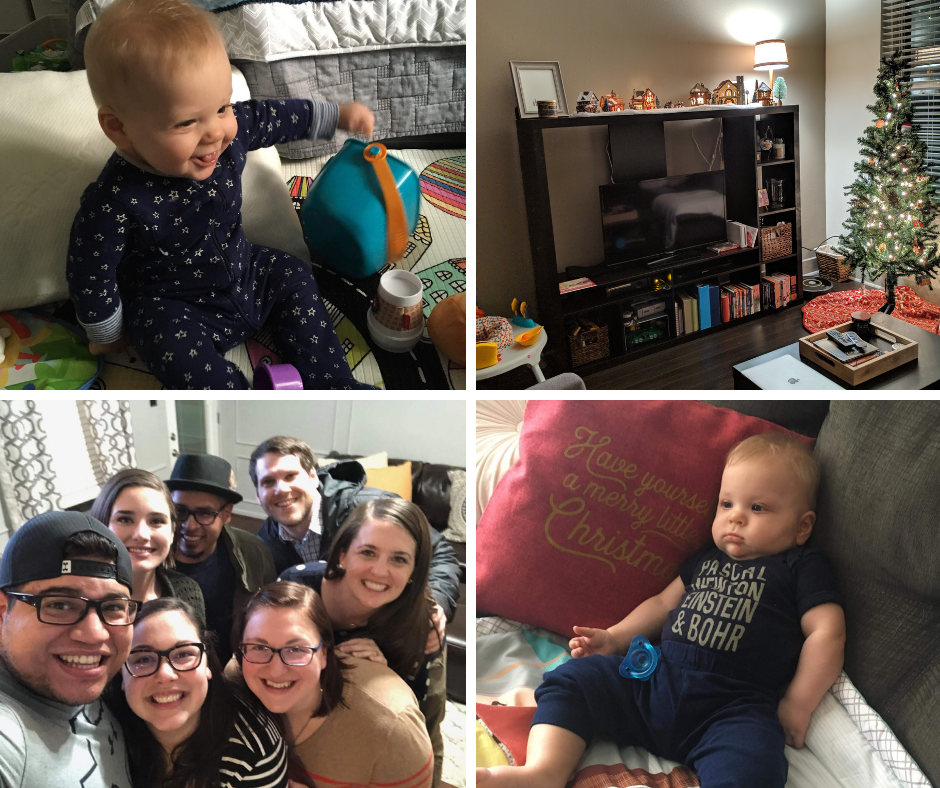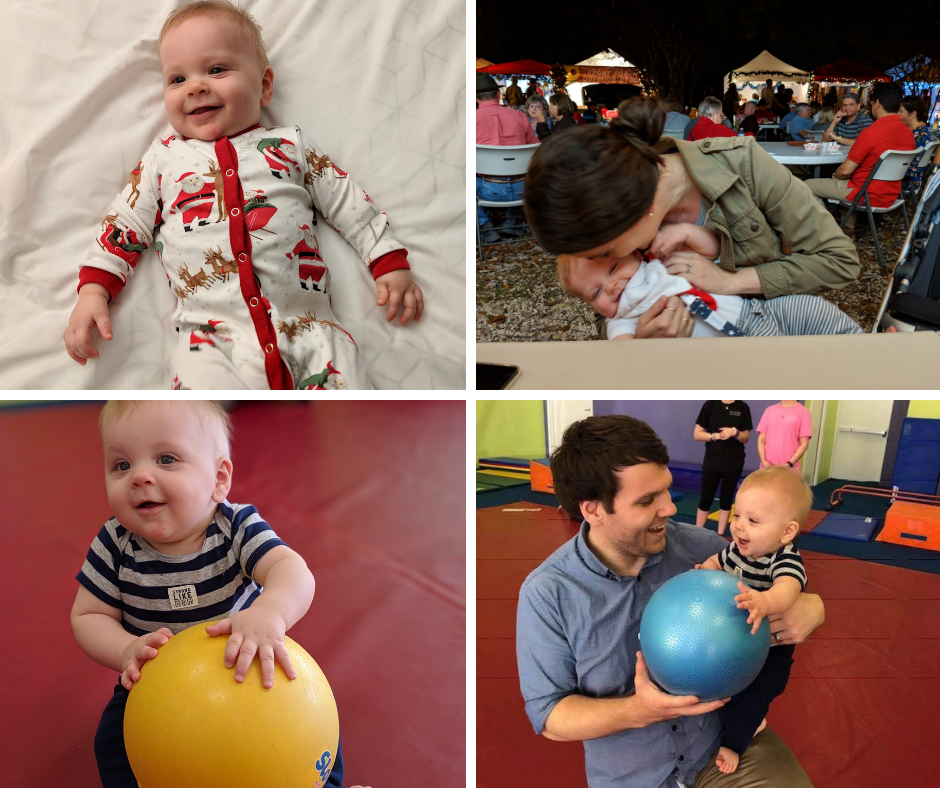 Carson is taking over the blog! For his first feature in Scenes from the Week, I'm sharing our time during Thanksgiving week and the week after. The week of Thanksgiving also happened to be my first week back to work since having Carson in April. It's been a big time of change for us, but so far, things have gone well.
Photos from the week, top left to bottom right:
(1) Carson loves playtime every morning in his pjs. Two of his favorite toys right now are his coffee cup teether and his bucket of blocks!
(2) We finished putting up our Christmas decor on Thanksgiving. We had a wonderful Thanksgiving morning where we watched the Macy's Thanksgiving Day Parade while decorating the tree and eating pumpkin cinnamon rolls. After decorating, we made our way to Fort Worth to spend the rest of Thanksgiving Day and the week with Daniel's family.
(3) While we were in Fort Worth, we got together with our high school friends at my friend Becca's new house in Dallas. We had a fun night of conversation, pizza, and games! It's always good to get back together with them.
(4) Carson sure was full after his Thanksgiving feast! Just kidding, this was just taken after he drank a really full bottle. 🙂
(5) Last weekend we took an overnight trip to New Braunfels to visit their German Christkindlmarkt and to go to my cousin's baby girl's birthday party in San Antonio the next day. We put Carson in Christmas jammies Friday night so that he'd wake up ready to be festive on Saturday, December 1st!
(6) At the Christmas market, we wandered past the various stands and gluhwein, and afterward, we sat down with German sausages to listen to the local community brass band play Christmas carols. Carson had a lot of fun and couldn't stop giggling and staring at all the decorations and people.
(7) & (8) We had a lot of fun at my cousin's two-year-old's birthday party at The Little Gym. Carson was the youngest kid there, but he still had a lot of fun!
Not Pictured:
Carson army crawling faster and faster (aahhh!!)
Lots of Christmas shopping on Cyber Monday (I'm basically done!)
Working on some fun photo projects through Artifact Uprising
Seeing our good friend Elisha from college on our way out of San Antonio
I hope that everyone has a great week!
Click here to see all of my Scenes From the Week posts. I'm linking up with Biana at B Loved Boston for the Weekending link-up!
{Thanks for reading! Want to know a little more about me? I'm a CPA learning how to balance a career with motherhood and frequent travel while planting roots at home in Austin, TX. When I'm not exploring my home city with my husband Daniel or cuddling with my baby boy Carson or my chubby orange cat Banana, I'm probably planning, packing, traveling to, or daydreaming about our next adventure. After all, my travel mug collection is never complete. If you have wanderlust too, be sure to follow me on Instagram (and InstaStories!), Pinterest, and Facebook, or subscribe to my blog!}