Welcome to my Scenes From the Month series! Formerly called Scenes From the Week, I have started sharing these monthly instead. In these posts, I share the highlights from my previous month ranging from the simple, everyday things to the more memorable events. One of the primary reasons that I blog is to keep a scrapbook that I can look back on in the future, and these posts help serve that purpose. I recently took a huge break from these posts (and all posts), but I'm excited to be back to them. Now that I have a baby boy, everyday moments are extra special!
Photos from the month, top left to bottom right: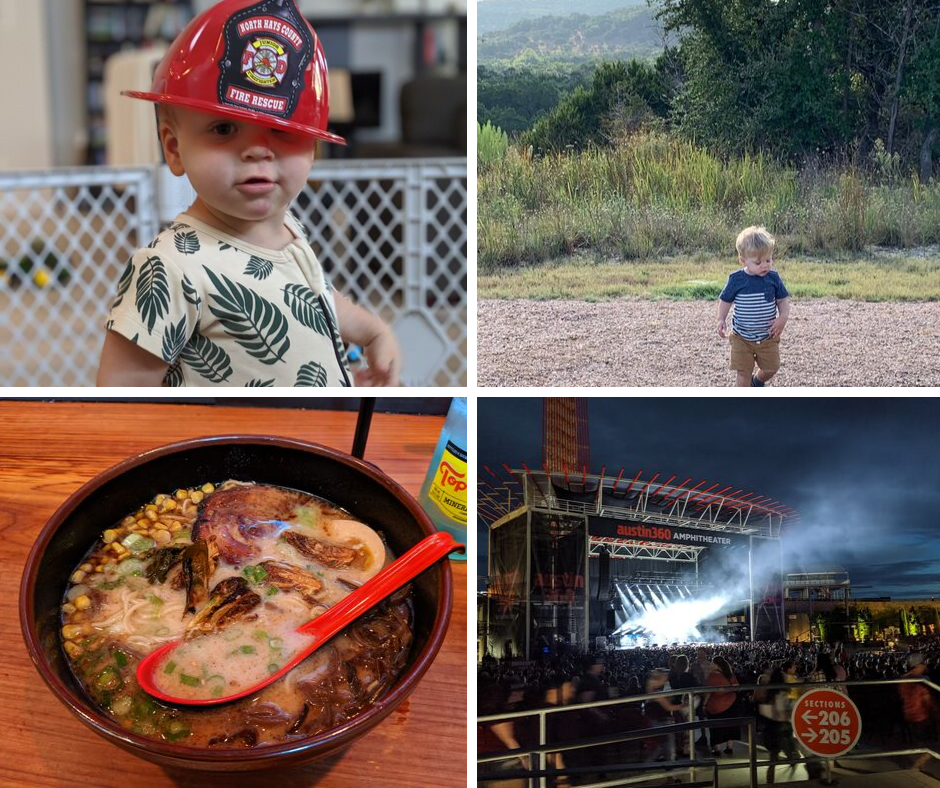 (1) Carson got to stop and "Touch a Truck" at a local fire station event, and he came home with this fun hat! We've played with it all month long!
(2) Even though the heat has still been brutal here in Texas all throughout September, we still got outside for walks in the neighborhood as much as we could. We can't wait for walks in nice, cool fall weather, but at this rate, that could be in December….
(3) Carson continued to be sick in the early part of September (after being sick most of August). We had planned for him to go stay with my parents over Labor Day weekend, but because he was too sick to travel, my parents came here instead. That meant we got a couple date nights in including a trip to our old fave, Ramen Tatsu-ya (ramen pictured here) and a new place (to us) near our new house called Tillie's!
(4) We got to go on a couple other date nights this month, including a Tuesday night at The National concert!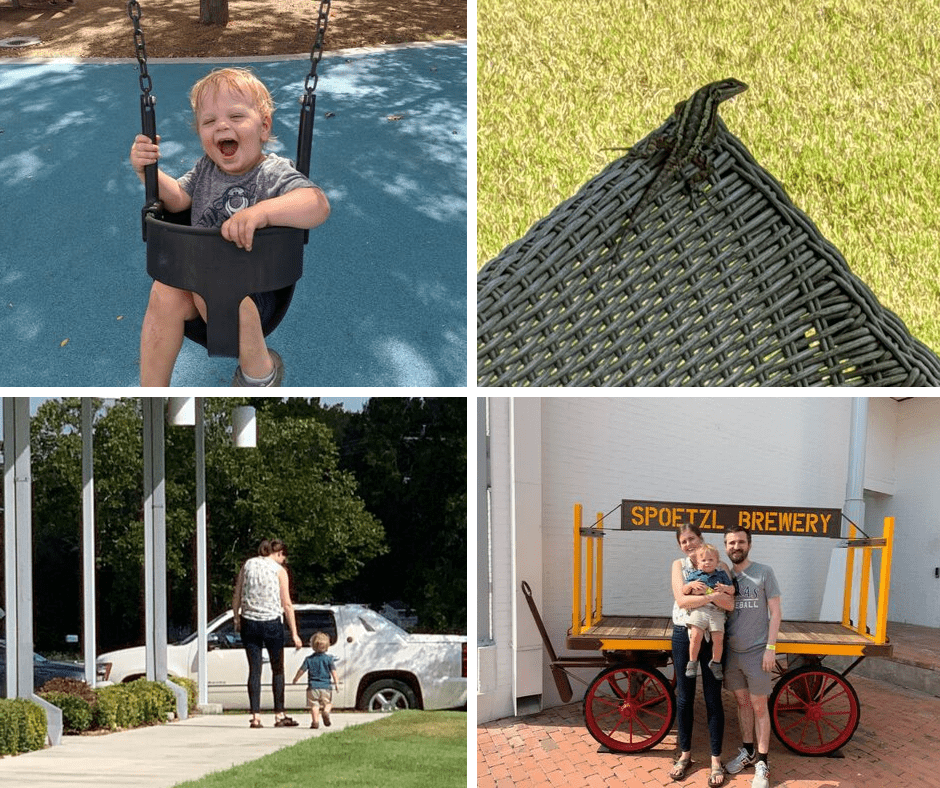 (1) Carson didn't know how to feel about swings for a while, but now I think we've finally convinced him they are fun!
(2) We have this cutie as a regular visitor on our back patio. He is there a lot. I think he thinks our patio furniture is comfy. 🙂
(3) & (4) My sister Ellen and her FIANCE Lane (ahh!) came for a visit one weekend this month. We had a fabulous time hanging out at our house and taking a little day trip out to Shiner. Aunt Ellen had fun following around Carson for a long time at the brewery.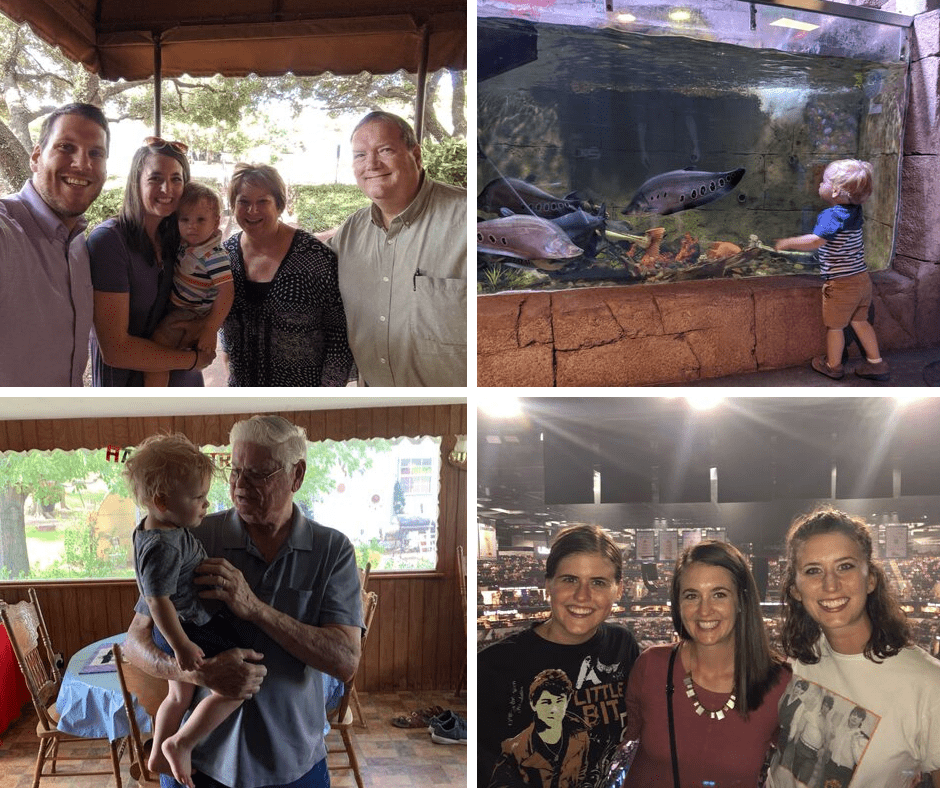 (1) Our big trip for the month was a drive out to Fort Worth. We mostly spent time with Daniel's family, and our big activities were outings to Forest Park Miniature Train for a ride and….
(2) the SeaQuest Aquarium. We all had such a great time together, and Carson was a huge fan of the train and the fish!
(3) While in Fort Worth, we also went to visit my grandparents (who live east of Dallas) Saturday afternoon. We loved seeing them, and they loved seeing Carson! That evening, after we dropped off Carson with my in-laws, we had a dinner and movie date. We had dinner at an old favorite, Mexican Inn, and saw Downton Abbey (so good!). Sunday, we visited Daniel's childhood church congregation. Then, on the way home on Sunday, we stopped in Waco to visit my other grandparents for a couple hours. It was such a wonderful weekend full of time with loved ones!
(4) During the final weekend of September, I drove to San Antonio to meet my sisters for Mexican food and The Jonas Brothers concert! We stayed at a hotel nearby after the concert and had a really wonderful evening together. The BIG NEWS of the month is that BOTH of my beautiful sisters got engaged, so we had a lot of fun talking about wedding plans too!
Not Pictured:
(1) Pulling out my fall decor! Now that I have a house, I have so many more places to put the decorations.
(2) Daniel's Keto diet – he's been on Keto all month long. I'm really proud of him for sticking it out for so long. I don't think I could do it!
(3) A trip to the Dripping Springs Farmers Market. Carson was waving at everyone and dancing to the live music. So fun!
(4) Playing with Carson's first KiwiCo box, which is a subscription box with age-appropriate science and art projects sent every other month. This month's theme is math, and I'm really impressed at the projects/toys they sent for Carson. He loves them!
(5) A lovely Sunday morning brunch in San Antonio with my sisters and parents on the last Sunday of the month
Favorites from the Month:
Book – The Turn of the Key by Ruth Ware – One of the best thrillers I've read in a while!
Music – Downton Abbey (Original Score)
Activity – Train ride in Fort Worth with my in-laws, sister-in-law, Daniel, and Carson. We all enjoyed the ride, but we especially enjoyed watching Carson take it all in!
Accomplishment – Putting out my Flying in the U.S. with Breast Milk & Pumping Supplies post. I've been wanting to share that post for awhile, and I'm glad I finally did.
I hope everyone has a lovely October, the first of my three favorite months of the year in a row! Click here to see all of my previous Scenes From the Week posts.
{Thanks for reading! Want to know a little more about me? I'm a CPA learning how to balance a career with motherhood and regular travel while planting roots at home in the Austin, TX area. When I'm not exploring my home city with my husband Daniel and baby boy Carson or cuddling with my chubby orange cat Banana, I'm probably either out on a playdate with my son or planning, packing for, traveling to, or daydreaming about our next adventure. After all, my travel mug collection is never complete. If you have wanderlust too, be sure to follow me on Instagram (and InstaStories!), Pinterest, and Facebook, or subscribe to my blog!}