Welcome to my Scenes From the Month series! Formerly called Scenes From the Week, I have started sharing these monthly instead. In these posts, I share the highlights from my previous month ranging from the simple, everyday things to the more memorable events. One of the primary reasons that I blog is to keep a scrapbook that I can look back on in the future, and these posts help serve that purpose. Now that I have a little boy, everyday moments are extra special!
Photos from the month, top left to bottom right: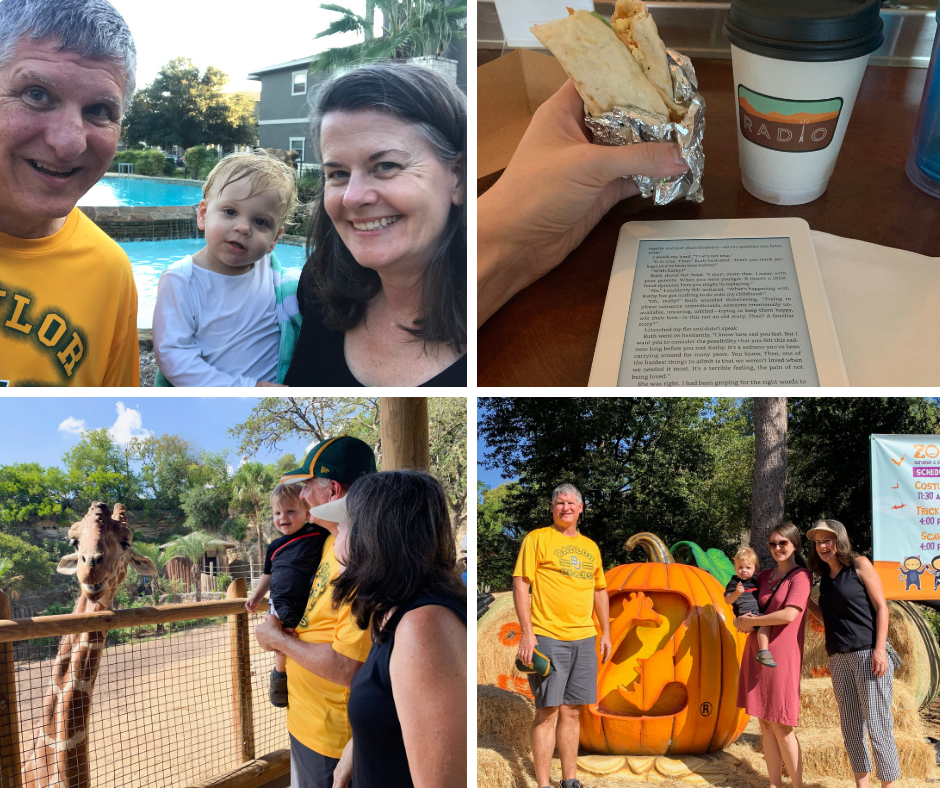 (1) On Labor Day weekend, my parents took Carson to their home in San Antonio for a grandkid weekend! Daniel took off to Denver with his friend, so it was just me at home for the weekend. I slept and slept and read and got things done around the house and….
(2) Visited a favorite coffee shop and breakfast taco place solo (so nice!) and….
(3) Drove to San Antonio for the day on Saturday to join my parents and Carson for a zoo day! Carson got to feed the giraffe lettuce and loved it! Such a sweet moment.
(4) It was blazing hot outside (because Texas…), but we still tried to enjoy the fall decorations that the zoo had for Boo at the Zoo!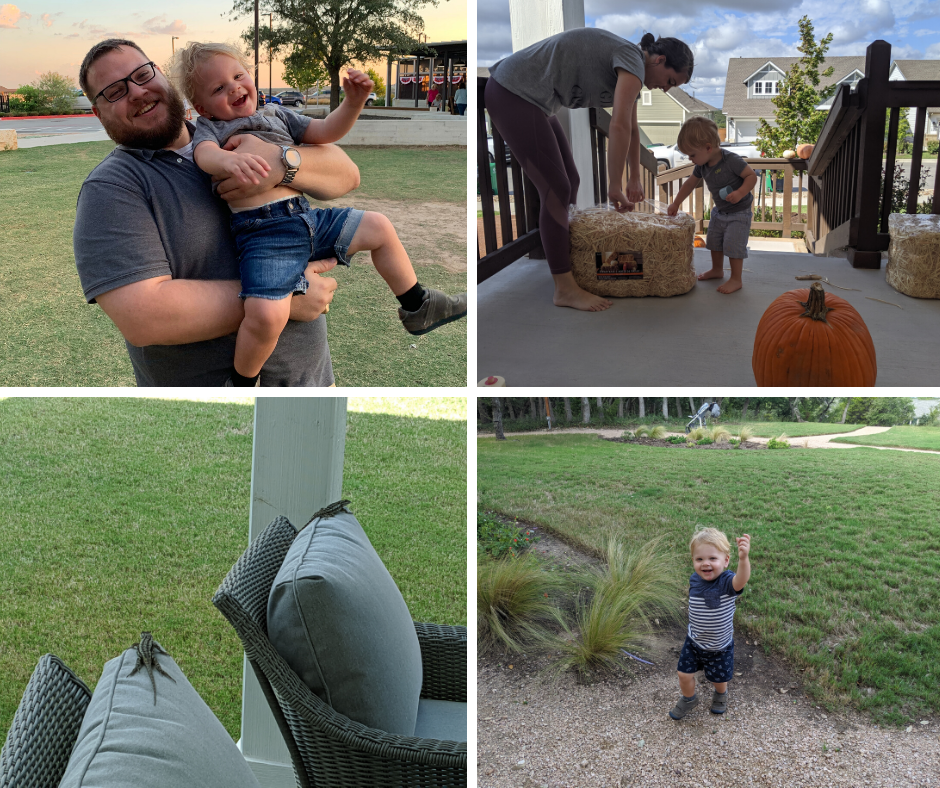 (1) Uncle Jacob (Daniel's twin brother) came for a visit! Carson wasn't feeling great during Jacob's whole visit, but he still managed to get in some giggles!
(2) We decorated the front porch for fall! I have been so excited for our first fall and Christmas in our new (and first) home together. Carson tried to help me out with the hay bales and pumpkins.
(3) Our lizard friend brought a pal to our back patio. This was the last time I saw them. The cold weather kicked in part-way through the month, so they have now left for another warmer home.
(4) We continued getting in as many neighborhood walks as we could! Carson loves to walk and explore.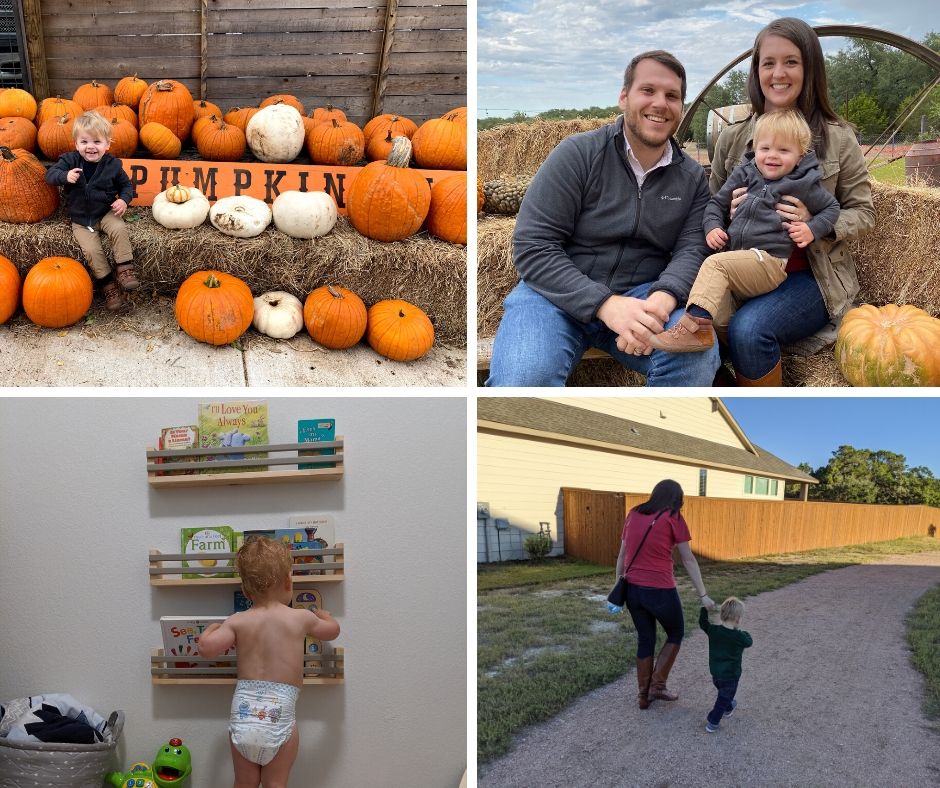 (1) We just had to go to a pumpkin patch! We picked one that a nearby restaurant had in their backyard. We got some cute photos, saw some friends, and enjoyed watching Carson bounce around in his first bounce house.
(2) Best family photo we could get with our wiggly 18-month-old!
(3) Carson loves to pick out a book from his shelves throughout the day. This is him picking his post-bath bedtime read.
(4) More family walks in the nice fall weather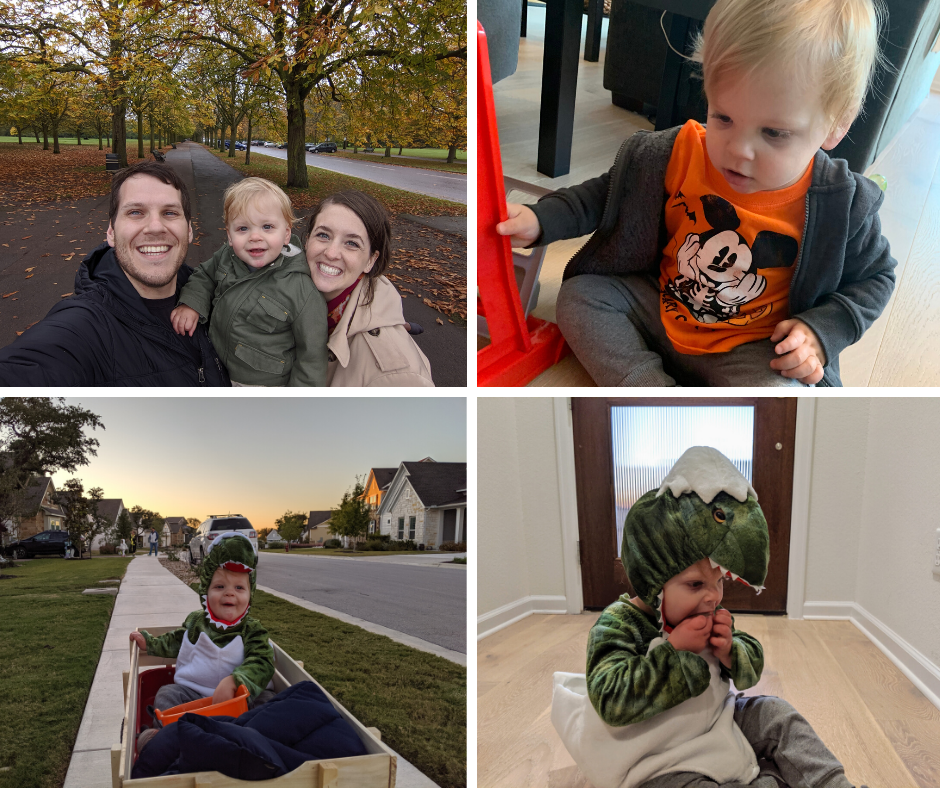 (1) The biggest event of the month was our family vacation to London! It was wonderful. Carson did so well for his first international trip.  I have so many photos to share from that trip, but I'll share those in a dedicated London post! This photo was taken while we explored the Greenwich area of London.
(2) This photo was the morning of Carson's second Halloween! I couldn't get him to pose for a photo, but he was wearing his cute Mickey Halloween shirt to daycare that day.
(3) And that evening, we took Carson trick-or-treating for the first time. He dressed up as a baby dinosaur!! He enjoyed riding around the neighborhood in his wagon, going up to houses to say hi and put candy from his bucket into their candy bowls (haha!), and….
(4) …trying out some white chocolate Reese's for the first time!
Favorites from the Month:
Book – The Witch Elm by Tana French. If you enjoy thrillers, mysteries, etc, you must read some of Tana French's books! This is her only book outside of her Dublin Murder Squad series (at least that I'm aware of).  I listened to it primarily on audiobook. It is long and a bit too detailed (IMO) in some parts, but overall I loved the story, the mystery, and the setting. All of her books take place in Ireland and make for cozy, fall mystery reads.
Music – We listened to a lot of Harry Potter soundtrack music in October!
Activity – Roadtripping around the Cotswolds on our vacation in England
Accomplishment – Getting our one-year-old to England and back in one piece, and being able to have a good time while doing it!
I hope everyone has a lovely November! Click here to see all of my previous Scenes From the Week posts and here for all of my Scenes From the Month posts..
{Thanks for reading! Want to know a little more about me? I'm a CPA learning how to balance a career with motherhood and regular travel while planting roots at home in the Austin, TX area. When I'm not exploring my home city with my husband Daniel and baby boy Carson or cuddling with my chubby orange cat Banana, I'm probably either out on a playdate with my son or planning, packing for, traveling to, or daydreaming about our next adventure. After all, my travel mug collection is never complete. If you have wanderlust too, be sure to follow me on Instagram (and InstaStories!), Pinterest, and Facebook, or subscribe to my blog!}