Welcome to my Scenes From the Month series!  In these posts, I share the highlights from my previous month ranging from the simple, everyday things to the more memorable events. One of the primary reasons that I blog is to keep a scrapbook that I can look back on in the future, and these posts help serve that purpose. Now that I have a little boy, everyday moments are extra special!
Wow! November was so full of memories I never want to forget. Looking back, it's hard to believe how much we packed into just a month. As a result, this post is going to have a lot more photos than I usually share in the Scenes from the Month posts.
Photos from the month, top left to bottom right: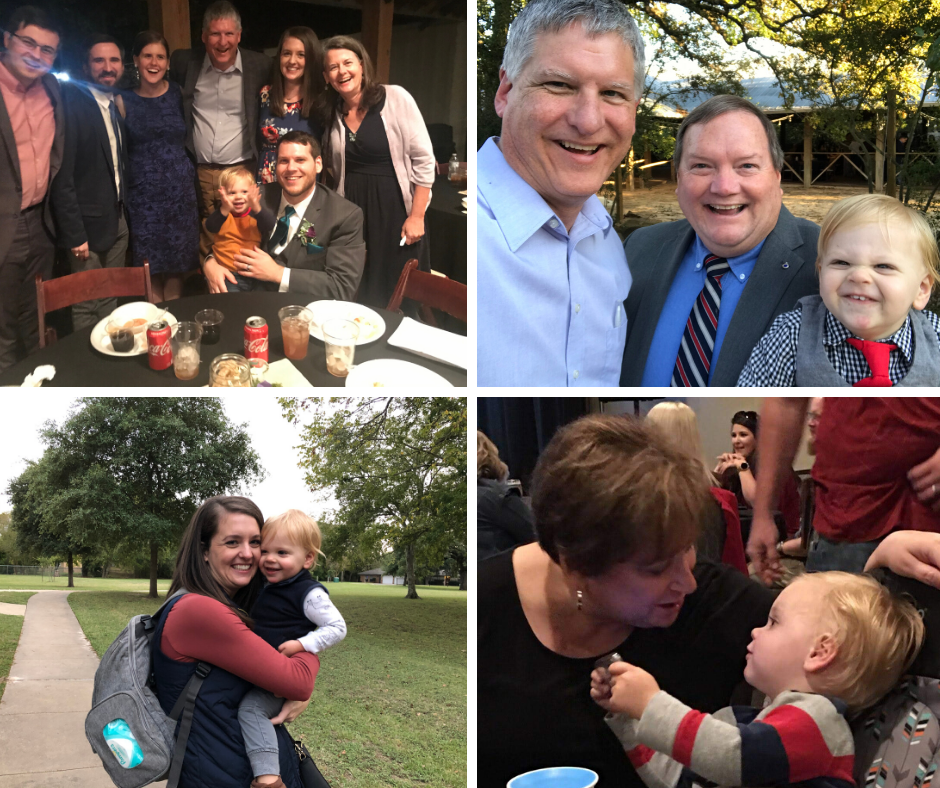 (1) November kicked off with Jacob's (Daniel's twin brother's) wedding! It was in College Station (Jacob graduated from A&M), so we shared a big house listed on Airbnb with most of Daniel's family and had a great weekend all together. Unfortunately I neglected to get a photo with the bride and groom, so I'm sharing this one of us with my immediate family members who were able to attend.
(2) Carson with his Grampa and Abuelo!
(3) While most people were working on wedding preparations, Carson and I spent quite a bit of time at playgrounds during the time leading up to the wedding.
(4) Carson and his Abuela at the rehearsal dinner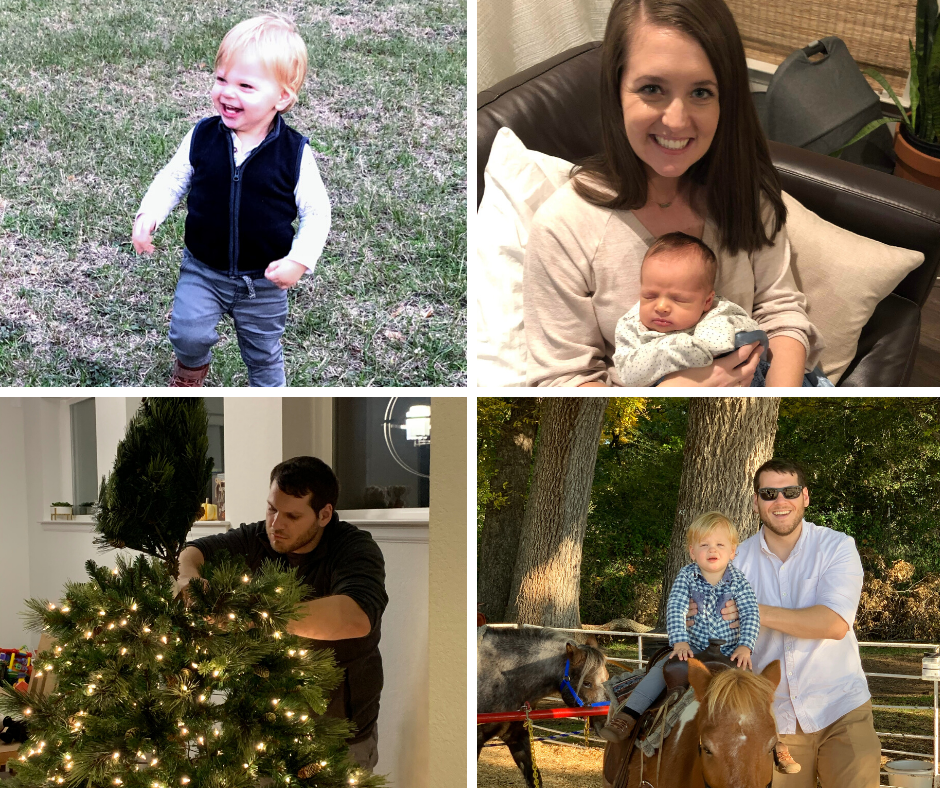 (1) The weather finally cooled down (for real) in Texas, and I have had so much fun dressing Carson up in fall outfits – cute vests, jackets, boots, and cute toddler skinny pants…. I love my handsome little man!
(2) I have several good friends who had baby boys in October, and I was able to visit two of them during November. This is me with sweet baby Julian, our friends Kaelin and Andres's son. It was so special to catch up with our friends, hear their birth story and early experiences with a newborn, and most of all, to cuddle sweet Julian!
(3) We've only had smaller apartment-sized Christmas trees before. This is our first Christmas in our first home, so we upgraded to a 7-foot tree that was on sale in mid-November. I can't wait to share photos of our home decorated for Christmas soon!
(4) We met up with friends John and Amber on the final weekend of the Sweet Berry Farm Pumpkin Patch. Carson had fun on his first pony ride!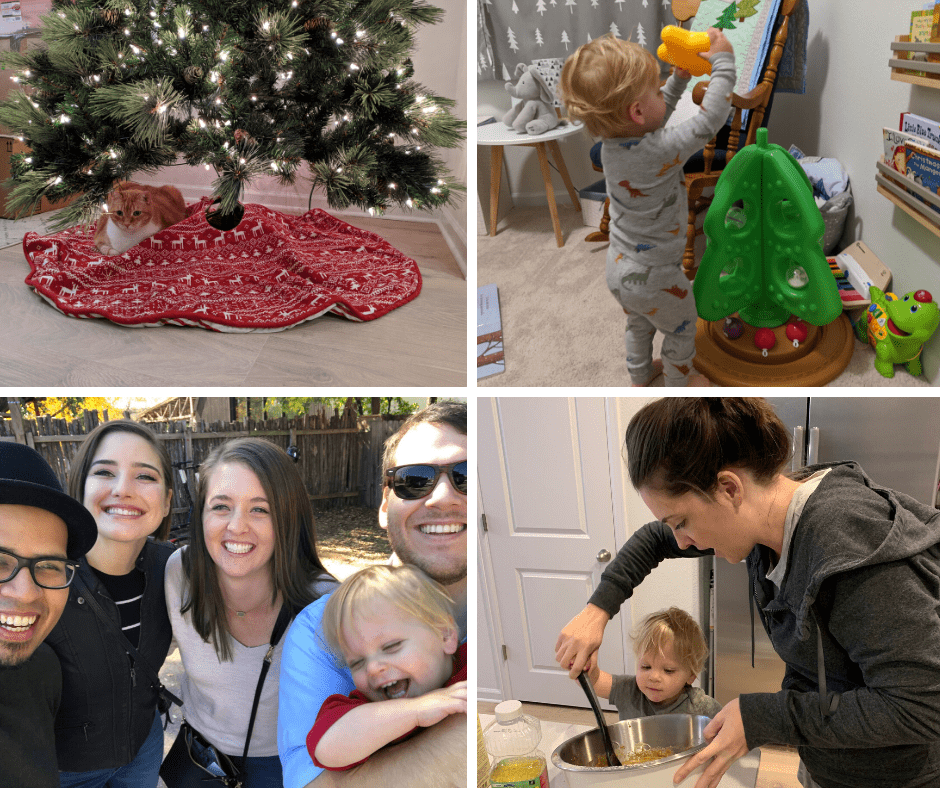 (1) Banana found his place under the Christmas tree, just as he does every year!
(2) Carson got his own cute little Christmas tree this year (linked here).
(3) We had brunch at Better Half with good friends Shannon and Jonathan the day after they performed in Austin last weekend. It was great to catch up. (P.S. You should check out their band Hello Shannon – they are extremely talented and have great music!)
(4) Christmas baking has begun in our house! Carson helped me make some Christmas sugar cookies.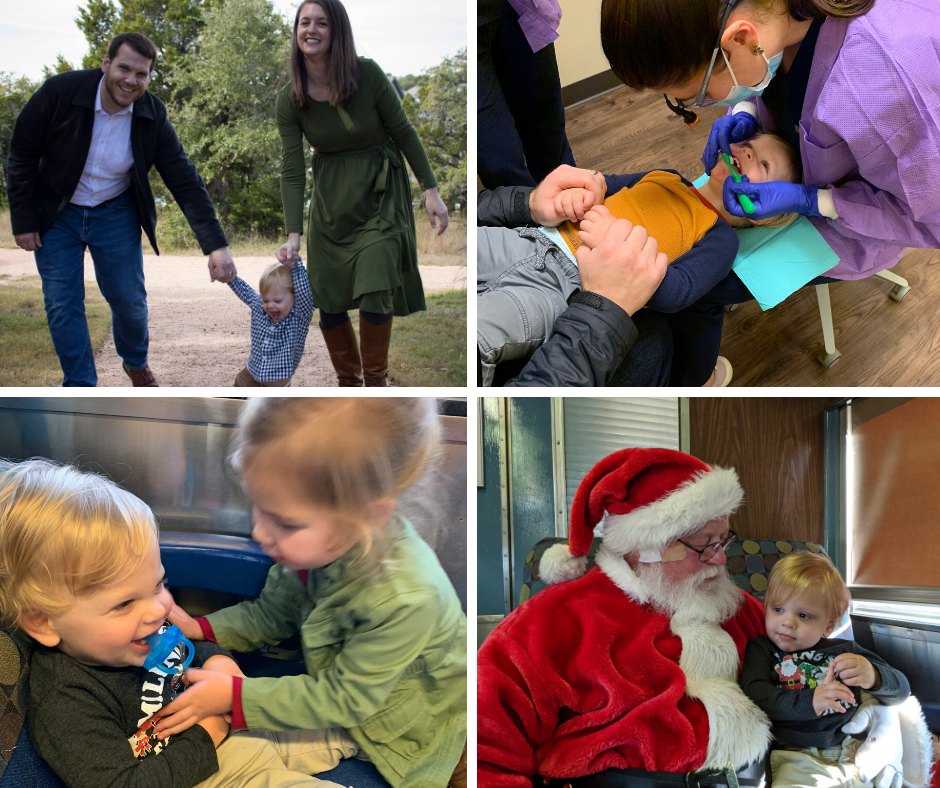 (1) We had a mini family photo session, and most of the photos turned out like this (#toddlerlife)! I actually love all of them because they represent the stage we are in now. We did get a couple especially really great ones that made this year's Christmas card. I'll share those after I get my Christmas cards in the mail!
(2) Carson had his first dentist appointment. He thought the dentist was funny at first (pictured here), but then started getting a bit uncomfortable having someone's hands in his mouth. Overall, it was a great first dentist appointment!
(3) Another major highlight of the month was going on the North Pole Flyer train with our friends Kim, Jordan, and Loretta. It is similar to the Polar Express train rides I've seen advertised for several years now. The train was decked out for Christmas, elves made balloon animals and passed out sugar cookies, Mrs. Clause read the North Pole Flyer story, and Santa was available for photos. Loretta and Carson had a great time together!
(4) Carson was very serious with Santa, but I think he liked him!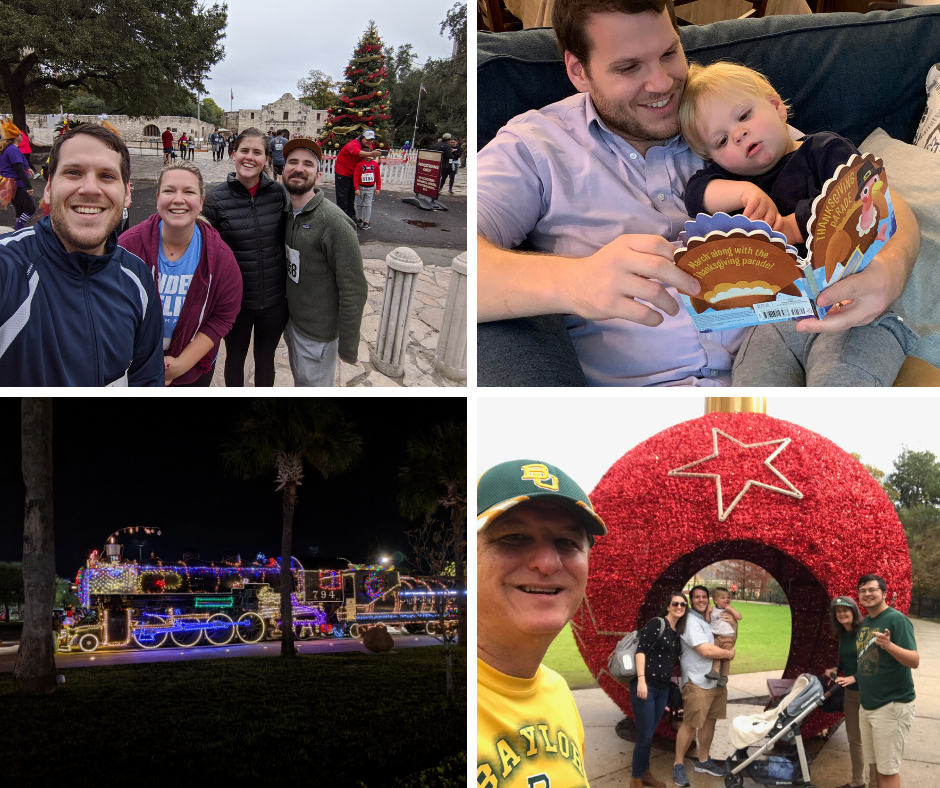 (1) November ended with some more extra special memories because we went to my parents' new home in San Antonio to celebrate Thanksgiving with my family! Thanksgiving morning began with a Turkey Trot for everyone except me, Carson, and Mom. I love to watch the Thanksgiving Day Parade in my pajamas, so Carson and I did that before I began making a couple dishes for the big meal.
(2) Carson and Daddy snuggled up for a Thanksgiving story later in the day.
(3) Daniel and I were able to sneak away for a date night over the weekend while my parents watched Carson. We had cupcakes at Bird bakery, coffee at Local Coffee, tapas at Toro Kitchen + Bar, and a drive around to look at Christmas lights. We passed this pretty Christmas train on the way to dinner. It was the perfect San Antonio date night!
(4) Saturday morning we walked around the JW Marriott Hill Country Resort & Spa right near my parents' house. Carson had a blast running around and burning off energy, and we all enjoyed the post-Thanksgiving walk and beautiful Christmas decor.
Favorites from the Month:
Book – Home Work: A Memoir of My Hollywood Years by Julie Andrews Edwards & Emma Walton Hamilton. This Julie Andrews memoir about her life during her time in Hollywood is just fascinating. I learned so much about her that I didn't already know. The book not only goes through details of her daily life on various movie sets but also dives into intimate details of her family and home life. I listened to Julie Andrews herself narrate this on Audible, and it was wonderful to hear the stories from the beloved woman herself.
Music – I start listening to Christmas music the day after Halloween, so I've had my Christmas Favorites playlist and the Christmas Choral Classics Pandora station on repeat! I also love the new Lea Michele Christmas in the City album.
Activity – Jacob & Jamie's wedding and Thanksgiving week
Accomplishment – Getting back to the gym (again!) – hope it sticks this time!
I hope everyone has a magical December! Click here to see all of my previous Scenes From the Week posts and here for all of my Scenes From the Month posts.
{Thanks for reading! Want to know a little more about me? I'm a CPA learning how to balance a career with motherhood and regular travel while planting roots at home in the Austin, TX area. When I'm not exploring my home city with my husband Daniel and baby boy Carson or cuddling with my chubby orange cat Banana, I'm probably either out on a playdate with my son or planning, packing for, traveling to, or daydreaming about our next adventure. After all, my travel mug collection is never complete. If you have wanderlust too, be sure to follow me on Instagram (and InstaStories!), Pinterest, and Facebook, or subscribe to my blog!}