Welcome to my Scenes From the Month series!  In these posts, I share the highlights from my previous month ranging from the simple, everyday things to the more memorable events. One of the primary reasons that I blog is to keep a scrapbook that I can look back on in the future, and these posts help serve that purpose. Now that I have a little boy (with another on the way), everyday moments are extra special!
2020 is off to a wonderful start for us! I felt like I got a good mix of stillness, family time, productivity, and change. It seems like everyone is complaining about how long January has been. I feel like time still went fast but maybe just had a bit more breathing room – isn't that what we all want? I loved it. While February is jam-packed, I'm hoping for a similar month to how January was.
Favorites from the Month:
Fiction Book – Such a Fun Age (Amazon affiliate link) by Kiley Reid. 
Nonfiction Book – The Road Back to You (Amazon affiliate link) by Ian Morgan Cron & Suzanne Stabile.
Music – Sleeping at Last Pandora station
Movie/TV – This is Us
Activity – Babymoon to Whitefish, Montana
Accomplishment – Getting into a morning routine
Photos from the month, top left to bottom right: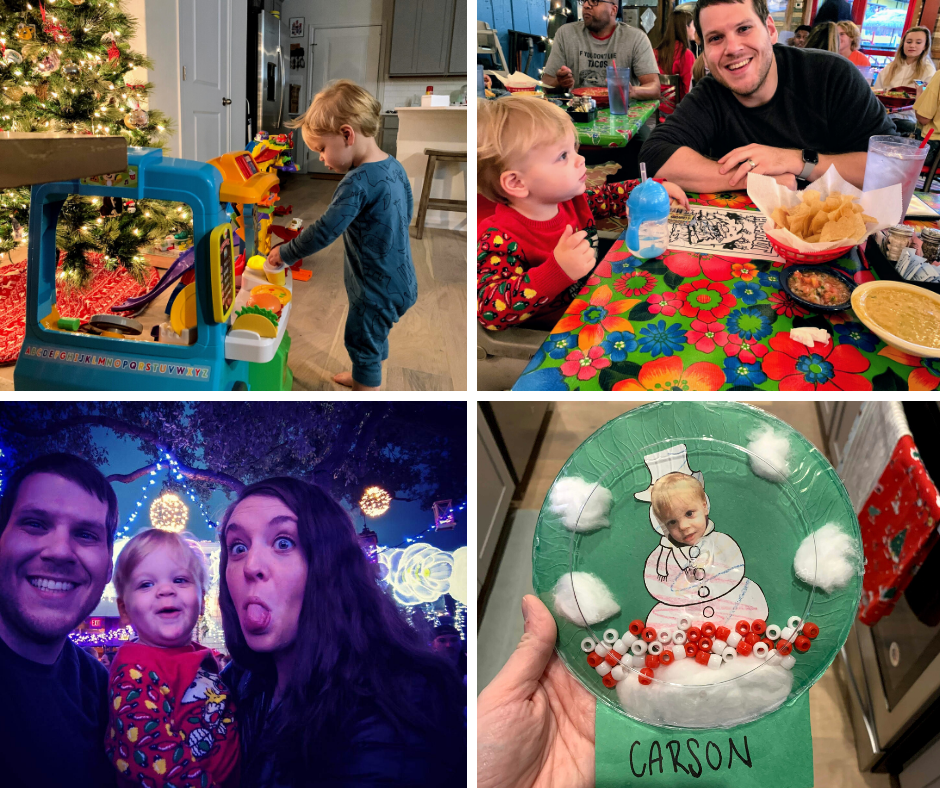 (1) We started 2020 off with some more Christmas celebrations! New Year's Day was our Christmas morning at home. It was so fun to watch Carson see his new toy food truck for the first time and open up all his presents.
(2) That same day we headed to Austin for Mexican food at Hula Hut and then….
(3) the Christmas lights show at Mozart's! We had a wonderful New Year's Day.
(4) Carson brought home a Christmas craft from daycare. This one both cracks me up and makes my heart melt at the same time.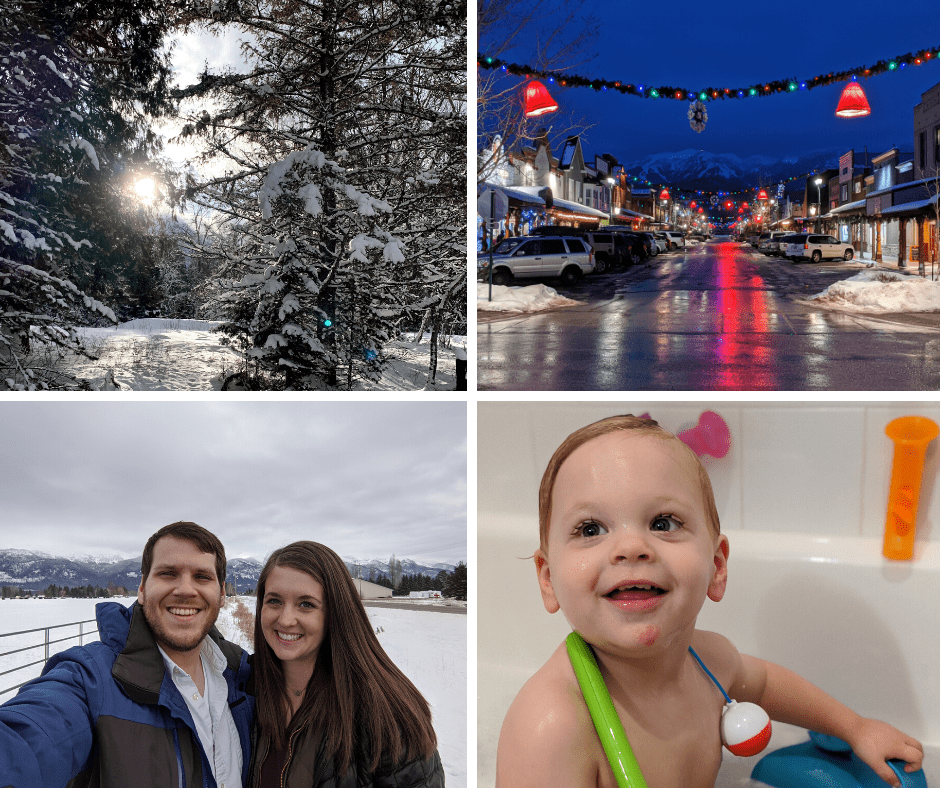 (1) Daniel and I took off to Whitefish, Montana for a long weekend "babymoon". It was perfect. We got beautiful snow….
(2) an adorable town that was still decked out for Christmas….
(3) mountains, a beautiful fireplace at the coziest bed and breakfast, and great food. I'll share more about Whitefish in a future post!
(4) But we sure missed this guy. Carson has had a lot of fun baths this year with his new bath toys, including this fun fishing pole!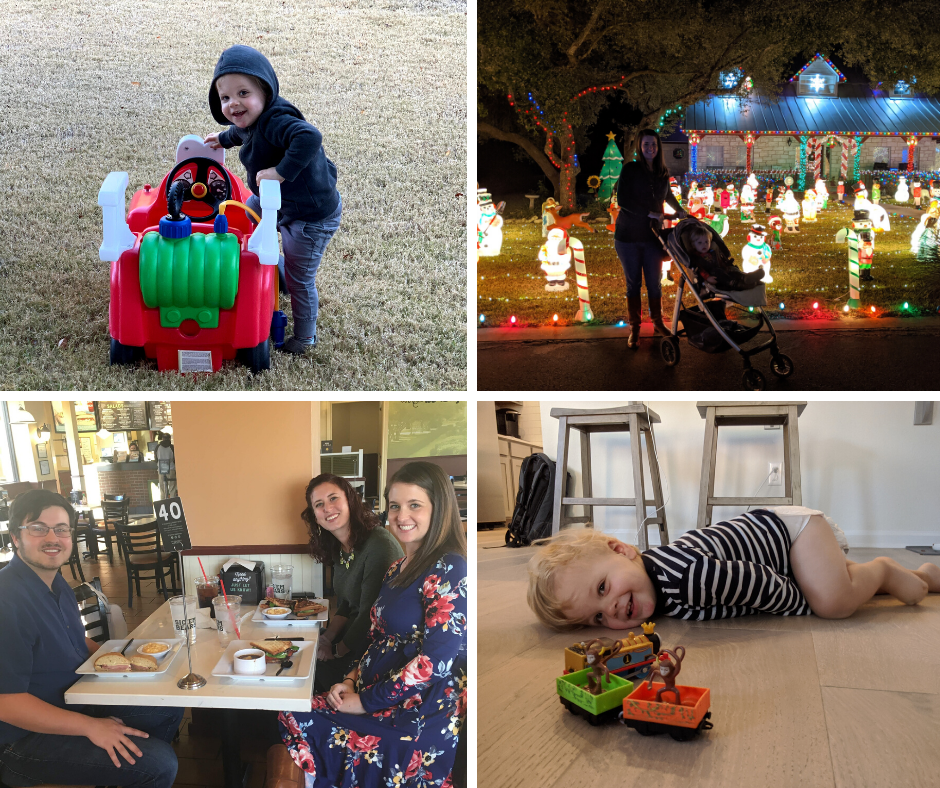 (1) I'm still loving my two weekdays at home with Carson. I'm so grateful to have a part-time job that allows me this time during the week. One of Carson's favorite things to do right now is play with this toy car in our backyard.
(2) Our final Christmas event in early January was a visit to a local lights display (Maywald Christmas Lights). They won The Great Christmas Lights Fight TV show this year which added to the fun of visiting. I'm hoping to visit this lights display every Christmas season.
(3) My sister Elizabeth's baby shower was in January. Elizabeth, my mom, and I had a fun day trip to Dallas for the shower, and on the way back, we met my brother Ben in Waco for dinner. It was good to catch up!
(4) Carson received this Thomas the Tank Engine toy for Christmas and loves pushing it around with his head low to the ground so he can watch the wheels turn. I'm not sure why this toy has monkeys or why Thomas is wearing a crown on his head, but he loves it!
Finally, I wanted to share my "Decade in Review" that I posted to InstaStories. This took a long time to put together, so I wanted to save it for more than the 24 hours on InstaStories!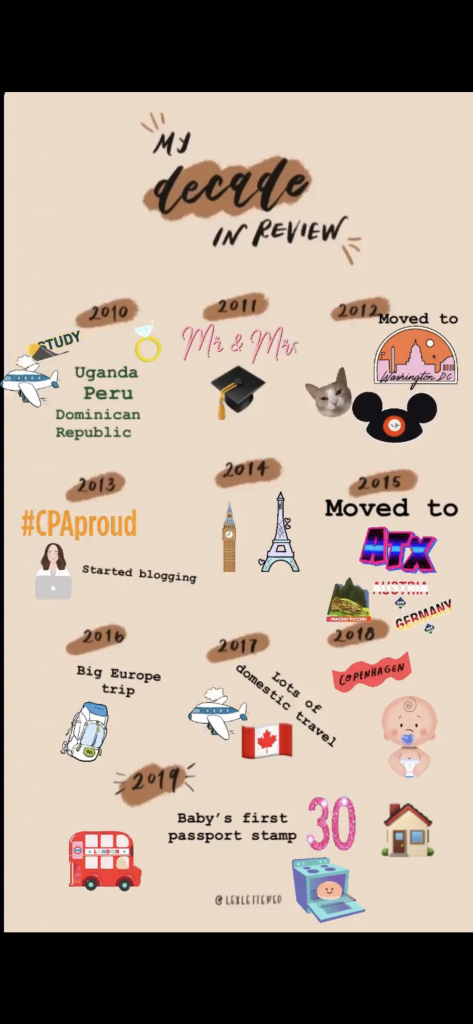 I hope everyone has a wonderful February! Click here to see all of my previous Scenes From the Week posts and here for all of my Scenes From the Month posts.
{Thanks for reading! Want to know a little more about me? I'm a CPA learning how to balance a career with motherhood and regular travel while planting roots at home in the Austin, TX area. When I'm not exploring my home city with my husband Daniel and baby boy Carson or cuddling with my chubby orange cat Banana, I'm probably either out on a playdate with my son or planning, packing for, traveling to, or daydreaming about our next adventure. After all, my travel mug collection is never complete. If you have wanderlust too, be sure to follow me on Instagram (and InstaStories!), Pinterest, and Facebook, or subscribe to my blog!}