Welcome to my Scenes From the Month series!  In these posts, I share the highlights from my previous month ranging from the simple, everyday things to the more memorable events. One of the primary reasons that I blog is to keep a scrapbook that I can look back on in the future, and these posts help serve that purpose. Now that I have babies, everyday moments are extra special!
Favorites from the Month:
Fiction Book – The Holdout (Amazon affiliate link) by Graham Moore. 
Nonfiction Book – None read in September.
Music – Taylor Swift's folklore album and all of Ben Rector's music
Movie/TV – Season 2 of Mindhunter
Activity – Going on family walks in the evenings, now that the early evenings have cooled down here in Texas!
Accomplishment – Sleep training our six-month-old. Caden now sleeps through the night (most of the time), yippee!
Photos from the month, top left to bottom right: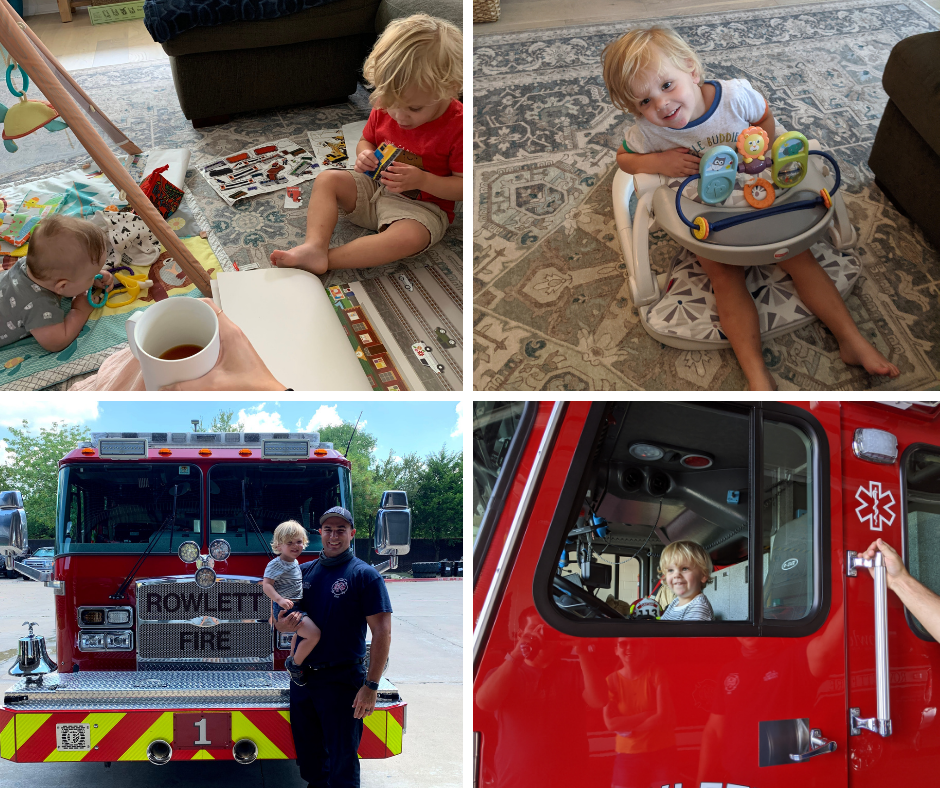 (1) Lots of mommy/son time. September was my last full month of maternity leave. I soaked in every moment. Thankfully I still get to spend every Tuesday all day (in addition to weekends) with these two since I only work part-time.
(2) Carson got himself into a pickle…. He had a lot more fun pretending to be a baby in the sit-up chair than he did when we had to finangle him out of there!
(3) We got to go visit my cousin's fire station when we went to DFW for the weekend. Carson had so much fun! You would have thought he was at Disney World by the look on his face.
(4) "Driving" the firetruck was the highlight of our fire station visit!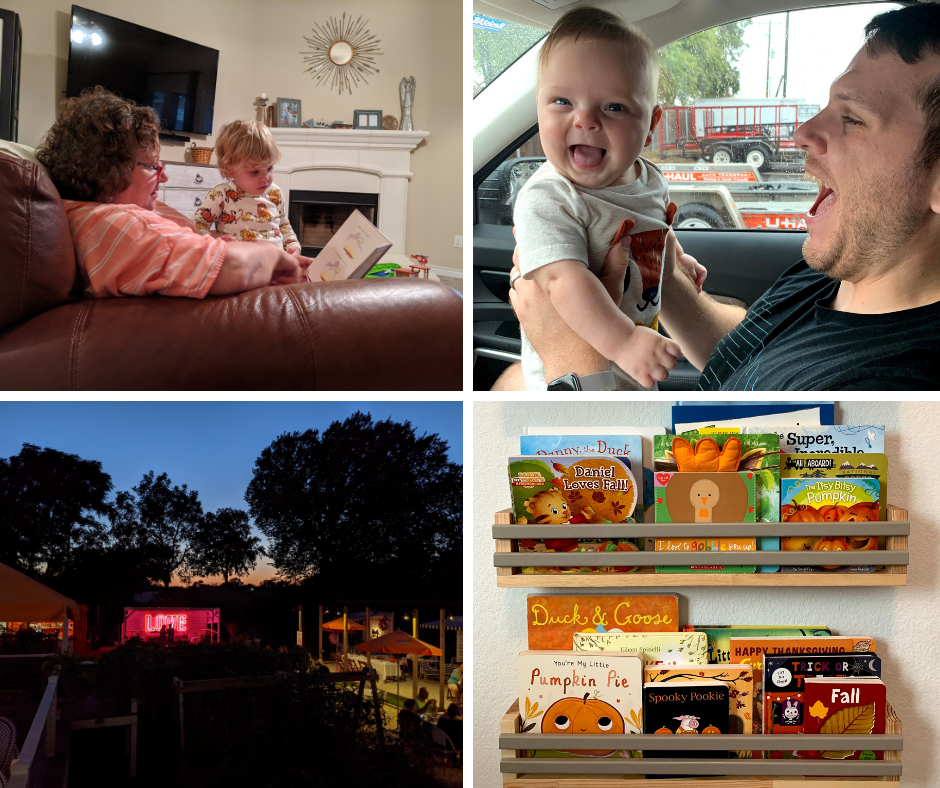 (1) We went to Fort Worth for Labor Day weekend and visited my in-laws and sister-in-law. Carson loved reading this book with Abuela.
(2) Happy Caden and Daddy on the car ride back to Fort Worth from a workday at my grandparents' house.
(3) Daniel and I got to get out for a date night this weekend! We loved Gemelle in Fort Worth. It had a great outdoor patio overlooking a beautiful garden and more outdoor seating.
(4) It was time to pull out our fall children's book collection!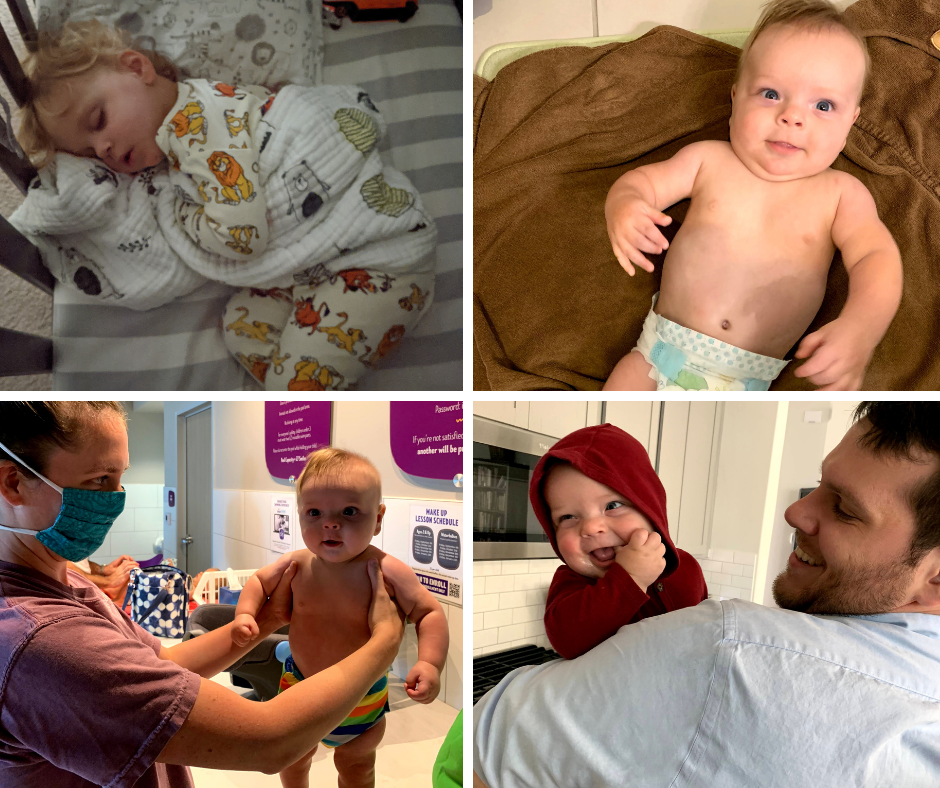 (1) I can't get enough cute photos of my babies sleeping, especially my usually-very-rambunctious toddler!
(2) This big boy in the the 90th percentile for weight and 100th for height!
(3) We started taking the boys to swim class again this month. This was Caden's first class! He loved it.
(4) With the weather cooling down, we've pulled out some of Carson's old fall baby clothes. Caden was excited to wear his first hoodie!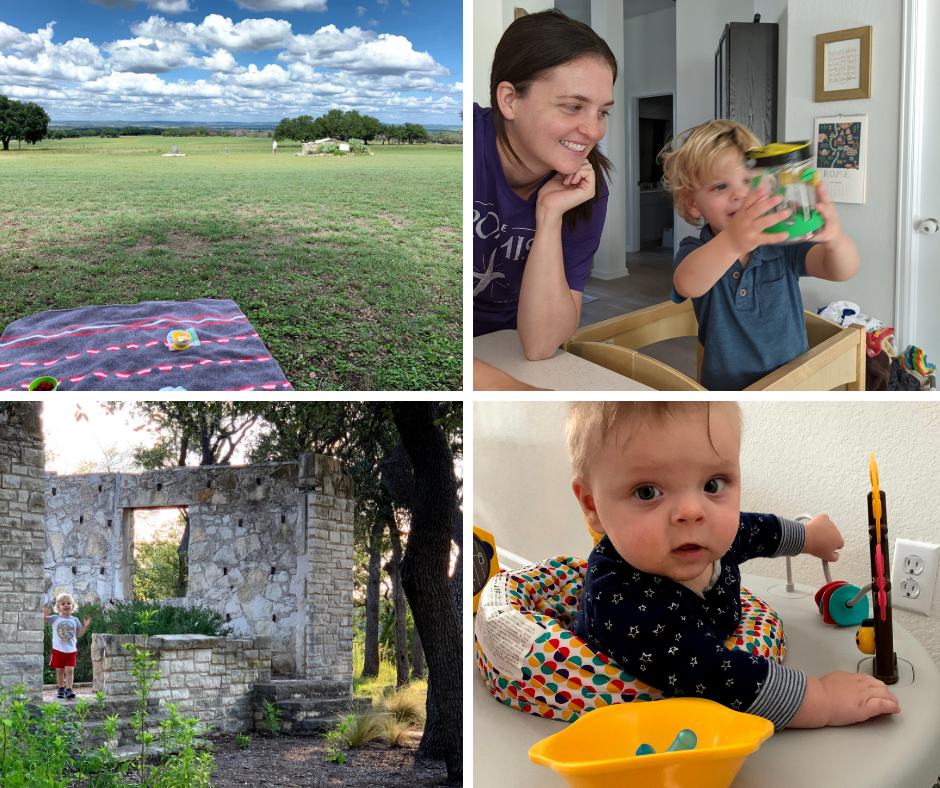 (1) We spent one Sunday afternoon at our favorite winery, Pedernales Cellars. It's such a wonderful place to go right now – lots of outdoors space for Carson to run around and Caden to stretch out and play on a blanket. All with this beautiful Hill Country view!
(2) We did lots of crafts at home this month, thanks to our community's wonderful event planner! Her team has put together several fun themed bags for kids. This week's bag was bug-themed, so we made a cute bug jar!
(3) We love all the fun outdoor areas in our neighborhood! Carson particularly enjoys the "outside house".
(4) This month we set up the activity center for Caden. He loves being on his legs and checking out the new toys!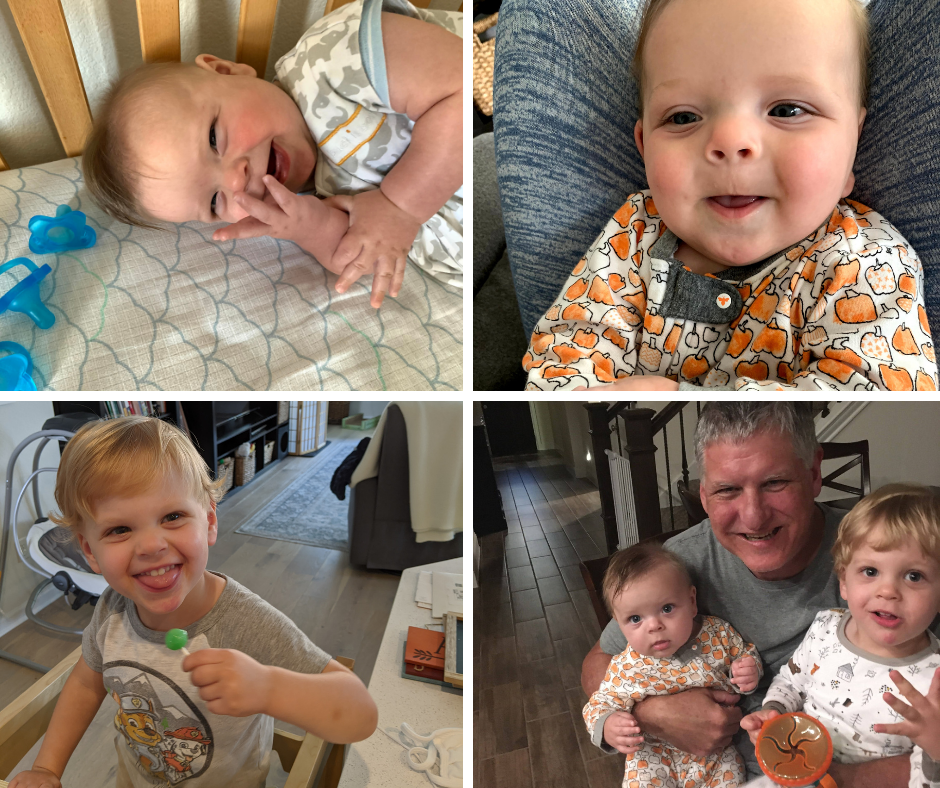 (1) As mentioned in my "accomplishment" section above, we moved Caden to his own room and officially sleep trained him this month! He's so happy to be rested (and so are his parents!). And he loves his crib!
(2) We also pulled out the pumpkin jammies!
(3) Carson loved his green lollipop from the kids' haircut place.
(4) And last, but not least, the boys spent a weekend at Gramma and Grampa's house in San Antonio. This was our first weekend away from Caden since he was born. The boys had so much fun, and Daniel and I got some rest, a dinner out, and lots of things done around the house. We sure did miss our babies though!
{Thanks for reading! Want to know a little more about me? I'm a CPA learning how to balance a career with motherhood and regular travel while planting roots at home in the Austin, TX area. When I'm not exploring my home city with my husband Daniel and baby boys Carson and Caden or cuddling with my chubby orange cat Banana, I'm probably either out on a playdate with my son or planning, packing for, traveling to, or daydreaming about our next adventure. After all, my travel mug collection is never complete. If you have wanderlust too, be sure to follow me on Instagram (and InstaStories!), Pinterest, and Facebook, or subscribe to my blog!}