Welcome to my Scenes From the Month series!  In these posts, I share the highlights from my previous month ranging from the simple, everyday things to the more memorable events. One of the primary reasons that I blog is to keep a scrapbook that I can look back on in the future, and these posts help serve that purpose. Now that I have babies, everyday moments are extra special!
In typical 2020 fashion, I have ended the year with health issues. Six weeks ago, I woke up dizzy, and I've been that way ever since. I've been to lots of doctors, gotten lots of scans, and we still aren't sure what the issue is. It's been really tough on all of us as a family since I can't help with the babies nearly as much. The days have been long, but there have still been many good moments that I am happy to document here.
October and November are two of my three favorite months of the year, so I have lots of photos to share. As usual, most of them are of my babies. Since I cannot look at a computer for long, and it has already taken me a couple weeks to get this post together, I am going to share mostly photos with few words this time around.
Favorites from the Month(s):
Fiction Book – One by One by Ruth Ware and American Royals by Katharine McGee
Nonfiction Book – Becoming by Michelle Obama and Finding Freedom by Omid Scobie
Music – I always start listening to Christmas music on November 1st. My favorites in November were Jon McLaughlin's Christmas Time album and the Christmas Choral classics station on Pandora
Movie/TV – Dublin Murders (Starz) and Dash & Lily (Netflix)
Activity – Caden's first Halloween!
Accomplishment – Getting family photos done. Honestly, getting the outfits planned, everyone ready, doing my own hair and makeup, packing up two children, and driving 40 minutes to the location on an early Sunday morning photo shoot feels like a huge win in my book!
Photos from the month, top left to bottom right: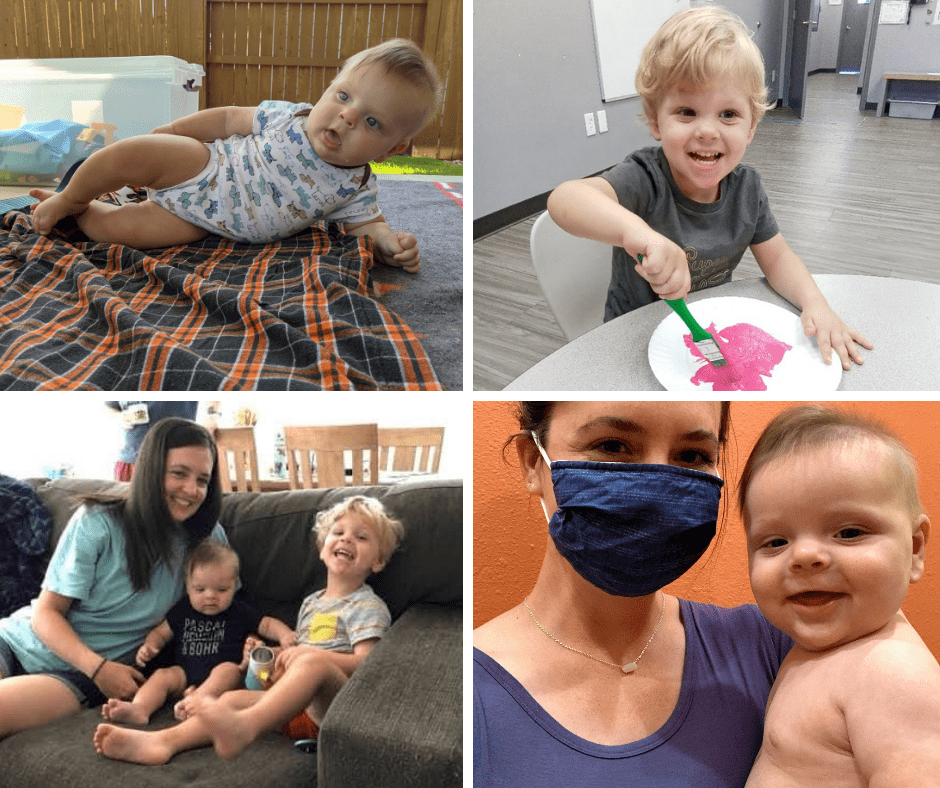 (1) Caden went through a phase where he loved to strike this pose!
(2) Carson loves arts and crafts. We love getting these sweet photos from his daycare.
(3) So happy with my two boys!
(4) My chunky six month old at his doctor appointment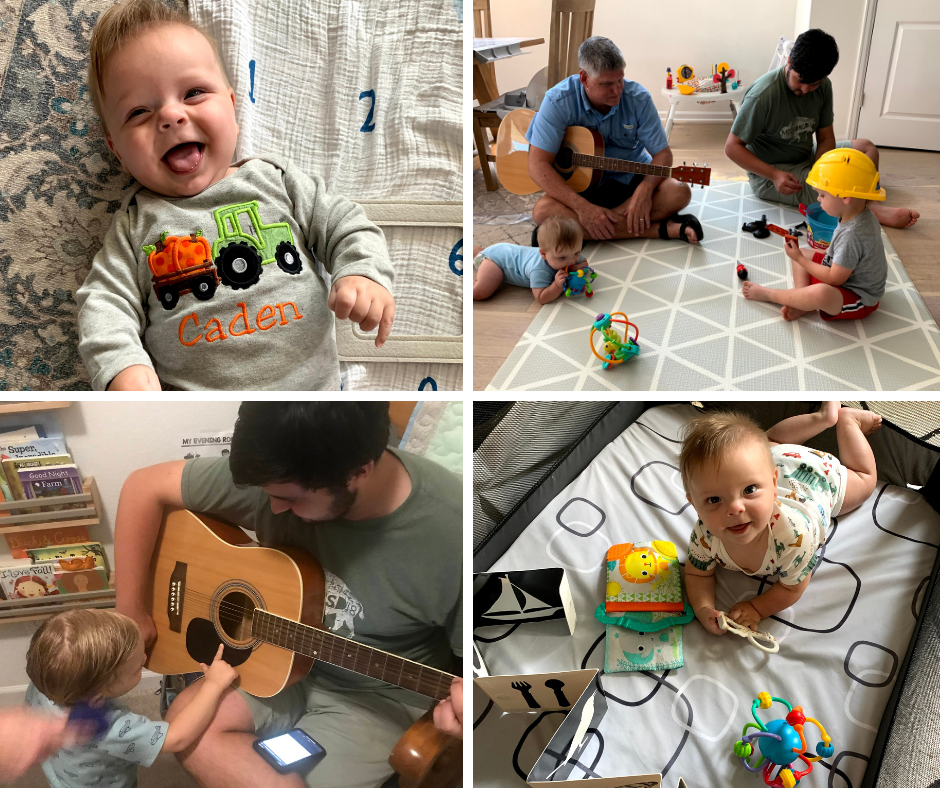 (1) Six month old photo shoot in his pumpkin onesie
(2) My brother, Dad, and my two boys playing together with new toys. We love Uncle Ben and Grampa!
(3) One of Carson's favorite people in the whole world doing one of his favorite things – Uncle Ben playing the guitar!
(4) The pack 'n play phase did not last long for Caden, but he loved it during this moment in time.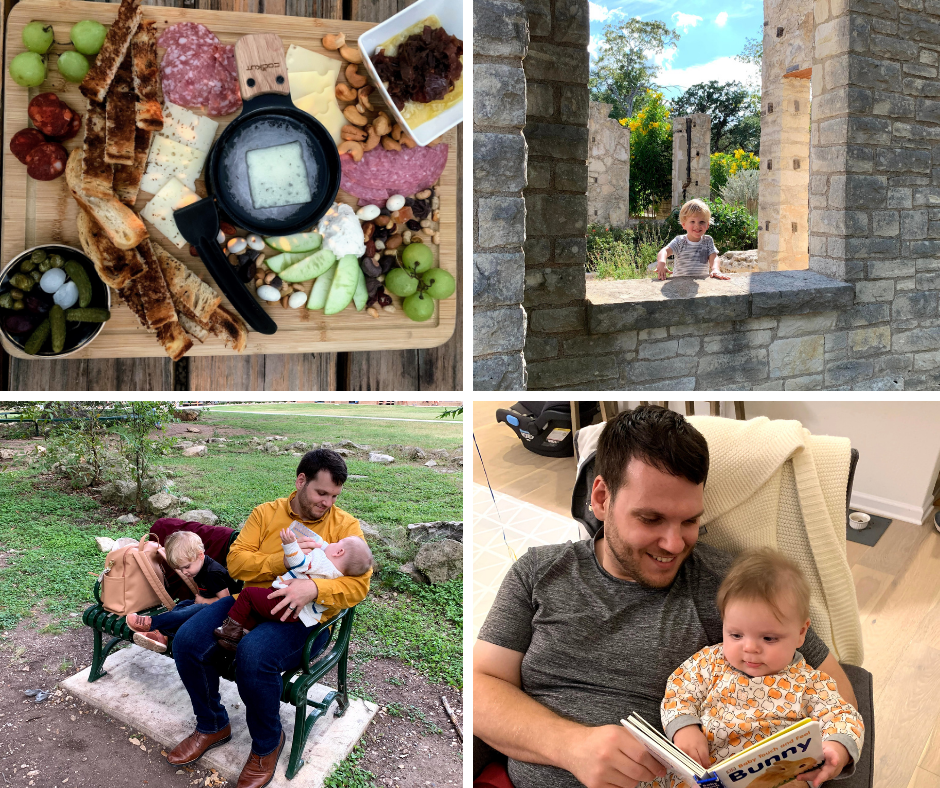 (1) Daniel and I haven't had many date nights lately, but this was a good one! We ate outside at a new local restaurant and enjoyed a cheese board and cocktails together.
(2) Spending as much time outside in the beautiful fall weather as we can!
(3) Daniel taking care of the boys after our family photo shoot
(4) Daniel reading books with Caden – my heart!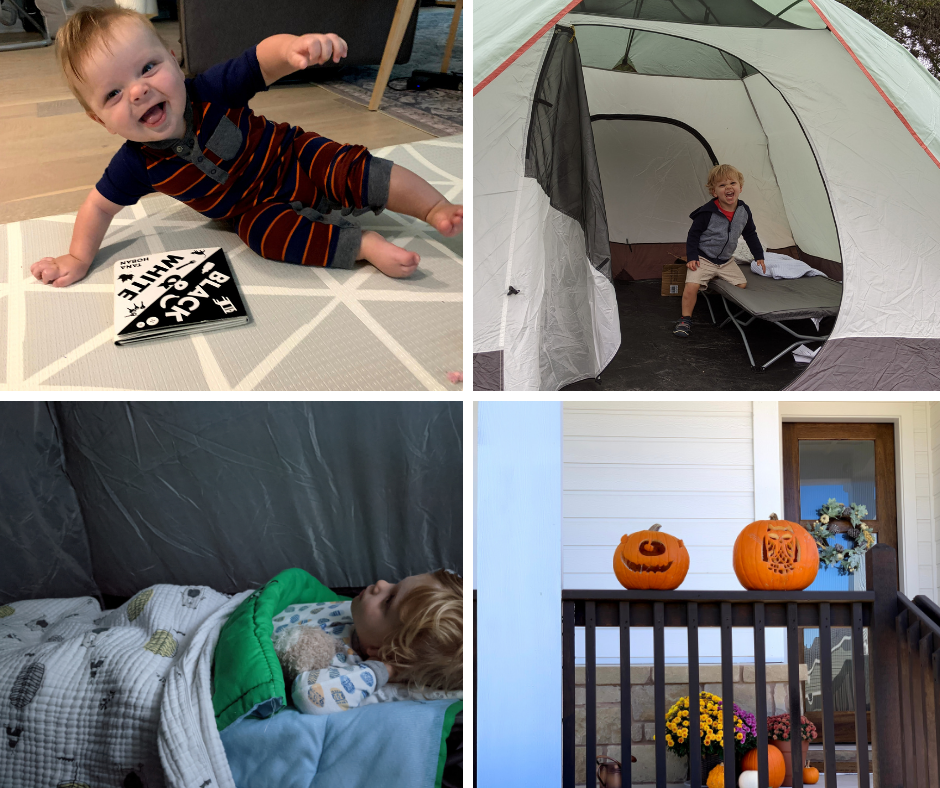 (1) Caden has developed SO MUCH between months six and eight. Here is he is working on sitting up on his own in October.
(2) Carson went on his first camping trip this October. He LOVED it!
(3) He slept just fine on his cot in the tent too. 🙂
(4) Displaying pumpkins from the camping trip carving party on our front porch. Grampa contributed Mike Wazowski!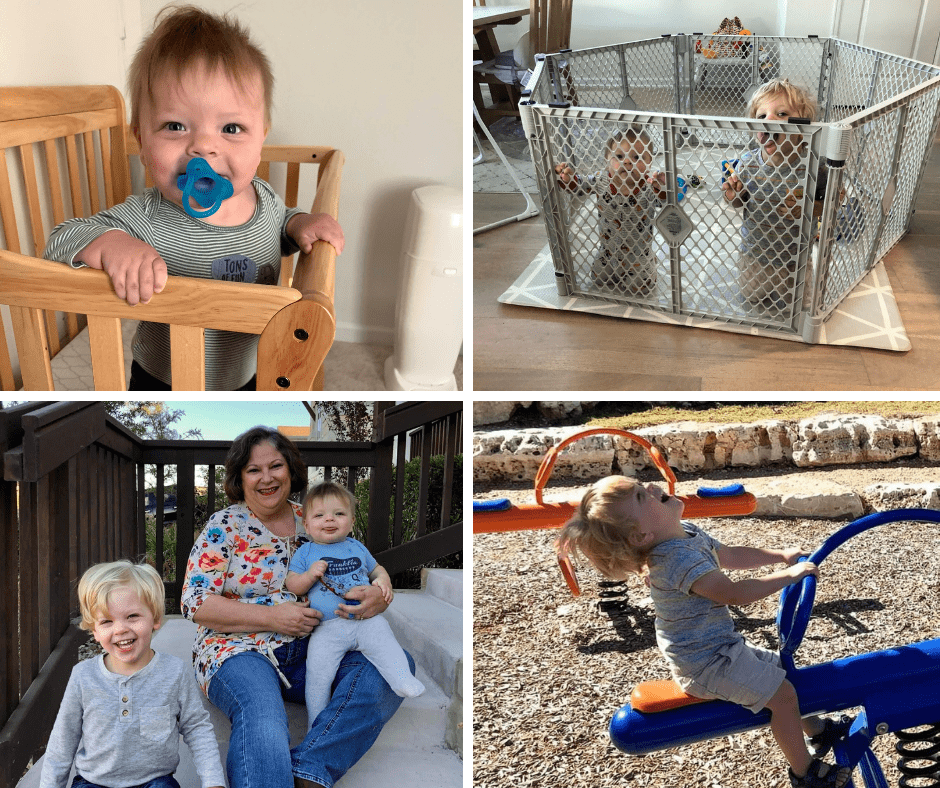 (1) In November, Caden learned to pull up on his own! Now he is pulling up everywhere and continues to try to let go and balance.
(2) Two boys in playard jail!
(3) We've had so much help from the boys' grandparents. This is a cute photo from one of Abuela's visits.
(4) Fun times at the neighborhood playground!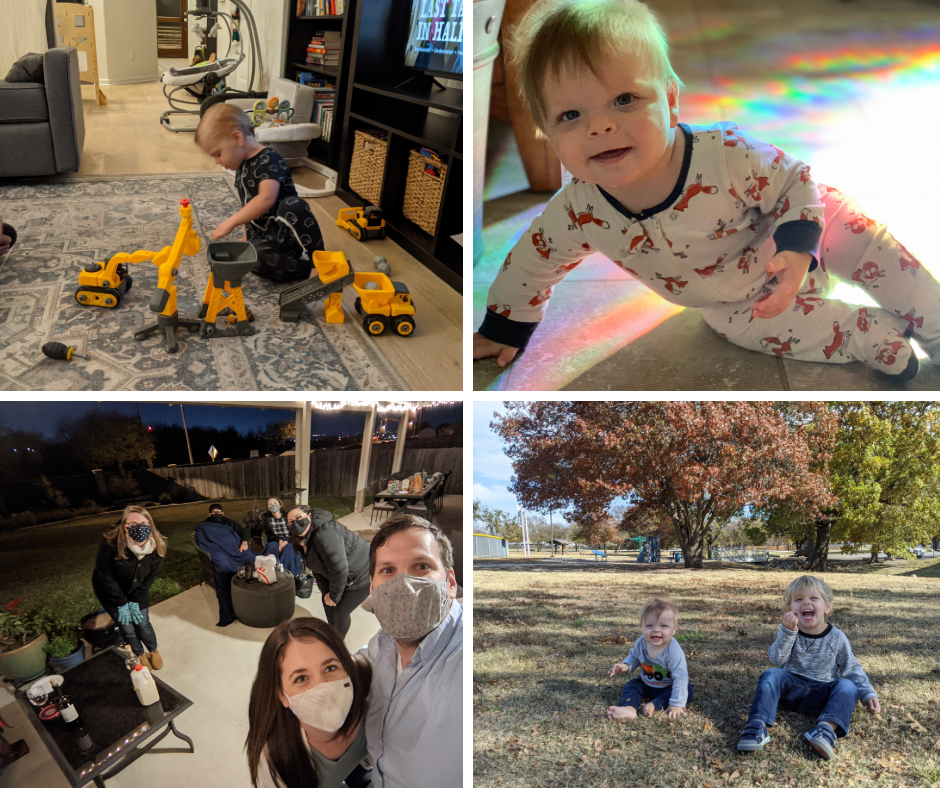 (1) Carson loved his new construction set from Gramma and Grampa!
(2) We traveled to Abuelo and Abuela's house for Thanksgiving. While there we played with the pretty light colors on the floor…
(3) …were able to do a socially distanced hangout with our best friends from high school…
(4) took the boys to the park, and…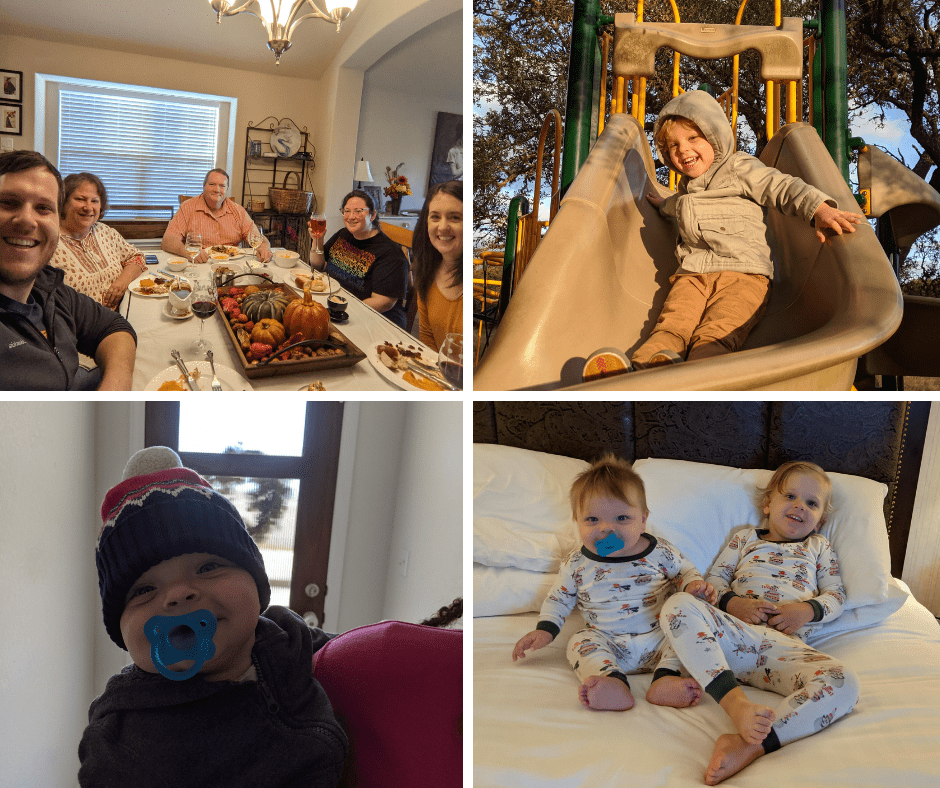 (1) …enjoyed a lovely Thanksgiving meal together.
(2), (3), & (4) The boys have been all smiles enjoying the transition from fall to the Christmas season in our heavier coats, beanies, and Christmas jammies!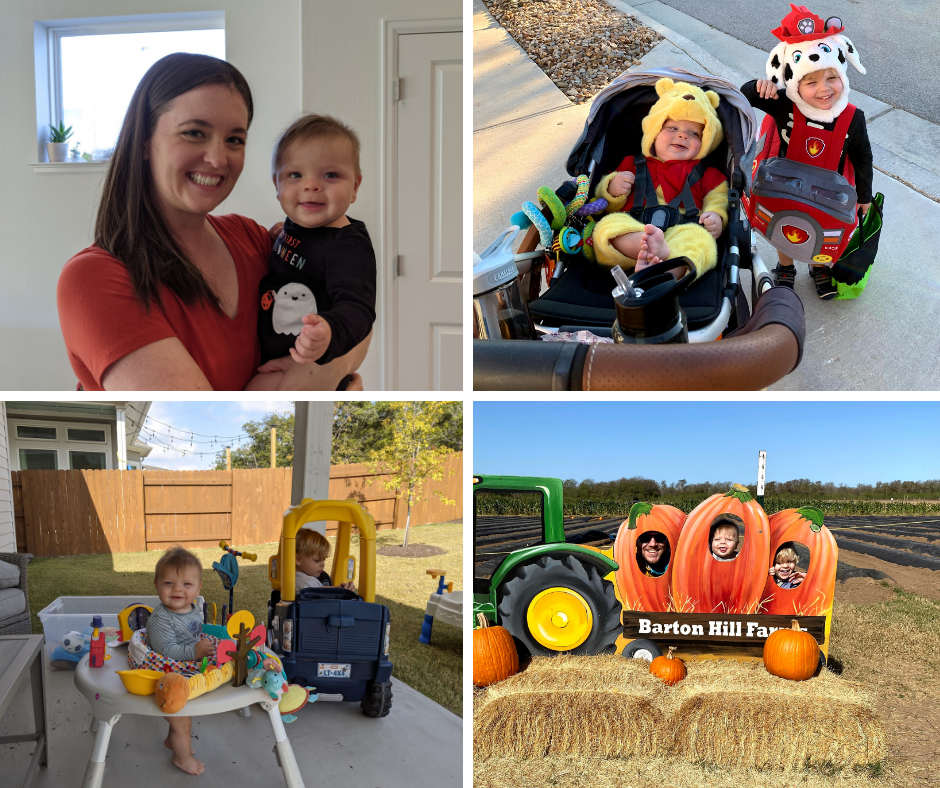 (1) Caden was happy for his first Halloween!
(2) We had a Marshall from Paw Patrol and a Winnie the Pooh for Halloween. 🙂 I love this photo!
(3) Lots of fun brother time in the backyard in November
(4) We went to a nearby pumpkin patch, and it was a big hit! We took Carson to this pumpkin patch for his first autumn, so it felt very special to bring Caden here for his first as well. It was definitely a trip down memory lane.
{Thanks for reading! Want to know a little more about me? I'm a CPA learning how to balance a career with motherhood and regular travel while planting roots at home in the Austin, TX area. When I'm not exploring my home city with my husband Daniel and baby boys Carson and Caden or cuddling with my chubby orange cat Banana, I'm probably either out on a playdate with my son or planning, packing for, traveling to, or daydreaming about our next adventure. After all, my travel mug collection is never complete. If you have wanderlust too, be sure to follow me on Instagram (and InstaStories!), Pinterest, and Facebook, or subscribe to my blog!}