Welcome to my Scenes From the Month series!  In these posts, I share the highlights from my previous month ranging from the simple, everyday things to the more memorable events. One of the primary reasons that I blog is to keep a scrapbook that I can look back on in the future, and these posts help serve that purpose. Now that I have babies, everyday moments are extra special!
I'm posting this pretty late into January 2021, but I cannot miss sharing these scenes from our first Christmas with both our babies. We had a wonderful time with family in San Antonio and also at home this past December.
Favorites from the Month:
Fiction Book – Christmas in London by Anita Hughes. This book was okay, but it was my favorite fiction of the month. I get a craving for the Hallmark-esque Christmas fiction books in the Christmas season. As cheesy as this was, I was swooning over the Christmasy London descriptions.
Nonfiction Book – Loving My Actual Christmas: An Experiment in Relishing the Season by Alexandra Kuykendall. This was the only nonfiction I read this month, hence it was my favorite. It definitely helped me focus on what is important in the holiday season, and I enjoyed hearing the author's personal Christmas stories.
Music – A Ben Rector Christmas and Taylor Swift's Evermore
Movie/TV – The Queen's Gambit (Netflix) and Tayshia's season of the Bachelorette (I know, I know…)
Activity – All things Christmas… See photos below.
Accomplishment – Having such a wonderful Christmas with our little family
Photos from the month, top left to bottom right: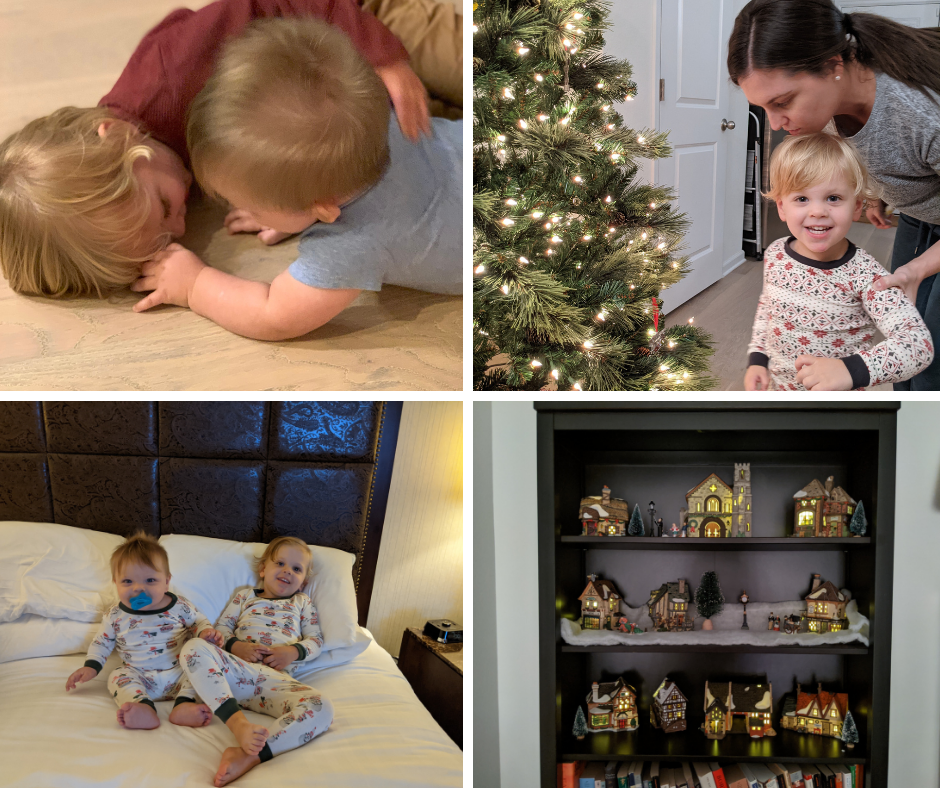 (1) Seeing my boys together this Christmas season was so special. It's just in the past couple months that they really started playing with each other, and it's the cutest thing.
(2) Carson loved the Christmas tree. He liked going up to it and pointing out all the ornaments.
(3) Matching snowman Christmas jammies!
(4) I have a growing Christmas village collection thanks to my sweet parents who get me a new house every year. This year, we cleared some bookshelves in the living room and put some timed tea lights in them. They automatically lit up every evening for six hours!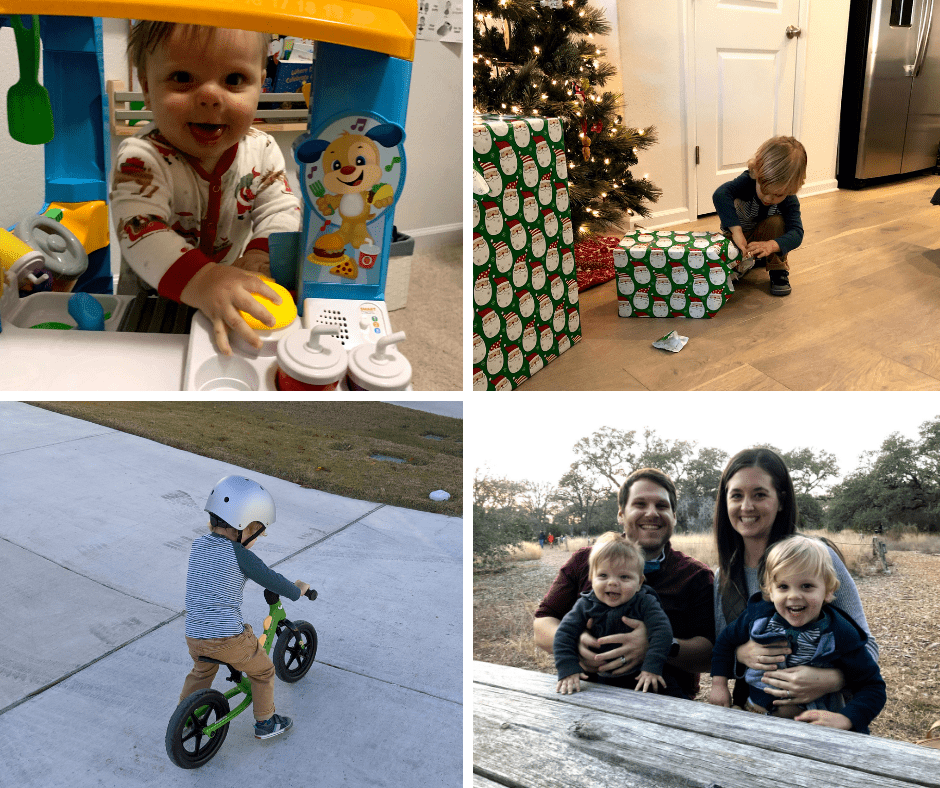 (1) Caden LOVES his big brother's toy food truck!
(2) Carson and Caden got to open their first Christmas presents of the year when Abuelo and Abuela came to visit in the middle of the month. Carson got a balance bike…
(3) …and immediately jumped on and started learning how to ride it!
(4) I love this family photo. In Texas, even though it starts getting a little bit chilly in December, we are still able to enjoy the outdoors most days!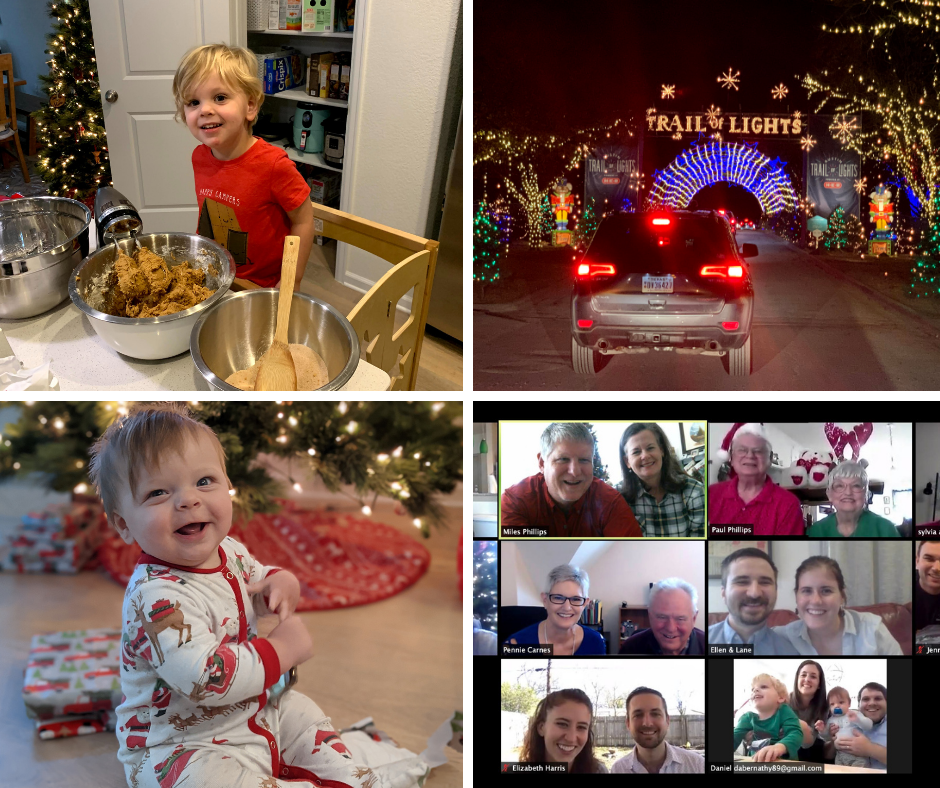 (1) Baking Gingerdoodles for our neighborhood cookie exchange. Here is the recipe. These cookies were so so yummy!
(2) One of the local Christmas events we were able to do this year was Austin's drive-through Trail of Lights. It was fun, and Carson enjoyed it!
(3) I'm so glad that I saved all of Carson's Christmas jammies for our next baby. Caden looked so darn cute in them!
(4) One of the many different things done for Christmas 2020 was our virtual extended Phillips family Christmas celebration. We had a good time, but we sure did miss getting together in person. I couldn't fit everyone in the photo frame, but we had a great group.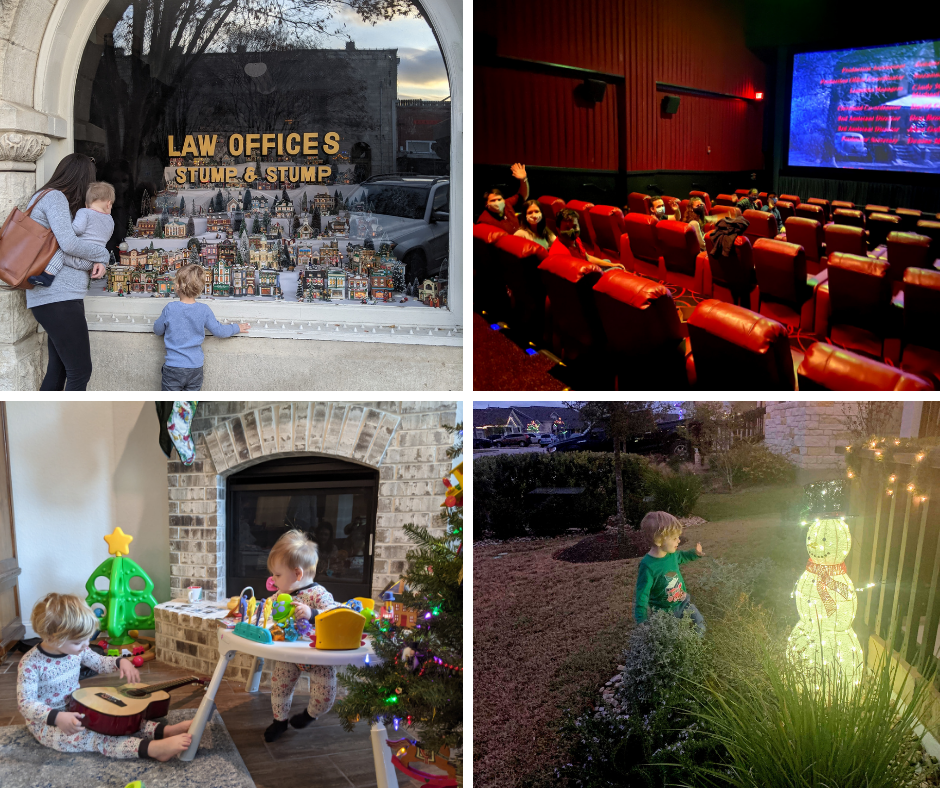 (1)  One of our Christmas outings this year was to the Georgetown Town Square to check out all the pretty Christmas decor. This little law firm had a gorgeous Christmas village collection!
(2) My family rented out a move theater so that we could safely see a theater movie! We picked A Christmas Story. Lots of fun!
(3) I took this photo at my parents' house on Christmas morning. Carson loves his new guitar and Caden loves to watch him play it!
(4) Most evenings in December Carson wanted to go out and say "hello!" to the light-up snowman in our front yard. 🙂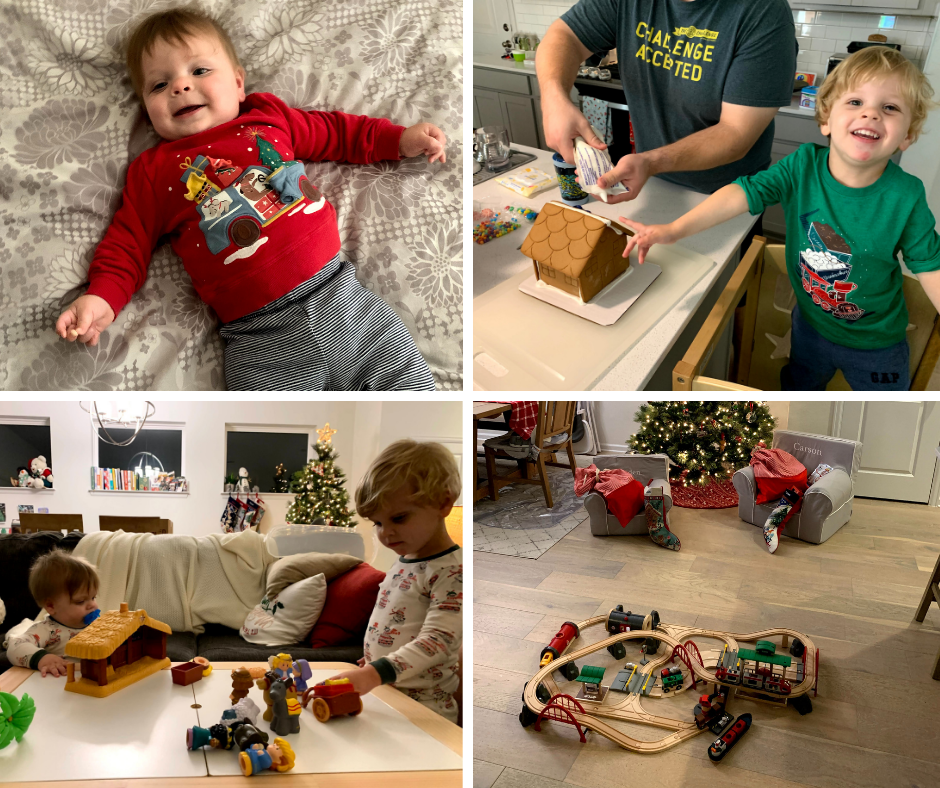 (1) I got this adorable Christmas sweater for Carson in London in Fall 2019.  Carson wore it at 20 months and Caden wore it at 8 months. Big boy!
(2) Carson loved our gingerbread house activity.
(3) We decided to have our own "Christmas Eve" and "Christmas Day" at home on the 30th and 31st. One of our new family traditions for Christmas Eve is acting out the Nativity Story with our toy nativity while reading the story from the children's Bible.
(4) Santa's set up for "Christmas Eve"!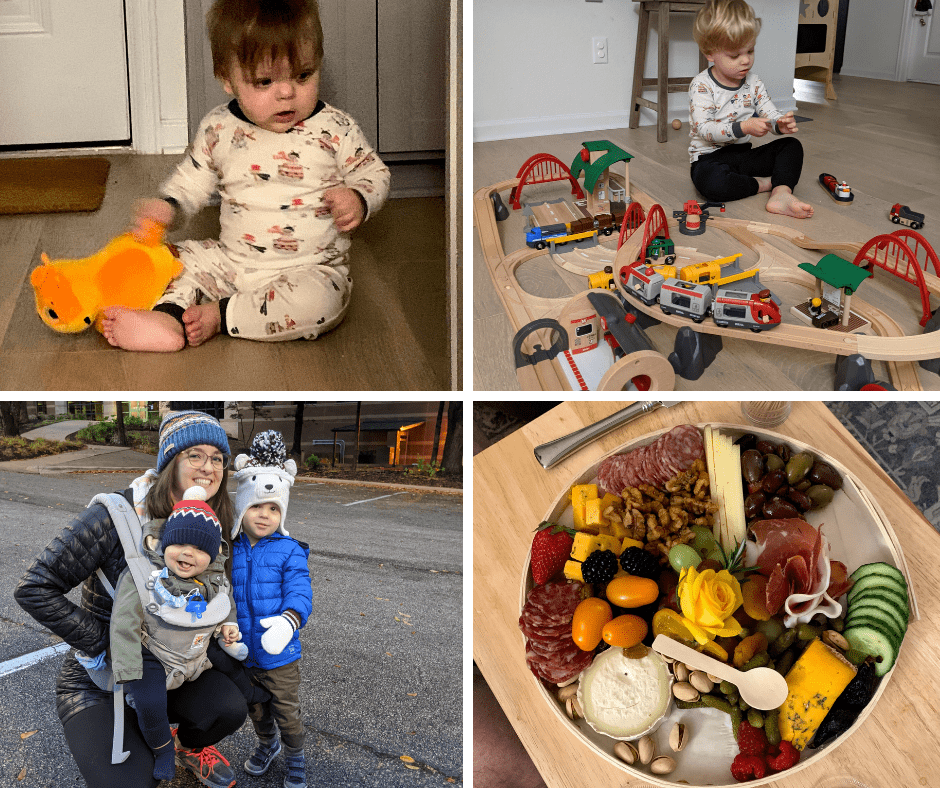 (1) and (2) For our pretend Christmas morning, Caden got a toy kitty cat, and Carson got a new train set.
(3) For New Year's Eve, we braved the cold to go see the Mozart's outdoor Christmas lights show. It was fun, but so so so cold!
(4) After the boys were in bed, we ended 2020 with a charcuterie board from a local shop. It was the perfect ending to the year.
{Thanks for reading! Want to know a little more about me? I'm a CPA learning how to balance a career with motherhood and regular travel while planting roots at home in the Austin, TX area. When I'm not exploring my home city with my husband Daniel and baby boys Carson and Caden or cuddling with my chubby orange cat Banana, I'm probably either out on a playdate with my son or planning, packing for, traveling to, or daydreaming about our next adventure. After all, my travel mug collection is never complete. If you have wanderlust too, be sure to follow me on Instagram (and InstaStories!), Pinterest, and Facebook, or subscribe to my blog!}