Welcome to my Scenes From the Month series!  In these posts, I share the highlights from my previous month ranging from the simple, everyday things to the more memorable events. One of the primary reasons that I blog is to keep a scrapbook that I can look back on in the future, and these posts help serve that purpose. Now that I have babies, everyday moments are extra special!
Favorites from the Month:
Fiction Book – The Testaments by Margaret Atwood. This is the sequel to A Handmaid's Tale, and I really enjoyed the story. It's not as good as the first, but I loved the deeper look into the characters, some who are in the first book and some who are not. Also I'm really looking forward to the next season of the show on Hulu.
Nonfiction Book – I read several nonfiction books this month. My favorite was Everything is Figureoutable by Marie Forleo. While I don't agree with everything Marie had to say, I felt very inspired by this book and am ready to take on and "figure out" several ideas I've had floating around in my mind for years.
Music – I'm still very into folklore and evermore. Also, I'm in love with Ed Sheeran's new song "Afterglow".
Movie/TV – The Crown (Netflix). We are finishing up Season 4.
Item – I gave Daniel this for Christmas, but it has ended up being more of a gift for myself. Oops! It is the Always Pan by Our Place. It's so beautiful, easy to clean, and fun to cook lots of different things with!
Activity – Staycation in Austin. My parents took the kiddos for a weekend, and we enjoyed some of our favorite restaurants (outside) and walked around the new part of South Congress. Lots of fun and rest and relaxation!
Accomplishment – Potty training Carson! He's not 100% potty trained, but we have made a lot of progress! Also, Caden went from taking his first steps to speed walking around the house within this month. Oh, and I'm getting into a groove of meal planning and cooking good meals for the family – good, as in, not just frozen pizza, pasta, or mac & cheese most nights. 😉 I think that Always Pan has a little something to do with it!
Photos from the month, top left to bottom right: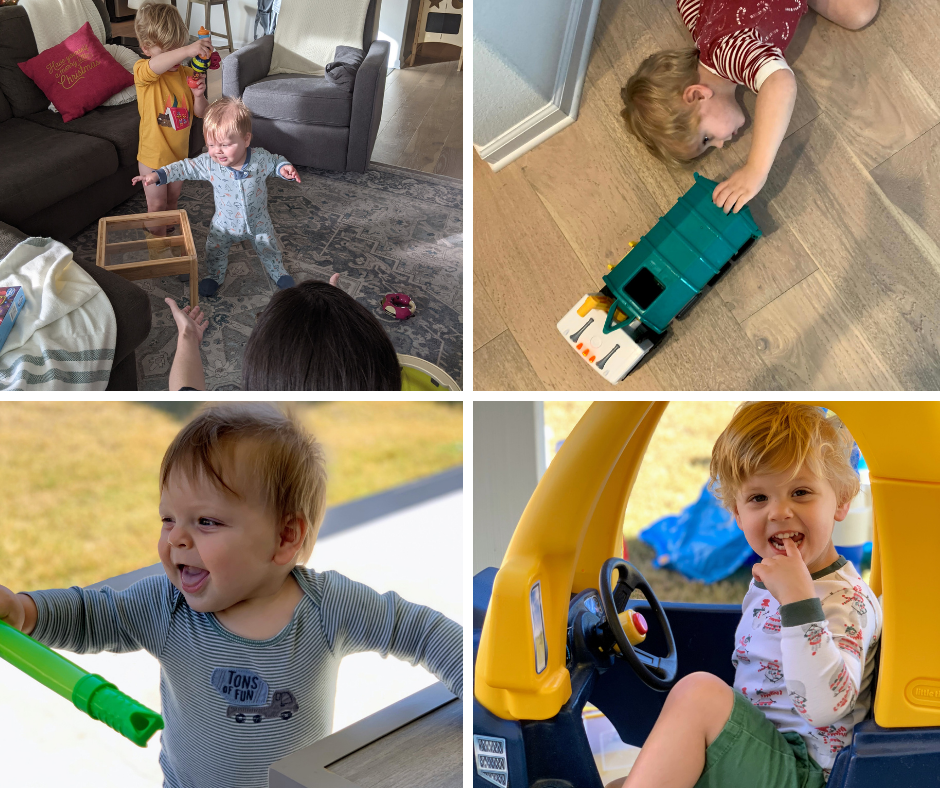 (1) Our January kicked off doing a three-day potty training boot camp with Carson. These three days were LOOONG, but it was special time bonding with our baby boys. Caden took his first independent steps on January 2nd!!
(2) One of Carson's prizes for a potty training milestone was this fun trash truck toy. He loved it!
(3) We enjoyed some beautiful days in January and took lots of walks and spent a good amount of time together in the backyard.
(4) There aren't many other places where you can wear your snowman jammies on top with shorts and bare feet on the bottom!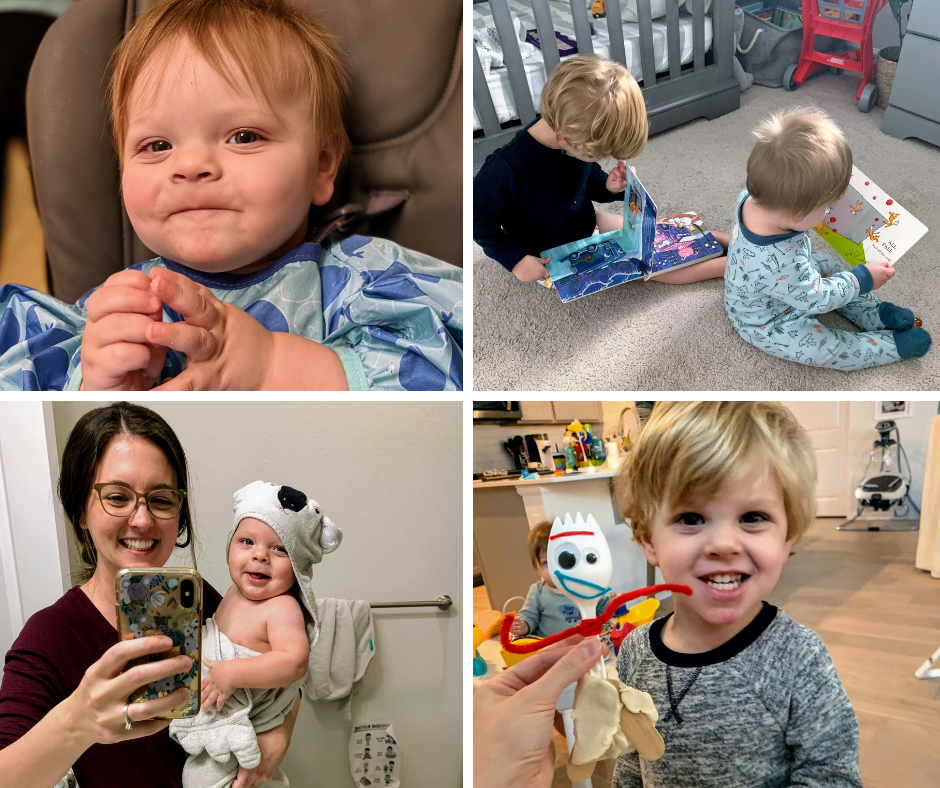 (1) Caden has been exploring lots of new foods as we made a sudden switch from only purees to table foods at the recommendation of his pediatrician. This boy loves to eat almost anything! Favorites are peas, ham, blueberries, and cheese!
(2) Caden is starting to enjoy flipping through books now, and Carson occasionally will settle down enough to "read" to himself as well. What a sweet sight!
(3) Bath time with my second little!
(4) We made our very own Forky! Haha, Carson's face kind of looks like Forky's in this photo. 🙂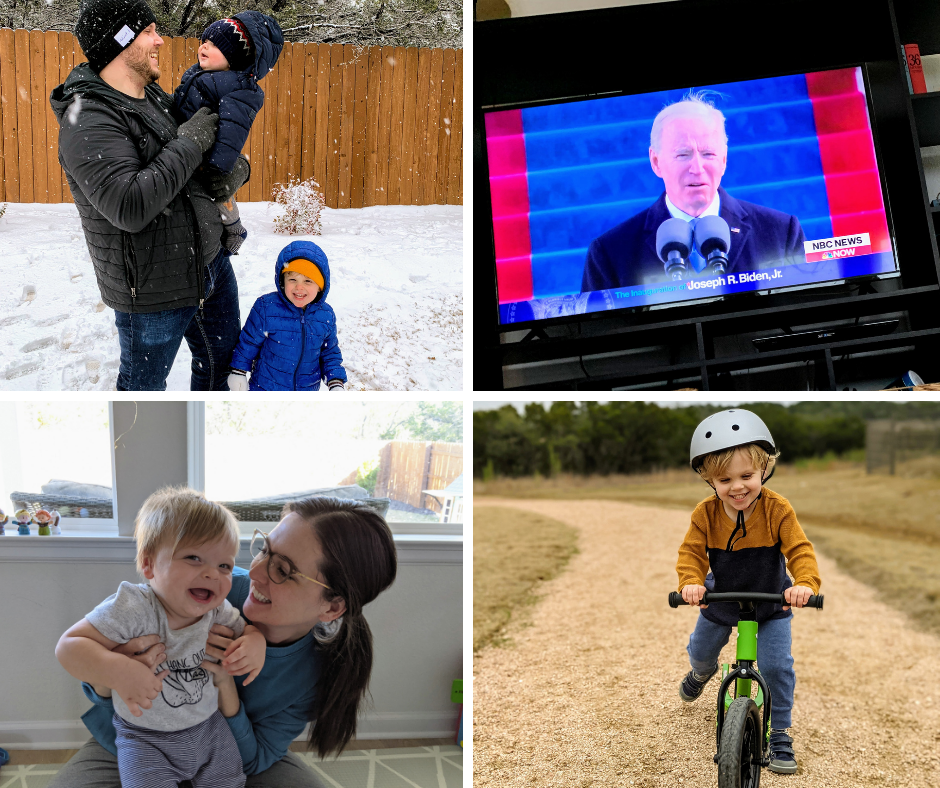 (1) Texas is weird. We not only had those beautiful 70 degree days, but we also had snow! I heard this was the first time our town got this much snow in over ten years! It was such a treat, especially in these days where we have mostly been stuck at home.
(2) We watched the Inauguration ceremony. It was refreshing to see a change for our country and to see so many beautiful, powerful women represented.
(3) More play time!
(4) Carson has been loving his balance bike! He's gone out on several trail rides in the neighborhood and is getting really confident on the bike.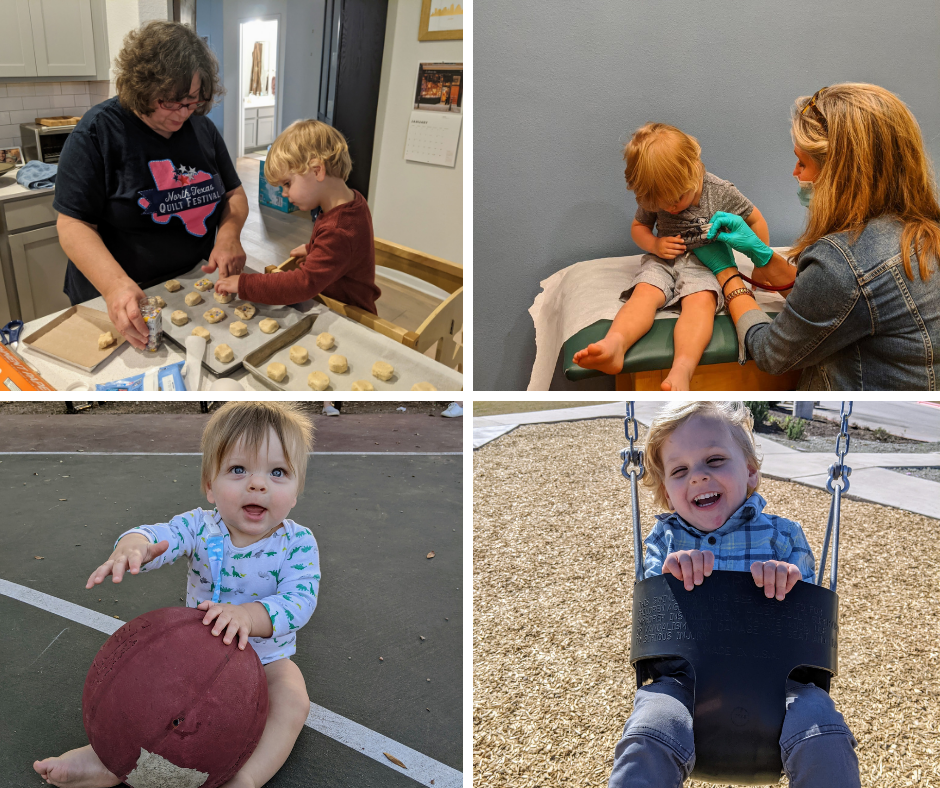 (1) Abuela came for a visit, and Carson helped her bake some yummy cookies.
(2) This photo is not from this year. This was taken in May 2020, during Carson's 2 year well check. We lost our sweet pediatrician tragically this January. I will be forever grateful that we knew her and were in her care for nearly three years.
(3) During an outdoor play date with our friends, Caden decided he loves basketball. Good thing since he's in the 100th percentile for height!
(4) Our neighborhood got a new swing set, and Carson is a big fan!
{Thanks for reading! Want to know a little more about me? I'm a CPA learning how to balance a career with motherhood and regular travel while planting roots at home in the Austin, TX area. When I'm not exploring my home city with my husband Daniel and baby boys Carson and Caden or cuddling with my chubby orange cat Banana, I'm probably either out on a playdate with my son or planning, packing for, traveling to, or daydreaming about our next adventure. After all, my travel mug collection is never complete. If you have wanderlust too, be sure to follow me on Instagram (and InstaStories!), Pinterest, and Facebook, or subscribe to my blog!}