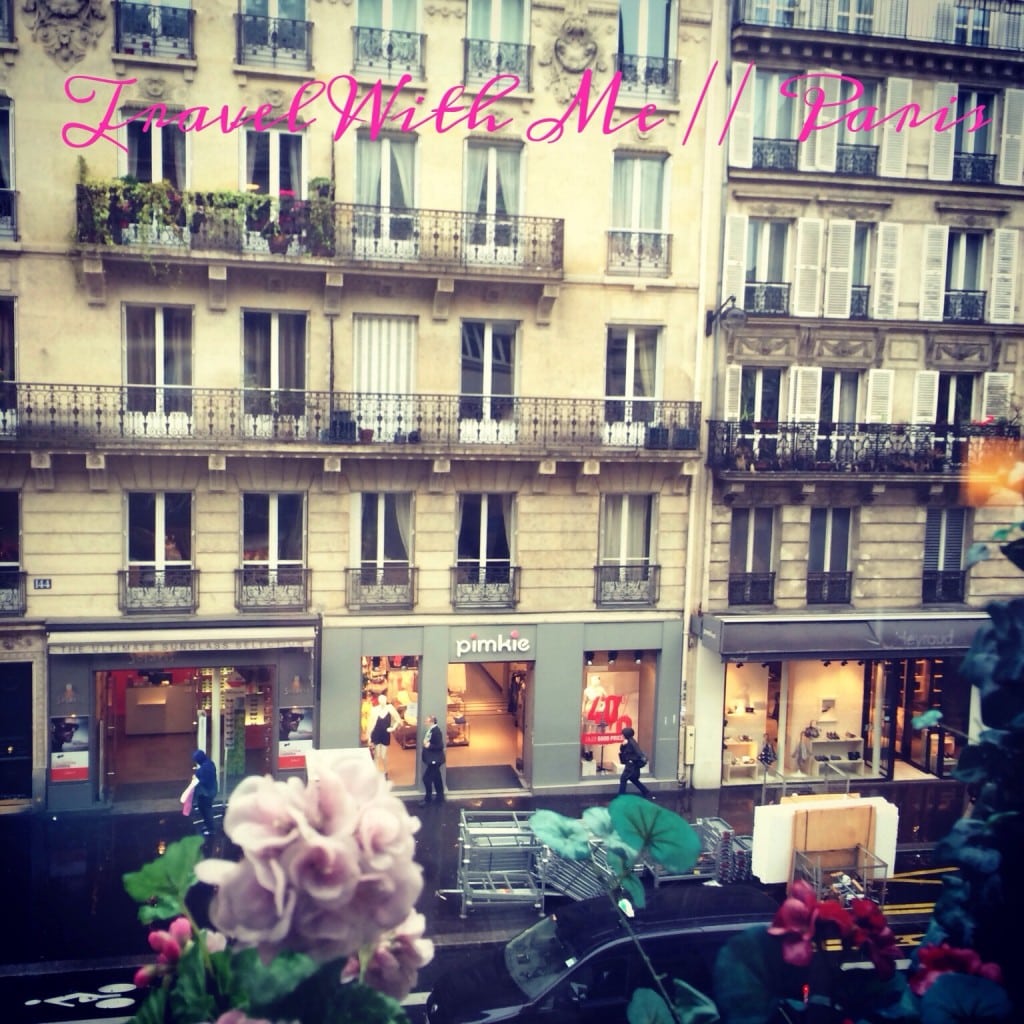 When I first started this blog toward the end of 2013, I was excited to use it as a place to share my travel experiences. While it has turned into more of a lifestyle blog, I am still excited to write posts about our adventures in my Travel With Me series.
I break up my Travel With Me posts into three types: (1) What We Did, (2) What We Ate & Where We Stayed, and (3) Planning & Other Recommendations. This way, people who would like to just read a simple trip re-cap can just read the first post, and those that are actually looking to plan a trip and get activity, attraction, restaurant, hotel, and planning advice and reviews can read all three.
In May of this year, my husband and I had the opportunity to travel to Europe! Our first stop was London. Read my London posts here, here, and here. Our next stop was Paris! Here is what we did in the magical City of Light….
Day 1
When we first arrived by train from London, we were so excited to start exploring! We faced a little bit of a delay when we had trouble getting metro passes – the pass machine did not accept our credit cards, and we could not find an exchange machine to get euros. We walked around with our extremely limited French trying to ask where we could exchange our money. Finally we found a machine after dragging ourselves and our bags all the way back upstairs. We were too excited to let that stress us out too much, but it was a bit of a bumpy start. Once we took the metro to the stop by our hotel, we quickly checked into our room and got ready to explore the city.
We had a few things in mind that we wanted to see, but our main goal for this first afternoon in Paris was to just explore and take in this city that we had only dreamed about before. We were blown away by how beautiful it was.
4 out of 5 stars
The Luxembourg Gardens were near our hotel, so that was our first official stop. The gardens surround the Luxembourg Palace, where the French Senate meets.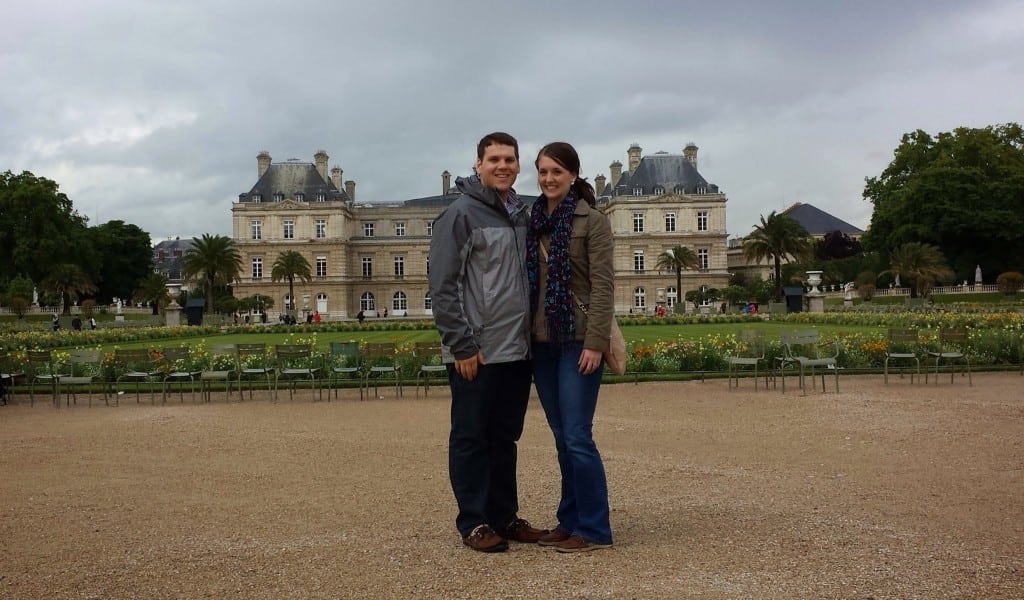 When Daniel and I visit a new place, we like to check out a local bookstore or two. We had heard about the Abbey Bookshop, so we included it on our walk. It is an English bookstore that is owned by a Canadian man, and I found it very cozy and charming. Daniel thought it was too cramped to really be able to enjoy it, but we both had a good time looking around at the wide variety of beautiful books. I envy the man who owns the shop – how wonderful would it be to pack up and leave a normal office job to own a bookstore in Paris?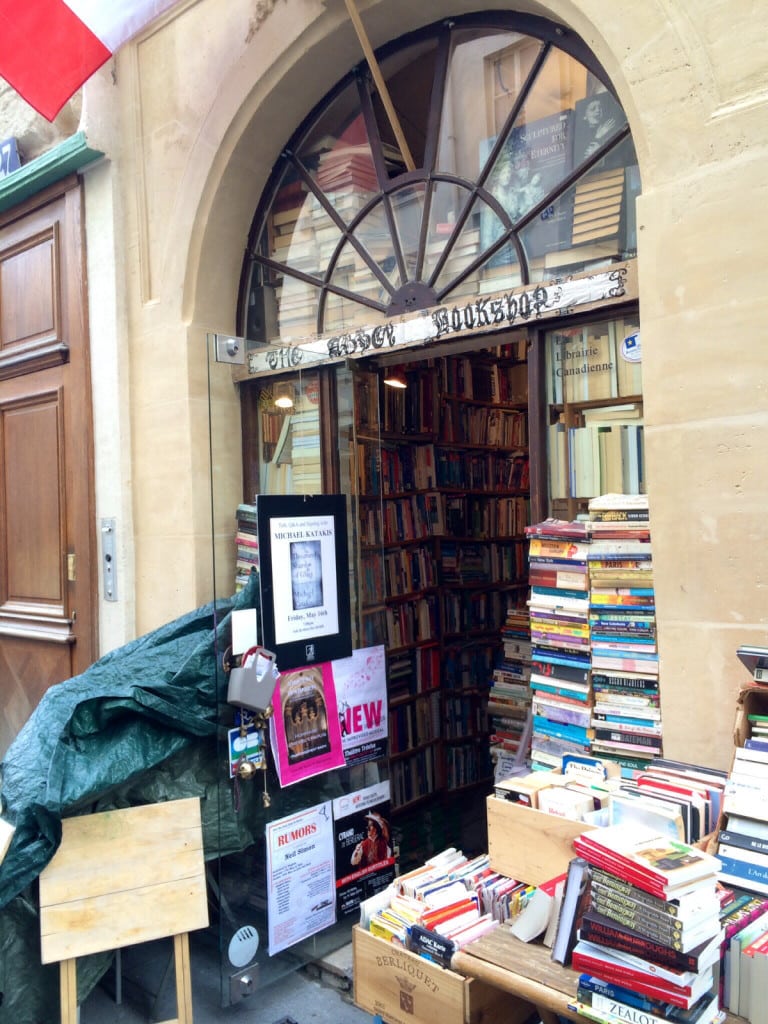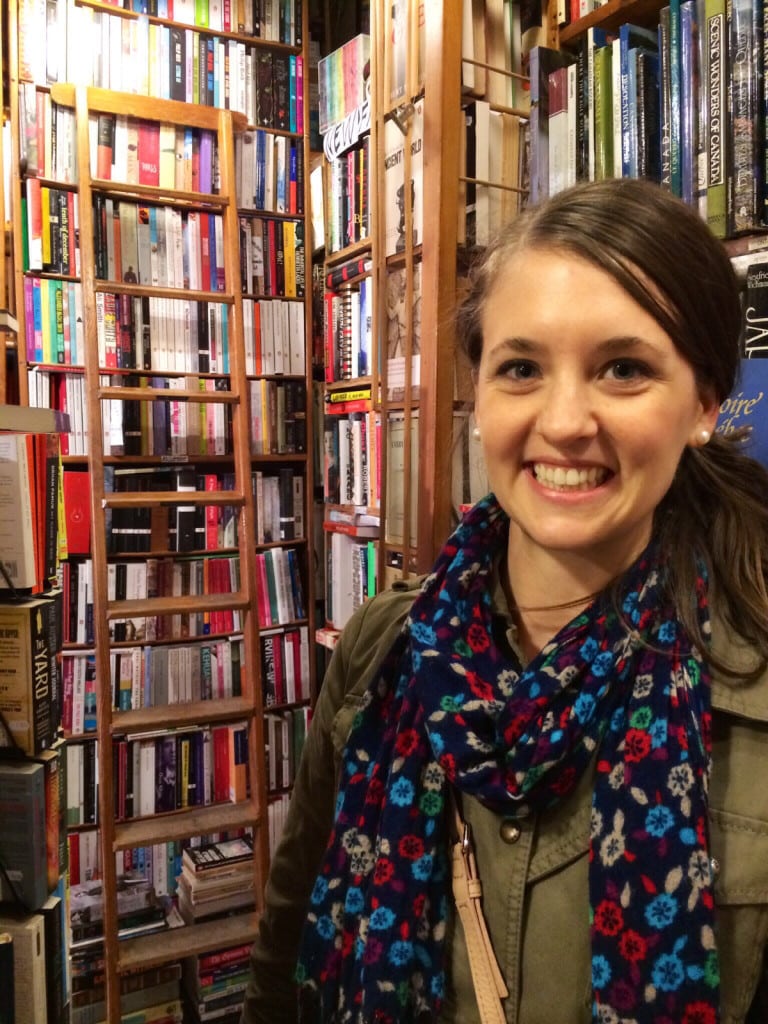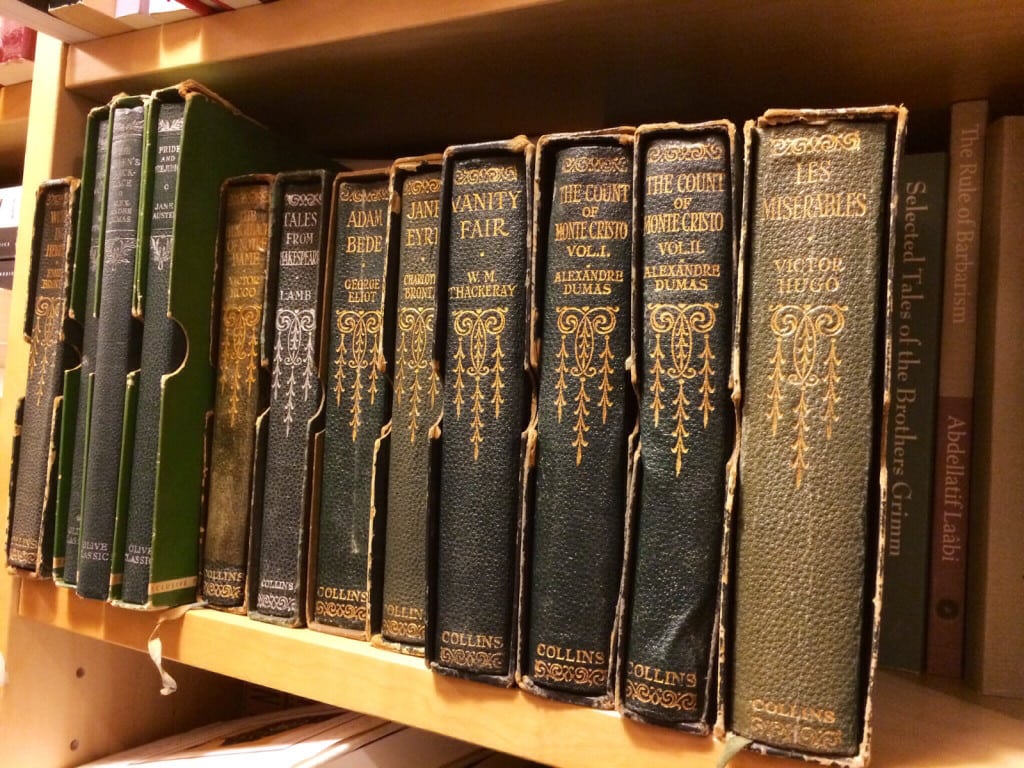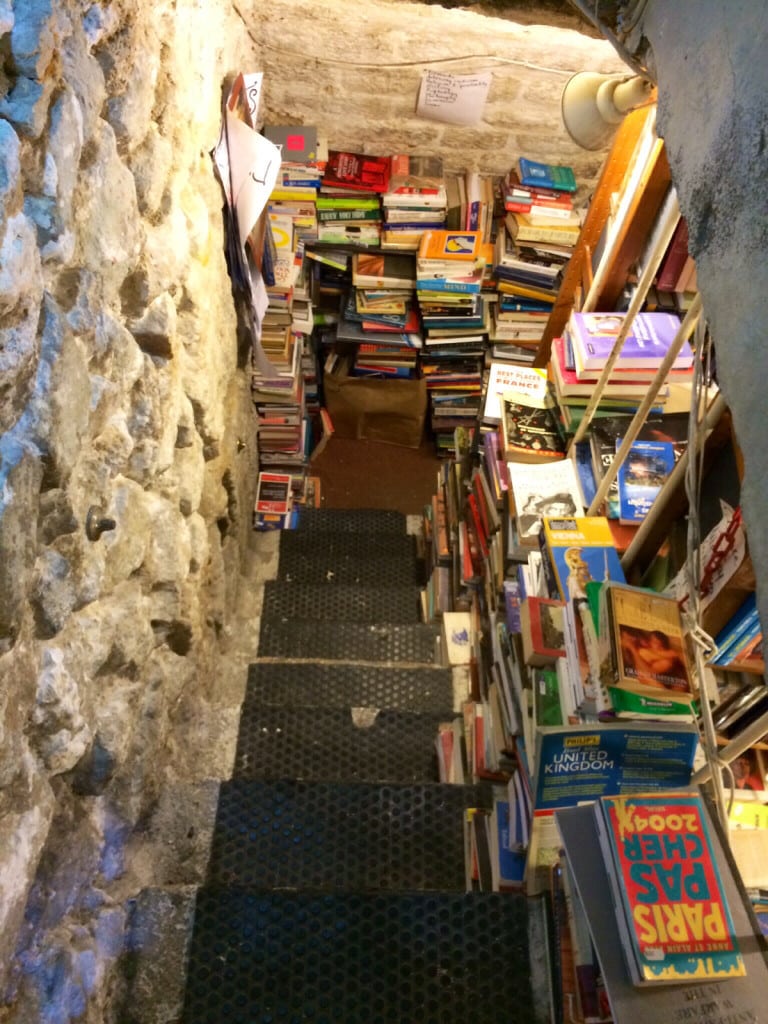 After walking around a bit more and enjoying some pastries, we stopped at another bookstore. Shakespeare & Company is also an English bookstore, but it is very different from the Abbey Bookshop. It is more organized and "put together", like a Barnes & Noble rather than a "mom & pop" bookstore. The store has a second floor and both floors are spacious, so there are a lot of nooks and crannies to explore. We could have spent several hours in there, but there was still a whole city to explore!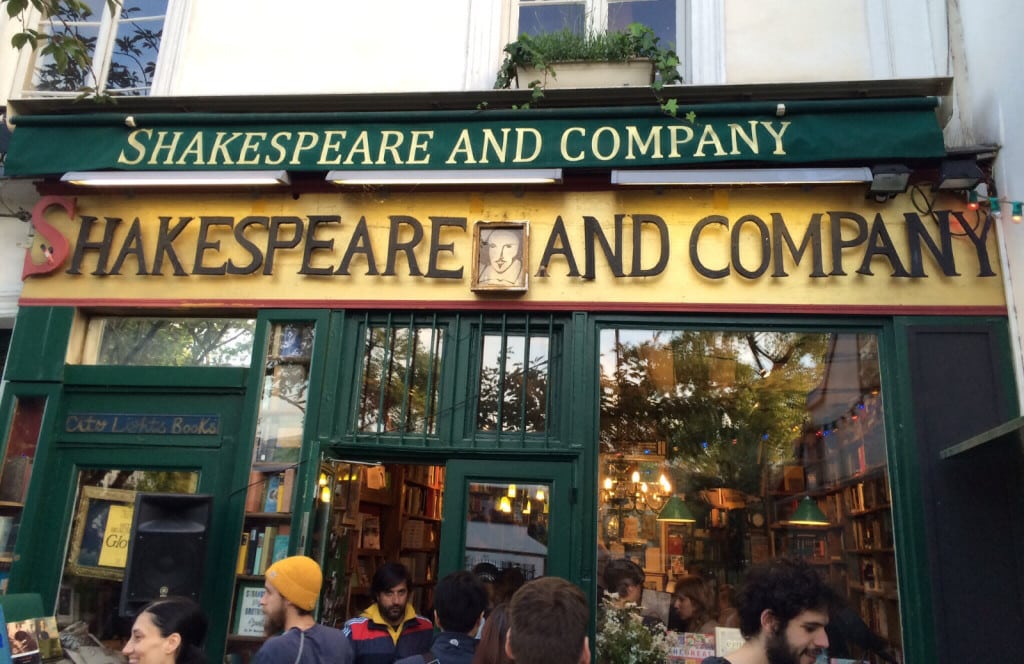 In the evening we had plans to do a boat tour at sunset, but as we walked toward the ticket booth, a massive crowd of high-schoolers came running around us to get onto the boat. At that point, we knew that it was not going to be the romantic Paris boat tour we had imagined, so we decided to save that for another night. Instead, we found a place nearby to have dessert and walk around the city a bit more.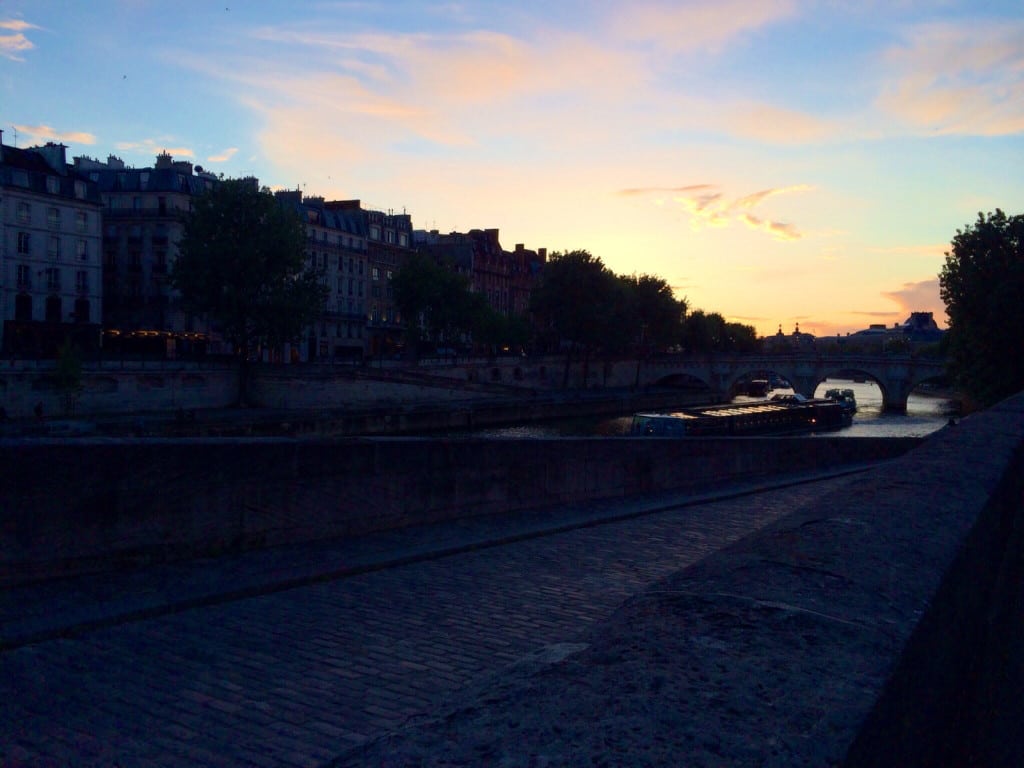 Day 2
5 out of 5 stars
Our second day in Paris was my birthday and one of our favorite days of the entire trip. We took the train out to Versailles to explore the historic palace, the palace gardens, and the charming town of Versailles. I can't even begin to describe how much we enjoyed our time in Versailles – especially exploring the gardens.
We arrived when they opened in the morning, and we had to wait in a long line even though we had pre-ordered our tickets online. Once we got inside, we did the audio tour throughout the palace. It is hard to describe just how opulent everything is there. To get a closer look at any of the gallery images below, just click them!
After we spent a couple of hours touring the palace, we grabbed lunch and then headed outdoors to explore the gardens. We thought it would just be another couple of hours. We were very wrong!
The gardens are incredibly large – about 17 acres of gorgeous scenery to explore. Every corner of the garden has something unique displayed. After wandering through the left side of the maze of gardens, we kept on walking until we reach the Grand Trianon and the Petit Trianon. The Grand Trianon was built by King Louis XIV as a retreat for his family away from the business of the palace. The Petit Trianon was originally built for the mistress of King Louis IV, but it eventually became the exclusive home of Marie Antoinette. Both of these historic sites allow you to freely walk throughout the rooms to read posted information and explore. After running into many more enjoyable surprises in the gardens, we walked to our final destination in the very back of the gardens – Marie Antoinette's Hamlet and farm. The Hamlet looks like something straight out of a fairy tale. Marie Antoinette had the Hamlet built to provide yet another escape for herself in a farm and country setting. The farm is still running today – one lucky family actually lives there and takes care of the animals! Sign me up for that job! Actually, since our visit, Daniel tells me all the time that we should build and run a bed and breakfast modeled after the Hamlet. Not a bad idea!
At this point, we had been exploring the gardens for about five hours, and it was time to make the trek all the way back to the palace to exit. Instead of just leaving, we decided to explore the other half of the maze of gardens that we had not walked through earlier, and we rented a boat to take out onto the lake. All in all, we were exploring Versailles and its grounds for a total of eight hours. It was a fantastic day.
Between April and October, the palace is open Tuesdays through Sundays from 9 am to 6:30 pm; between November to March, it is open Tuesdays through Sundays from 9 am to 5:30 pm. The gardens are open every day from 8am to 8:30pm. There are a variety of ticket packages you can get; we got "The Passport" which gets you into the palace, Trianon palaces, and gardens, and you get to take the audio tour. "The Passport" is 18 euros per person (about $24 apiece) when you order it online.
After we finally made our way to the palace exit, we walked around the town of Versailles for a few minutes before heading to dinner. Versailles is a very cute French town!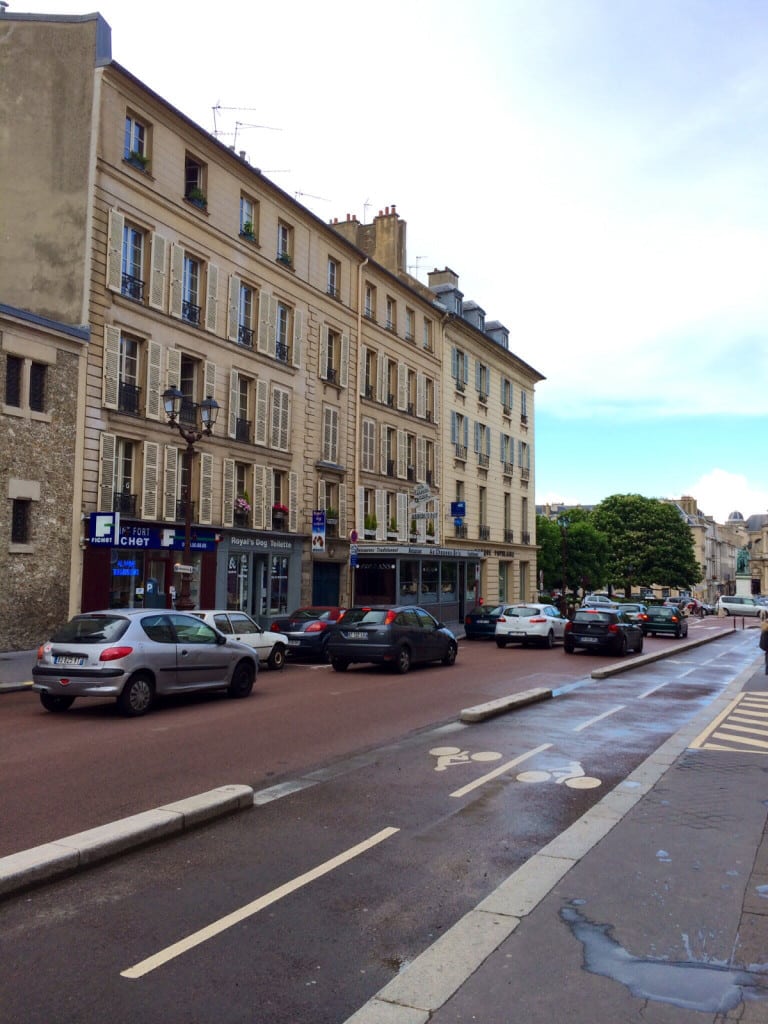 While riding the train back to Paris that night, we met a couple who suggested we get off at a stop near the Eiffel Tower to see it at night. It took my breath away! What a perfect way to end my birthday night.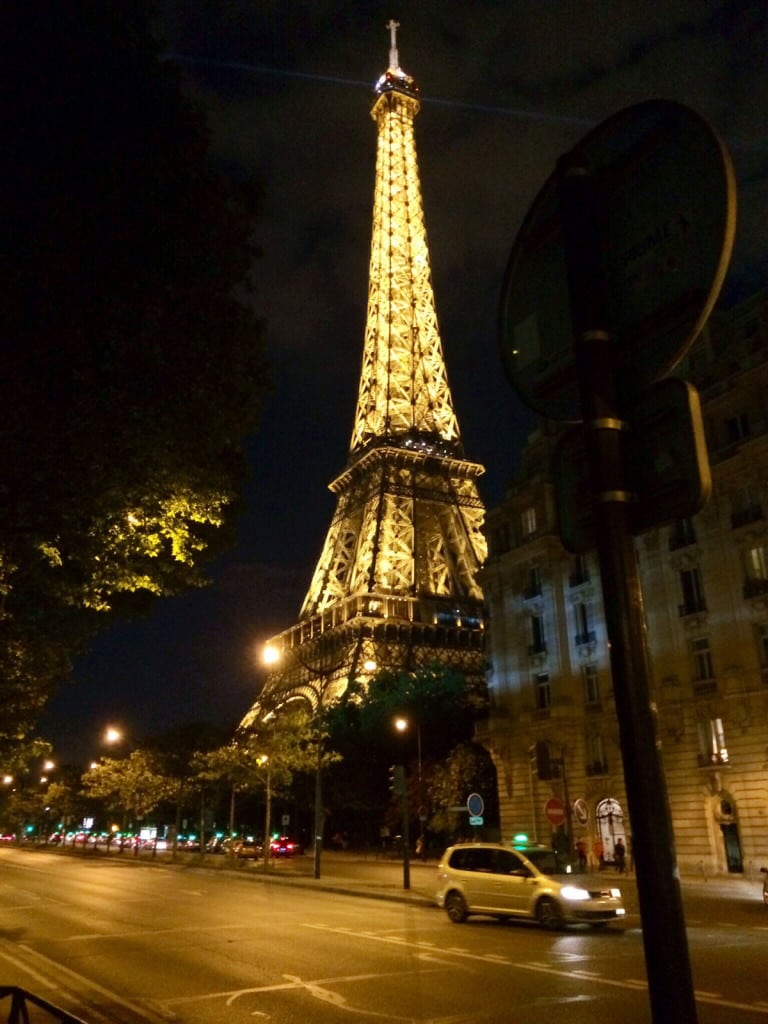 Day 3
On this day, my iPhone 5s was stolen. I believe I was pickpocketed – a true Parisian experience! It was very sad at the time, because I thought that I had lost all of the pictures I had taken on the trip so far. It turned out that all of my pictures had backed up onto iCloud, other than the pictures from this day. So, all pictures shown below until the end of the trip are taken from Daniel's phone.
5 out of 5 stars
During our stay in Paris we walked past this historic cathedral many, many times. On our third day, we actually went inside and looked around. It is a gorgeous building featuring intricate architecture and detailed stained glass. I wish we had had time to do the tours of the crypts or the towers, but that will just have to be on our list for next time!
Admission inside the building is free, but there is a fee for the extra tours that you can take.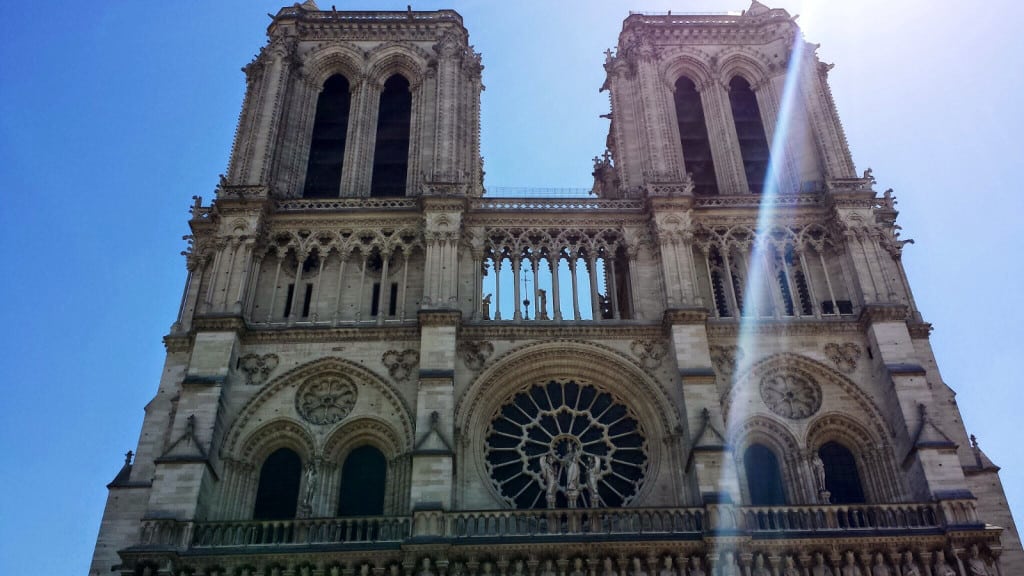 5 out of 5 stars
At 10am we met up with our walking tour group. As soon as we met our tour guide Paul, we knew we were in for a treat! Paul is so friendly and excited and anxious to share all kinds of history and tips & tricks for visiting the city. He is extremely knowledgeable about history and the ins and outs of Paris. Paul's walking tour company is a one-man operation. These tours are FREE; he works just for the tips he receives. Currently, his tour is rated as the #1 activity to do in Paris on TripAdvisor!
The tour lasts about four hours, and Paul takes you to most of the main points of the city. I highly recommend this tour for your first day in the city because it really helps you get oriented, and it will show you things to do and see that you may not have been planning on doing originally.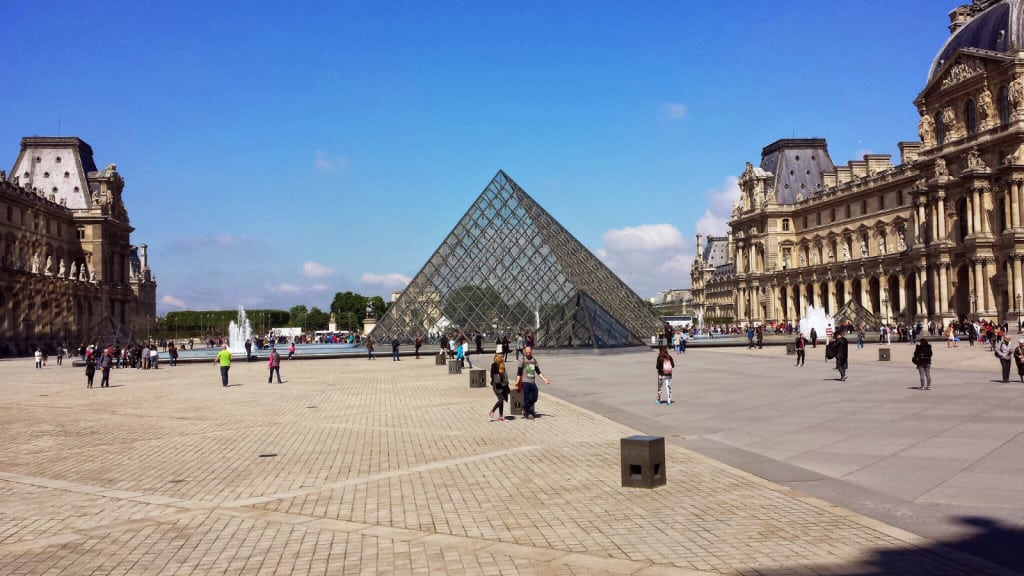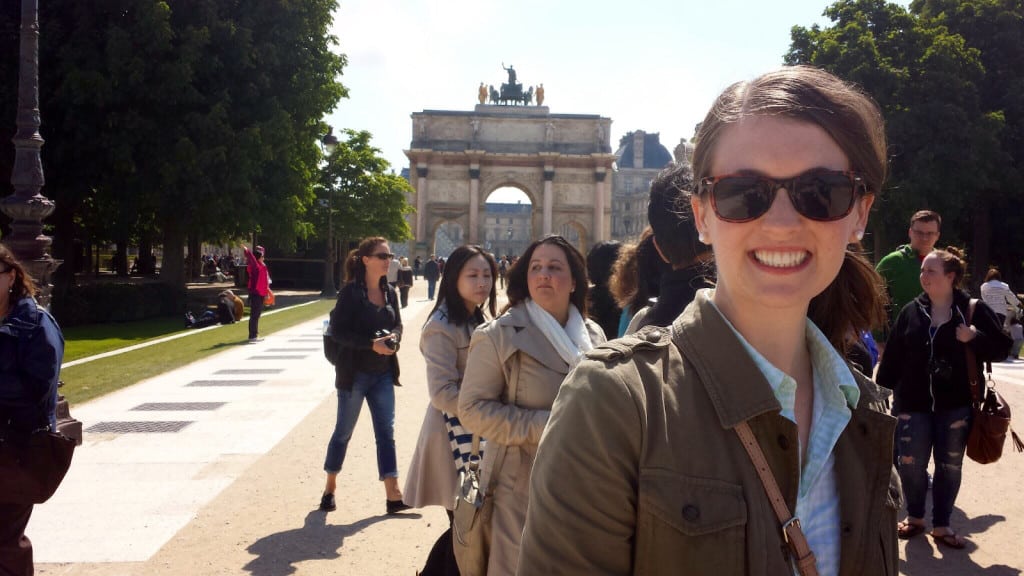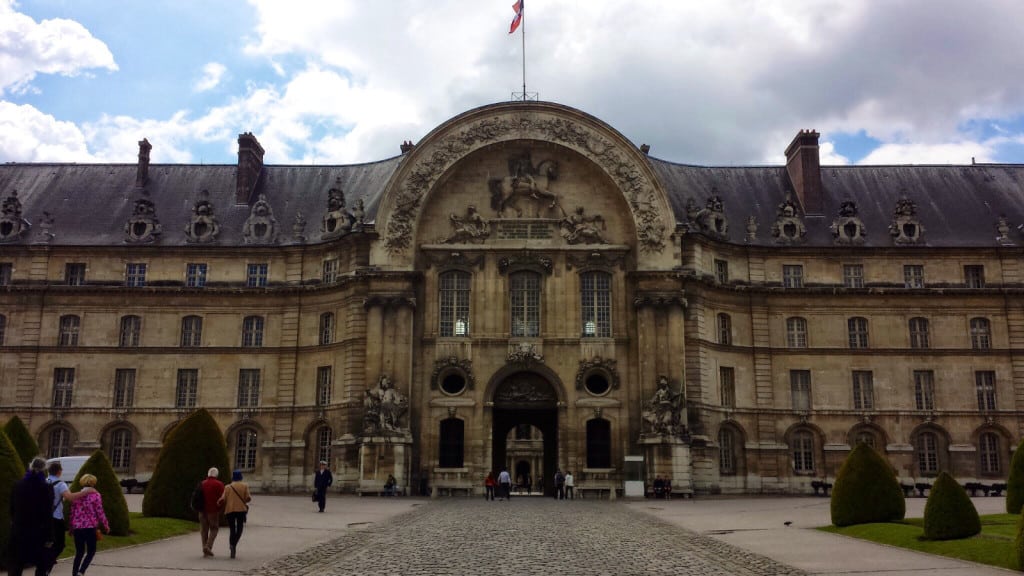 After our tour ended (around 2pm), we went to a side street nearby (Rue Cler) to shop for picnic food. We found some very cute and authentic French shops and picked up some bread, cheese, wine, and pastries. We took our picnic and ate it on a bench next to the Eiffel Tower.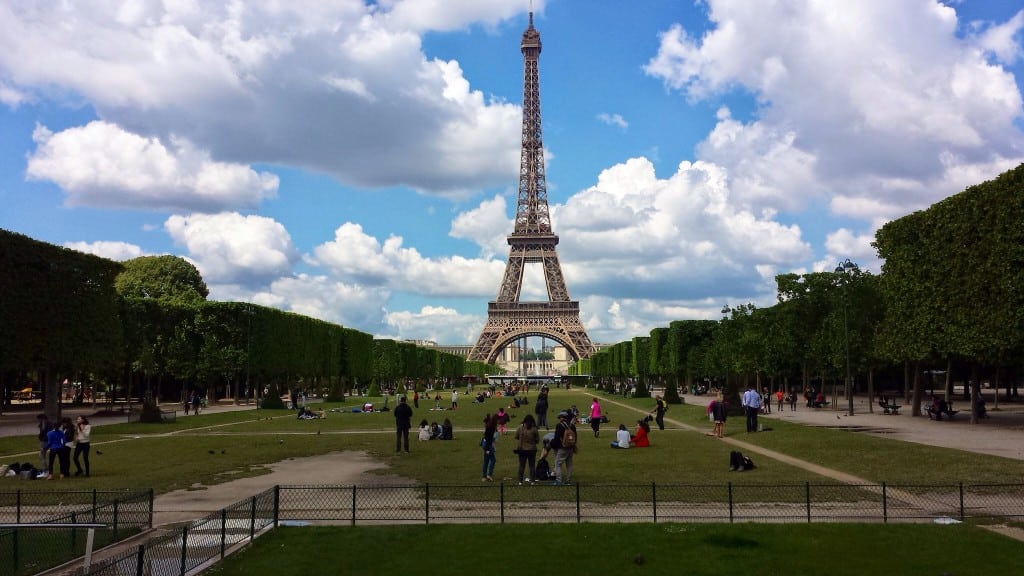 After our picnic, it was time to go up into the Tower! There are two options to get to the first viewing deck: climbing the stairs or taking the elevator. We climbed the stairs because it was cheaper and because we had been told that there was some historical information posted in the stairways. It was a long walk, but we think it is worth it if you are able to climb a significant number of stairs. Once we reached the first viewing deck, we bought our second set of tickets to go to the very top. The elevator is the only option for getting to the very top.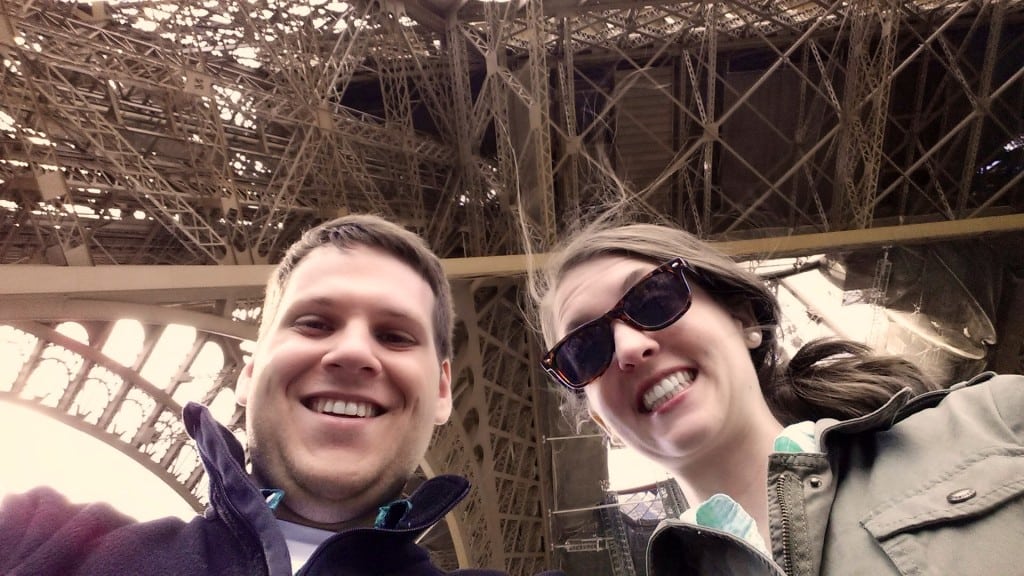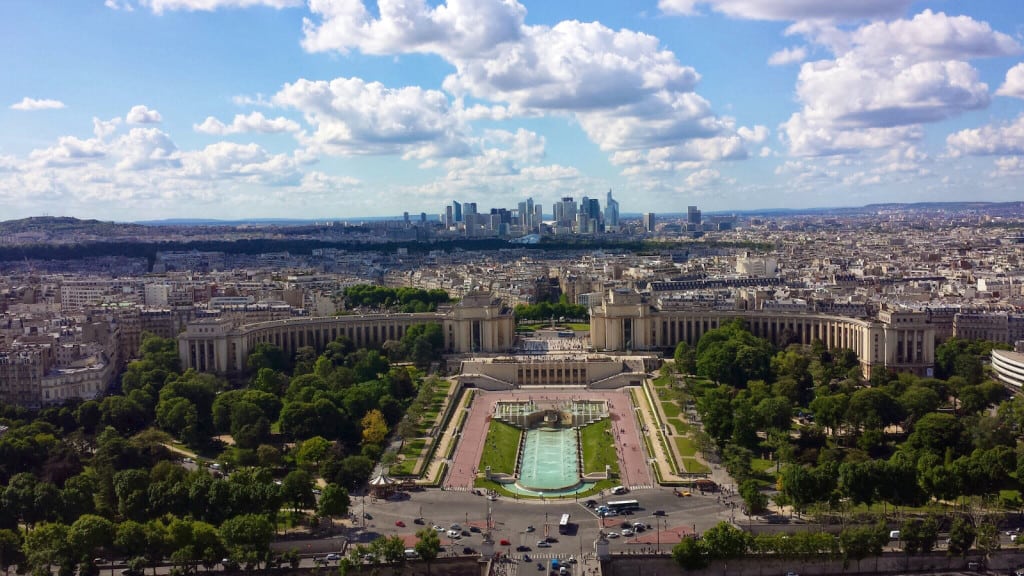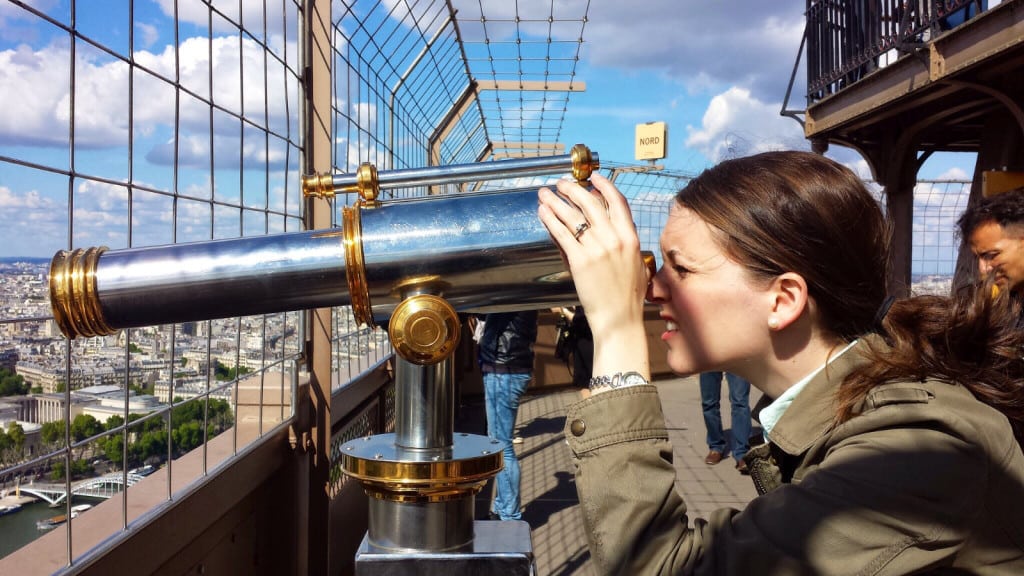 To reach the top of the Tower, it costs a total of 14 euros (about $18.50) per adult if you take the stairs to the first viewing deck, and 15 euros (about $20) if you take the elevator to the second deck. It is open every day from 9am to midnight from mid-June to the beginning of September, and from 9:30am to 11pm the rest of the year.
4 out of 5 stars
After coming down from the Tower, we did some more exploring. We went to look at the Arc de Triomphe, a memorial to soldiers who have fought in wars for France. We did not go to the top because it was under construction.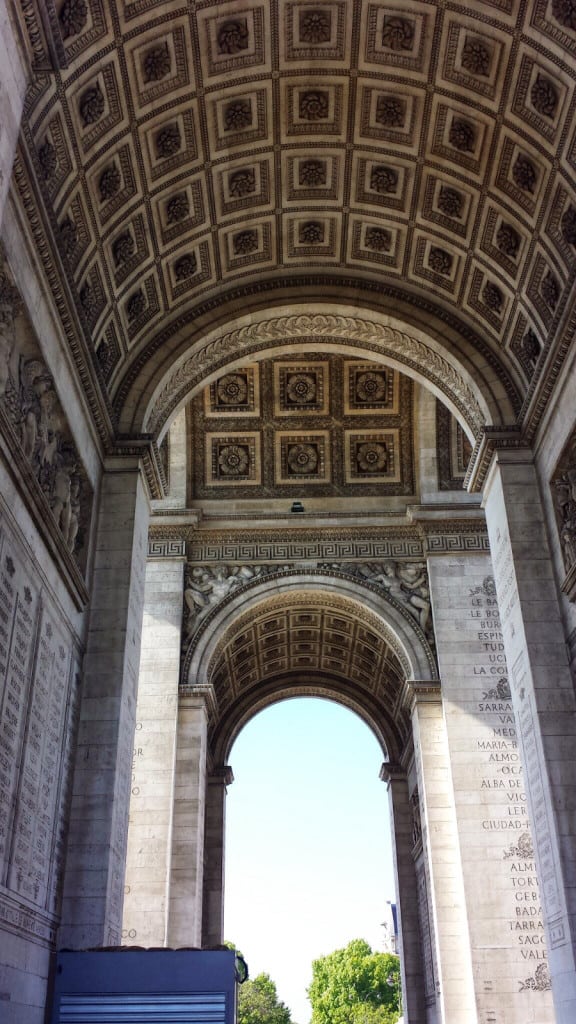 Bouquinistes
Before dinner, we shopped around at the bouquinistes, the bookseller stands along the Seine River. These stands sell second-hand books and souvenirs. According to our walking tour guide, these booksellers actually get paid to stay open since they are a UNESCO World Heritage site. I really enjoyed shopping around and looking at all of the beautiful books!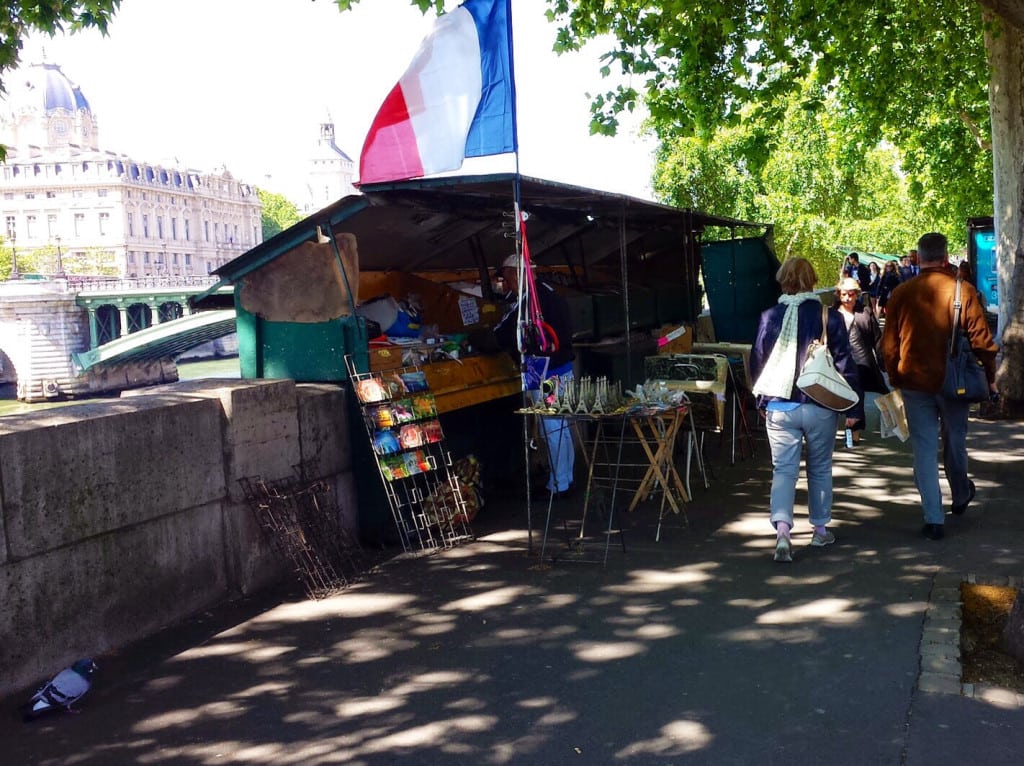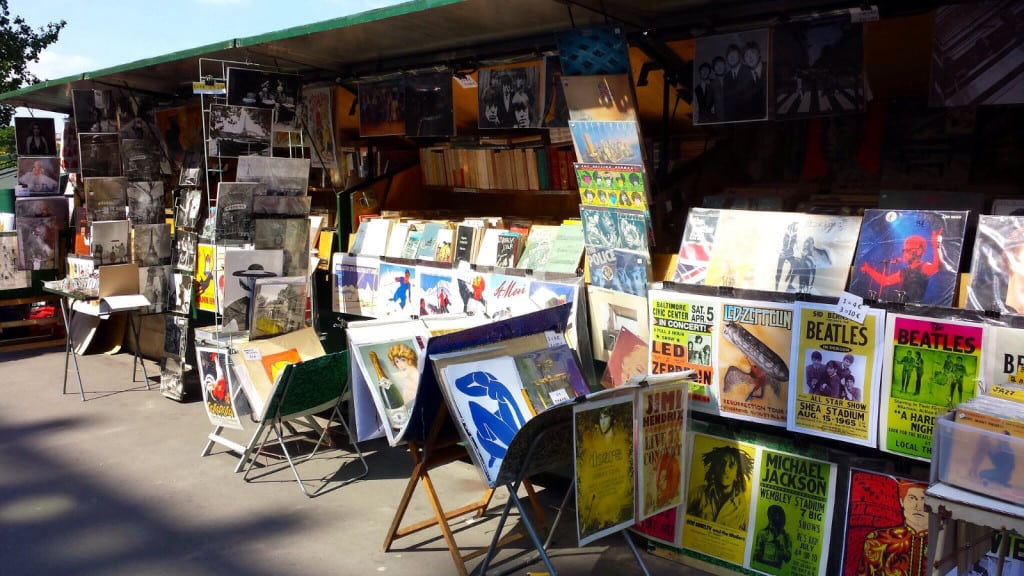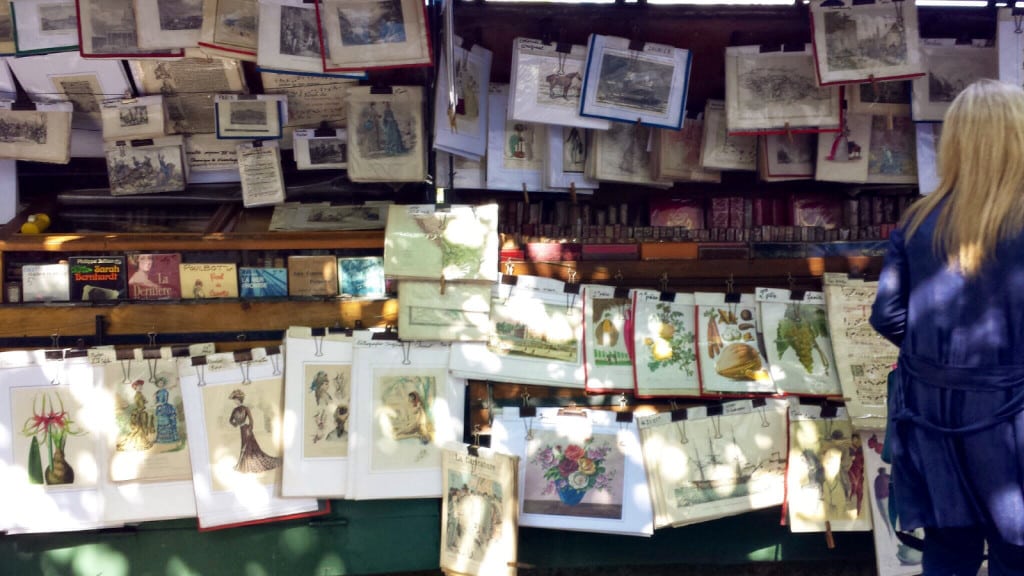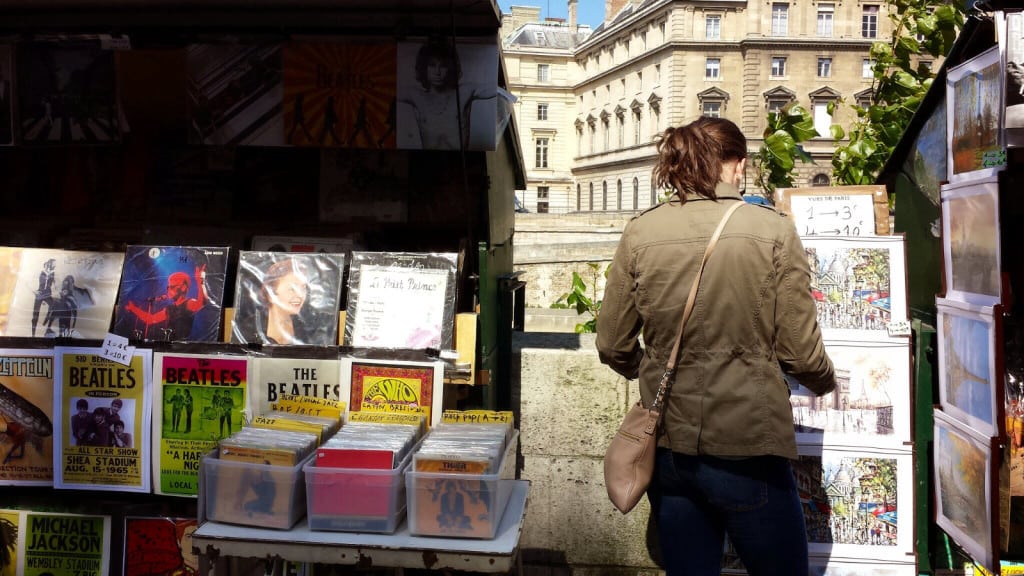 Day 4
Our fourth day in Paris was our third anniversary! We browsed around a bread exhibition that was set up right outside of Notre Dame. We aren't exactly sure what was going on, but it was neat to walk around, smelling the fresh bread and watching people make it.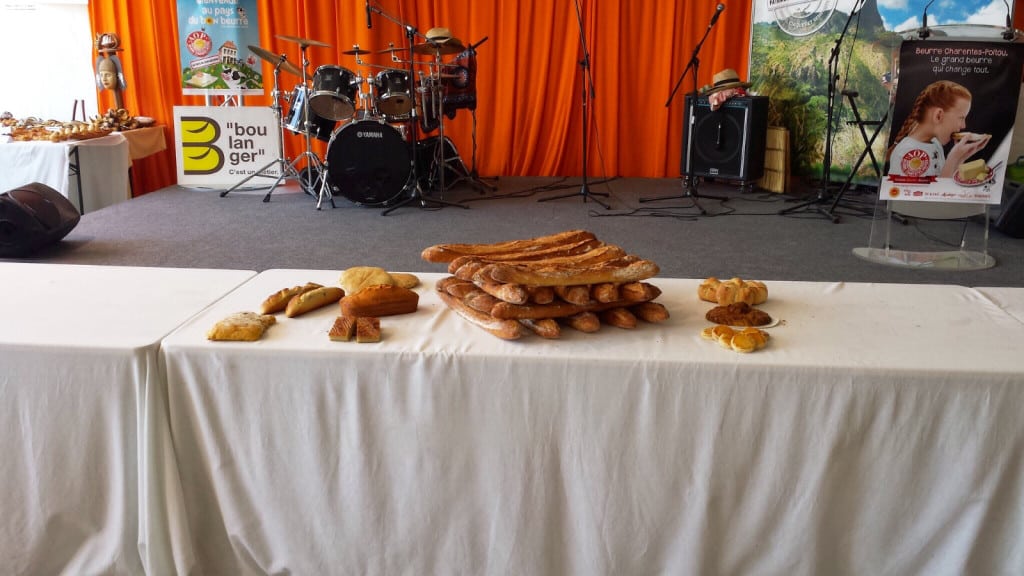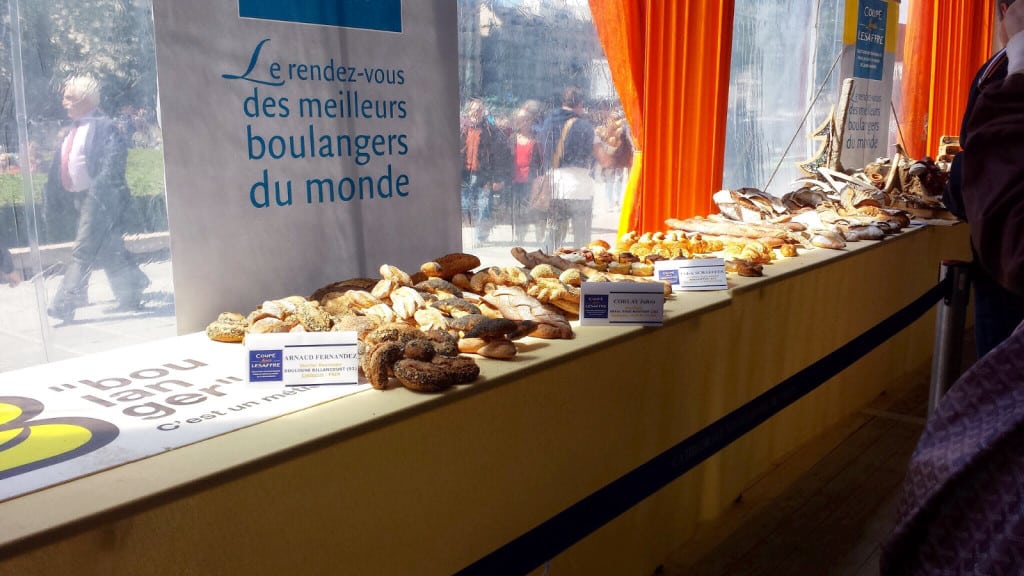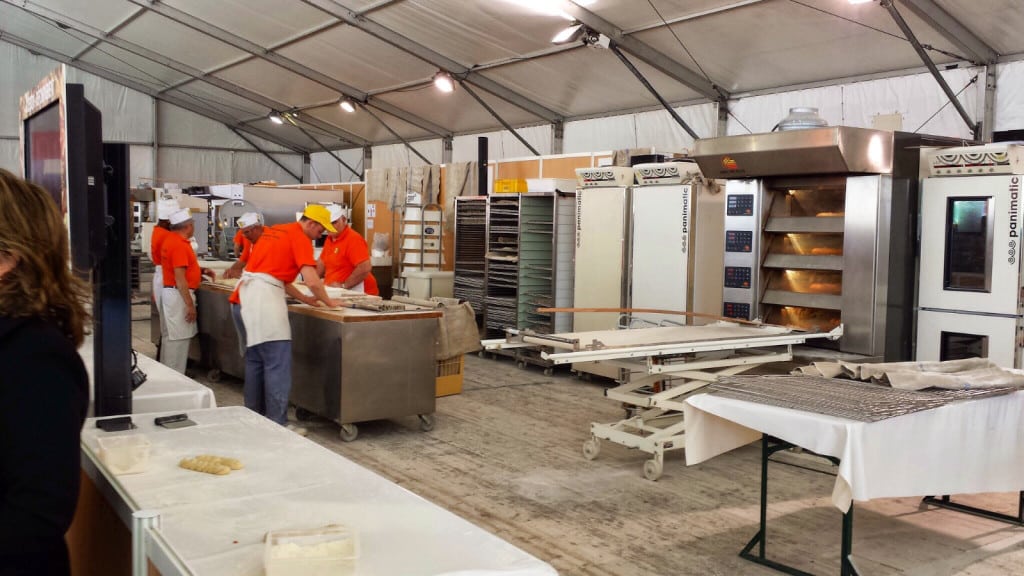 4 out of 5 stars
Next we headed out to Montmarte to see the Sacre-Coeur. The Sacre-Coeur is a Roman-Catholic basilica at the top of a hill that offers breath-taking views of the city. It is well worth the required trip up many, many stairs. We did not actually go into the basilica, but we took lots of pictures of the outside.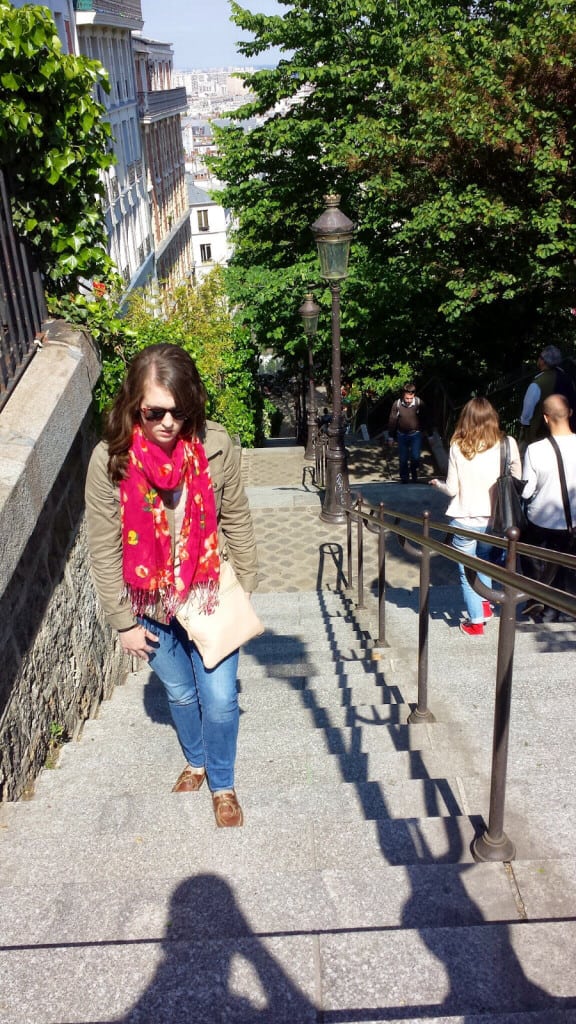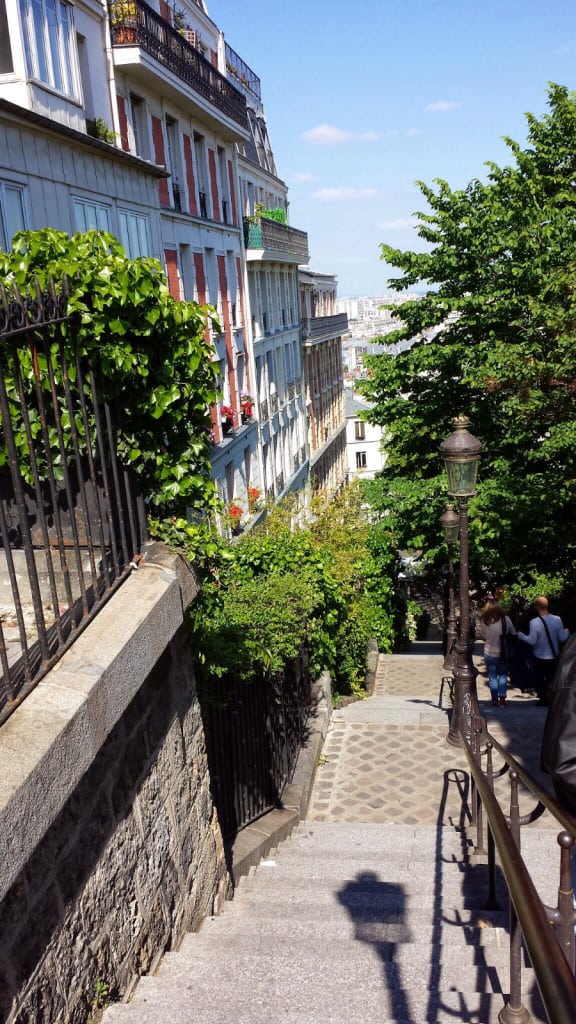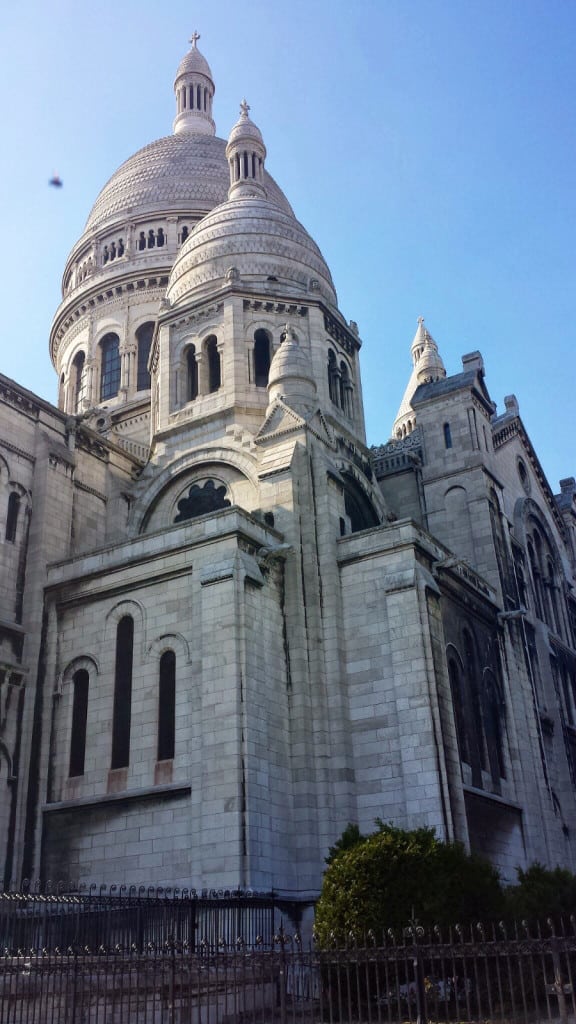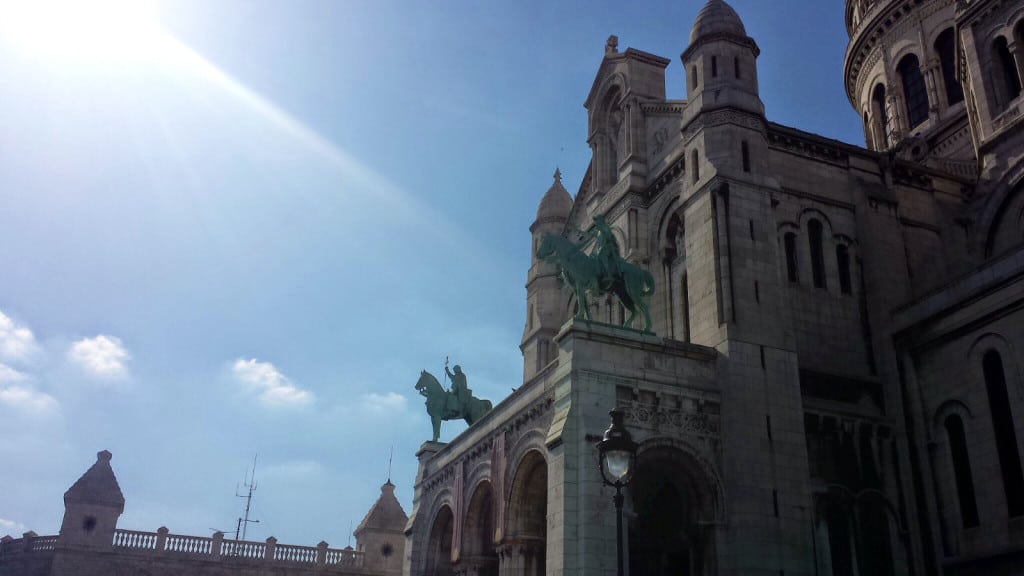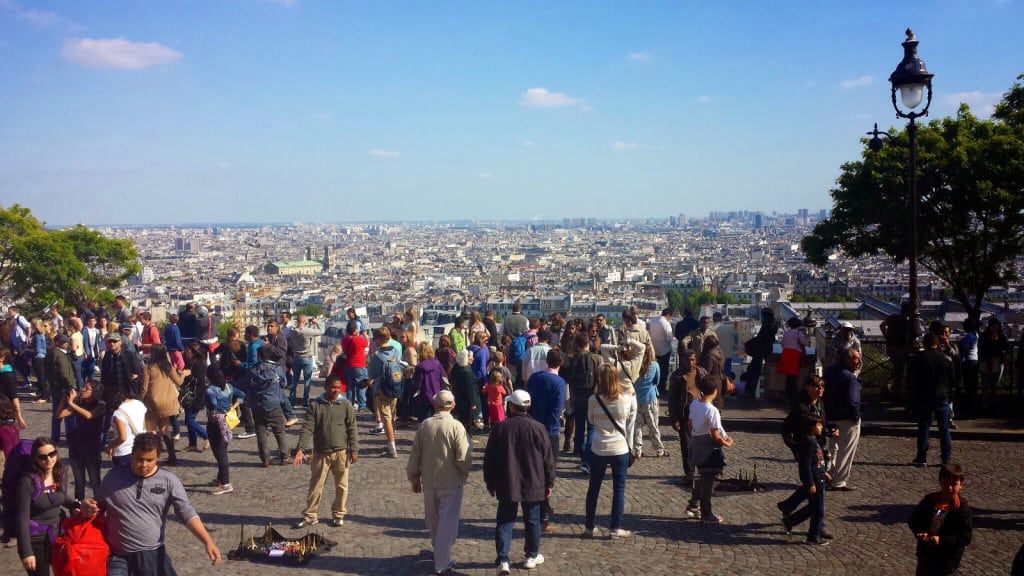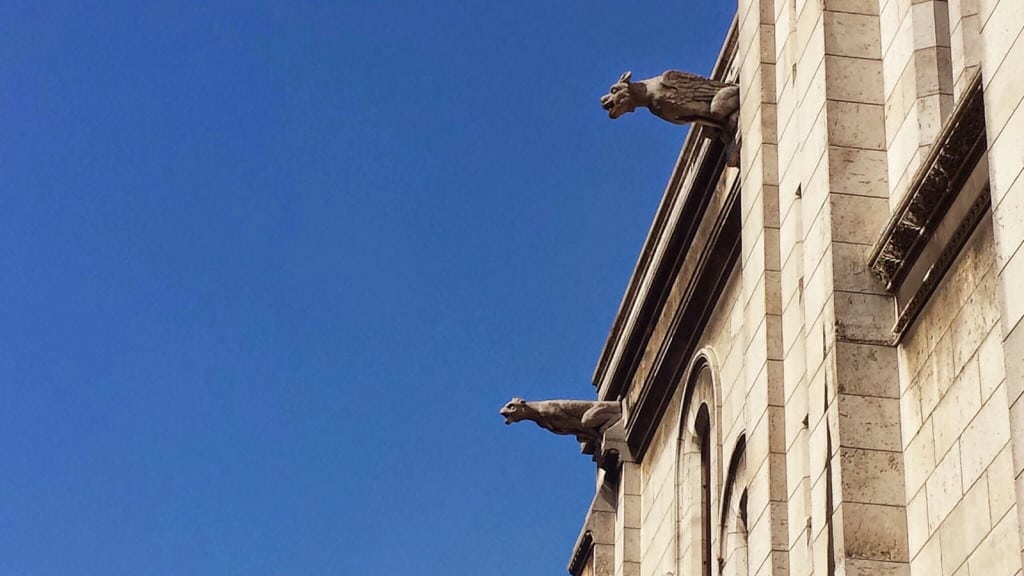 Moulin Rouge
3 out of 5 stars
Just a short walk away from the Sacre-Coeur sits the famous Moulin Rouge. We did the mandatory walk past it to take a picture, but that was our least favorite area of Paris by far. This is probably not an area you would want to take children, and I would recommend going there during the daytime.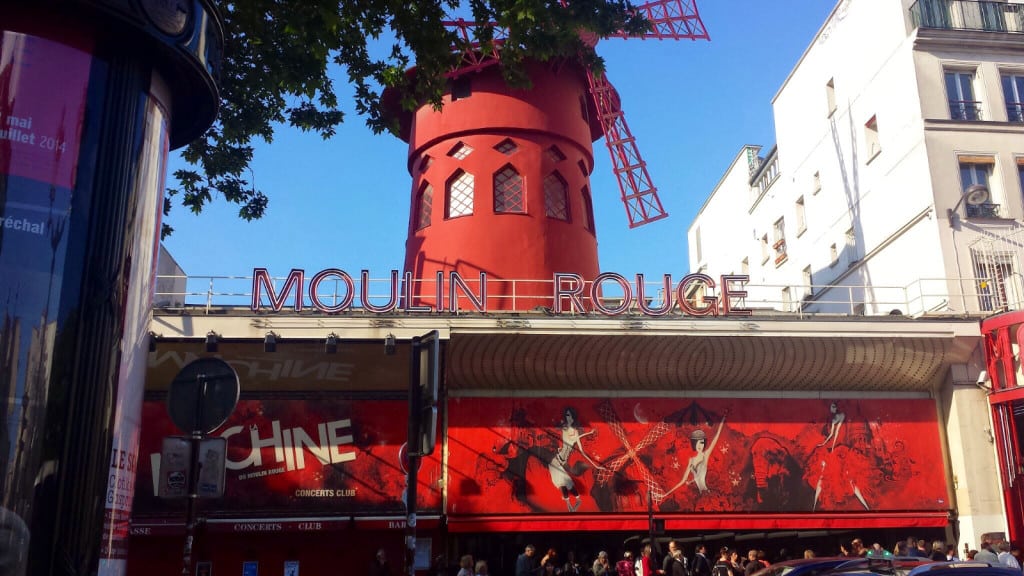 Afterward, we headed back to the hotel to get ready for our anniversary dinner that night. I will talk about the details of our dinner in my What We Ate post, but I highly, highly recommend dining at Bistrotters if you are looking for a nice restaurant in Paris!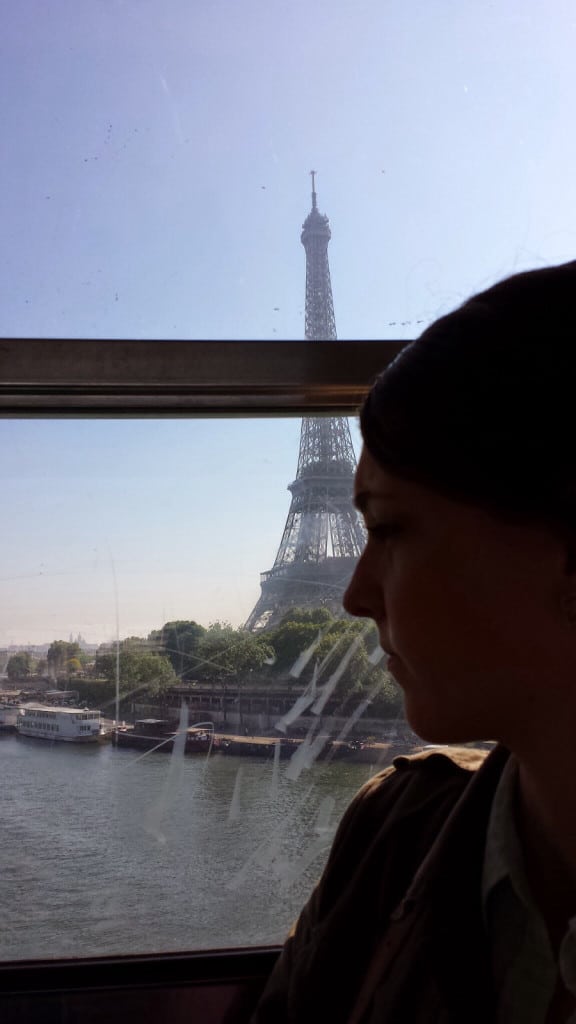 Day 5
Champs Elysees
4 out of 5 stars
On our final full day in Paris, we crammed in as many of our remaining activities as we could. We started by walking down the famous Champs Elysees to window shop. It was a nice walk and fun to see one of the more upscale areas of Paris.
We then made our way over to the Louvre and took some pictures along the way.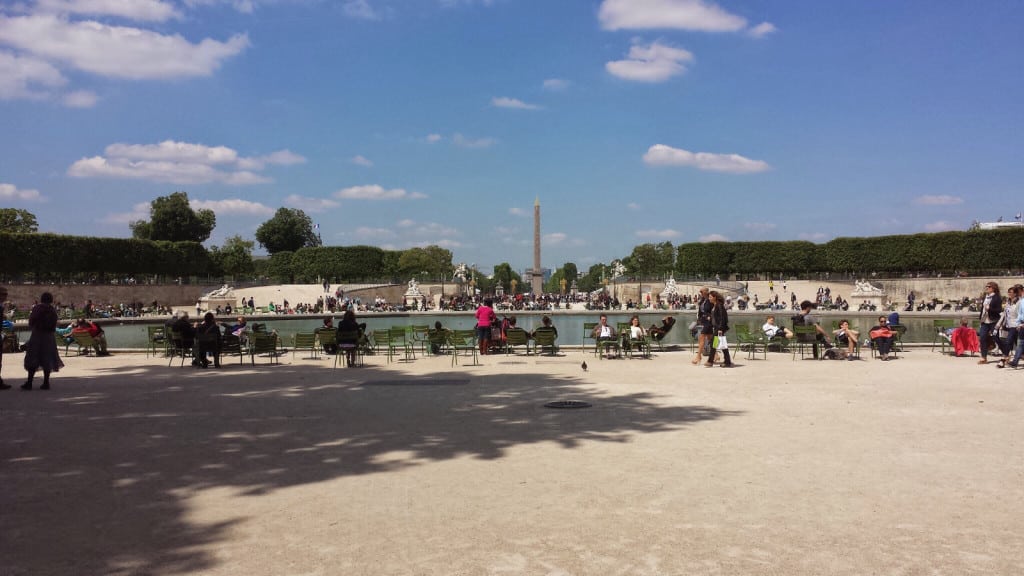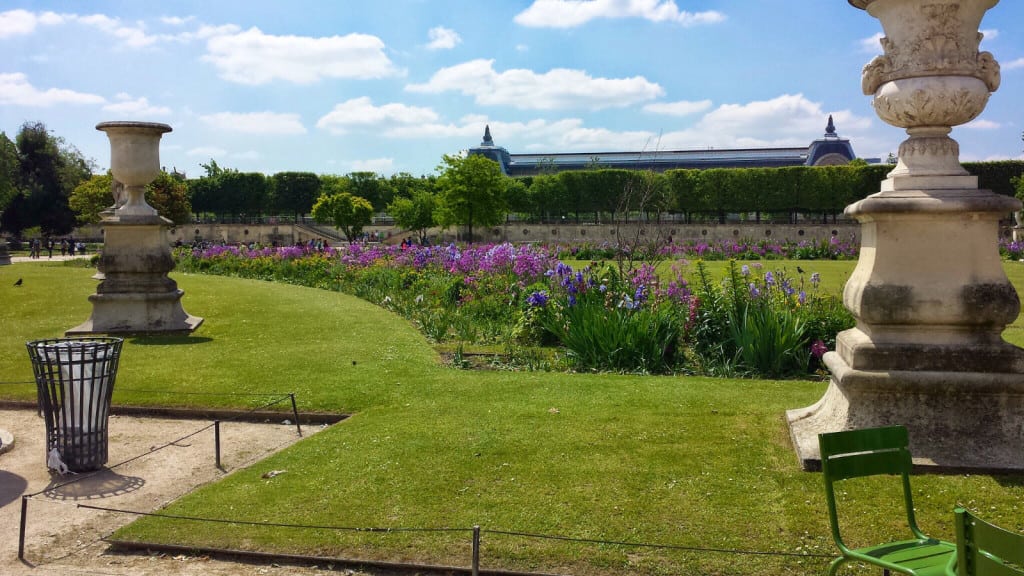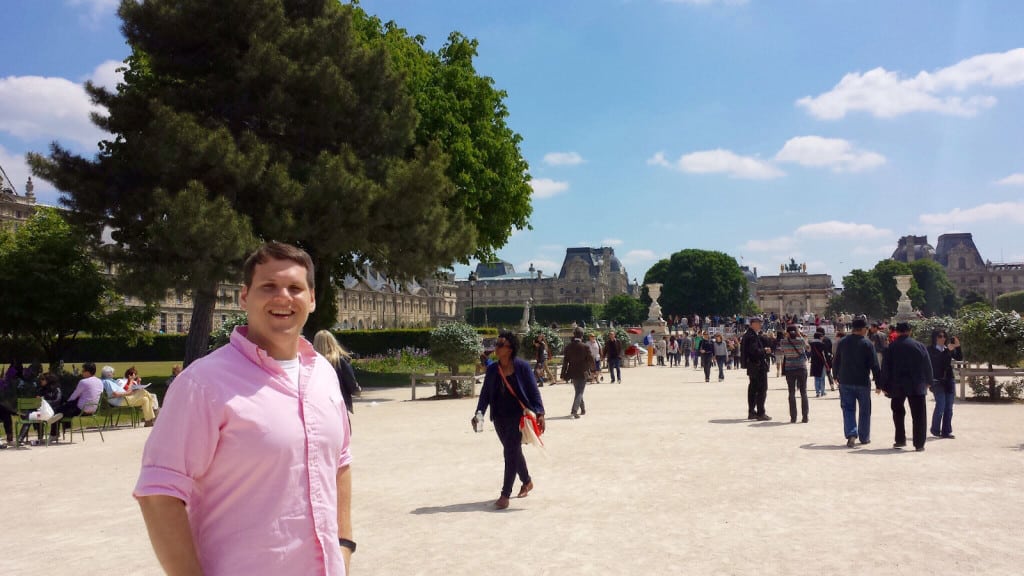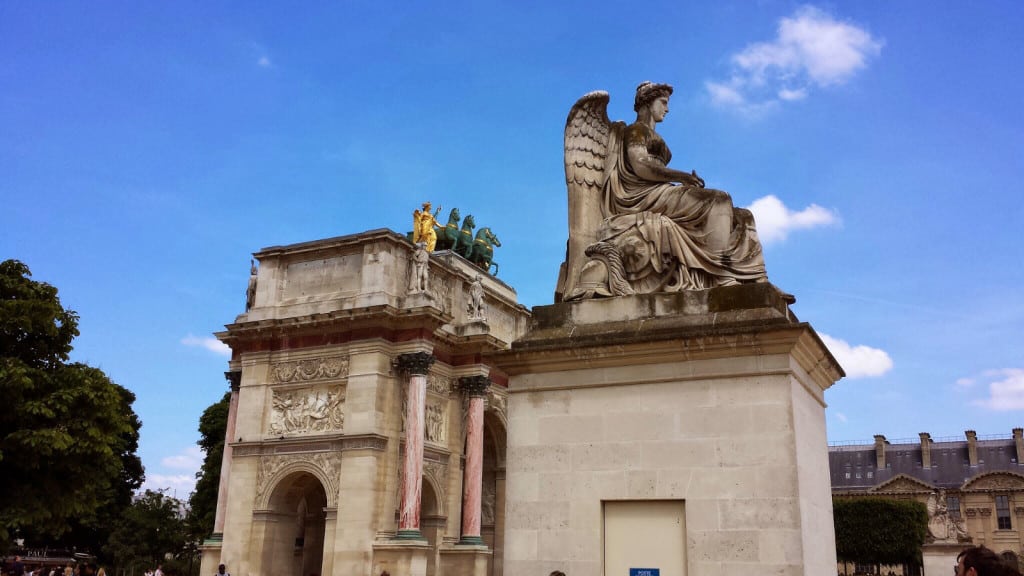 5 out of 5 stars
I should first admit that we did not spend a lot of time at the Louvre. Many people suggest allocating one to two full days to fully experience all that this museum has to offer. I agree, but we did not have that much time available to us. So, instead, we went in with a game plan of what we wanted to see, and we only spent about three hours. We made a point to visit the Mona Lisa (of course), the Italian Renaissance paintings exhibit, and the Egyptian history exhibit.
The museum is open Monday, Thursday, Saturday, and Sunday from 9am to 6pm, and Wednesday and Friday from 9am to 9:45pm. Tickets are 12 euros (about $16) apiece. DO NOT wait in line at the main entrance to purchase your ticket. Instead, go down one of the separate staircases to the shopping area of the Louvre and find the tobacco store. You can buy your admission tickets there for the same price without the long wait in line.
5 out of 5 stars
Our final main stop of the trip was the Sainte-Chapelle. This chapel was built by King Louis IX to store the Passion Relics which included Jesus' Crown of Thorns. This is most gorgeous building I have ever stepped foot in. The stained glass is unlike anything I have ever seen before.
The chapel is open between March and October from 9:30am to 6pm, and between November and February from 9am to 5pm. The admission for adults is 8.5o euros apiece (about $11.30).
5 out of 5 stars
To officially end our time in Paris, we did our evening boat tour. The views of the city at night are magical, but these phone photos don't do it justice. You will just have to schedule a tour to see them for yourself!
The prices of the tours seem to vary every time I check the website, but they are usually around 9 or 10 euros (around $12 – $13) apiece, with the evening tours being more expensive.  The tours run all day from 10:30am to 10pm.
As you can see, we absolutely loved Paris. It was more beautiful and spectacular than I had imagined. I'm still amazed at how the buildings and landscaping were gorgeous everywhere we went. There are many things we were unable to do while we were there, but we are hoping to go back again one day!
I hope that this was helpful to some of you! I'll be back in the near future with a post on what we ate and where we stayed, and another post on planning and other recommendations for your trip to Paris. Please let me know if you have any questions at all in the comments below or in an email!