I'm back with a Travel with Me: Weekend Edition post, a shortened version of my Travel With Me posts. These posts are for trips that are just a day or a weekend – I share what we did, what we ate, and where we stayed with short descriptions. I hope that these posts can help you plan a short trip yourself or at least inspire you to visit a new place!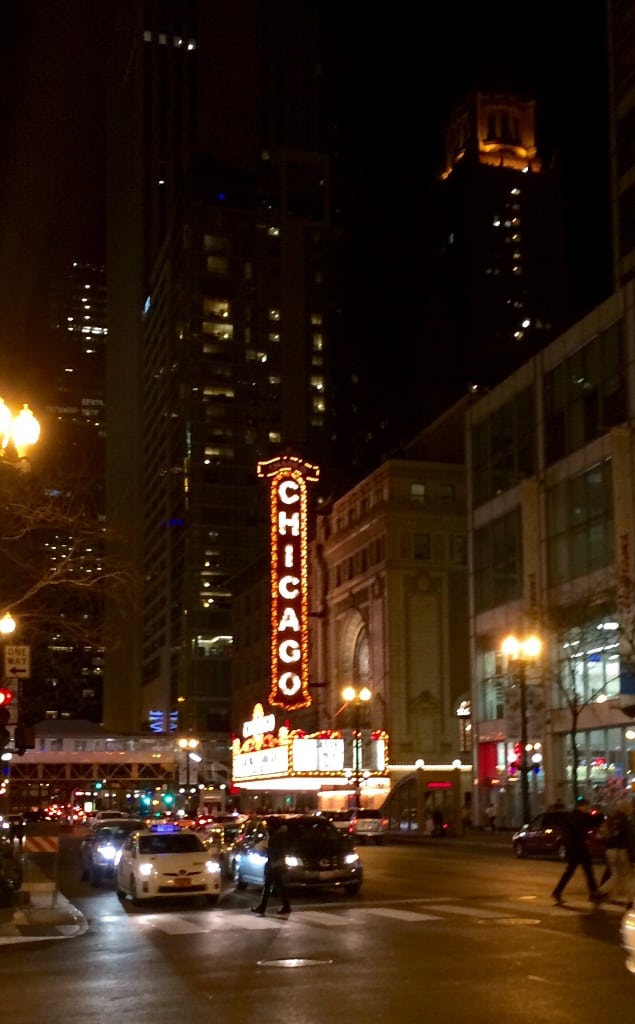 For this post, I'm sharing our weekend trip to Chicago the weekend of November 7-9 this year. I was in the suburbs of Chicago for a work training the week before, so Daniel flew in for a weekend in the  city afterward. It was a whirlwind of a weekend but so much fun!
Where We Stayed:
When looking for a hotel for this trip, it was important to us that we stay somewhere downtown with easy access to many of the places we wanted to visit. I found a great deal on this hotel at Hotels.com. The hotel is literally right off of the Magnificent Mile (a famous street for shopping and dining). The woman who checked us in was not that friendly, but she was efficient, so we made it up to the room quickly. I was happy to see that we were placed on a higher floor (32!) with a fantastic view of the city.
Also, the room was nicer than most Hampton Inns I have stayed in and very clean! We were able to walk nearly everywhere that we wanted to go in the city, but the hotel was close enough to train stations for the couple of times we went further out. The hotel offered a free breakfast each morning; however, we never had the breakfast because there were too many restaurants that we wanted to try in the city. The only real complaint I have is that the elevators are extremely slow which caused almost everyone to have to wait 15+ minutes for an elevator that was not already filled to the brim. The long wait caused many people to give up and take the stairs which caused the elevator to stop on almost every floor on the way down even when people were no longer there. For a building so tall, they really need a more efficient elevator system because many people cannot walk numerous flights of stairs. However, the view from the room and the location were so great that I have to give the hotel a rating of 4 out of 5.
What We Did:
Downtown Macy's
The Downtown Macy's in Chicago is currently a Christmas lover's dream. They are completely decked out for the holiday season. It was so fun to just walk around the massive store (9 floors!) and enjoy all of the Christmas decorations.
After admiring Christmas at Macy's for a little bit, we met up with my friend Suramya to do an architecture boat tour. I had done one before and remembered really loving it, so I was excited to bring Daniel and Suramya along. After going again, I still HIGHLY recommend that everyone who visits Chicago takes a boat tour down the Chicago River. HOWEVER, it was absolutely freezing on that water, and we really weren't bundled up enough for that. We learned all sorts of fun facts and got some great pictures of the city, but I really wish I had packed a few more layers.
Lincoln Park
There were a couple of neighborhoods of Chicago I really wanted to visit over the weekend, and Lincoln Park was one of them. Even though it was dark by the time we got going, we were still able to walk around and look in a few shops. I tried David's Tea there for the first time and am now in love with that store. I wish I could try all the flavors! I can't really say much more about Lincoln Park because we only had about an hour there before we had to head back to the hotel to get ready for dinner, but it seems like the place to go if you want to shop at very nice stores surrounded by very nice houses.
Millennium Park
Sunday morning on our way from breakfast to the Art Institute, we took a quick walk through Millennium Park to take the required selfie with the Bean.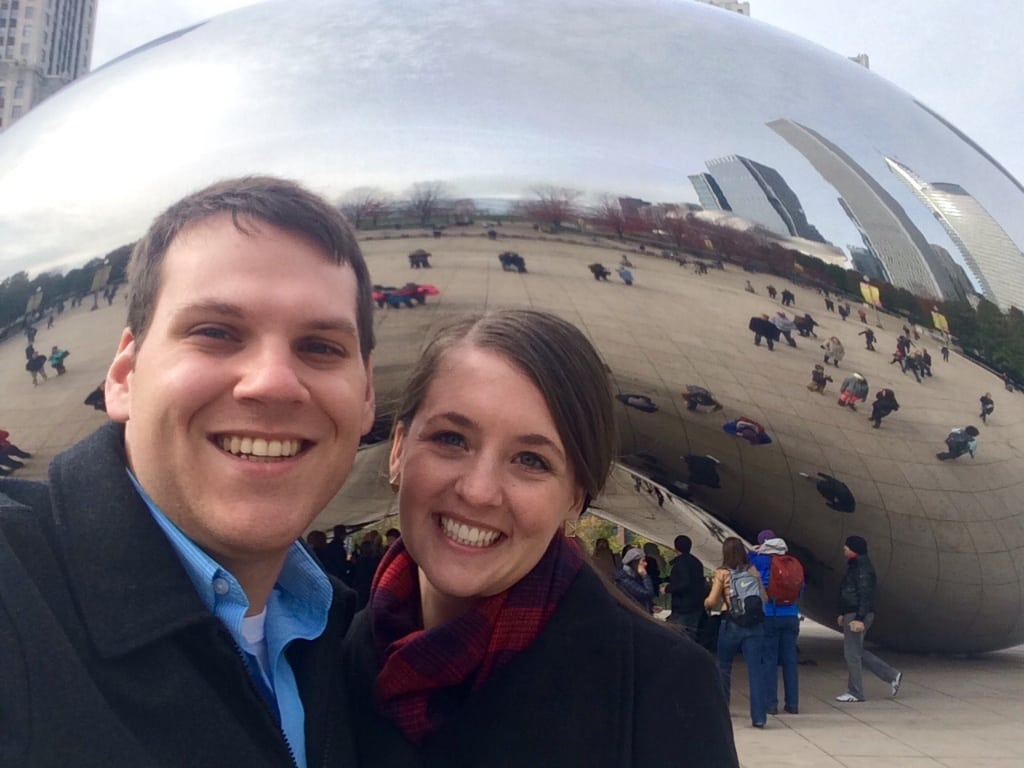 After our stop at the Bean,we went straight to the Chicago Art Institute. When we walked in, I started feeling like I did at the Louvre in Paris this past May – very overwhelmed and unsure of where to go in a limited amount of time. However, once we decided on the two sections that we really wanted to see, we had a great time! My favorite exhibit was the Thorne Miniature Rooms. This exhibit had over 60 miniature exhibits that provided a glimpse into homes from different time periods in both America and in Europe. The detail of the exhibits was phenomenal. Minatures exhibits is such a neat art form – the creator has to know their history very well on top of being creative and talented.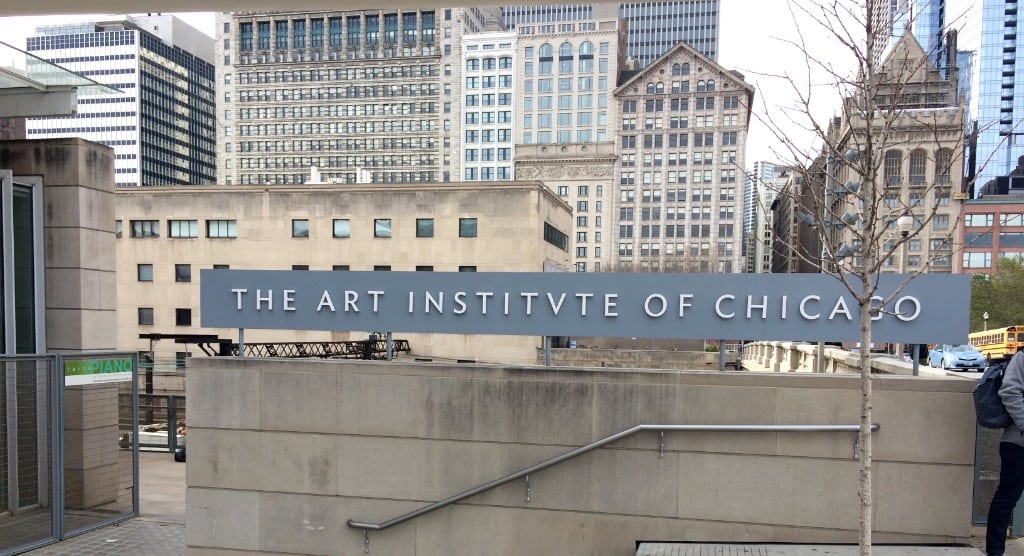 Wicker Park
The last thing that we did in Chicago is walk around Wicker Park, the other neighborhood of the city that I wanted to explore. Wicker Park is very different from what I was expecting. I knew it was the hipster area of town, but I didn't know to what extent. It was so cool! There are all kinds of interesting restaurants and stores. We spent most of our time at the Myopic Books shop and walking around looking at the unique homes. It was time to head back to the hotel to grab our bags and go home before we knew it.
Where We Ate:
It's time to talk about my favorite part of traveling – trying out all kinds of great food! Let me tell you, we were able to fit quite a lot of delicious meals into one short weekend.
It seems that every big city has one well-known donut shop where tourists flock to based on fabulous TripAdvisor reviews. Chicago seemed to have a couple of these, but we settled on Firecakes Donuts for Saturday morning breakfast. The donuts were really delicious. I had pumpkin pie and honey glaze; Daniel had lemon and and old-fashioned. We were a little disappointed that they had nowhere to sit indoors, but we just dealt with the cold and sat outside, letting our coffees keep us warm. 🙂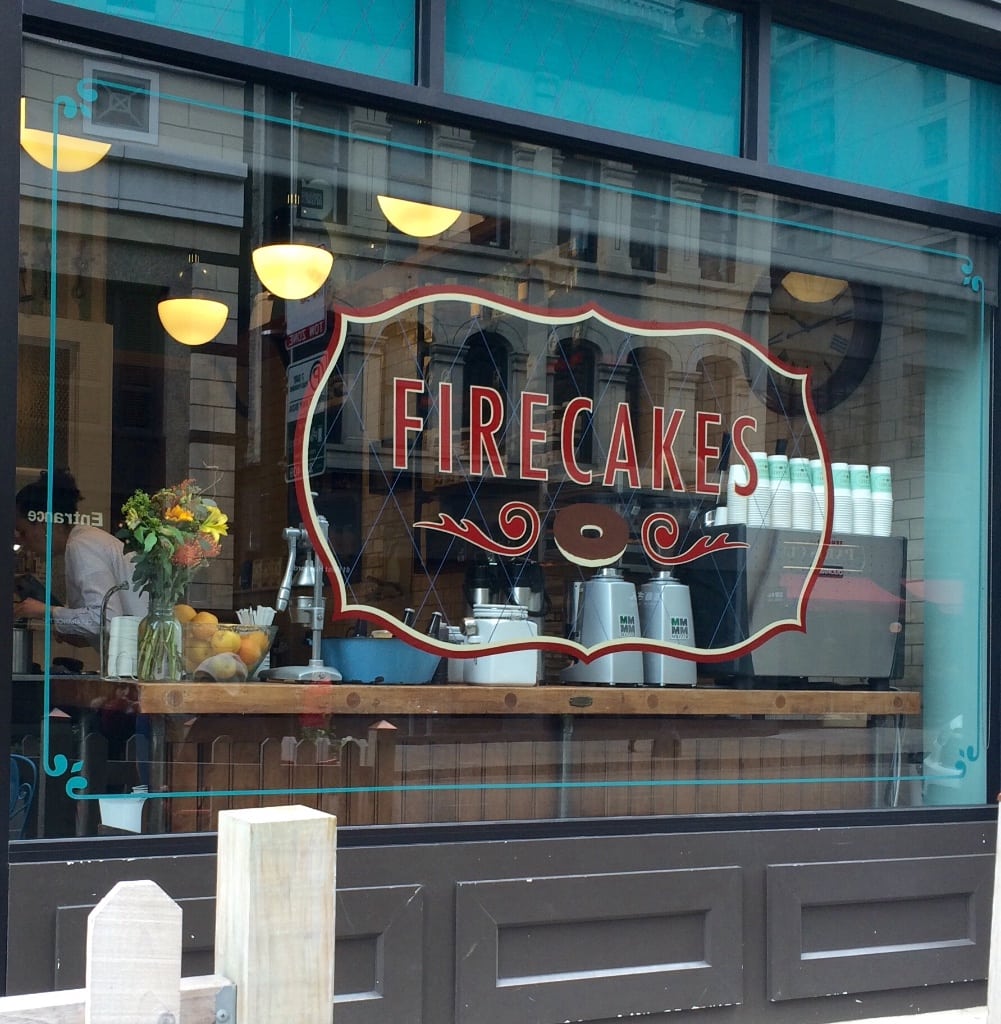 According to most Chicagoans I have spoken with on the topic, there are three true Chicago deep dish pizza competitors in the city: Lou Malnati's, Giordano's, and Gino's East. I've tried the last two in the past, but I had not had Lou Malnati's, which is the favorite of several of my friends. It did not disappoint! Even though we arrived at a weird time (3pm), the place was packed! We didn't have to wait too long before we enjoyed a delicious salad and two types of mouthwatering pizzas. It's not everyday you get to enjoy a true deep dish pizza, so I definitely indulged!
Girl & the Goat is a restaurant that one of my favorite authors (Shauna Niequist) lists as one of the best restaurants in Chicago. Out of curiosity, I looked up TripAdvisor reviews. Once I read through a few, I just knew I had to eat there one day. Most of the reviews warned that you need to book well in advance, so as soon as Daniel confirmed he would be coming out to Chicago for the weekend, I called for a reservation. This was almost two months before, so I thought I might have been calling TOO early; however, the waitress first told me they were booked up and then noticed that there had a been a cancellation, so we were able to snag an 8:30pm reservation. So, even two months in advance was almost not early enough for a weekend reservation at this place!
From the moment we walked into the restaurant, you could tell that every person who worked there was passionate about their food. Our waiter was very nice and accomodating. This is one of those places where you order three or four dishes per person to share. Every single thing we ordered was incredible. Instead of boring you with long descriptions of everything we ordered, look through the pictures below.
This is a highly rated breakfast place by Millenium Park. Be prepared for a long wait, and be sure to order the Wildberry juice! I was very happy with my pumpkin pancakes and omelet with havarti cheese.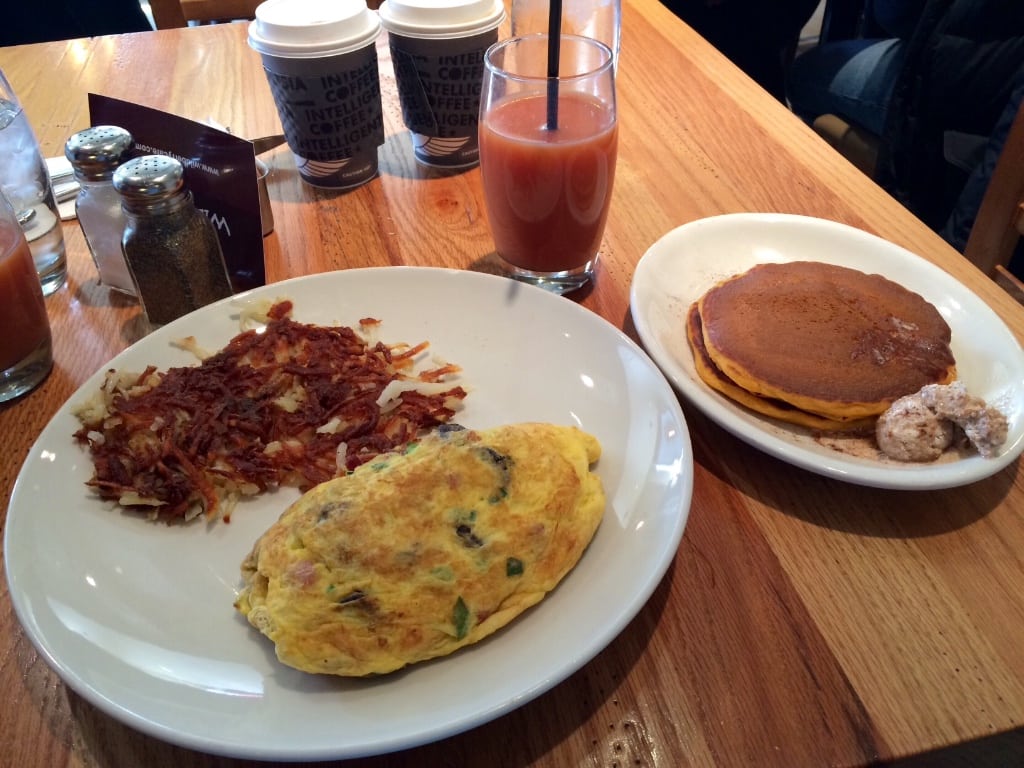 Somehow, we were able to stuff one more meal into our faces before we wobbled onto the flight home. Portillo's is a well-known Chicago fast food restaurant. We really wanted to have a Chicago hot dog before we left, and this was the perfect place to get it!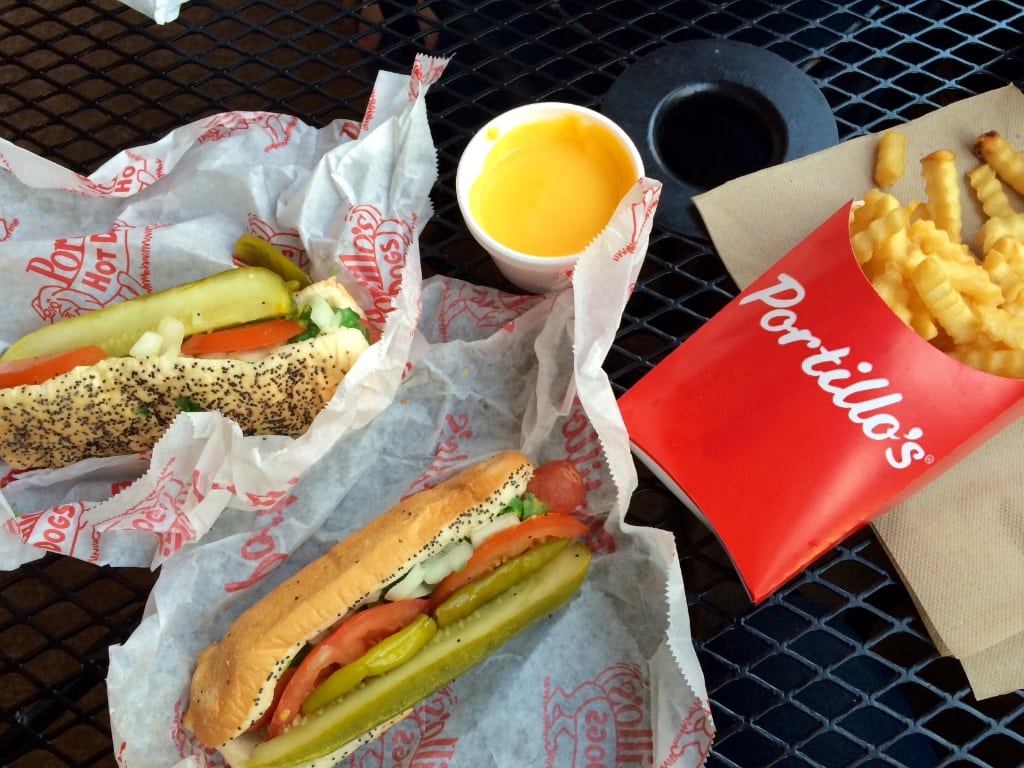 We loved our visit to the Windy City and hope to go back soon one day! Have you had any great meals or done any interesting activities that we will have to check out next time?
[Linking up with Treasure Tromp.]
This article is now available as a mobile app. Go to GPSmyCity to download the app for GPS-assisted travel directions to the attractions featured in this article.