I used to link up each week for The Sunday Currently link-up hosted by one of my favorite bloggers. When she stopped doing the link-up, I continued to do TSC on my own and sometimes I'd link up with another blogger who started hosting the link-up. I loved writing those posts, but I loved reading other peoples' even more. Eventually (once I reached my fiftieth TSC post), I felt my responses were becoming too dry and repetitive to be answering the same prompts every single week, so I (begrudgingly) decided to stop.
Recently, I stumbled upon another Currently link-up that takes place monthly. It sounded like something I'd be interested in, so I began to look into it and saw that the hosts actually change up the prompts each month! I've decided that this is the perfect way for me to continue writing Currently posts and have access to many others' posts to read. I'm thrilled to join Anne and Jenna each month!
I'm late to the game this month, but I wanted to make sure I got in a January Currently post. I plan to follow the hosts' prompts each month while keeping some of my own favorite prompts each month.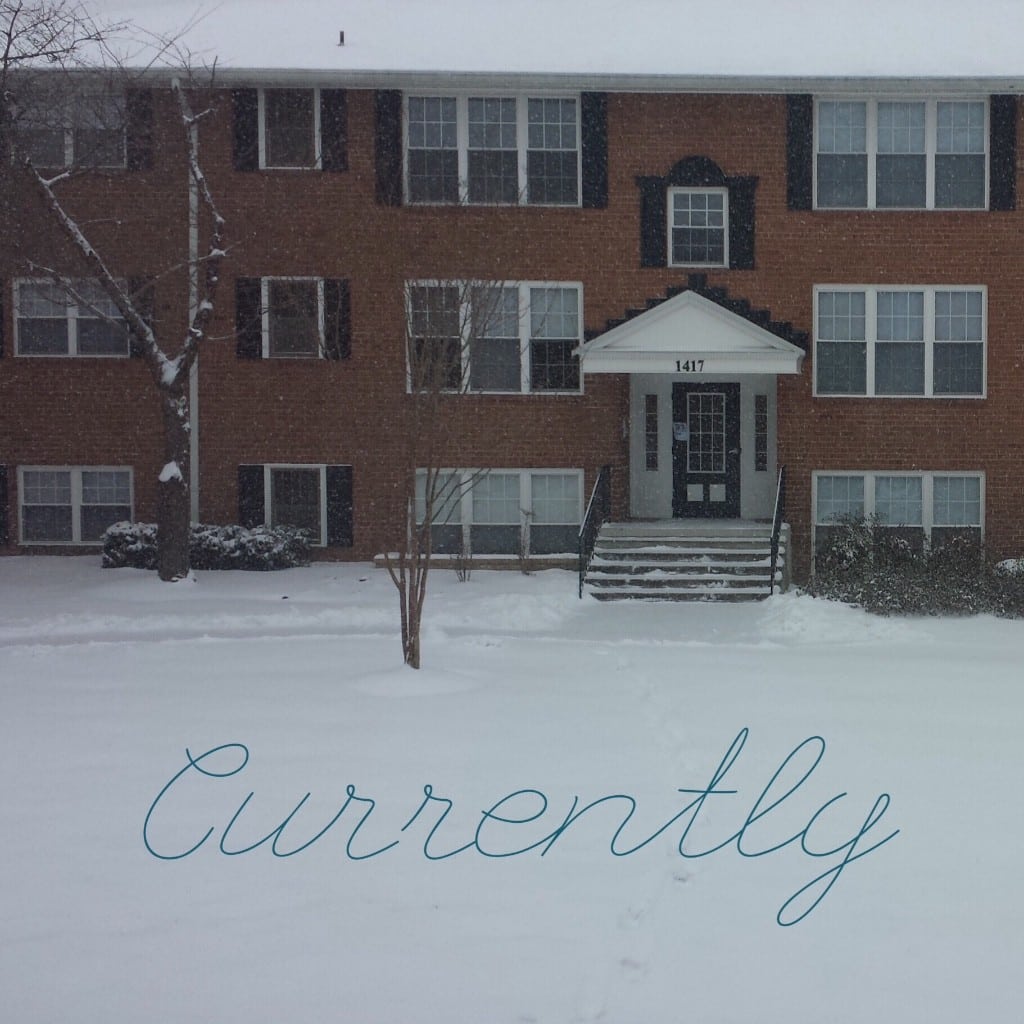 Planning | Travel for 2015. 🙂 You can read about our travel plans here.
Hoping |  For a smooth and painless busy season this year. Are there any other CPAs out there in the same boat right now?
Baking | You know, I don't think I have baked anything since we moved into our new apartment a couple of weeks ago. My husband did roast veggies in the oven this week…. But, I definitely am going to need to bake something tasty soon!
Wearing |  Jeans, a tank top with a cardigan, and a big cozy scarf – thank goodness for that scarf because it is freezing in this coffee shop!
Resolving | To actively become the life-long learner I've wanted to be for years. This means taking courses (Skillshare or any other online courses), using Duolingo to brush up on my Spanish, keeping up with current events (theSkimm is the best I can do right now, and it's awesome!), and constantly be reading a book. I'd like to add in listening to podcasts and getting back into piano lessons at some point in the near future too. What do you like to do to keep learning?
Reading | The Paris Wife. I keep picking this up and putting it down whenever it is my turn for a library book I had on hold. I'm determined to finish it this time. I just love the story!
Listening | To the Outlander audio book. I've been curious about reading this series for a while but was deterred by the amount of pages and number of books in the series. I've decided to chip away at it through audio books during my new daily bus commute. I'm enjoying that time so much so far!
Dreaming | About 2015 and all of the adventure that awaits as we explore our new city and other destinations
Cooking | this recipe for dinner, It's extremely simple but so delicious and convenient. It is definitely comfort food that I want more of in the future.
Drinking | Trader Joe's French Vanilla coffee blend. The flavor is just want I need when I wake up in the morning!