After a long break, I'm back with a Travel with Me: Weekend Edition post, a shortened version of my Travel With Me posts. These posts are for trips that are just a weekend or a long weekend – I share what we did, what we ate, and where we stayed with short descriptions. I hope that these posts can help you plan a short trip yourself or at least inspire you to visit a new place!
For this post, I'm sharing our very short weekend in Las Vegas at the beginning of May. We were actually in Las Vegas for almost a week, but most of our time was spent out at a resort by the lake where my husband had a conference and I worked. Saturday morning of that week we left the lake and went out for two days and one night on the Strip. I'd say we did a good job making the most of our short time there.
Where We Stayed:
The Venetian
Vegas is known for its affordable luxury hotels, so for our one night on the Strip, we decided to take advantage of the opportunity and stay at one of the nicer hotels available. The Venetian is gorgeous! Even if you aren't going to stay the night there, I highly recommend just walking around to see all of the dining, shopping, and decor that the massive hotel has to offer. The location on the Strip cannot be beat – it's near several of the other major hotels and casinos that most people want to visit while in Vegas, and it is a short walk to a Las Vegas Monorail station that will get you to other parts of the Strip you may want to visit. I really wish we had had one more day there because we would have loved to spend a morning out by the hotel's gorgeous pools.
This is the nicest hotel we have ever stayed at, and we had no complaints about our stay, so I can't help but rate it 5 out of 5 stars!
What We Did:
Blue Man Group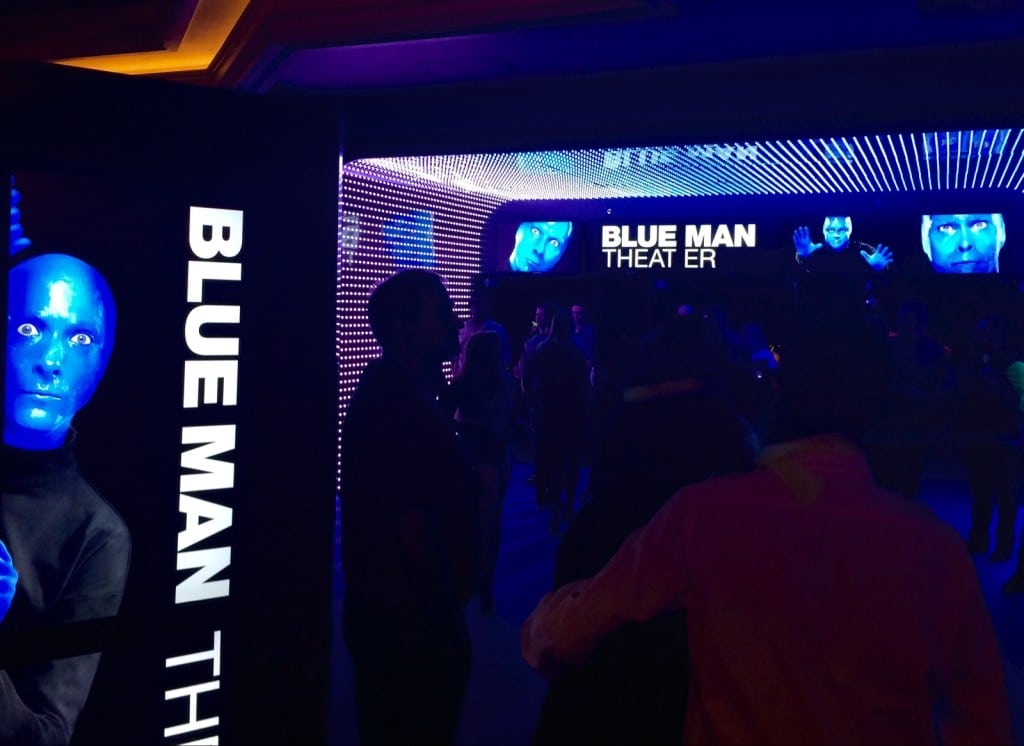 I didn't know if I would like this show, but I ended up really enjoying it! I thought it would be ridiculous, but these men are very musically talented and made me laugh. There is a reason this show has been in Las Vegas for so long!
Exploring the Themed Hotels & Casinos
This was my favorite part of our short time in Vegas. All of the themed hotels are decorated so well and are very interesting to explore. Each of them has a uniquely decorated casino as well which I thought was fun to see. If you are planning your trip to Vegas, I'd set aside several hours to explore all of the hotels since they are all huge and have lots of things to see.
Caesars Palace
Caesars Palace has lots and lots of high-end shopping and some fun statues and sculptures throughout. I didn't get any pictures in here unfortunately, but it's worth a visit.
Paris Las Vegas
The Paris Las Vegas hotel is decorated like the city of Paris with pastry shops, rows of "homes" with French architecture, French gardens, and even its own Eiffel Tower! You can actually pay to go up to the top, but we decided to pass since we did the real thing just last year.  This hotel definitely brought back memories of our time in the real Paris!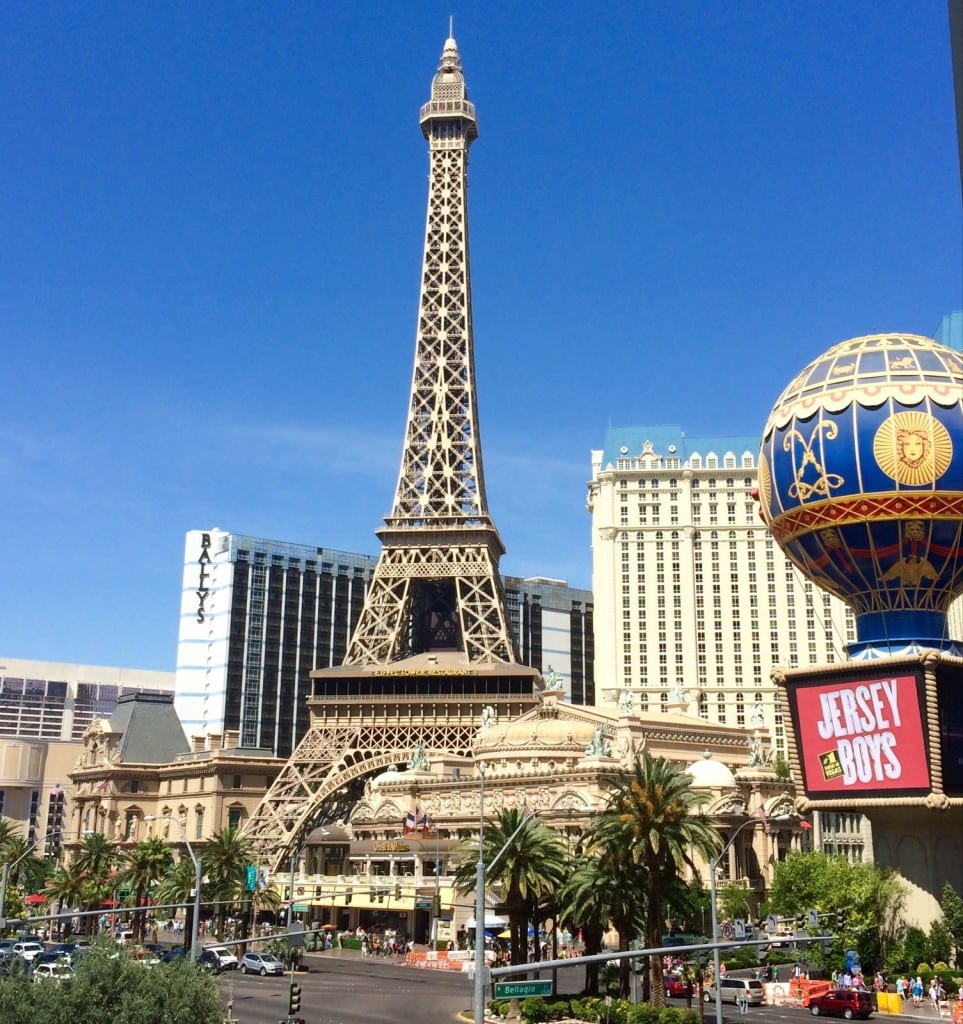 New York New York
The New York New York hotel transports you to the streets of New York City! There are alleyways and fire escapes and delis and old buildings. All that is missing is the traffic! I really enjoyed exploring this hotel.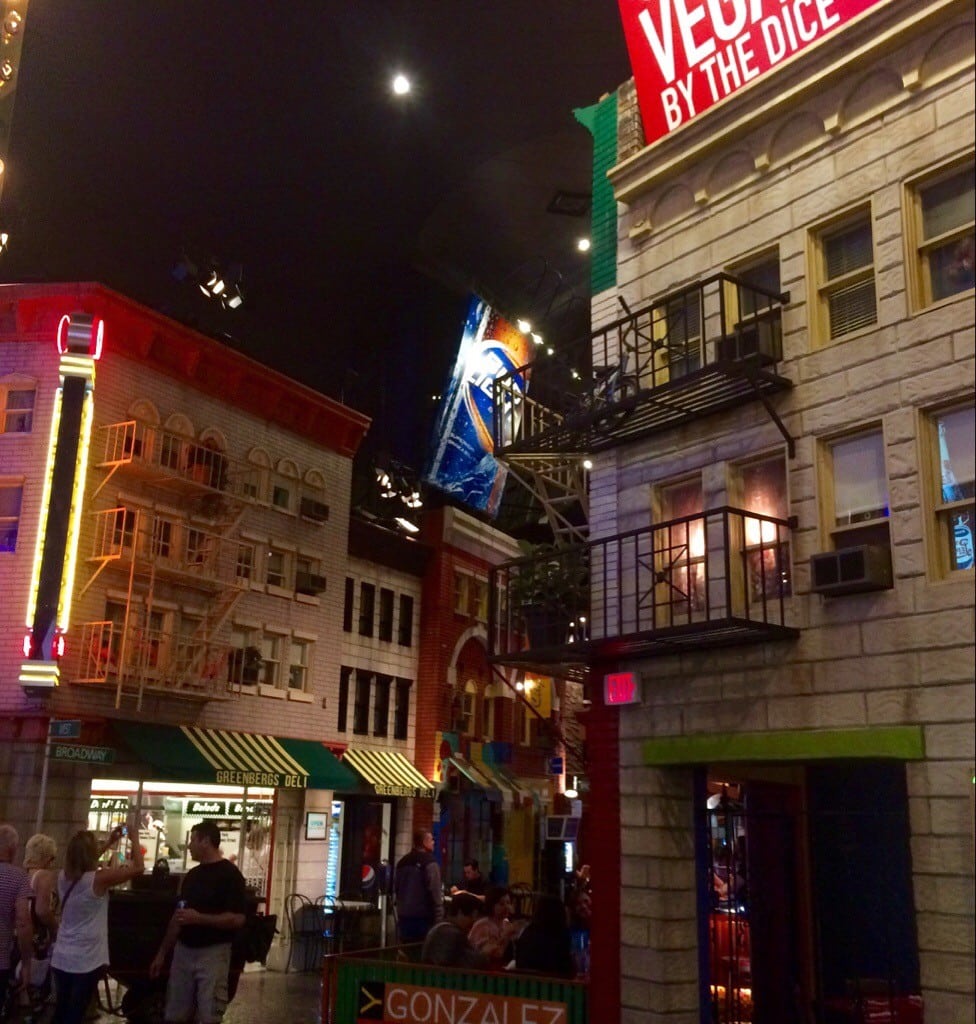 Bellagio
The Bellagio is one of the more well-known hotels on the Vegas Strip, and for good reason! In addition to seeing the fountains outside at night (see below), the hotel itself is stunning. You must visit the Bellagio Conservatory & Botanical Gardens. This goregous display changes throughout the year, but from what I hear, it is always worth a visit. When we visited, it was set up as a Japanese-inspired garden. Just look at the gorgeous flowers, decor, and lighting! It's hard to believe that they switch out the exhibits after paying such attention to detail for this one. I just saw on the Bellagio website that this summer's theme is Under the Sea! I'd love to see that one!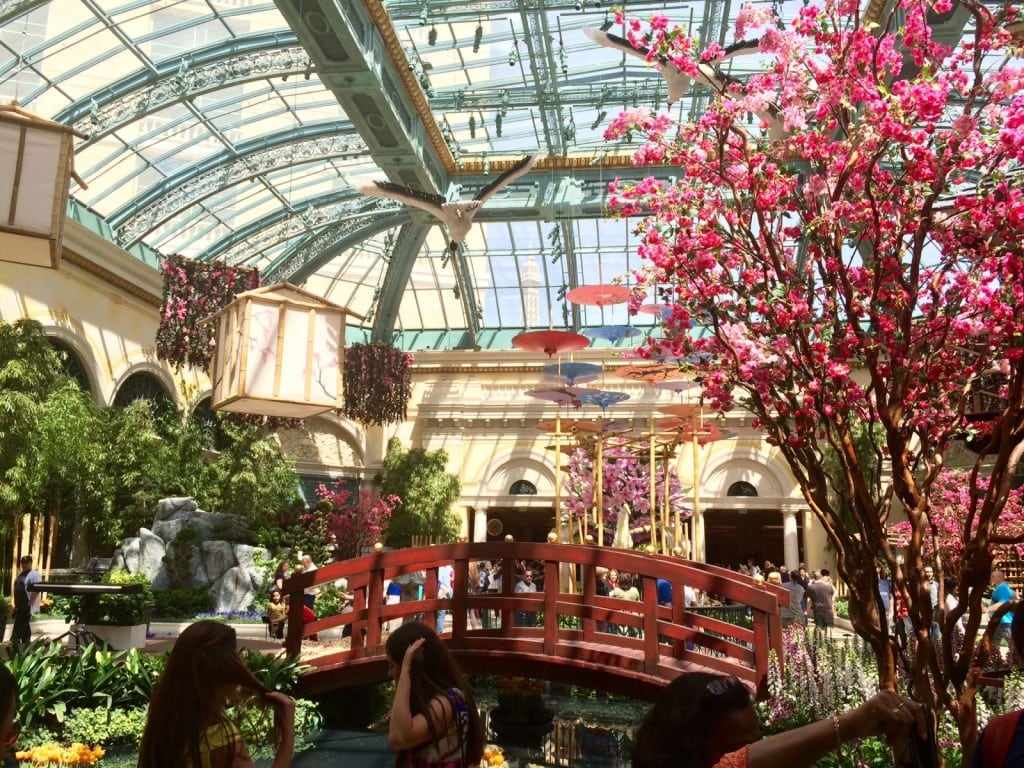 The Cosmopolitan
We stopped at the Cosmopolitan to take a break and grab a drink, and I'm so glad we did. I hadn't heard anything about this hotel before, but there is a beautiful, multi-story chandelier that was a lot of fun to see both from the bottom and from the top. I didn't get a good picture of the full chandelier, but you can see a piece of it next to me in the picture below.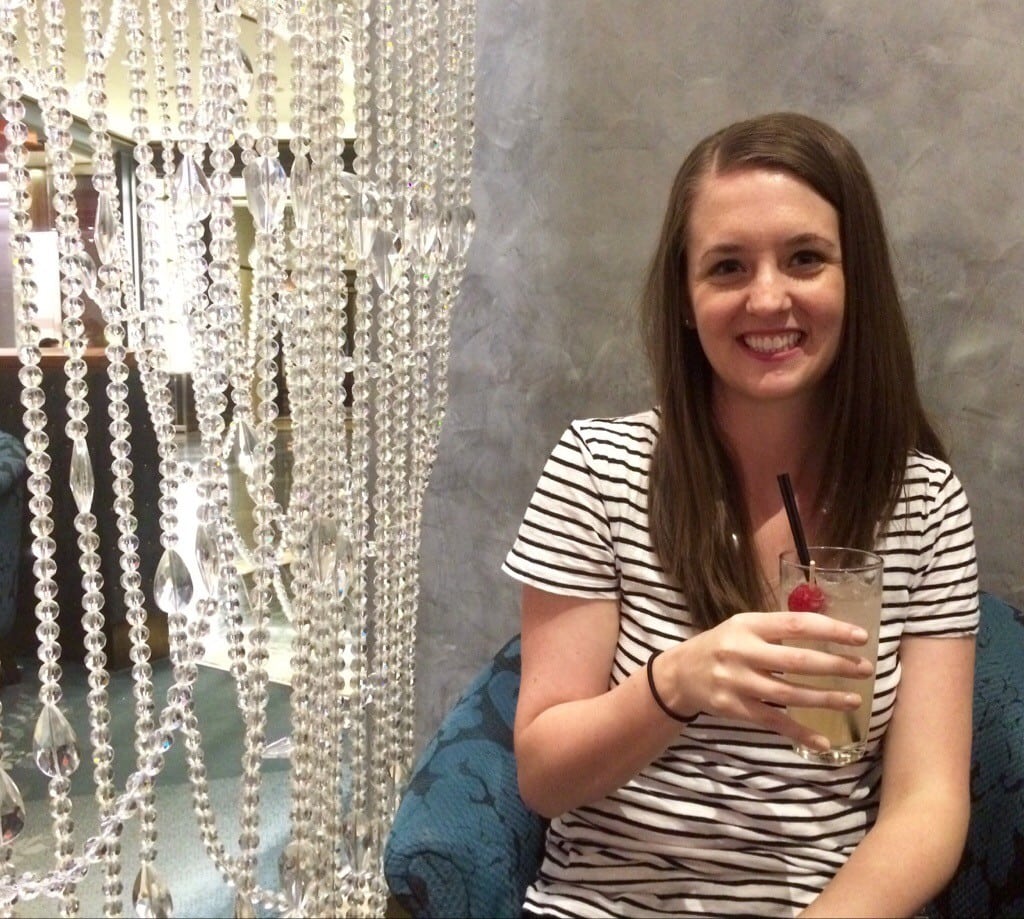 The Fountains at the Bellagio
Of course, we made the mandatory stop by the Fountains at the Bellagio late at night. At night, the fountains do a show with lights and music every fifteen minutes from 8pm to midnight. The shows begin during the day at 3pm and go off every thirty minutes until 8pm, but you really must try your best to see the show at night so that you can see and appreciate the sparkling lights on the water!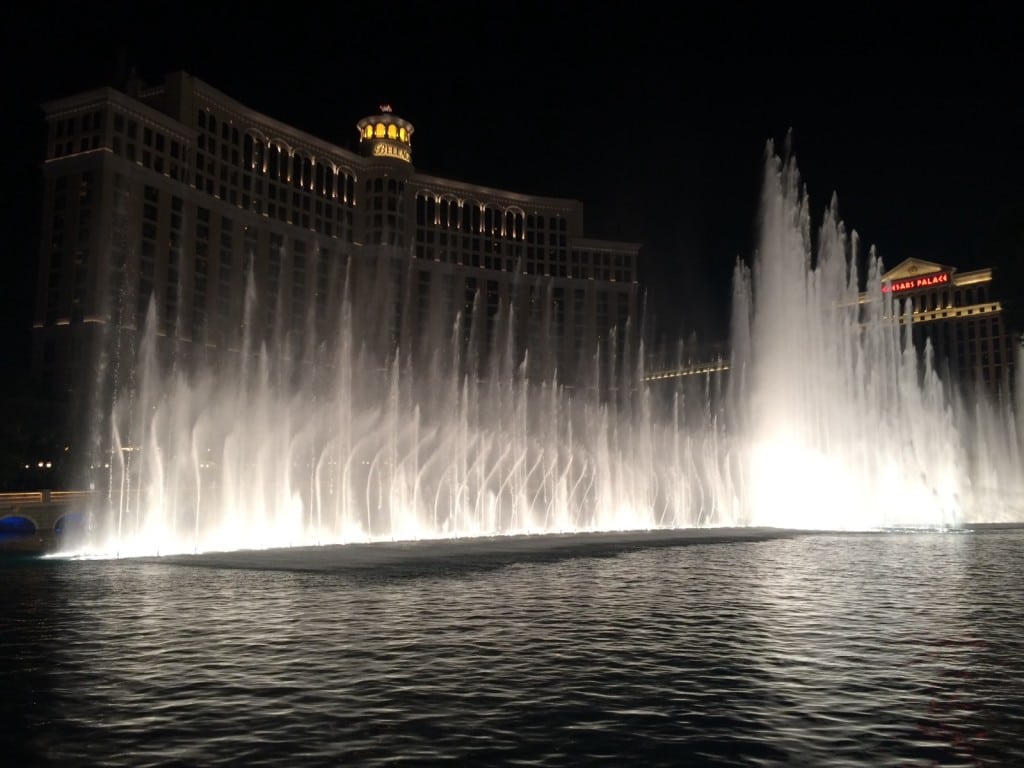 Where We Ate:
As always, a main focus of our trip was eating the best food we could fine! We definitely succeeded.
Yardbird
I had eaten at the only other Yardbird location in the country (Miami) just two weeks before, and when I found out that the other location was in our hotel in Vegas, I knew I had to make a reservation for brunch so that Daniel could experience this fantastic food. Yardbird serves southern farm-to-table cuisine, and both the presentation and the flavors of their dishes are on point! While I feel like the Miami location was just a bit better, I still really enjoyed the experience at the Vegas location. I will be sure to recommend this restaurant to anyone going to Miami or Vegas. Apparently, I was too busy enjoying my food to remember to take a picture of it, but trust me, it was beautiful!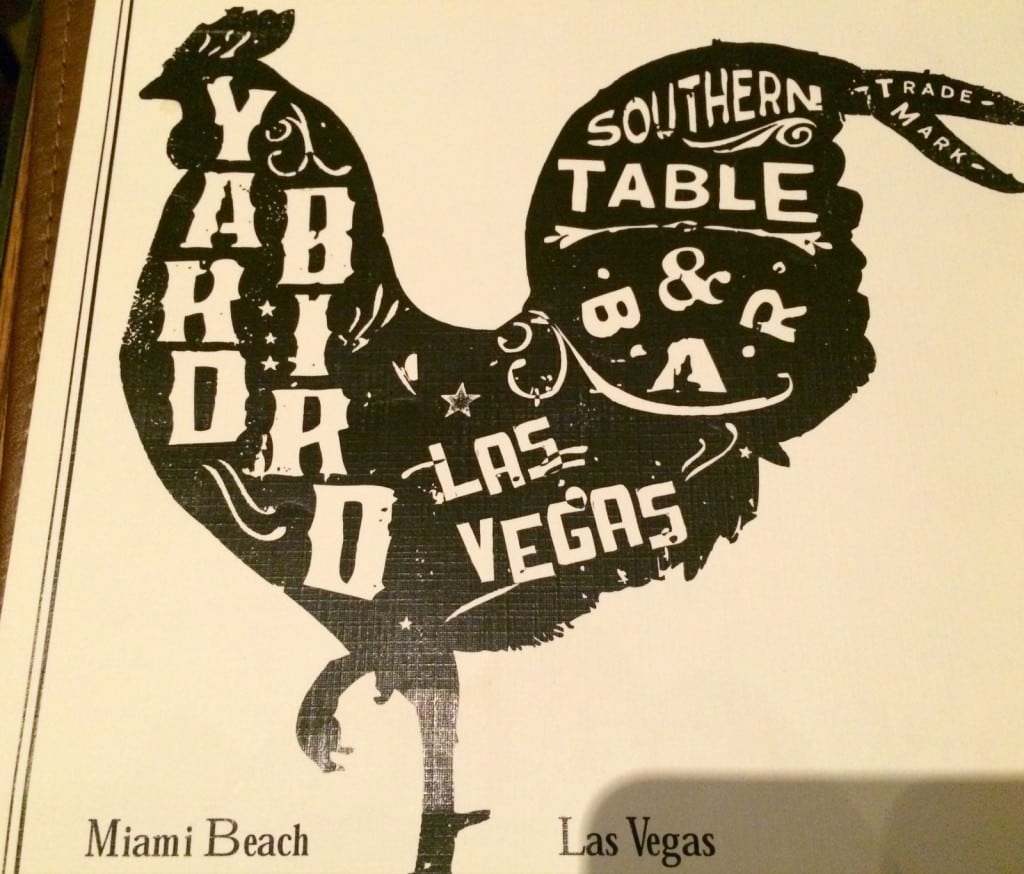 Buddy V's Ristorante
Buddy V's is a very good standard Italian restaurant and is also located in the hotel we stayed in (The Venetian). I don't feel like the food was much different from other standard Italian places, but we definitely enjoyed our meal! I wish we had saved room for dessert since the Cake Boss himself is the face of the restaurant!
Bouchon Bakery
This place is a gem. Also located at The Venetian, this restaurant has French food that tastes just like what we ate in cafes in Paris. We were seated outside on the beautiful patio surrounded by fountains and gardens. We could not turn down beginning our breakfast with a board of pastries and coffee! My main course was the Crab Eggs Benedict (fantastic!). Throughout our meal, I noticed the waitstaff  handing out boxes to mothers dining at the restaurant since it was Mothers' Day. At the end of our meal, they brought me a box which I thought was funny at first but very sweet. The box had some delicious macarons which I saved for later.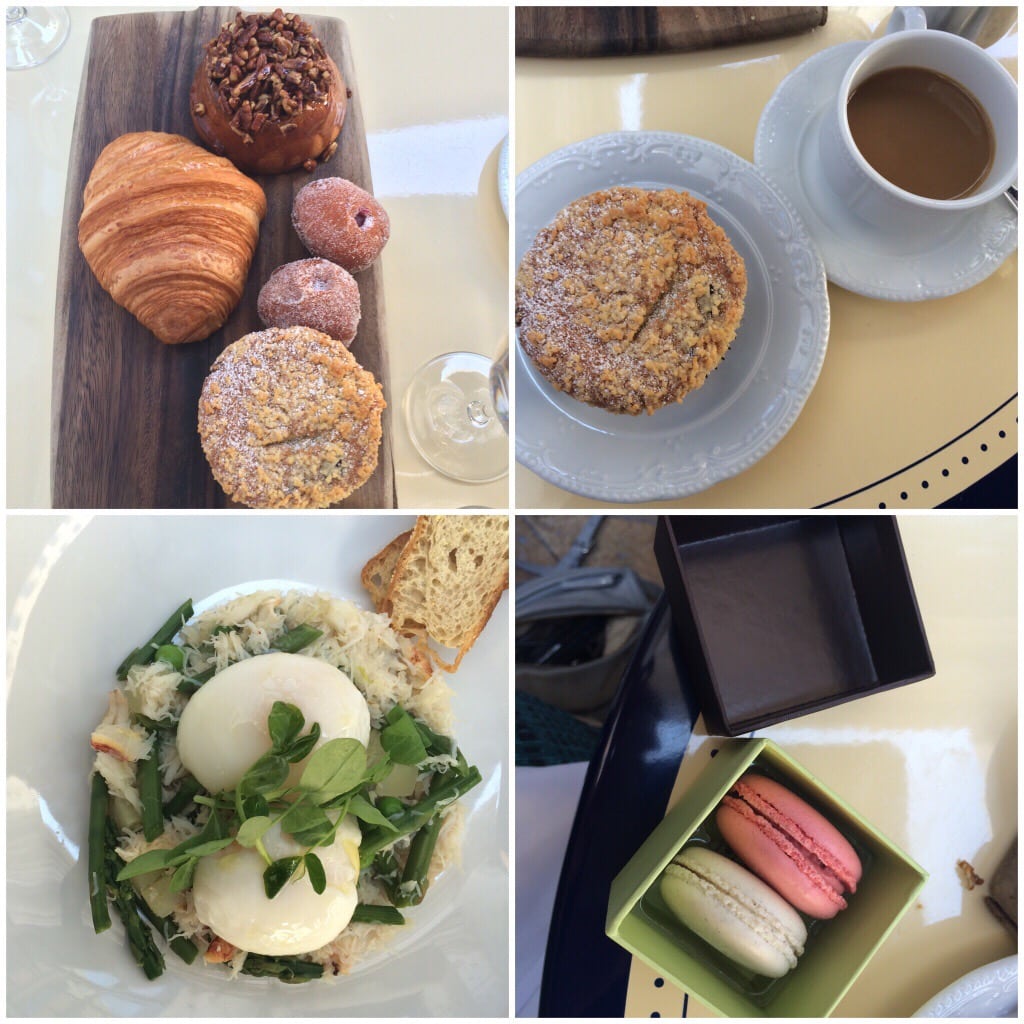 Las Vegas exceeded my expectations by far. I'd love to go back to try some more of the great food and see another show. If you have been to Vegas, do you have any recommendations? Please add them in the comments below!
This article is now available as a mobile app. Go to
GPSmyCity
to download the app for GPS-assisted travel directions to the attractions featured in this article.