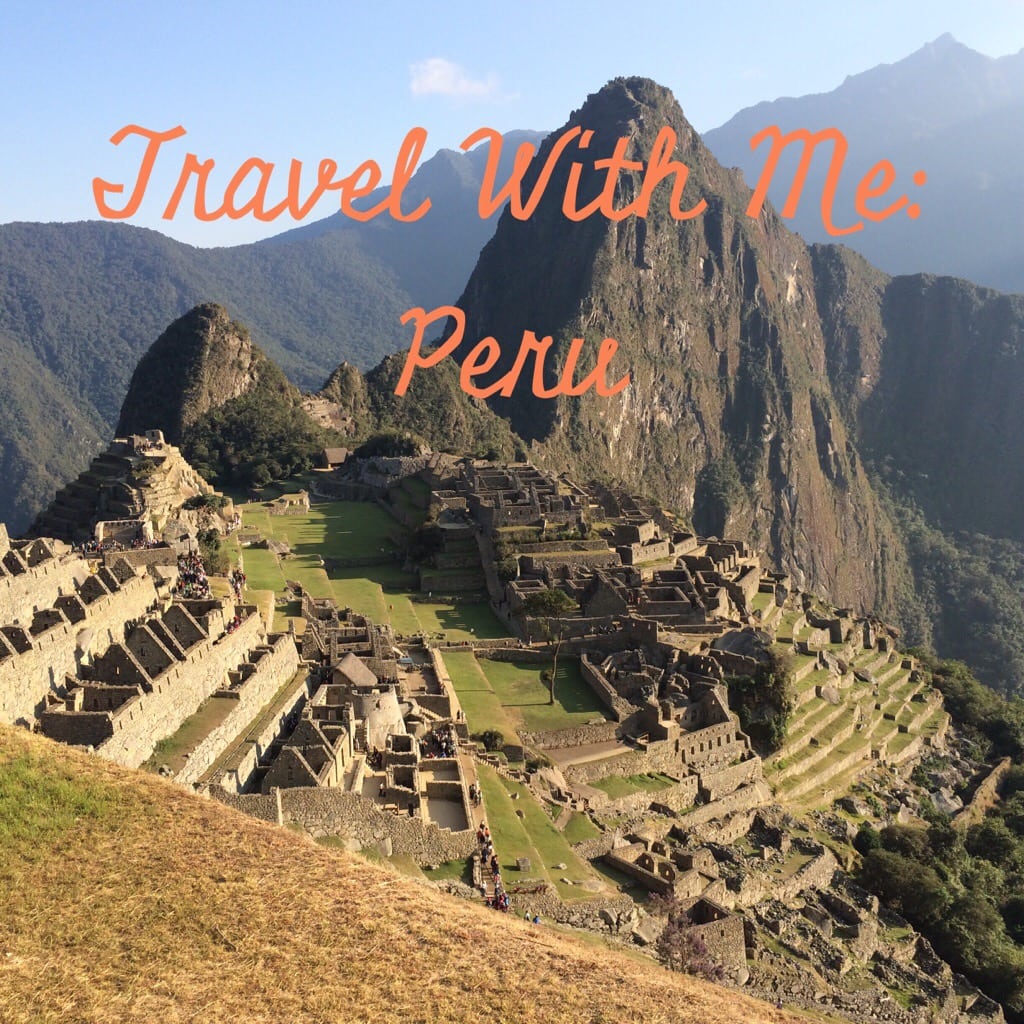 Once we arrived in Cusco, we checked into our hotel and quickly made arrangements for the next day to get to Ollantaytambo, the town where our train to Machu Picchu would depart from. The same driver who picked us up from the train station agreed to make the drive, and offered to take us to some of the major stops in the Sacred Valley on our way. It was a great price, and since our hotel had arranged for him to pick us up originally, we felt like we were in good hands.
The next day, our driver picked us up after lunch. We drove out of Cusco and headed to our first stop on our tour of the Sacred Valley – Chinchero. Chinchero is a small town that holds some ancient ruins, a beautiful textile market, and an old colonial church. To enter the town, you must purchase a ticket. You can buy a ticket just for Chinchero, or you can be admitted with a Cusco Tourist Ticket, a much better deal. We had to look around quickly so that we could make it to the remaining stops on our tour before our train departed from Ollantaytambo that evening.
The official market is only open on Sundays, but we were able to see some of the textiles along the cobblestone streets, and we also got to see a demonstration of how the textiles are made. We picked up a couple of beautiful table runners (one for a gift and one for ourselves) from the woman who gave us the demonstration. Just note that if you watch the demonstration, there will be some pressure to make a purchase.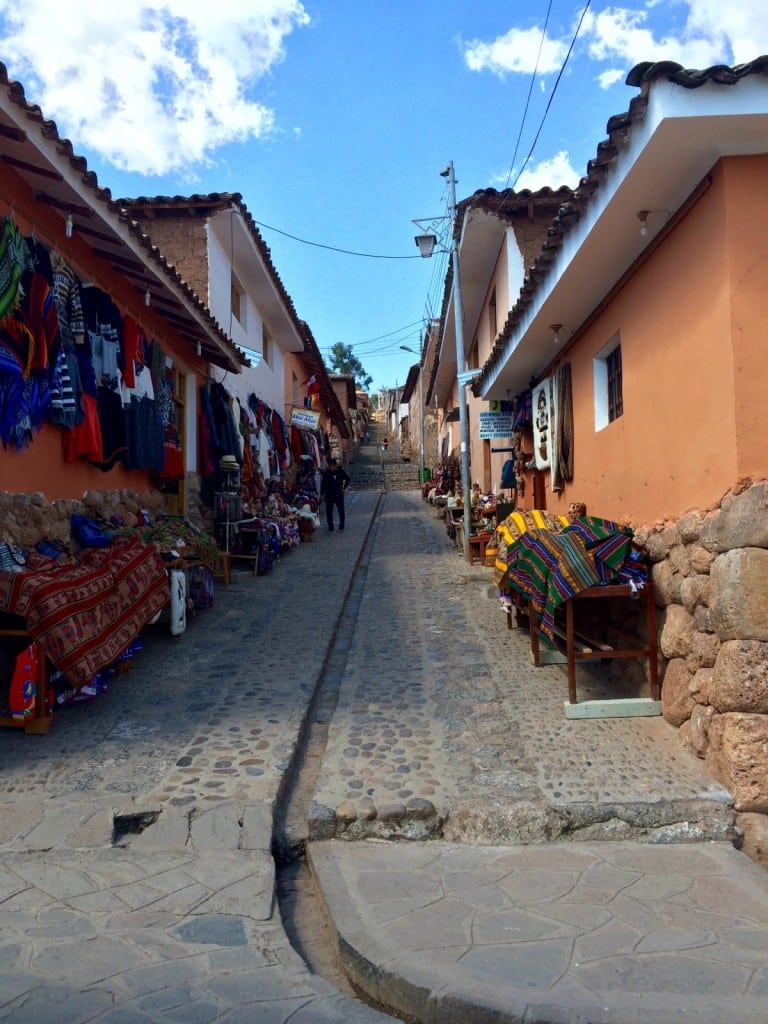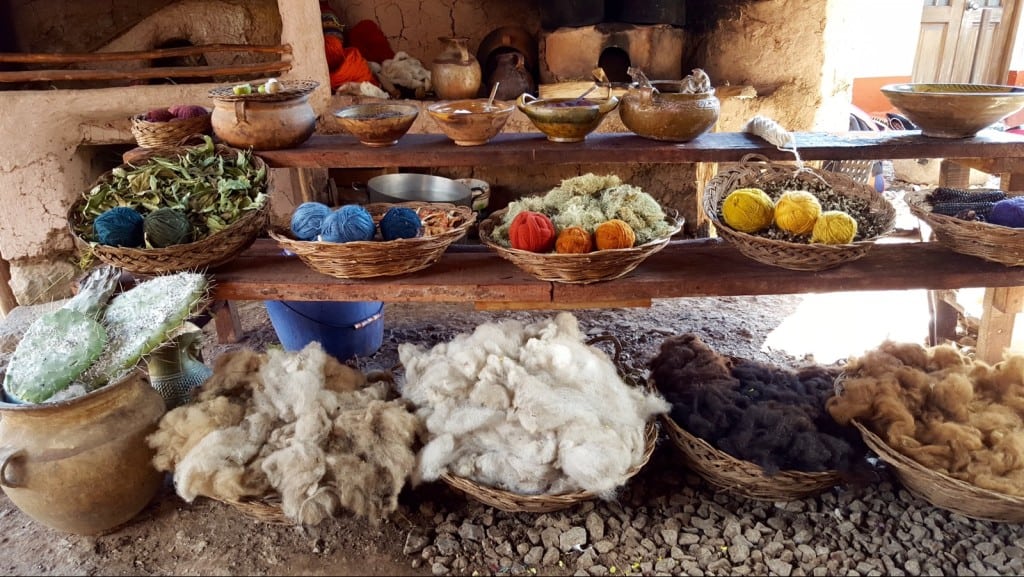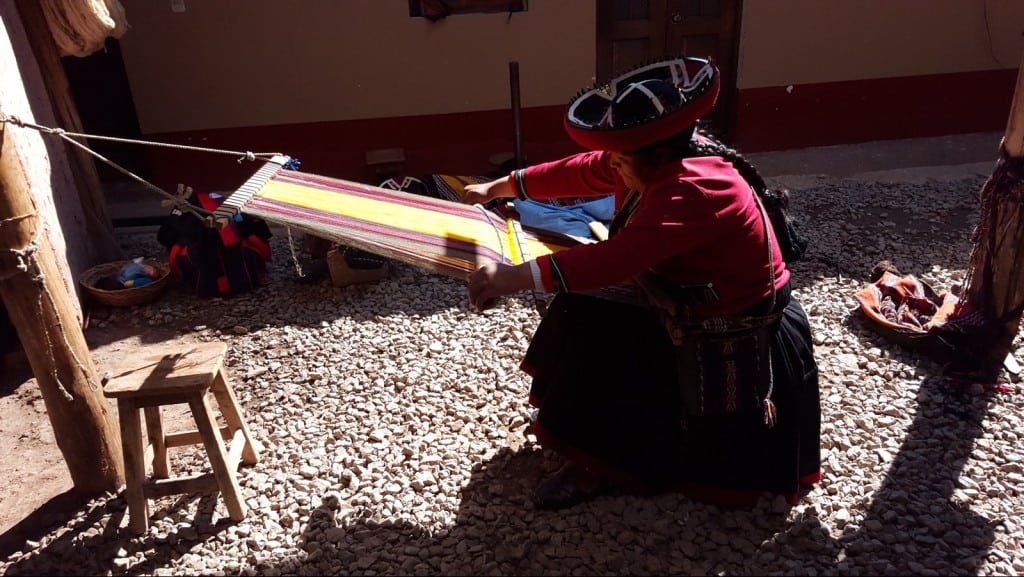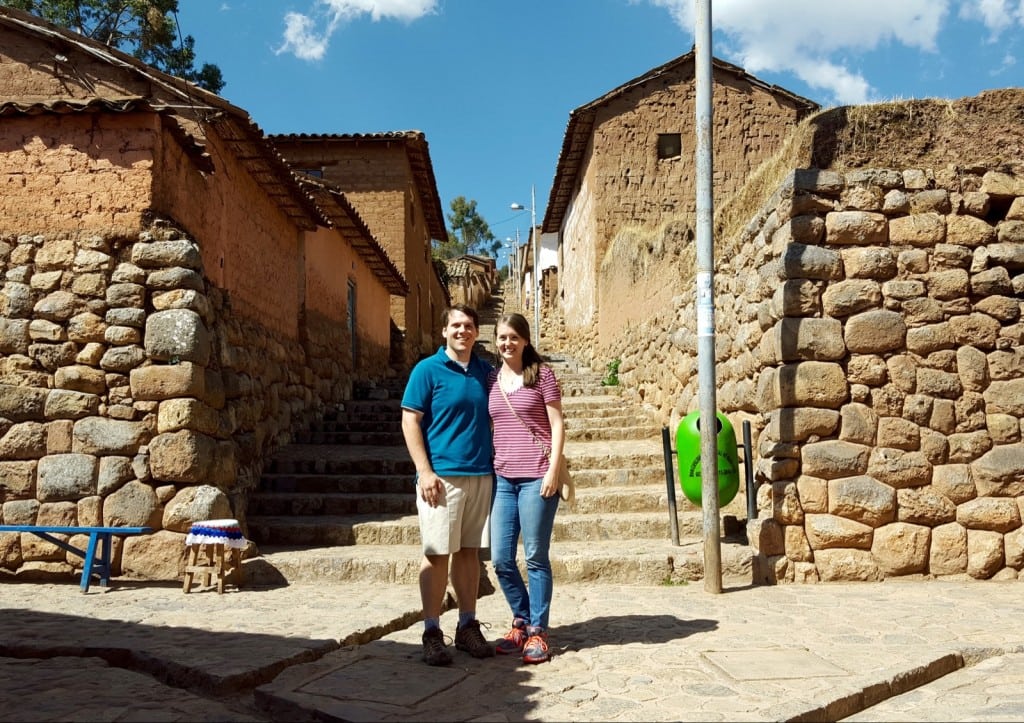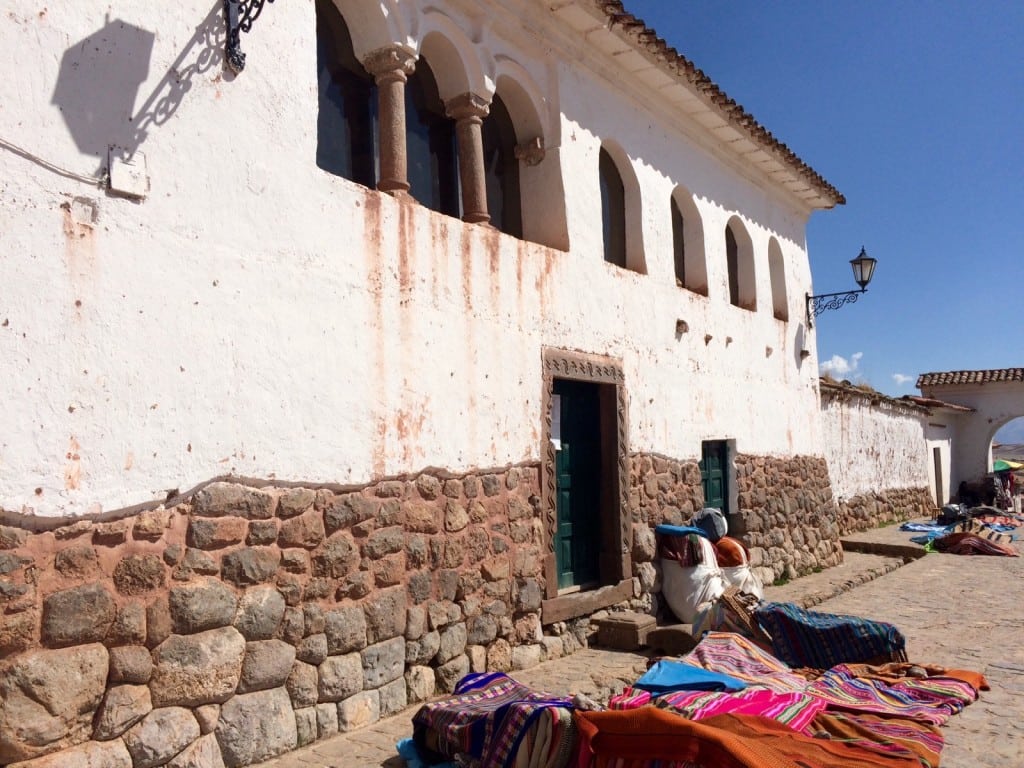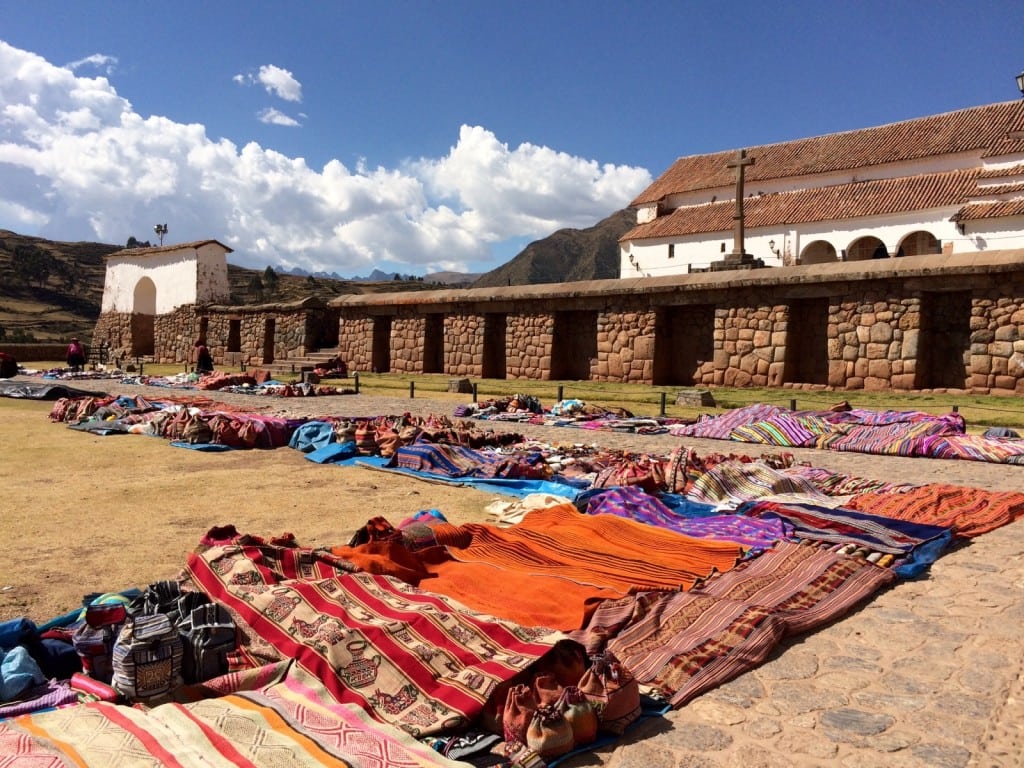 The views of the surrounding countryside were some of the best we saw in Peru, so we had to take a few pictures.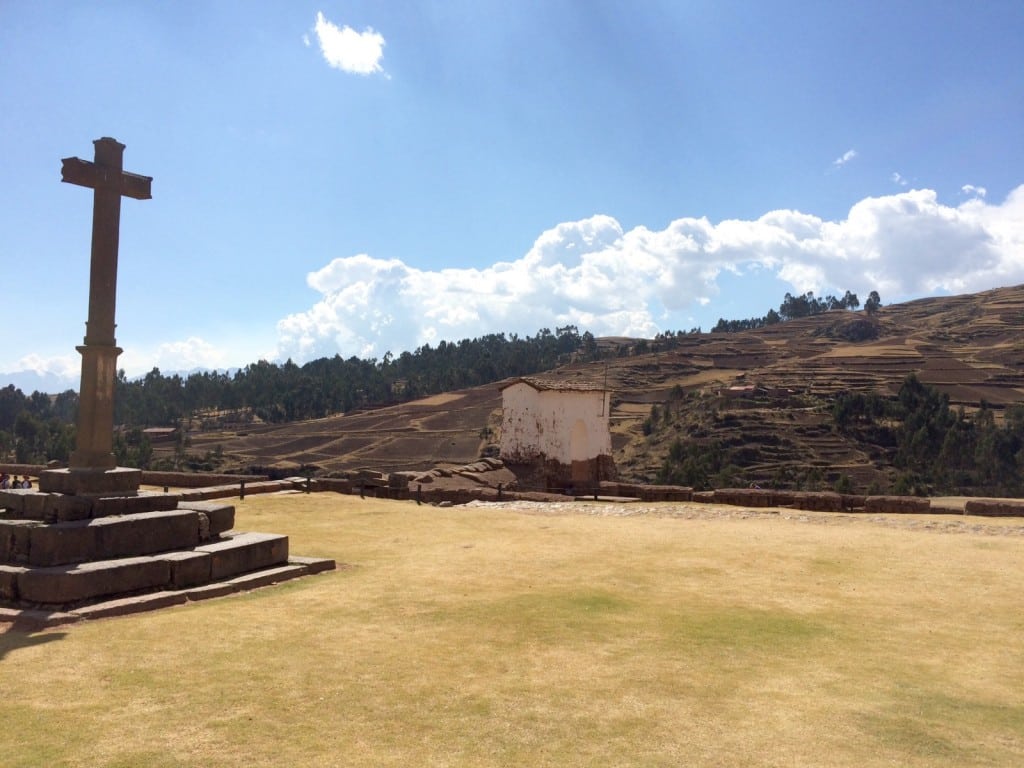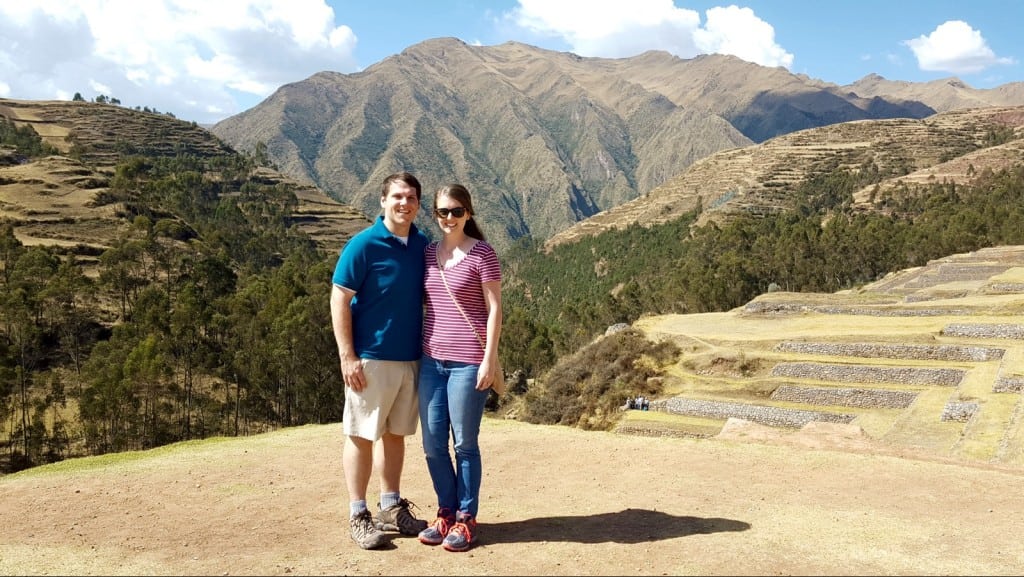 The woman below is sorting through the variety of potatoes grown in Chinchero and the surrounding areas in Peru. There are nearly 4,000 varieties of potatoes grown in Peru!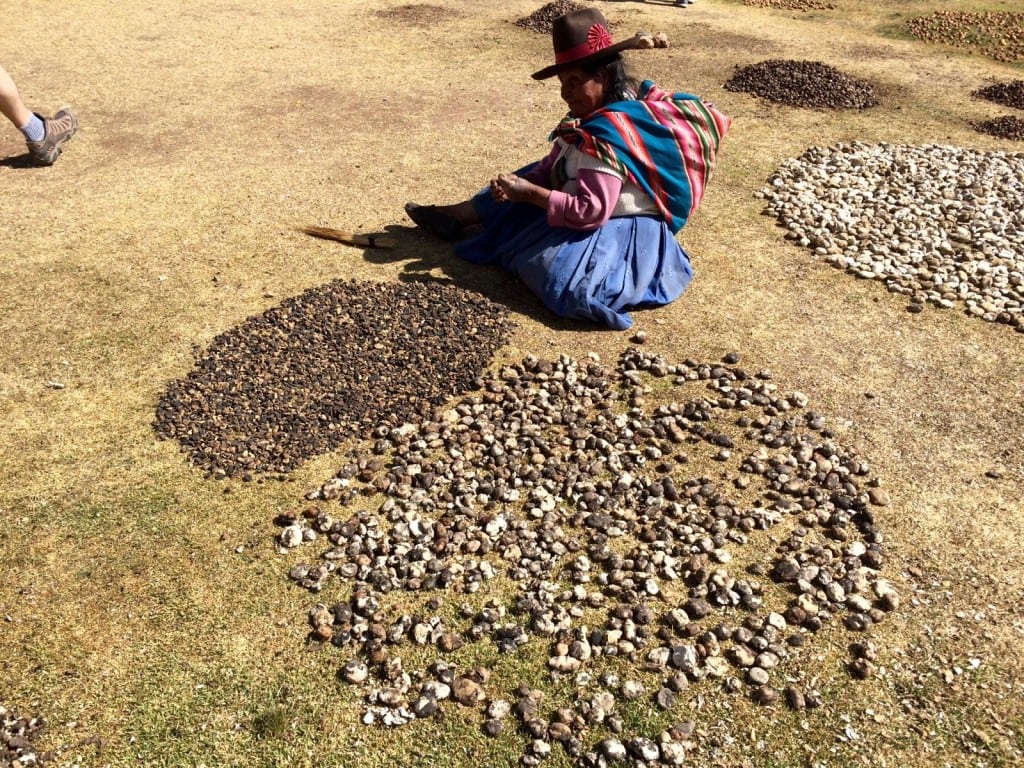 Below is the outside of the old colonial church in Chinchero. Unfortunately, we were not allowed to take pictures inside, but it was beautiful! There were gorgeous paintings lining the walls and an incredible amount of gold decor.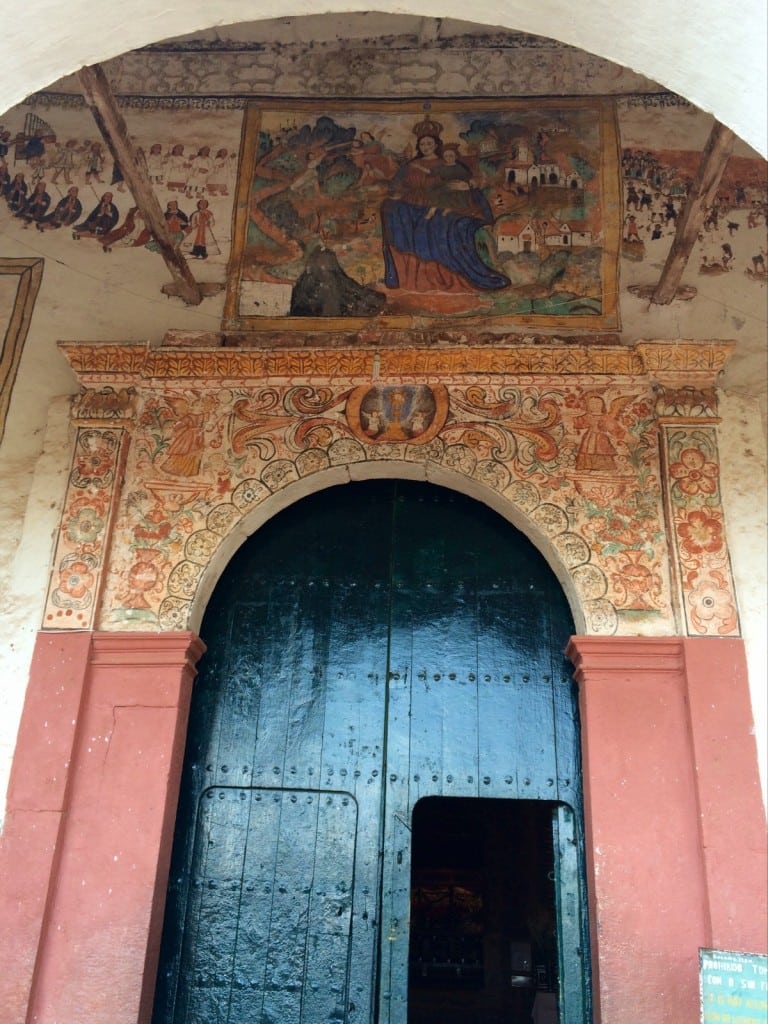 We then spent time exploring the Incan ruins in the town and taking in more of the gorgeous views. It was fascinating!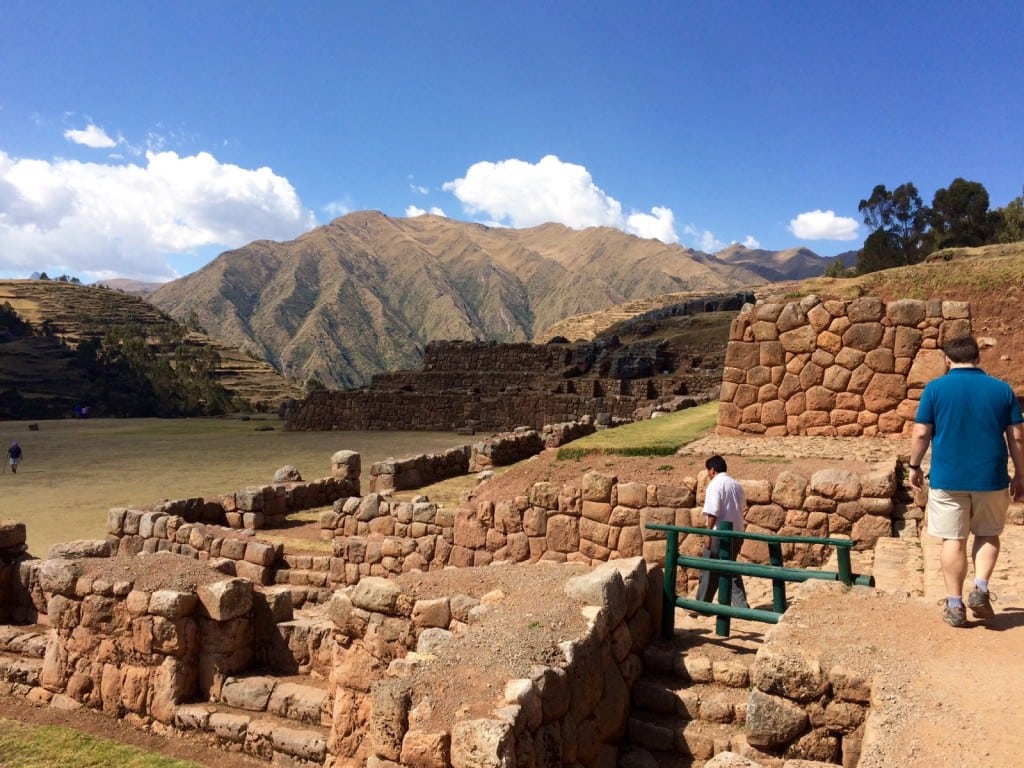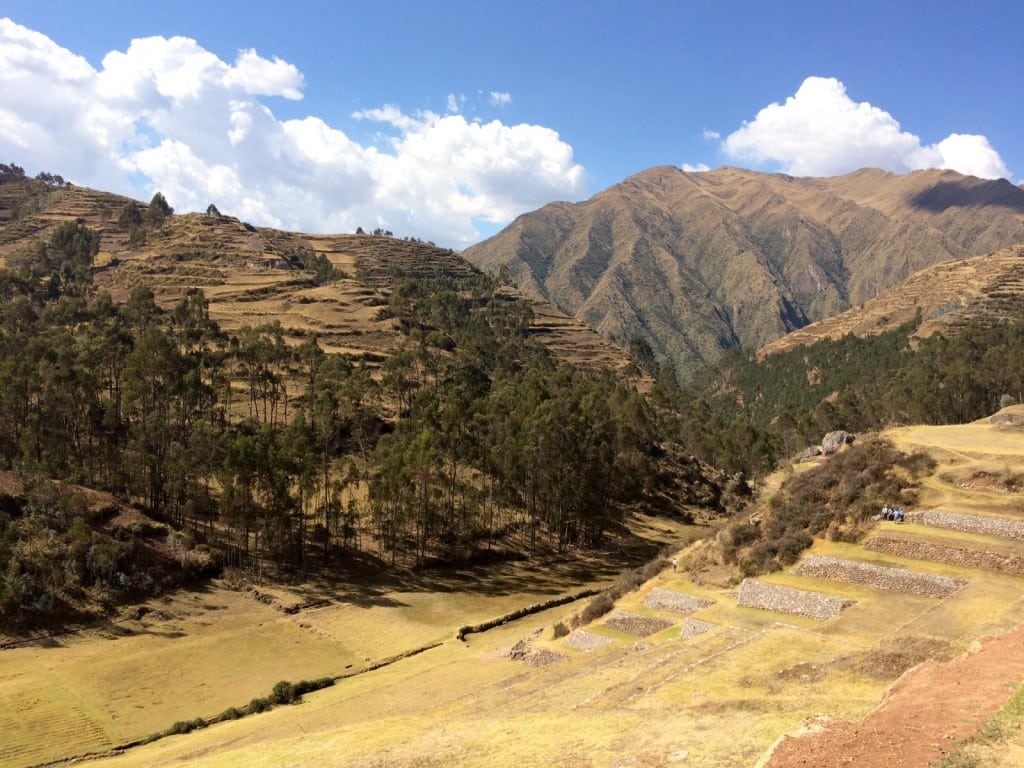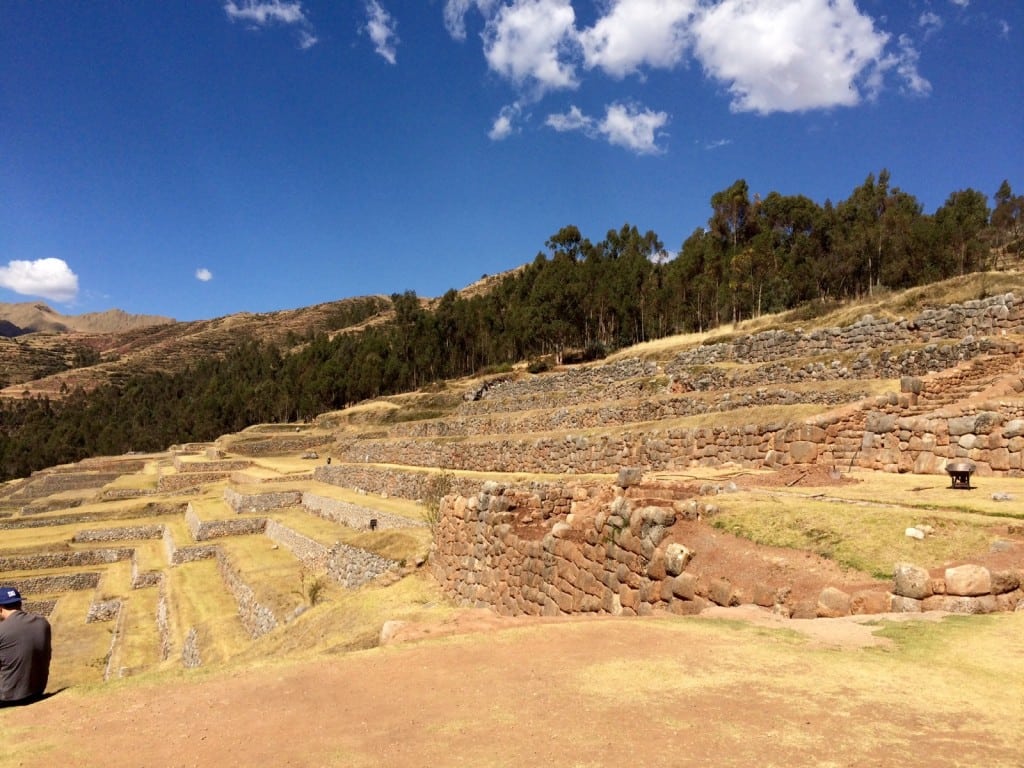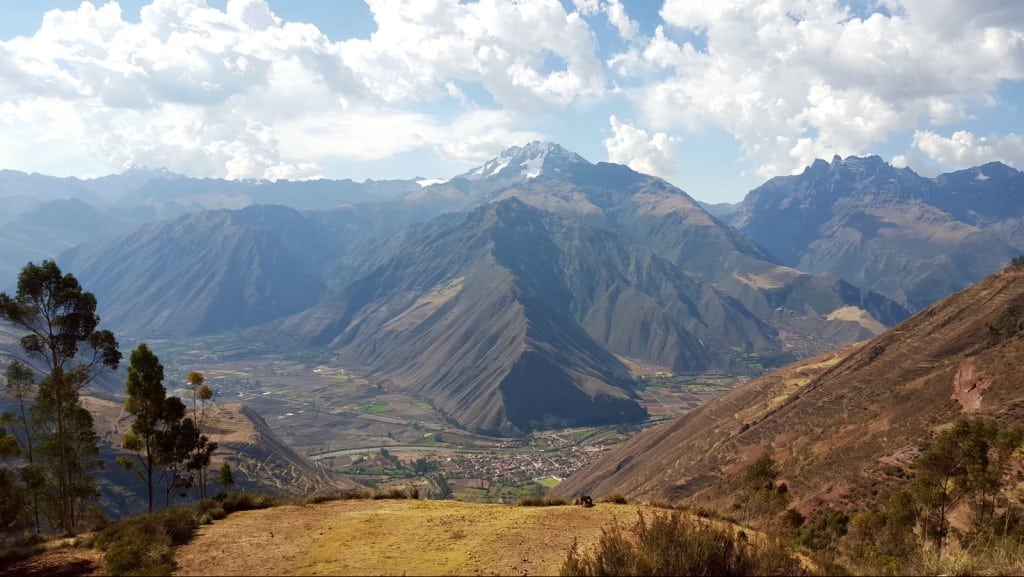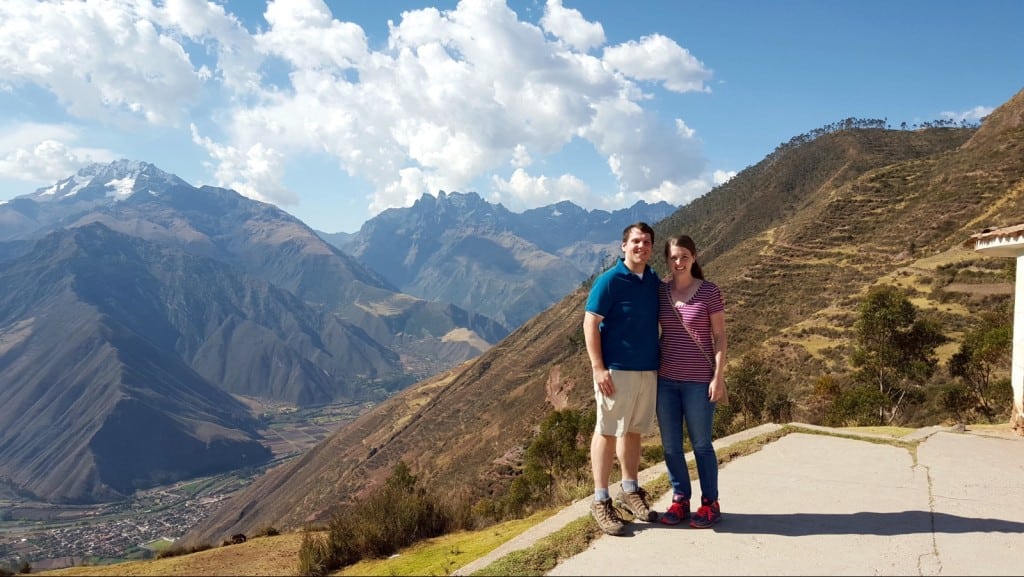 We loaded back up into the taxi and headed to our next destination –  the Moray Incan Ruins. We were literally only able to spend about twenty minutes here, but it was enough time to walk halfway down to the ruins and take some great photos.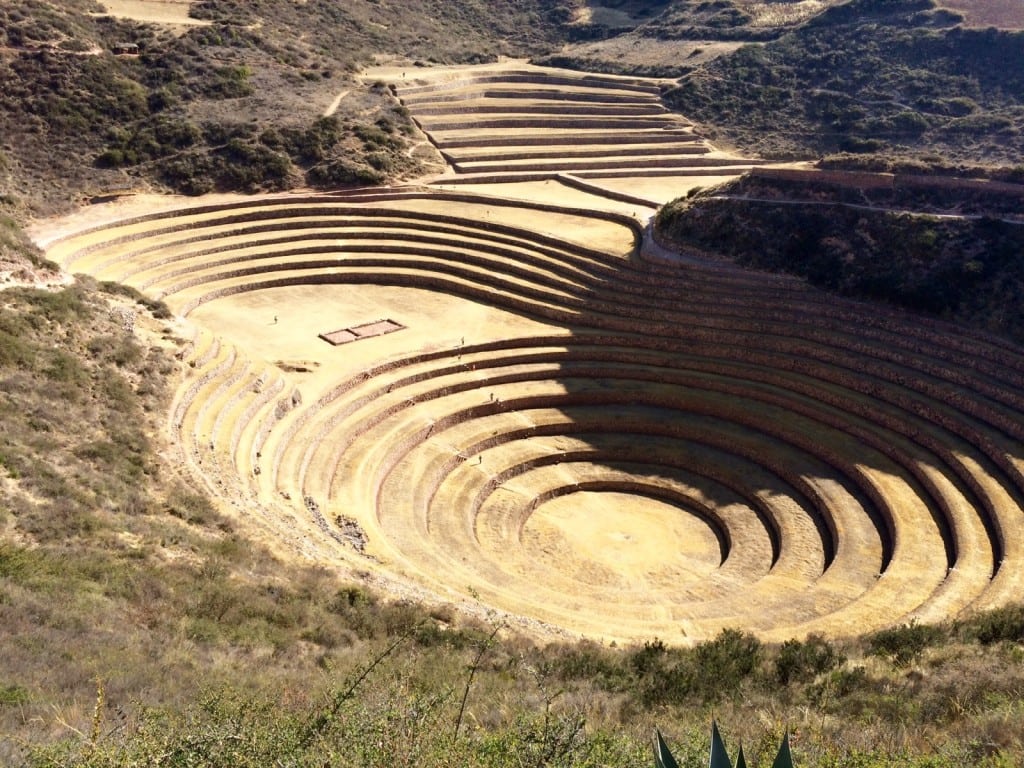 It is unknown what the purpose of the circular formations was, but many archaeologists think that it could have been an agricultural experimentation center. For size reference, notice how small the children climbing up the ruins look in the picture below!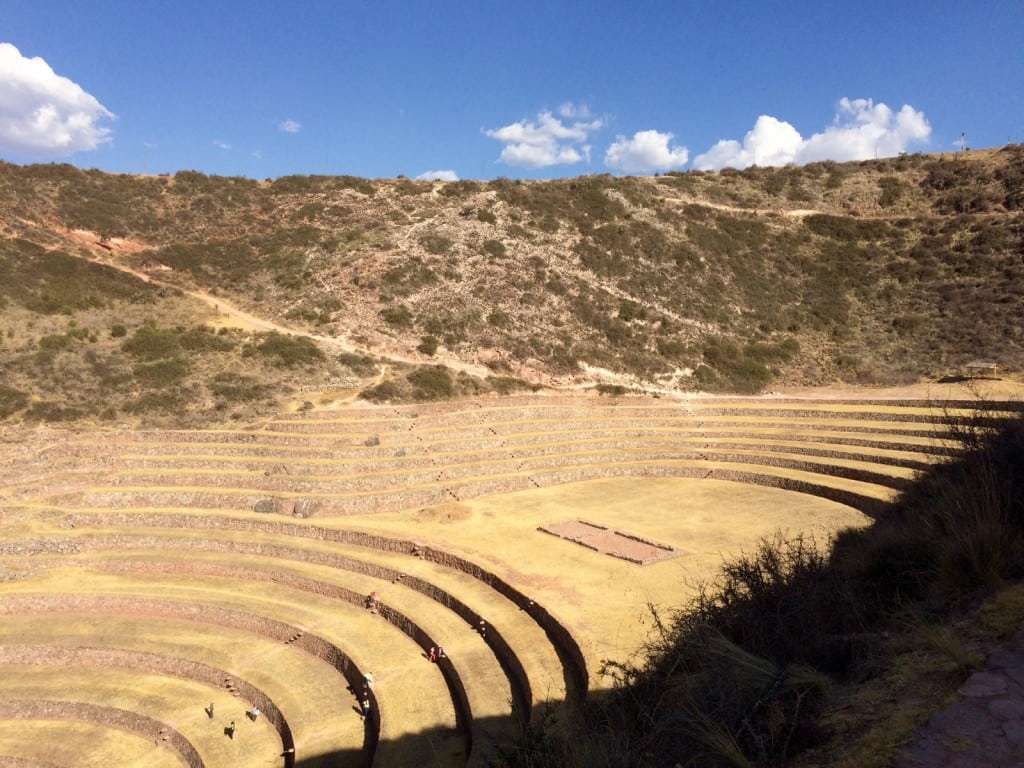 Our next quick stop along our route to Ollantaytambo was the Maras Salt Mines, which were perhaps the most interesting of all of our stops that day. From our first peek of the mines from the road high above them, we were fascinated by how large and unique the hundreds of salt pools were. A single stream of salty water flows through each pool and leaves salt behind as it evaporates.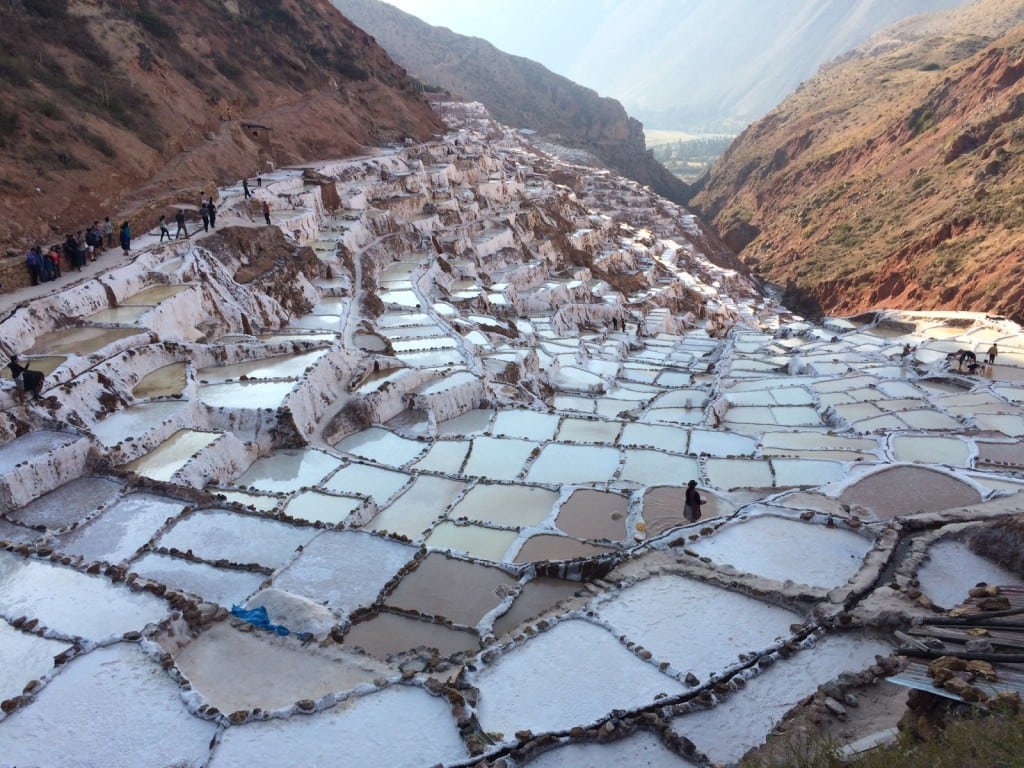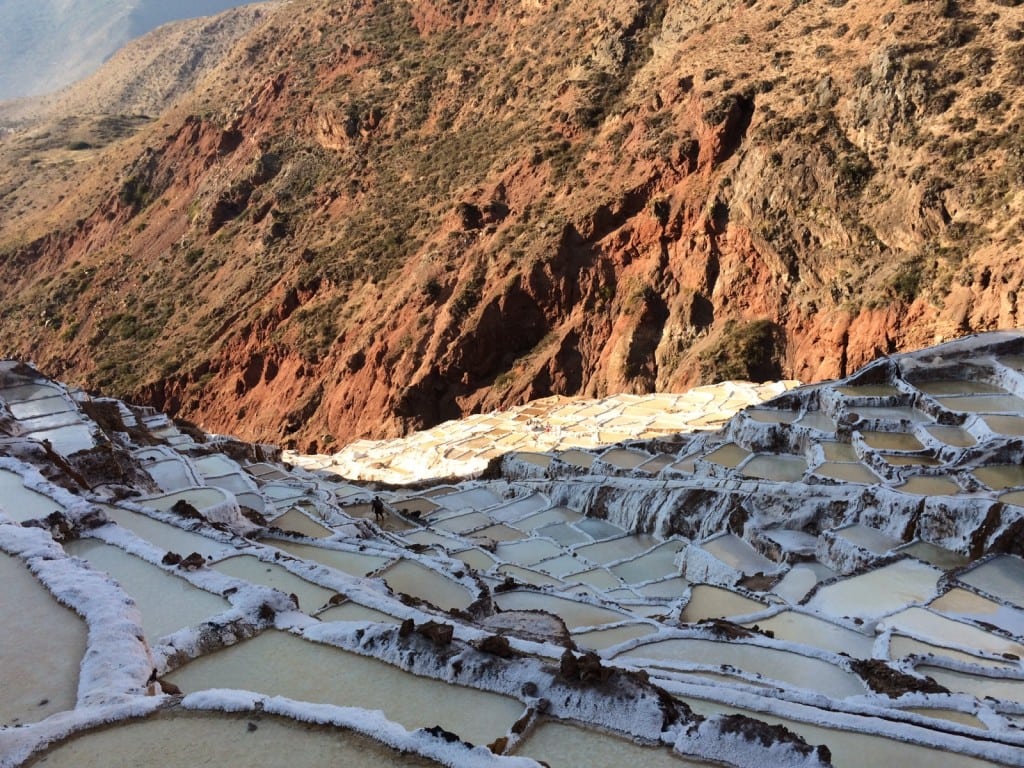 In order to enter the salt mines, you do have to purchase an inexpensive separate ticket that isn't covered with the Cusco Tourist Ticket that I mentioned above, but I believe it's worth it.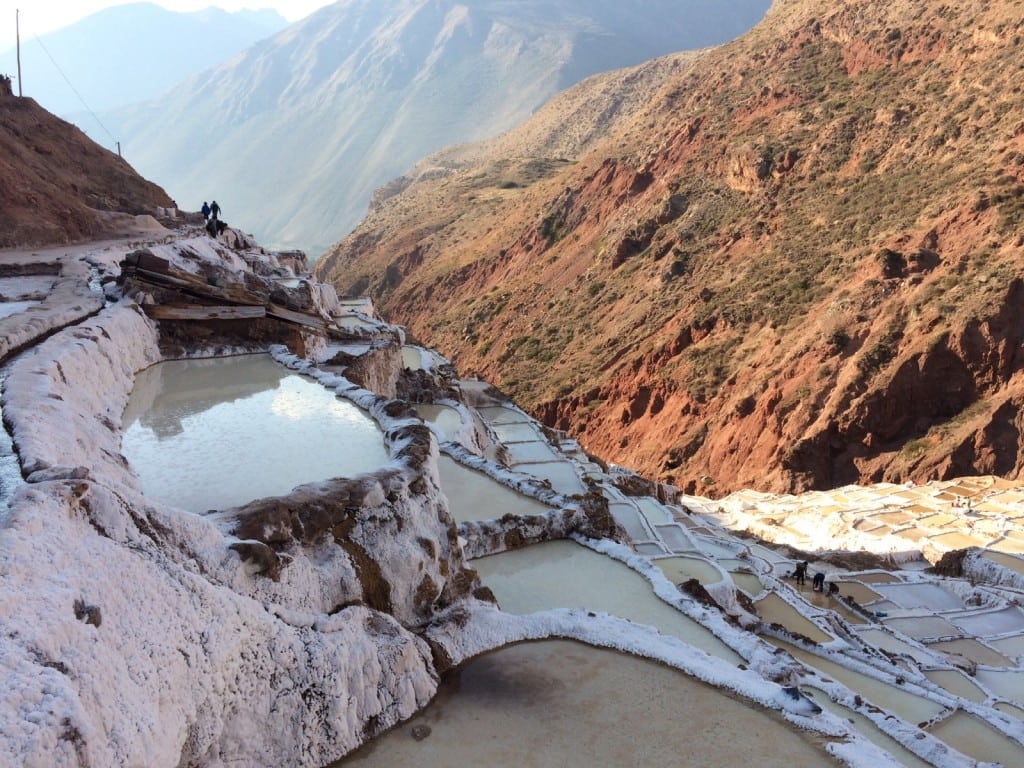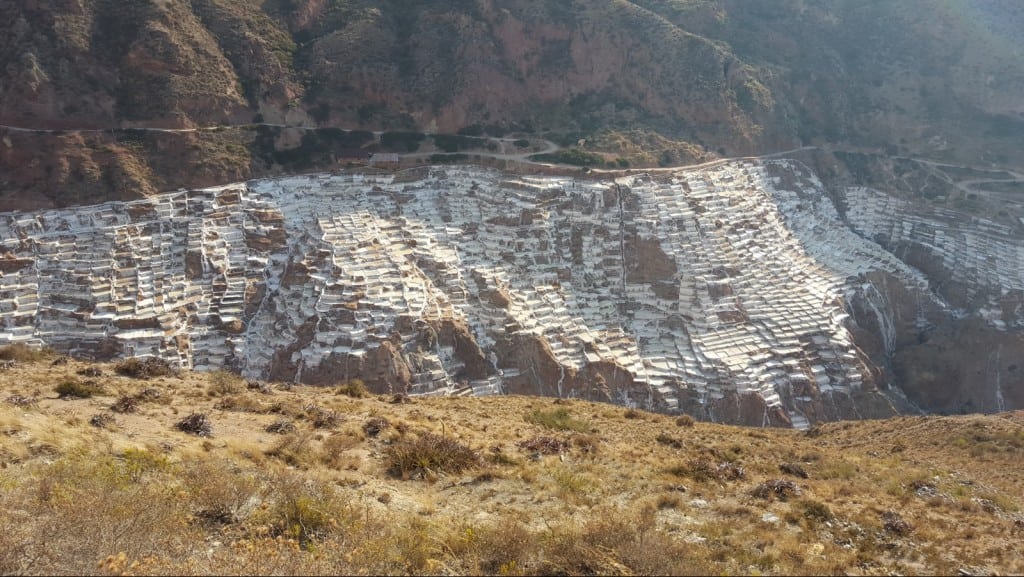 Our final stop before catching our train to Aguas Calientes was another set of ruins in Ollantaytambo itself. We had an interesting experience in Ollantaytambo. We were about to drive into the town when suddenly our driver stopped in the middle of the road and just stared ahead for a few seconds. Then, he whipped the car around, started frantically blinking his lights at other taxis heading that way, and pulled into an opening on the side of the road. Then, he grabbed our bags and said we were going to take a "short" walk into town. We were really confused at first and slightly nervous. But once we started walking, we noticed lights flashing at the entrance of the town, and our driver later told us that the police were collecting a tariff. I'm assuming that the tariff was more like a penalty for unlicensed drivers, but we will never know for sure.
The "short" walk ended up taking about 25 minutes. It felt like we were illegally crossing a border (and maybe we were)! Quite the adventure. But once we got inside, all was well. The picture below is of me and our driver with Daniel's bag on his head walking toward the town.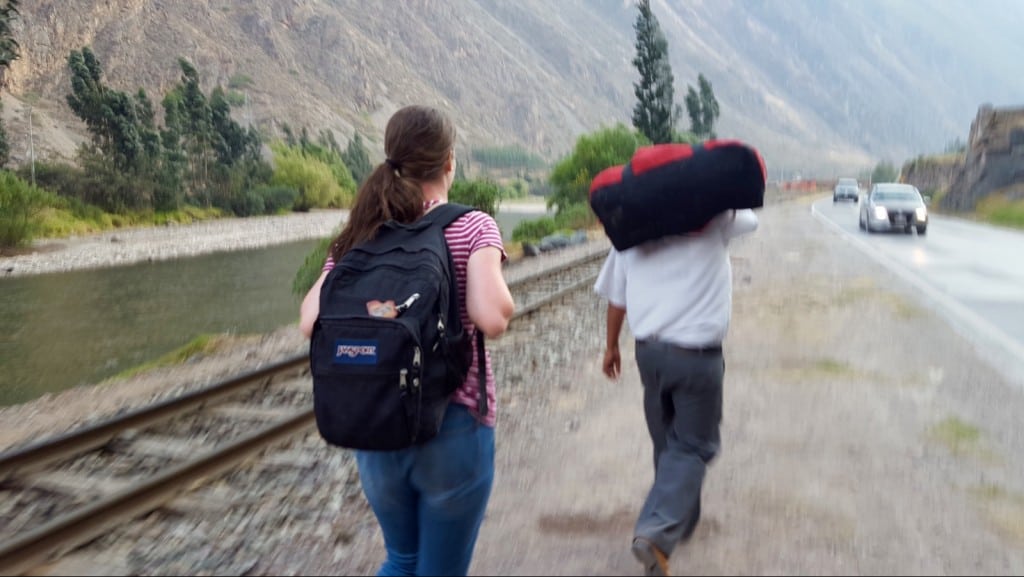 Once we got into the town (and our driver managed to convince the woman at the entrance of the ruins to let us in even though they had just closed), we did a quick walk through the ruins of an old Incan city. It was a neat few minutes, but I wish we could have spent more time there. The ruins extended up onto the hill, but we didn't have time to go up and see what was there. Regardless, it was a beautiful evening, and it was nice to get a glimpse of this ancient town.
The Cusco Tourist Pass mentioned above gets you entrance to the Ollantaytambo ruins, but you can also pay for a separate ticket.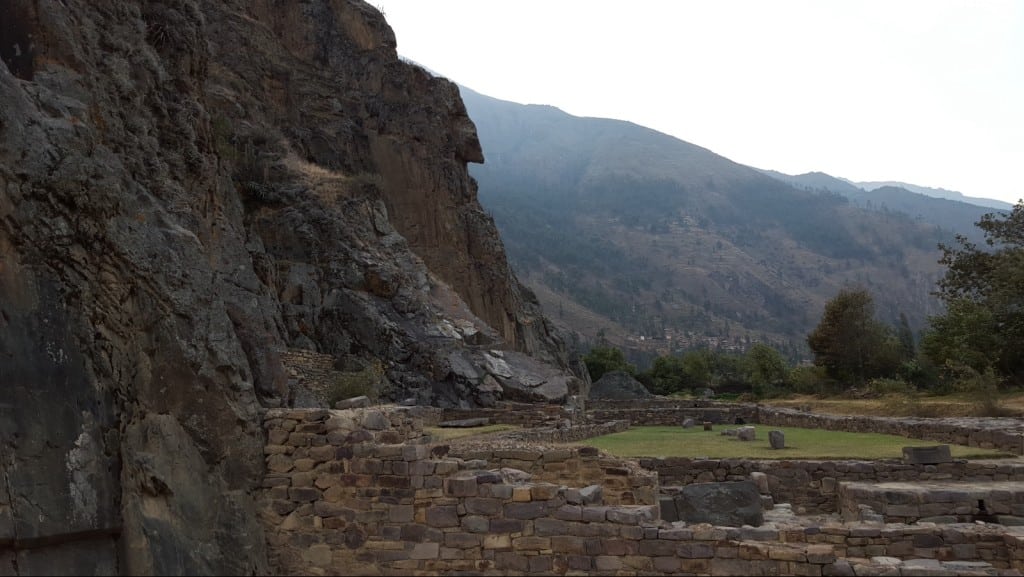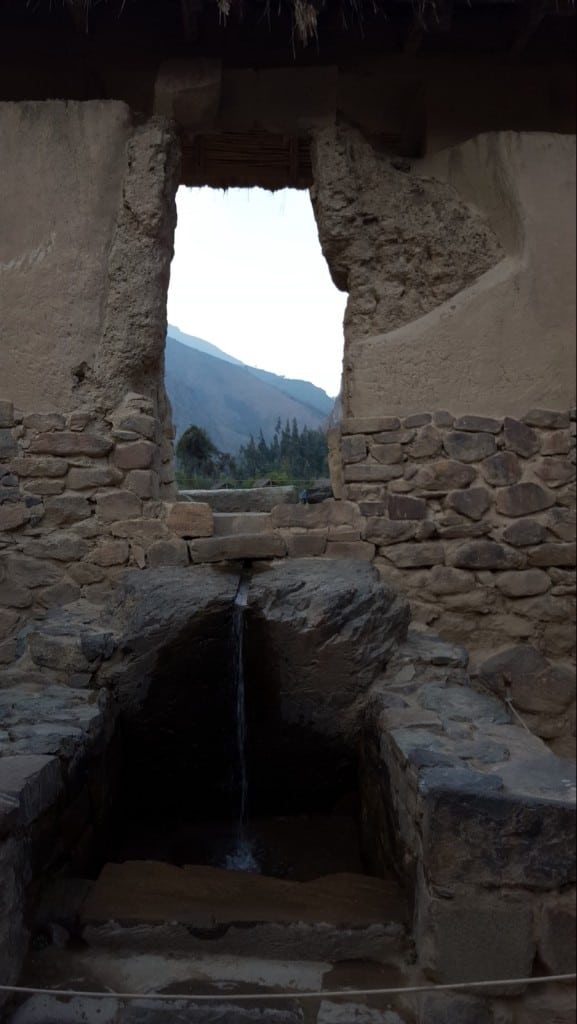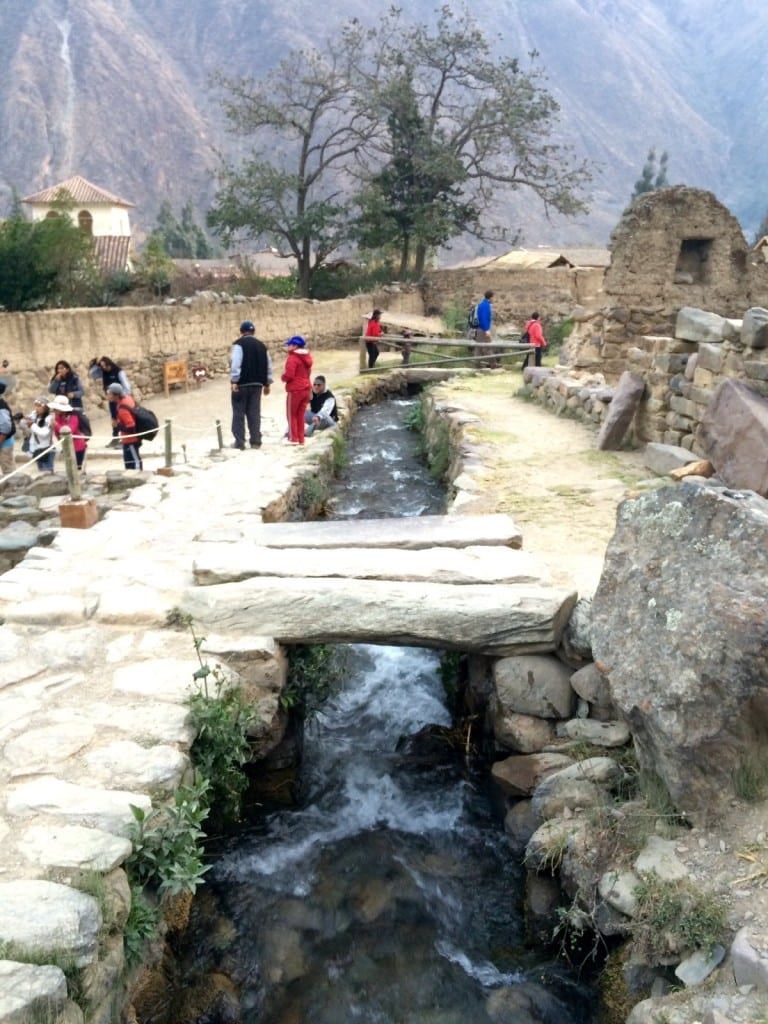 After our short time in the Ollantaytambo ruins, we headed out to grab a quick bite to eat and then caught our train to Aguas Calientes and Machu Picchu!
To read more on what we did in Peru and suggestions for planning your own trip:
Next up, I'll share about our time at the main event – Machu Picchu!