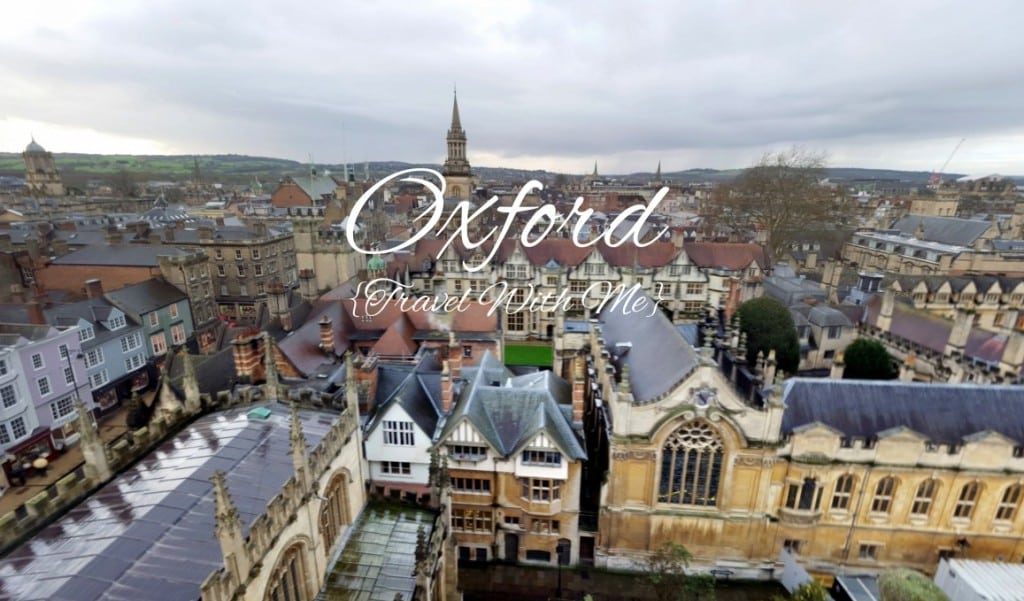 For our day trip to Oxford, we traveled in by train from Bristol just as we did for our day trip to Bath the day before. The train journey to Oxford was much longer than to Bath (about an hour and a half), but it was still very convenient and worth the savings in hotel prices.
I've heard about Oxford my whole life through the stories about C.S. Lewis and Tolkien and the influence that Christ Church College had on Harry Potter's Great Hall, yet I still didn't know what to expect from this university town. We ended up enjoying our visit very much! I have my good friend Jennifer to thank for all of the wonderful recommendations, many of which are mentioned below. She attended Oxford for her graduate degree, so she is a great source!
In the descriptions below, I have underlined the attractions, restaurants, and things to do that I suggest adding to your one-day itinerary in Oxford based on my experience.
In our usual fashion, we started the day off with a walking tour around the city to orient ourselves and help us narrow down the list of things we wanted to do in our short time. We did the two hour Footprints Free Walking Tour based on the glowing reviews we read on TripAdvisor. The tour took us around to the outside of the Bodlein Library, the University Church of St. Mary, and many of Oxford's colleges including Christ Church, All Souls, Merton, and Magdalen. The guide told us many interesting facts about Oxford as both a city and a university as well as stories about many of Oxford's notable students. We really enjoyed the tour overall, but unlike the free tour in Bath, this one encourages a tip, so be prepared with cash if you feel the guide deserves it.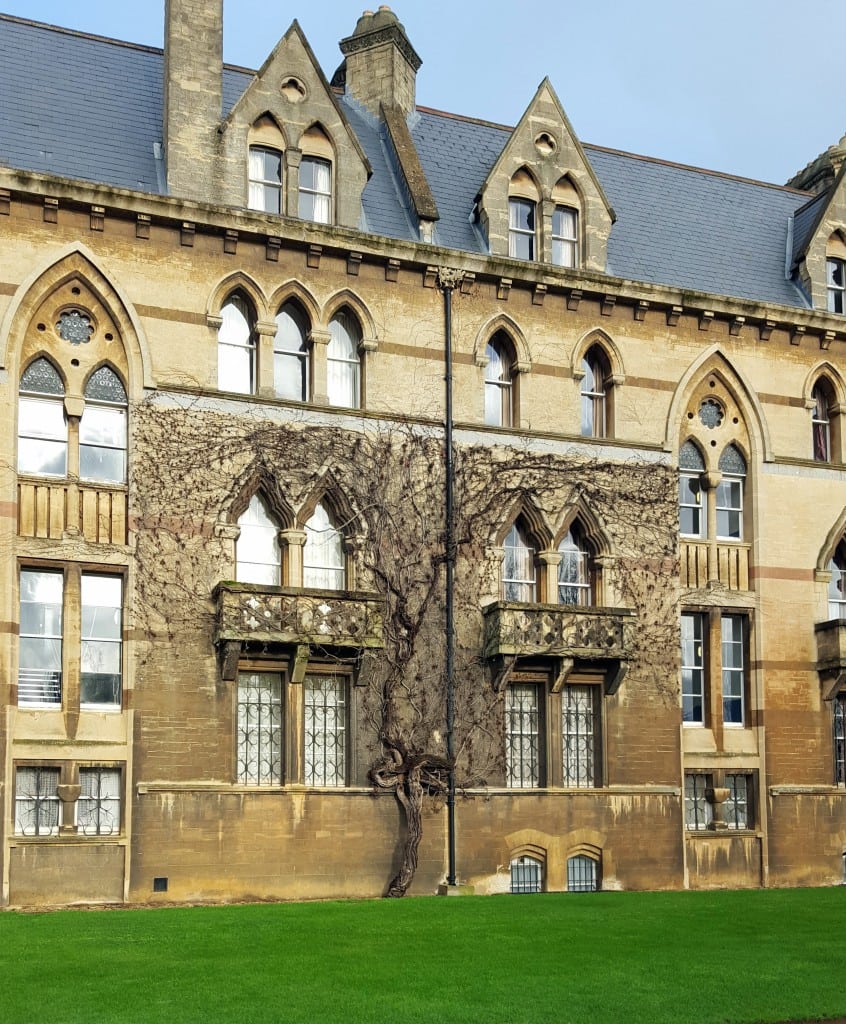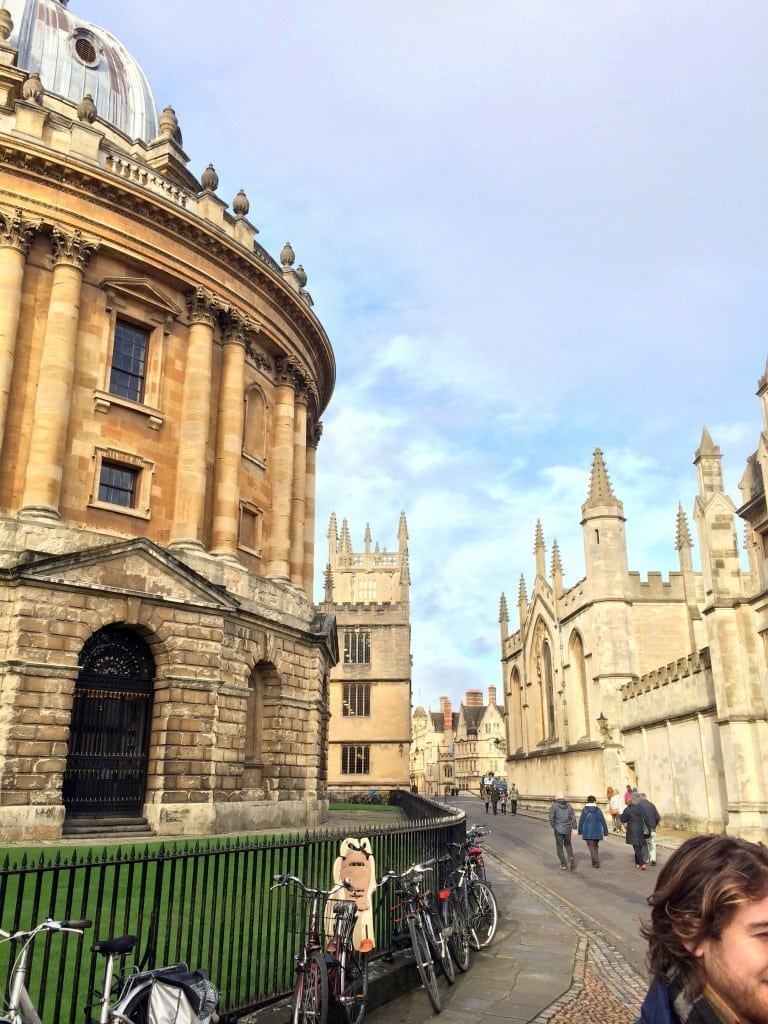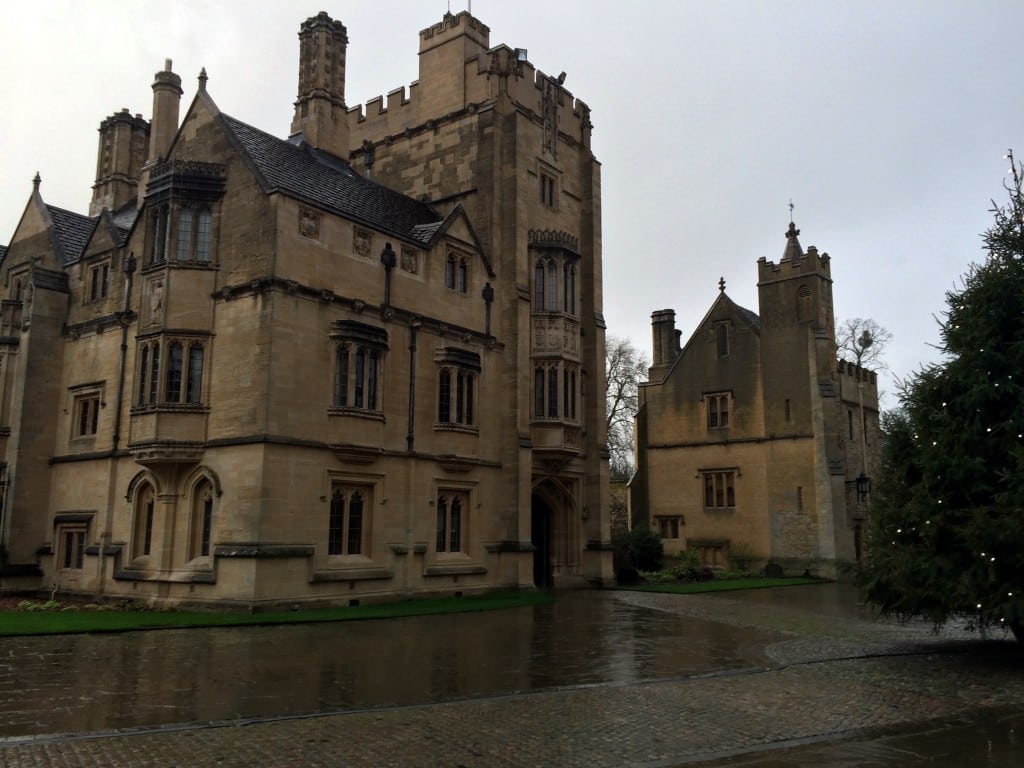 After the tour, we found a place nearby for lunch, The White Rabbit, which services delicious pizza and salads in a fun, pub-like atmosphere.
Over lunch, Daniel and I planned out what we would do during our remaining few hours in Oxford. We decided to go tour two of the colleges next: Christ Church and Magdalen. Both of these colleges charge an admission fee ranging from $7 to $10 depending on the season.
I didn't get very many pictures at Magdalen College because it was pouring rain at the time, but I got several at Christ Church. We toured the Great Hall, the cathedral, and other common areas. It would be very cool to be a student there!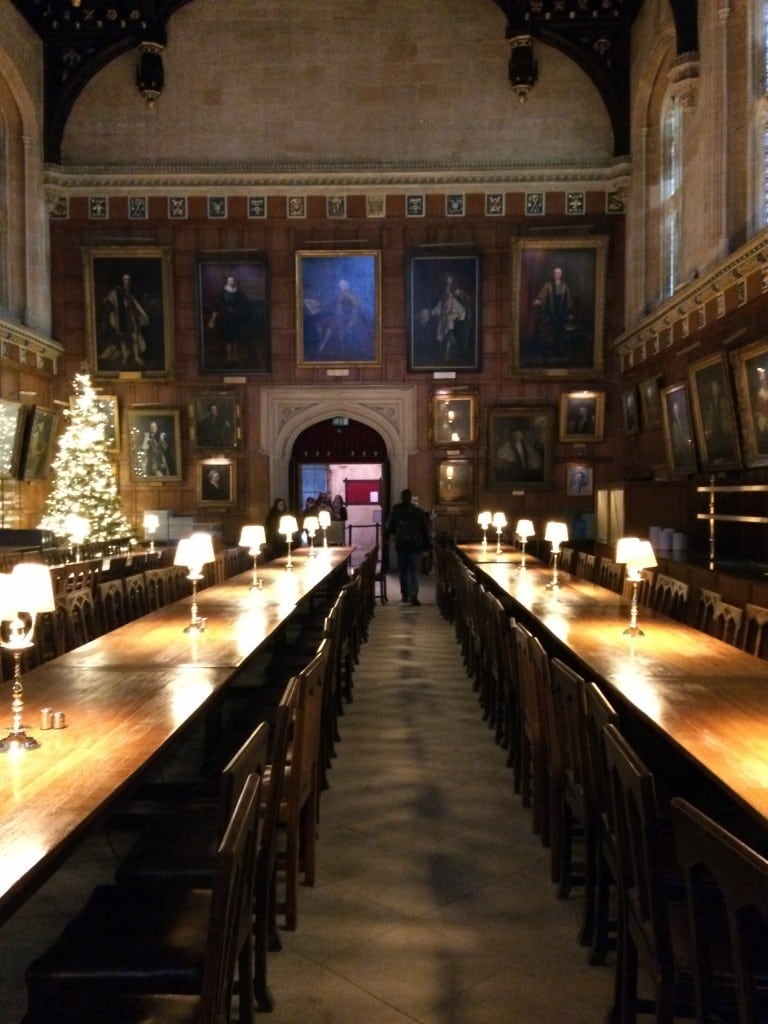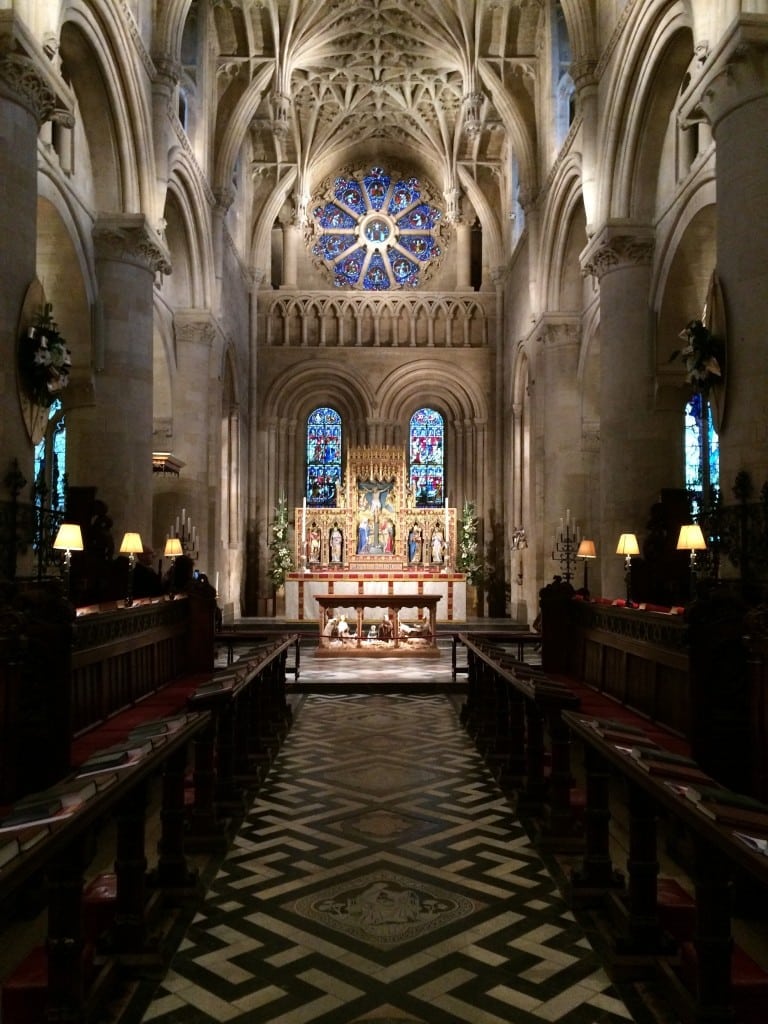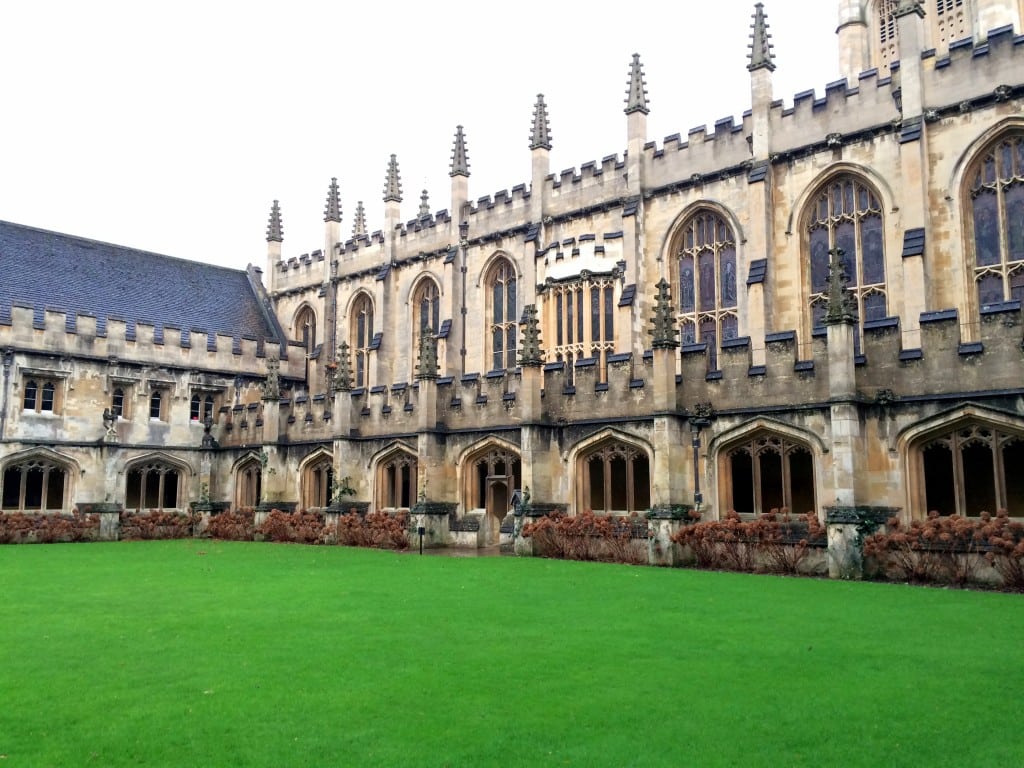 It's always a good idea to find a viewpoint from above when exploring a new city. Our friend highly recommended the view from the thirteenth century tower at the University Church of St. Mary's, and we are so glad she did! The journey up the tower is neat itself – there is a little exhibit before you reach the highest point. The winding staircase and the top of the tower are tiny, leaving very little room to move around other people, but I kind of liked how that added to the unique-ness of the experience.  Regarding the view, I'll let the pictures speak for themselves….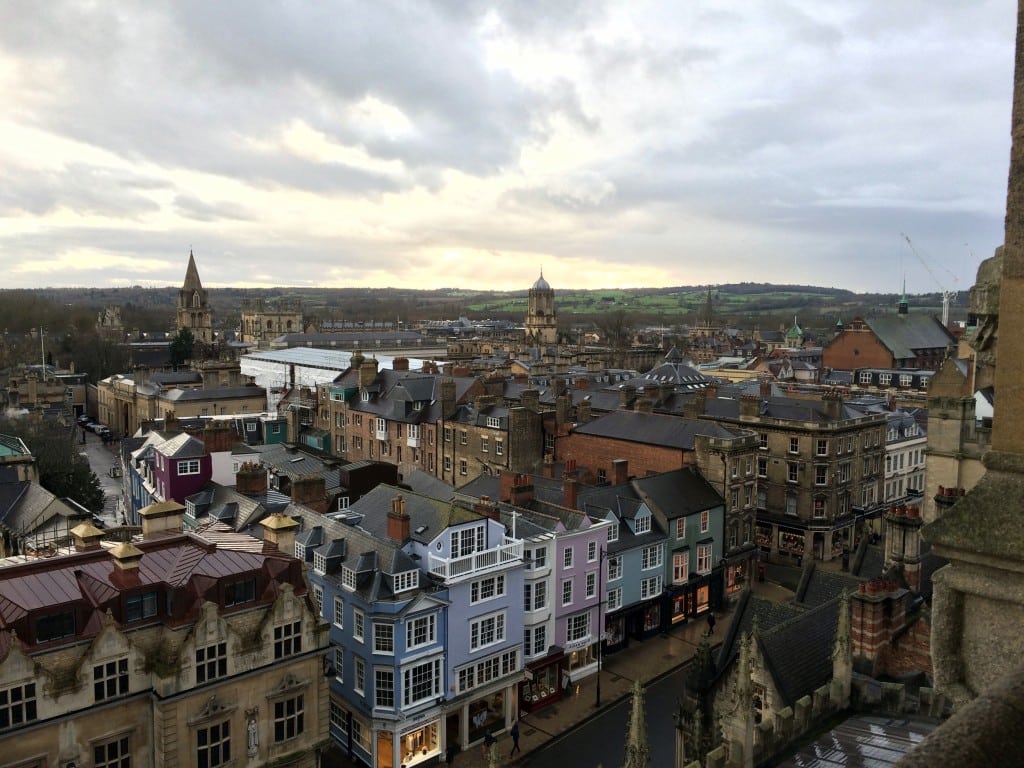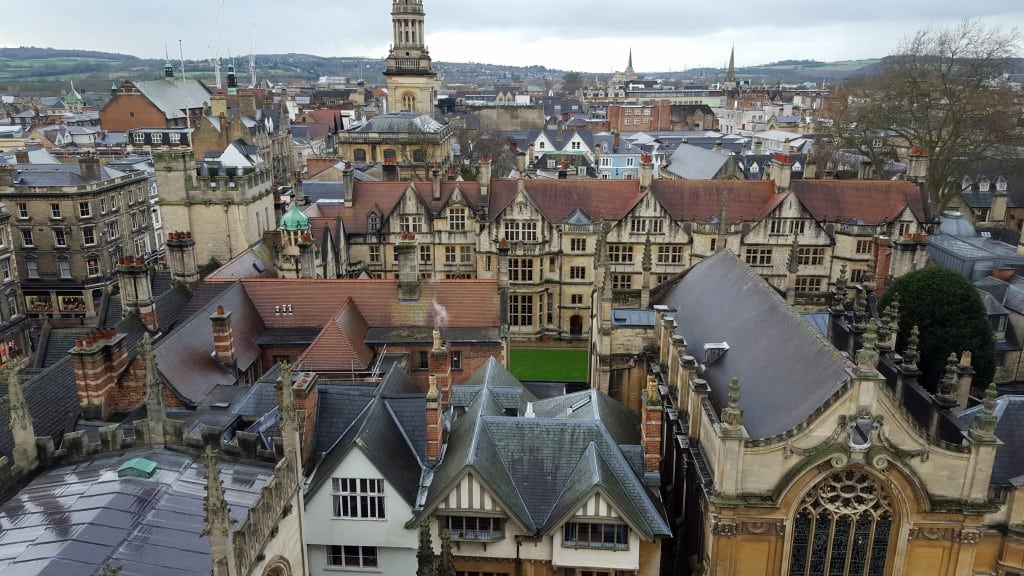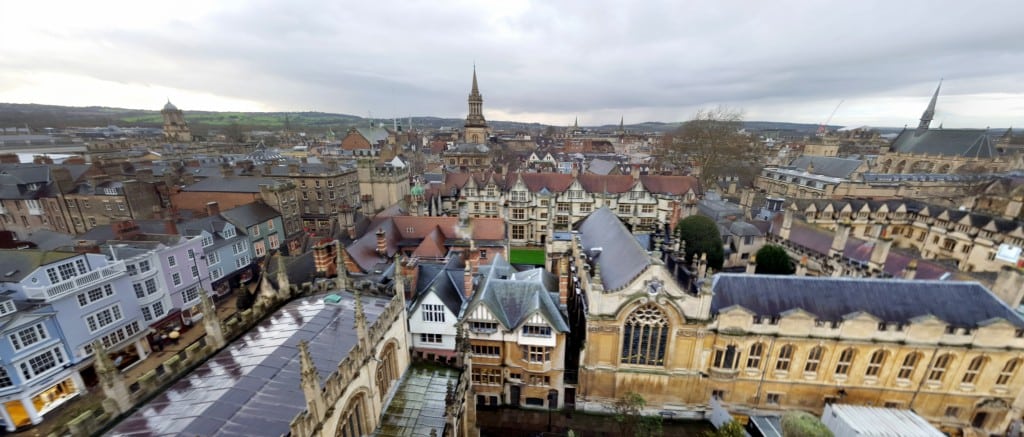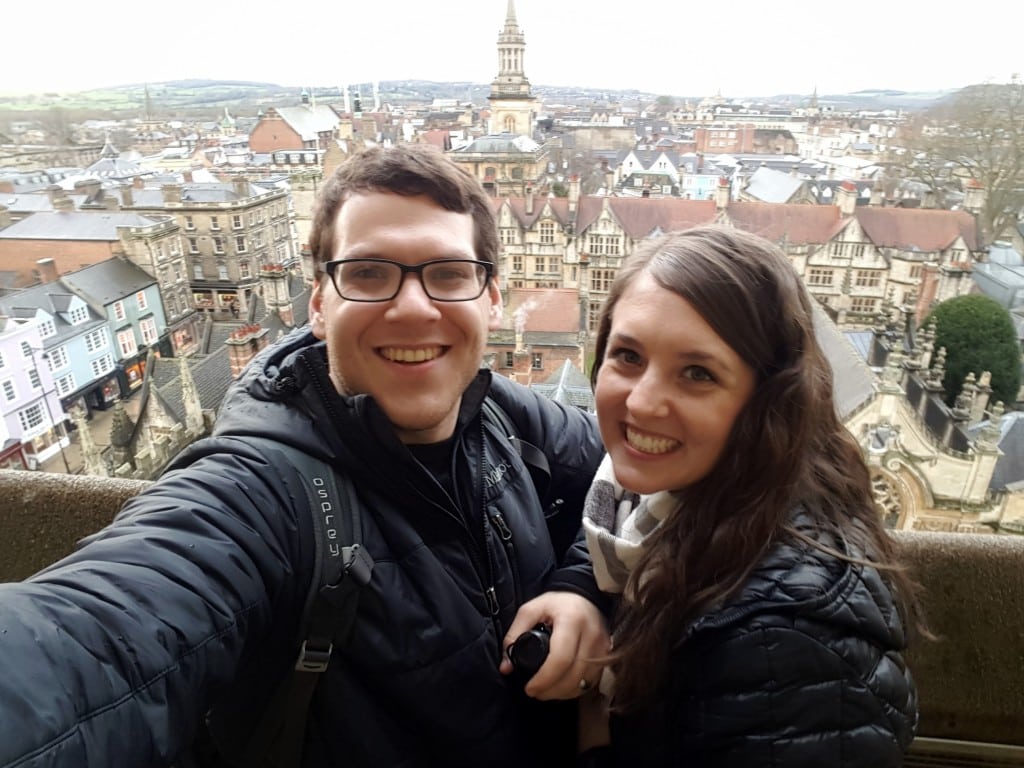 It really started to pour after our college tours, so we ran to find the coffee shop our friend recommended, the The Missing Bean.  It had great coffee, and a fun, student vibe.
As library and bookstore lovers, we knew we had to do one of the guided tours of Oxford's Bodleian Library. They offer a variety of options, including the mini, standard, and extended tours, and they encourage you to book your tickets ahead of time to secure a spot on your tour of choice. The mini tour (advertised as half an hour) was the only one that fit our schedule, but it ended up being longer (about 45 minutes) and very informative. Unfortunately, pictures were not allowed in Duke Humfrey's Library, a gorgeous, centuries-old reading room. However, you can see it in three of the Harry Potter films because it was used as the Hogwarts library (Sorcerer's Stone, Chamber of Secrets, and Goblet of Fire). This part of the library houses many, many important works that the students are actually allowed to reference under the supervision of a librarian.
After the library, we were still in the mood for books, so we went across the street to Blackwell's Bookshop to check out the Norrington Room, a giant cavern of books. It was so neat! So many books in one place!
Before heading back to the train station, we decided to grab dinner at the pub that our friend recommended, Turf Tavern. It had a fun, cozy atmosphere. Our favorite dish of the evening was the Scotch eggs (see below). Yum!
And that was our day in Oxford! My only regrets are not attending Evensong at one of the college's chapels and and not visiting The Kilns, the home of C.S. Lewis and the location where he wrote the Narnia books. We just didn't have enough time that day to do everything. However, I've heard that both are excellent experiences.
That was our last day trip from Bristol. Our next stop was Watford to do the Warner Brothers Studio Tour of the Harry Potter film sets! Stay tuned!
My husband and I are currently on a 2.5 month trip across Western Europe.  Click here to check out all of my posts from this adventure!
This article is now available as a mobile app. Go to GPSmyCity to download the app for GPS-assisted travel directions to the attractions featured in this article.