Welcome to my Scenes From the Week series! In these posts, I share the highlights from my previous week ranging from the simple, everyday things to the more memorable events. One of the primary reasons that I blog is to keep a scrapbook that I can look back on in the future, and these posts help serve that purpose.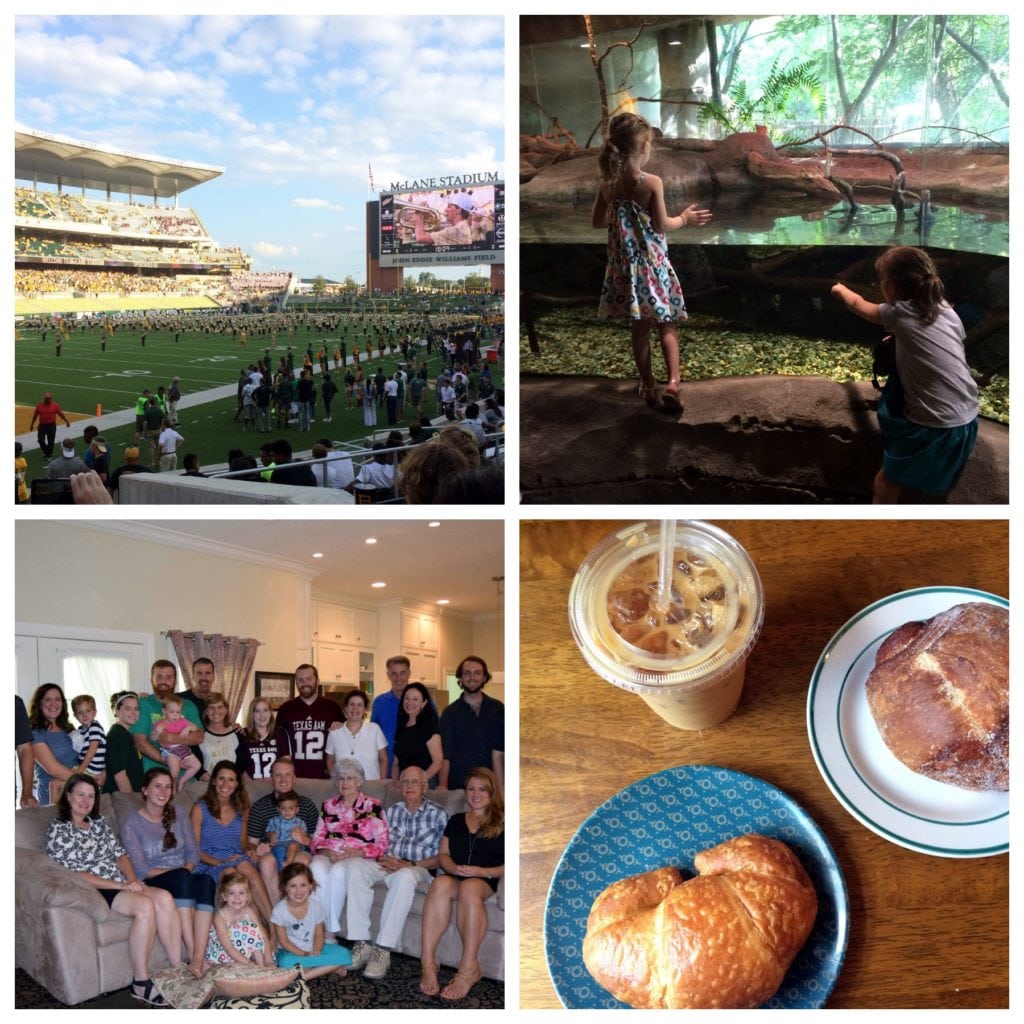 It was a wonderful Labor Day weekend!
Photos from the week, top left to bottom right:
(1) Friday we drove up to Waco for the first game of the season! My brother is now in the Baylor marching band, so it was fun to see his first halftime show. We had amazing seats too!
(2) We stayed with my parents in Waco Friday night and spent most of Saturday hanging out with family. Some of our relatives surprised us by flying in from out of state, so it turned into a big family reunion! Saturday morning a lot of us went to the Cameron Park Zoo. The zoo was the perfect place to be able to catch up and let all of my cousins' kids burn off some energy at the same time.
(3) I couldn't even fit my dad, Daniel, or myself in this picture because we had so much family there, but this is the family picture we took Saturday. This isn't even everyone on my mom's side! It was great to see so many people living all over the country in one place.
(4) Sunday we went to a local French bakery for delicious cold brew coffee and buttery croissants.
Not Pictured:
Driving around the gorgeous Westlake area of Austin
Going to see the bats fly out from under Congress Bridge for the first time (It was so much cooler than we expected!)
Going to Olive Garden for the first time in years for soup, salad, and breadsticks. The zuppa toscana soup was every bit as amazing as I remembered, but I could have done without the Chuck E. Cheese smell!
Hosting Daniel's sister Sarah for Labor Day (She is staying with us most of this week!)
Working off and on randomly throughout the weekend. As a CPA, it's a busy time of year, so I don't usually get the full Labor Day weekend off.
On the Blog:
Have a great week!
Click here to see all of my Scenes From the Week posts. I'm linking up with Biana at B Loved Boston for the Weekending link-up!
{Thanks for reading! Want to know a little more about me? I'm a CPA learning how to balance a career with frequent travel while planting roots at home in Austin, TX. When I'm not exploring my home city with my husband Daniel or cuddling with our chubby orange cat Banana, I'm probably planning, packing, traveling to, or daydreaming about our next adventure. After all, my travel mug collection is never complete. If you have wanderlust too, be sure to follow me on Instagram, Pinterest, Snapchat (emilya89), or subscribe to my blog!}