Welcome to my Scenes From the Week series! In these posts, I share the highlights from my previous week ranging from the simple, everyday things to the more memorable events. One of the primary reasons that I blog is to keep a scrapbook that I can look back on in the future, and these posts help serve that purpose.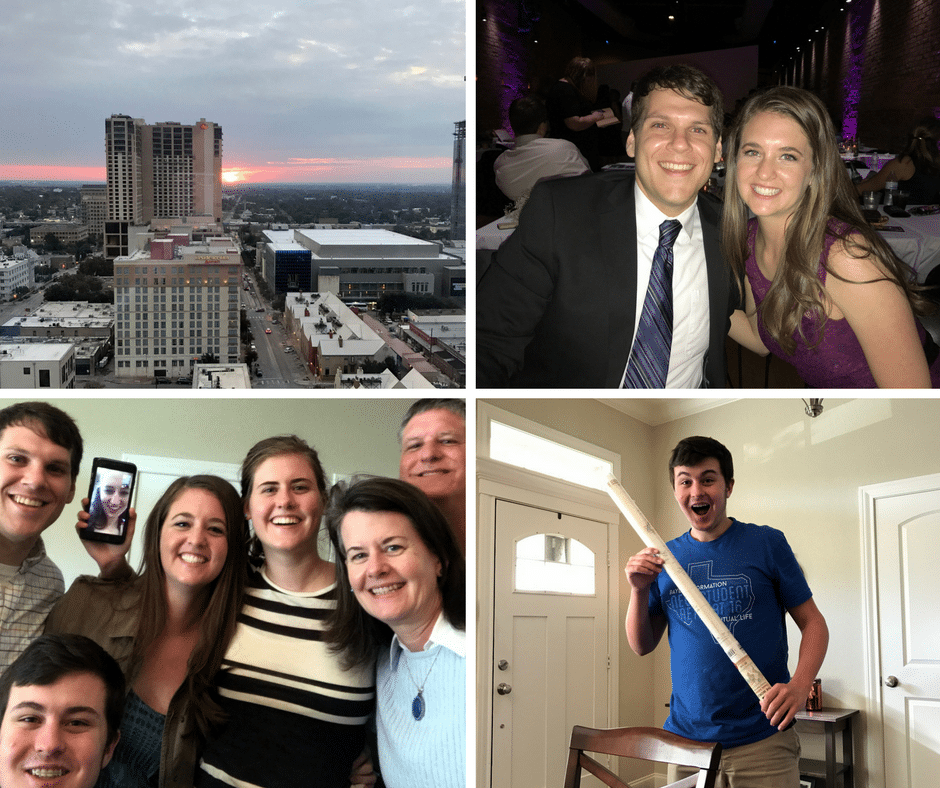 Well, it was another busy week at work, but there were also so many highlights that made it a great week!
Photos from the week, top left to bottom right:
(1) I went to work really early one morning and got to catch the sunrise. We have some great views from my office on the 18th floor, and this picture doesn't do the sunrise justice.
(2) We spent most of the weekend celebrating my friend Becca's wedding! I was in the wedding, so we headed up to Dallas Friday morning for the rehearsal and dinner. Saturday, the bridal party spent most of the day hanging out with Becca at her apartment before the wedding and getting ready. The ceremony and reception were in the evening, and it was a beautiful wedding and a great party afterward!
(3) Sunday we slept in after the party the night before, and then we headed to Waco for a quick lunch with my family to celebrate my little brother Ben's birthday. It was great to catch up with the family.
(4) Ben was pretty excited about his birthday gifts!
Not Pictured:
Saturday morning I went to DryBar to get my hair done for the wedding. I hadn't been to DryBar in years! It was so relaxing. They were playing the movie How to Lose a Guy in 10 Days – I hadn't seen that in years, and it brought back old memories!
At the wedding we got to see several good high school friends. It was so much fun to catch up and hang out with both old and new friends all in one place!
Sunday night we had our first church small group meeting. It was great to start getting to know the people in our group.
On the Blog:
I shared about our time in Avignon, part of the Provence region of France. It is a gorgeous part of the world!
Have a great week!
Click here to see all of my Scenes From the Week posts. I'm linking up with Biana at B Loved Boston for the Weekending link-up!
{Thanks for reading! Want to know a little more about me? I'm a CPA learning how to balance a career with frequent travel while planting roots at home in Austin, TX. When I'm not exploring my home city with my husband Daniel or cuddling with our chubby orange cat Banana, I'm probably planning, packing, traveling to, or daydreaming about our next adventure. After all, my travel mug collection is never complete. If you have wanderlust too, be sure to follow me on Instagram, Pinterest, Snapchat (emilya89), or subscribe to my blog!}