Welcome to my Scenes From the Week series! In these posts, I share the highlights from my previous week ranging from the simple, everyday things to the more memorable events. One of the primary reasons that I blog is to keep a scrapbook that I can look back on in the future, and these posts help serve that purpose.
I didn't post a Scenes From the Week last week, so I have a little catch up to do. Work has been crazy, so I don't have too much to share from this past week, but we did a lot of wonderful and fun things the week before.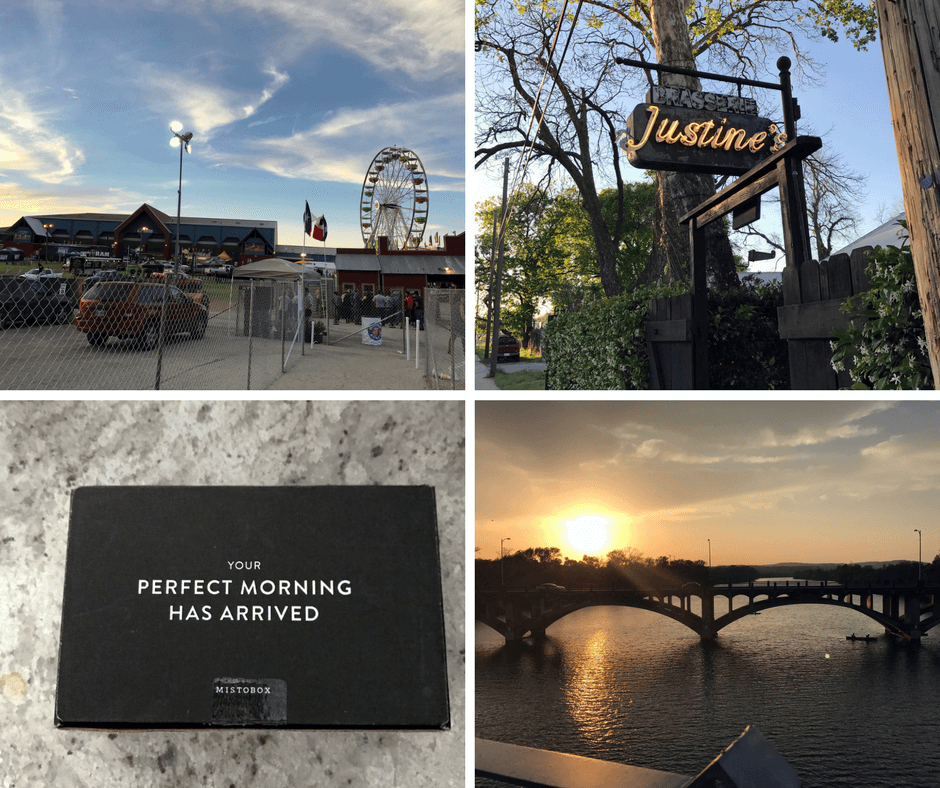 Photos from the week, top left to bottom right:
(1) We have a great intern program at my company. They work hard, but we also do lots of fun events with them. One of this year's events was going to the Austin Rodeo one Thursday evening. It was a lot of fun to attend the rodeo and the concert afterward. Old Dominion performed, and it was a great show!
(2) Last weekend Daniel and I went to a local French restaurant we have been wanting to try for over two years, Justine's. We loved the whole thing! We didn't even care that we had to wait an hour for a table because it was a nice day to sit outside and enjoy the outdoor sitting area. They also have an herb garden you can look at and a cute photo booth and gazebo in the back. Once we sat down for dinner, we really enjoyed the French food and felt it was very authentic. It was a beautiful evening and a wonderful dinner!
(3) I recently subscribed to Mistobox, a coffee subscription service, and I'm so happy with it! I received my first box a week ago. Your price depends on the "coffee tier" – basic, deluxe, or exclusive – and the frequency of delivery you select. I signed up for one bag of "deluxe" beans per month. When signing up, you tell them all sorts of details about the type of coffee you prefer and how you brew at home, and they take that information and choose a bag of beans from one of over 40 roasters from around the country. What really drew me to the service is the list of roasters that they use – they use several smaller roasters that I've tried and enjoyed on some trips the past couple of years (such as Good Folks Coffee, Panther Coffee, and La Colombe). Also the website interface is beautiful and easy to use, and you can see which coffee they have selected for you and track when it will be roasted and shipped. You can also ask for specific roasters and such. I'm not sponsored at all – I just really enjoy this box!
(4) We took a Sunday evening walk and caught a gorgeous Texas sunset.
Not Pictured:
Going to see Beauty and the Beast last Saturday. I loved it so so much! They did a great job re-creating my favorite Disney movie.
Two Saturdays ago, Daniel picked me up from the office to go up to Round Rock Honey for a tour of their honey house. My sister Ellen gave us a Groupon for the tour for Christmas. It was such a fun thing to do! We learned a lot about bees, beekeeping, and the process of making honey! We also got to try out samples of two new honeys they will be releasing next month – Orange Cinnamon and their regular honey aged in bourbon barrels. So delicious!
Playing Carcassonne together at home. We hardly ever play games just the two of us, but this is a fun, easy one. It was also fun to be reminded of our trip to the real Carcassonne last year!
Catching up with both of my sisters, one each weekend. Ellen came to town two Fridays ago, and we met her and her roommates for dinner. Elizabeth lives here in Austin, but I haven't gotten to see her much, so I met her and Jason (her boyfriend) for ramen this past Friday.
Two weeks ago, I went to College Station for work to help with a pre-interview dinner and stay through to the next day to be a greeter for interviews. I hadn't been to College Station since visiting my best friend and my sister during college, so it was fun to get back and meet some A&M candidates!
Waking up to a big storm this past Sunday morning. I'm one of the few who actually loves rain and storms. I find them so calming and refreshing. It was the perfect morning to snuggle up with a book.
Trying out the new coffee shop, Stonehouse, that opened one block away from us. We went Saturday, and I'm here on Sunday again as I write this post. It's a beautiful space with baristas who love and make delicious coffee!
On the Blog:
Have a great week!
Click here to see all of my Scenes From the Week posts. I'm linking up with Biana at B Loved Boston for the Weekending link-up!
{Thanks for reading! Want to know a little more about me? I'm a CPA learning how to balance a career with frequent travel while planting roots at home in Austin, TX. When I'm not exploring my home city with my husband Daniel or cuddling with our chubby orange cat Banana, I'm probably planning, packing, traveling to, or daydreaming about our next adventure. After all, my travel mug collection is never complete. If you have wanderlust too, be sure to follow me on Instagram, Pinterest, Snapchat (emilya89), or subscribe to my blog!}