Welcome to my Scenes From the Week series! In these posts, I share the highlights from my previous week ranging from the simple, everyday things to the more memorable events. One of the primary reasons that I blog is to keep a scrapbook that I can look back on in the future, and these posts help serve that purpose.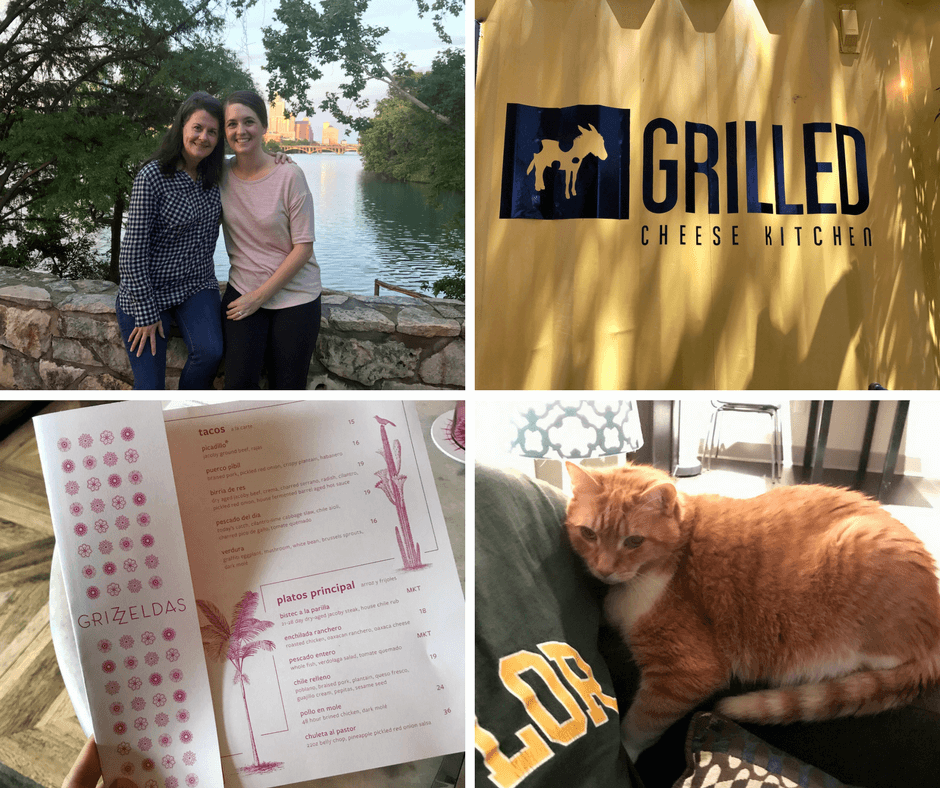 Photos from the week, top left to bottom right:
(1) I took some time off work this week, and my mom came to visit. We had a really nice day together and ended the day walking by the river at sunset.
(2) A new grilled cheese food truck recently opened up next door to us. I swung by for lunch during a work-from-home day earlier this week. The grilled cheeses there are DELICIOUS!
(3) We had a really low-key weekend, but we got out Saturday evening to try a new-to-us Mexican restaurant, Grizzelda's. It was really yummy. Their chips and queso may be my favorite in Austin!
(4) Banana was being extra cuddly this week! I had to snap a photo of him snuggling up to Daniel Saturday night.
On the Blog:
I shared one of the major highlights from our Europe backpacking trip, our five days of relaxation in Lake Como, Italy! I posted an overload of photos, but it was one of the most picturesque places I've ever visited, so I couldn't help myself.
Have a great week!
Click here to see all of my Scenes From the Week posts. I'm linking up with Biana at B Loved Boston for the Weekending link-up!
{Thanks for reading! Want to know a little more about me? I'm a CPA learning how to balance a career with frequent travel while planting roots at home in Austin, TX. When I'm not exploring my home city with my husband Daniel or cuddling with our chubby orange cat Banana, I'm probably planning, packing, traveling to, or daydreaming about our next adventure. After all, my travel mug collection is never complete. If you have wanderlust too, be sure to follow me on Instagram, Pinterest, Snapchat (emilya89), or subscribe to my blog!}