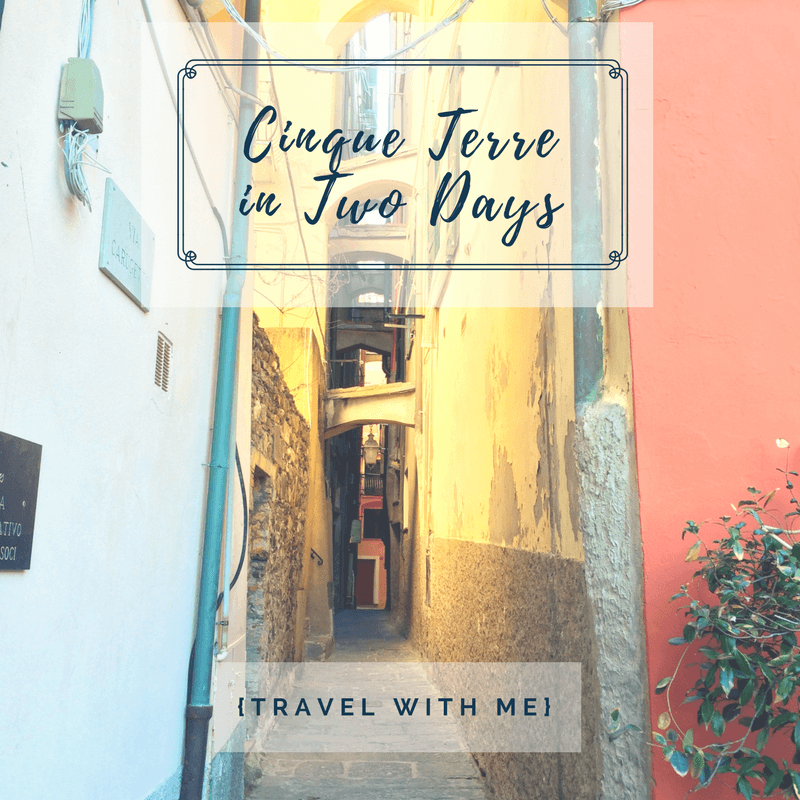 After living the dream in Lake Como for five days, we headed east to Venice! I already shared all about our time in Venice in a guest post on Ashley's blog, The Wandering Weekenders. Check out that post here!
After Venice we headed to the west coast of Italy to Cinque Terre, a string of five seaside towns connected by scenic hiking trails and filled with colorful buildings and fishing boats. The five villages are Monterosso, Vernazza, Corniglia, Manorola, and Riomaggiore. We visited three of the five. Each was unique in its own way, yet they all shared the same seaside charm and natural beauty.
Day 1
We arrived in Cinque Terre mid-afternoon. We chose to stay in a cute Airbnb in Vernazza which was right next to the train station.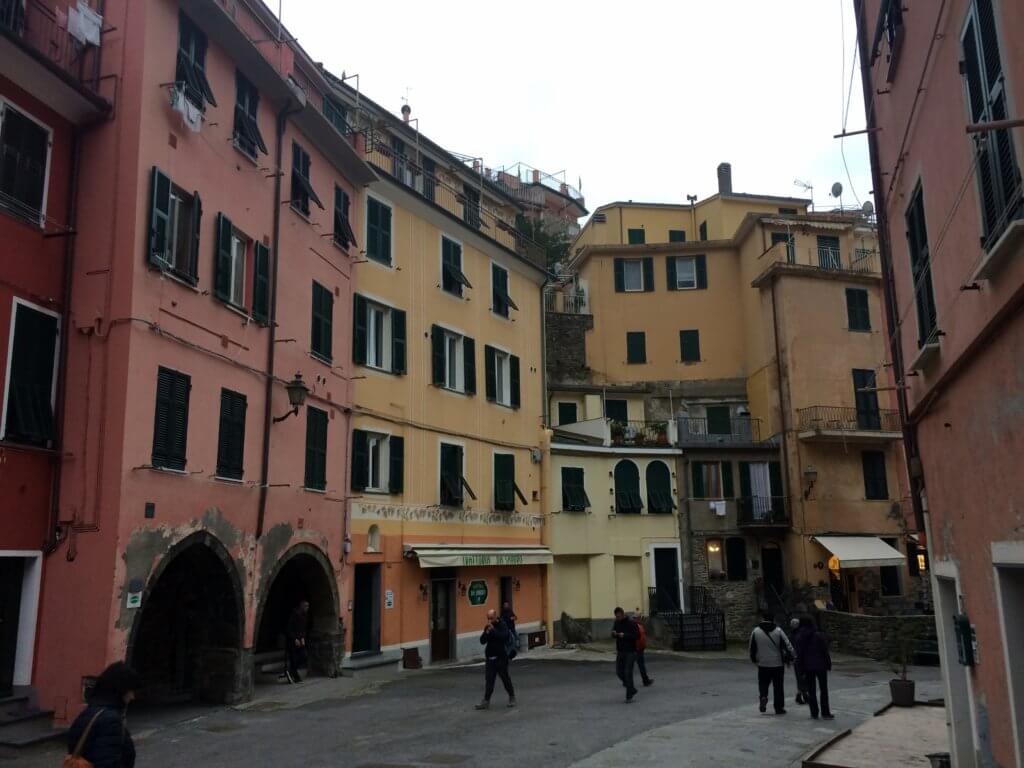 We dropped off our bags and then explored a little before going to dinner at one of the two restaurants open in town. It was a cute place with delicious home-cooked Italian.
Day 2
Hiking
The number one thing I wanted to do while in the area was take a hike on a section of the famous Cinque Terre hiking trails. We didn't have much time in the area, so we knew we could just pick one trail. We decided to hike from Vernazza to Monterosso and then take the train back from Monterosso after spending a few hours there.
Before hitting the trail, we spent some time enjoying Vernazza in the morning hours. There is a pretty little church by the coastline that we went inside, and we enjoyed sitting by the water and watching the waves crash in.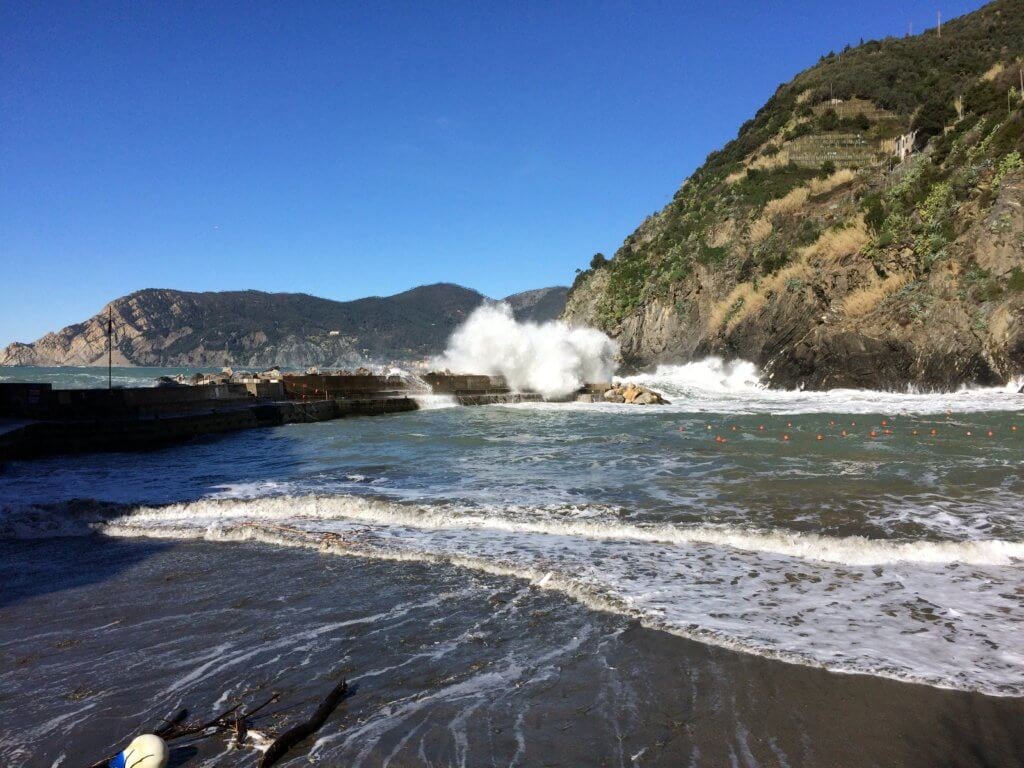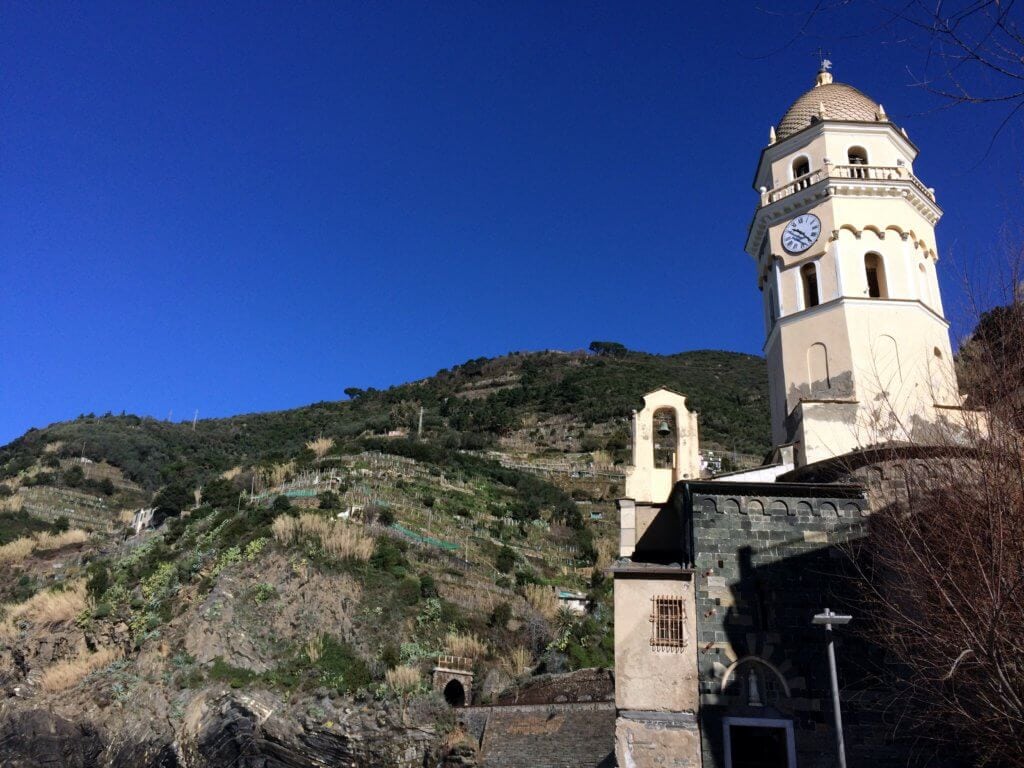 Vernazza is very colorful, rugged, and charming. In some ways, it reminded me of a mix between Venice and Lake Como. And, just like in Lake Como, because we were there during the off season, there were very few other tourists, so we were able to see the town and the trail without the crowds.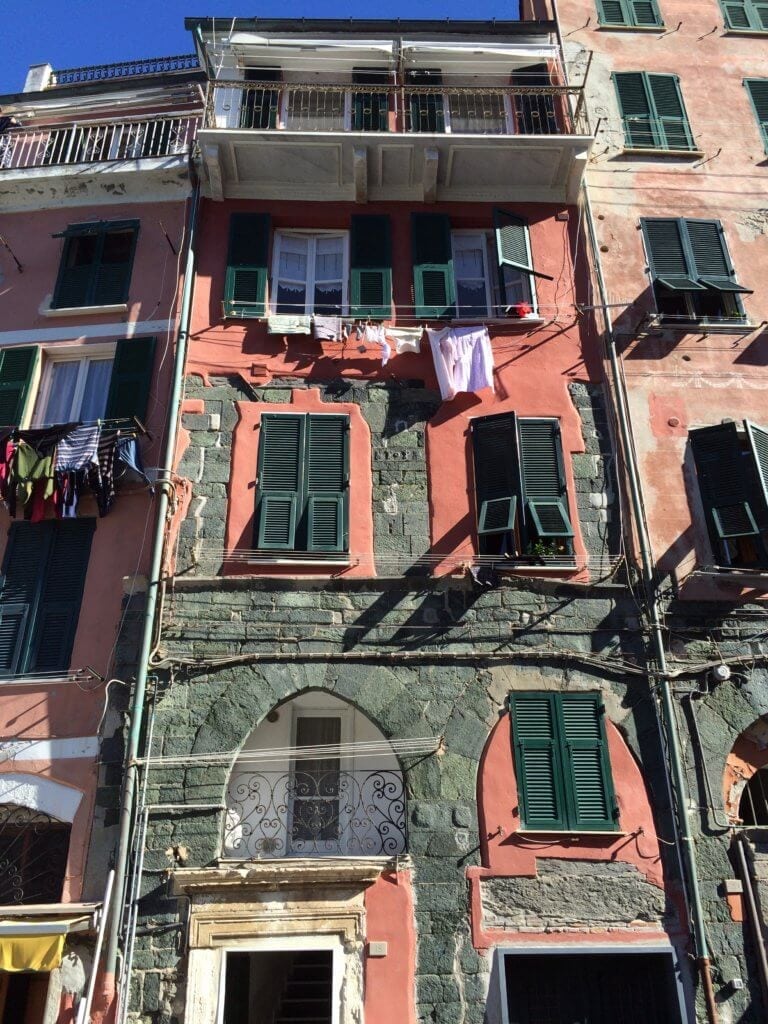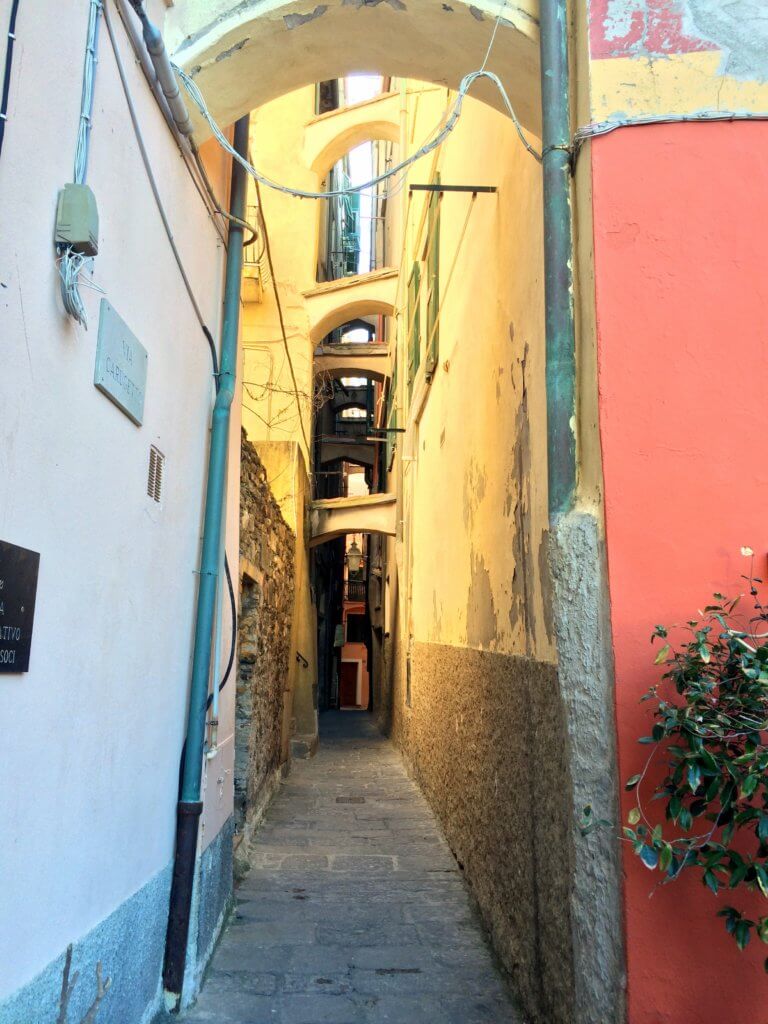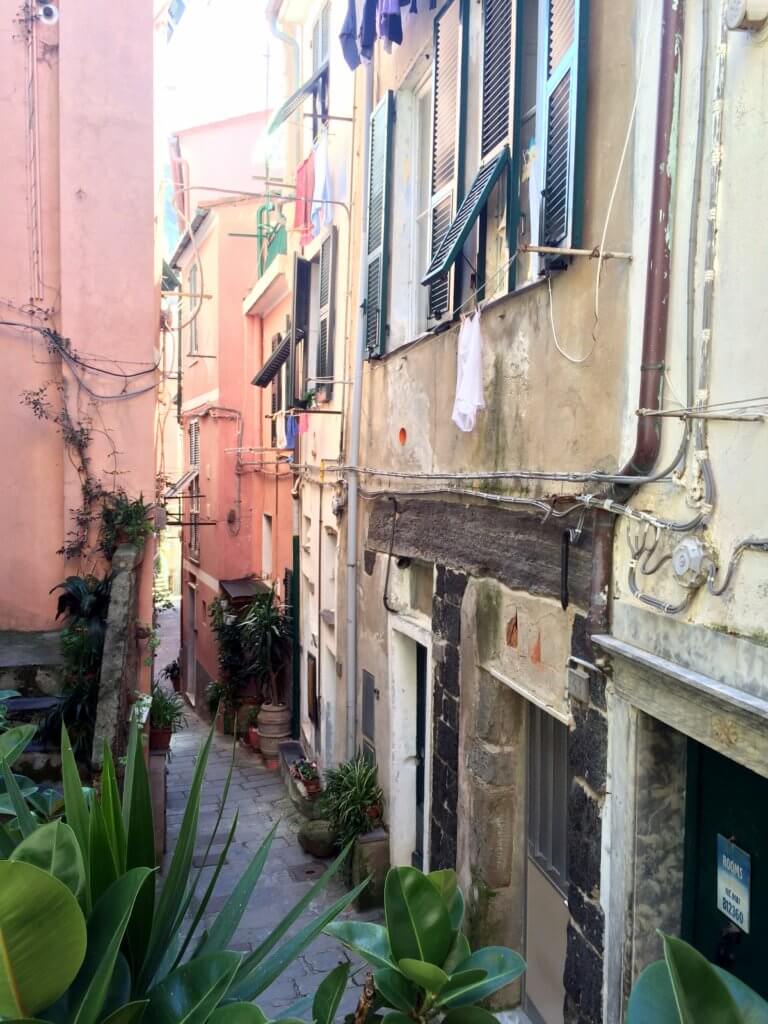 Another great thing about going to Cinque Terre in the off season is that we didn't have to pay a fee to hike the trail. It looks like some of the trails are actually free year-round, but the section we took costs about $8.50 each during tourist season. Also, apparently the section we hiked is the most difficult with lots of stairs and narrow walkways. We were not prepared for a hike since we only had the clothes we could fit in our backpacks (see my packing list here and Daniel's here) and the shoes we had been wearing our whole trip in Europe (we only brought one pair of shoes each). But we wanted to do the hike any way, and we both agree that it was well-worth it!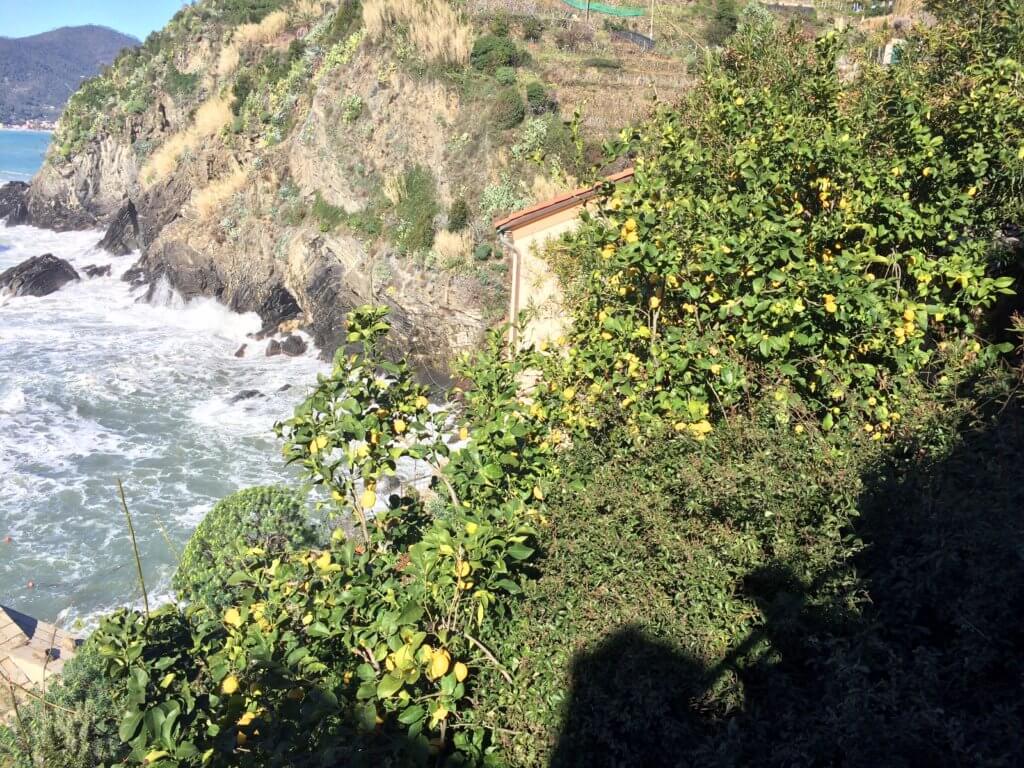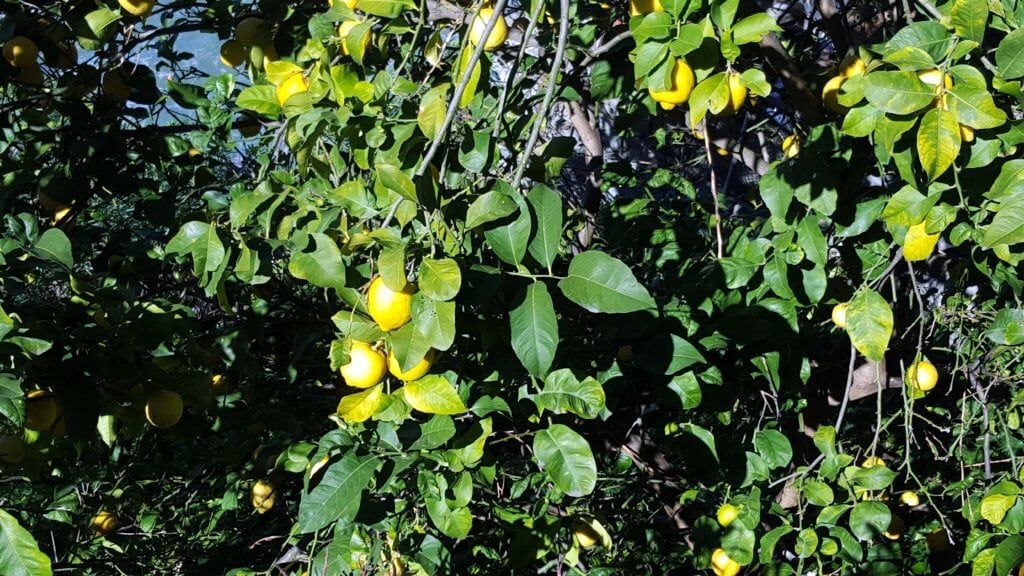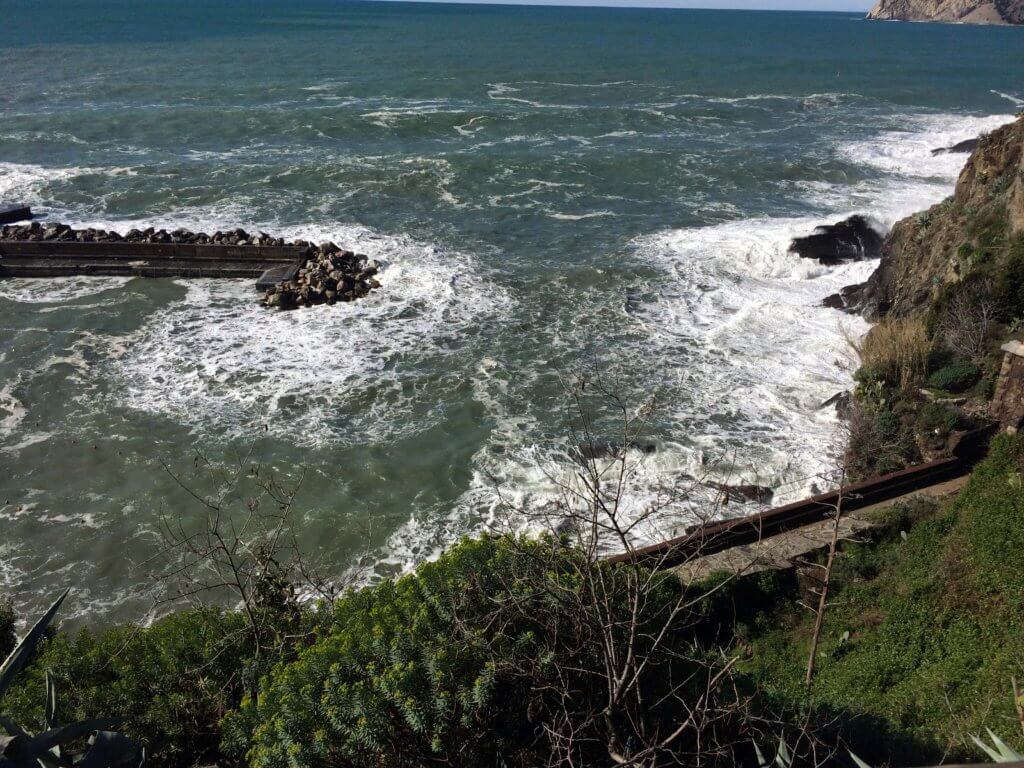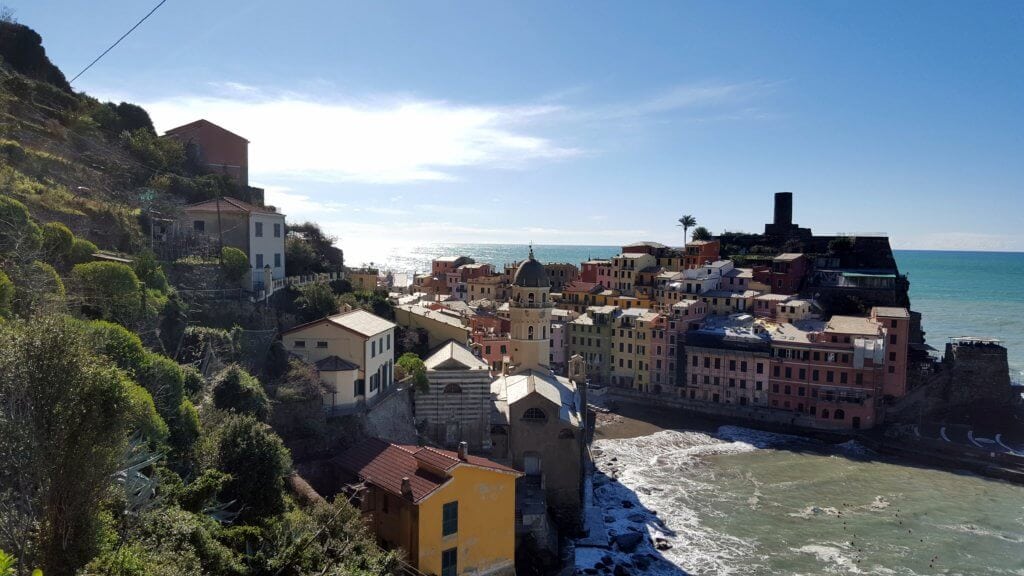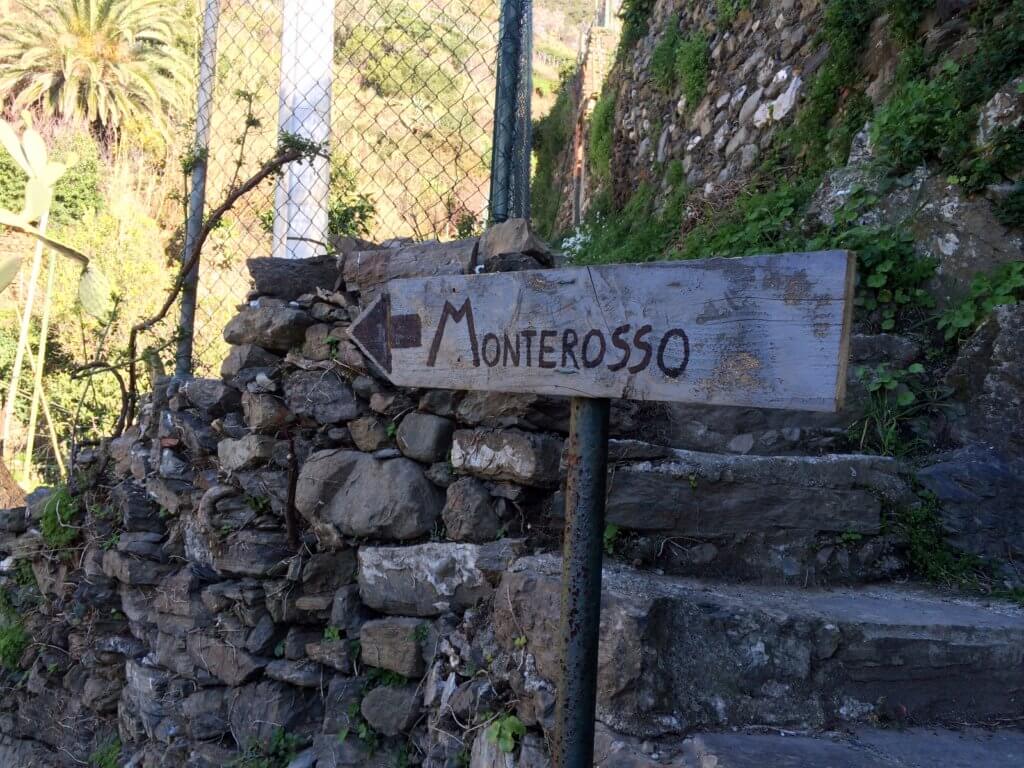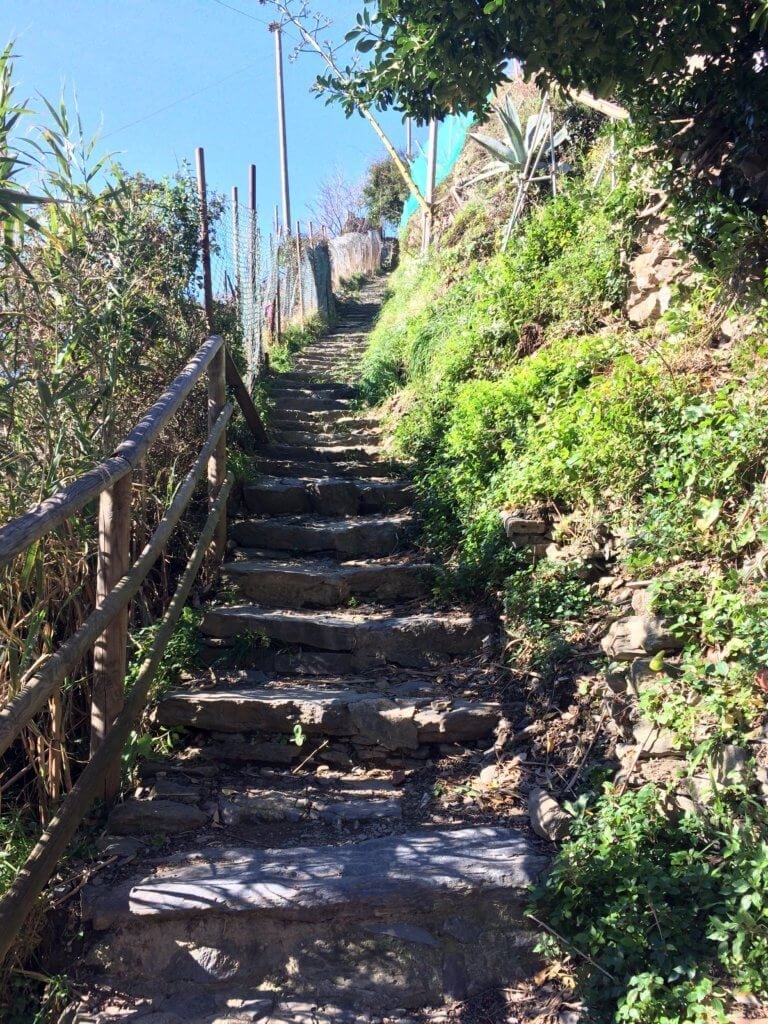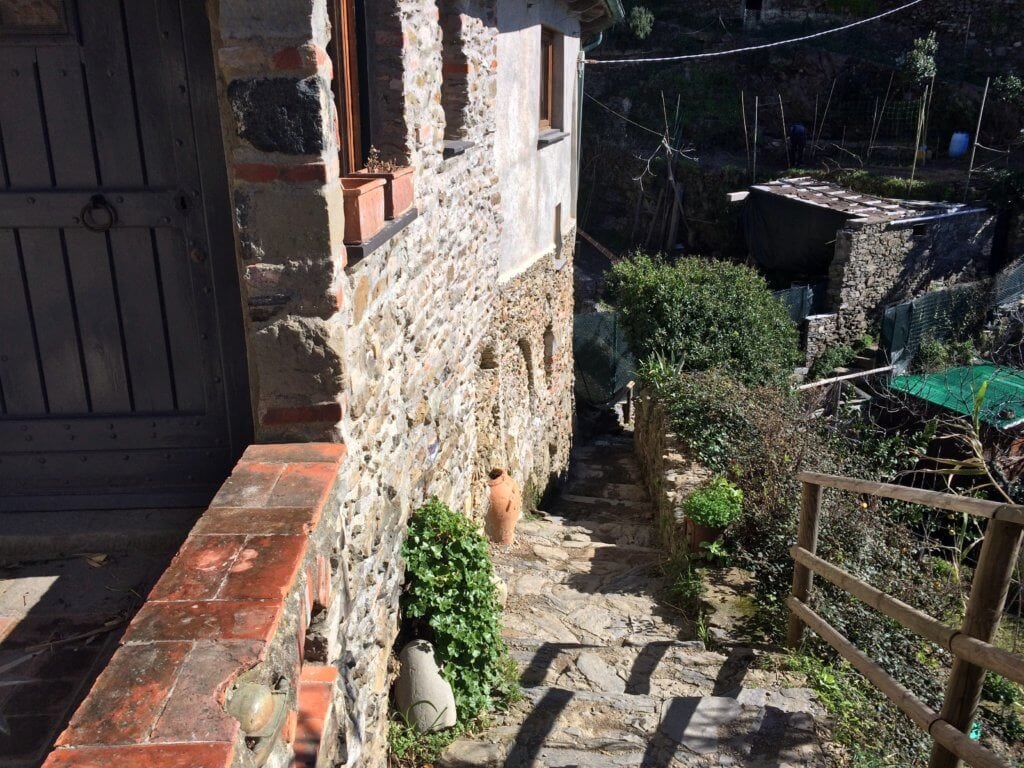 Below is the famous view of Vernazza from the trail. This shot was taken in the morning. We later walked back up the trail to get sunset shots which turned out better (see below!). The hillsides were covered in wineries – you can see one on the very left in the below picture.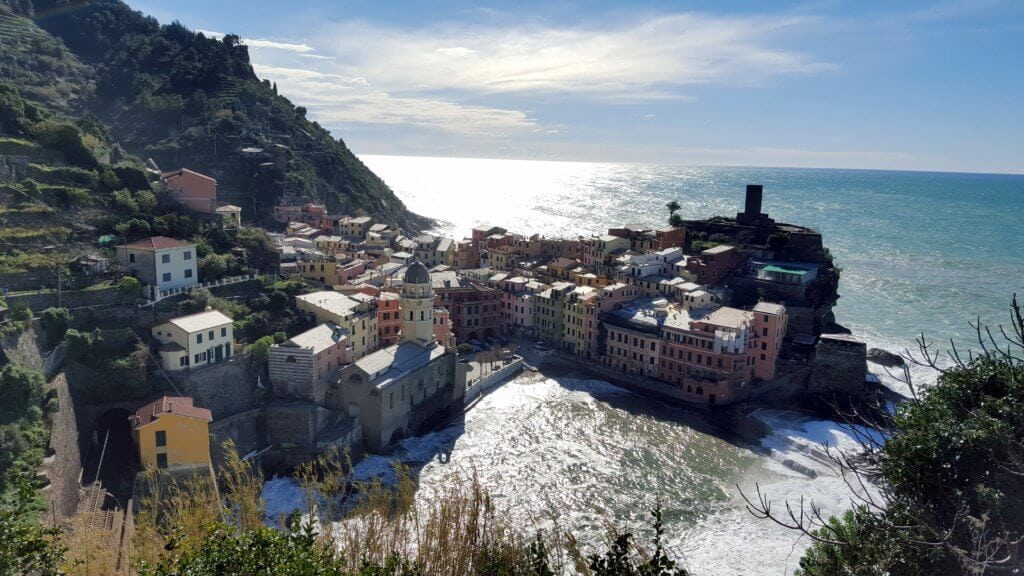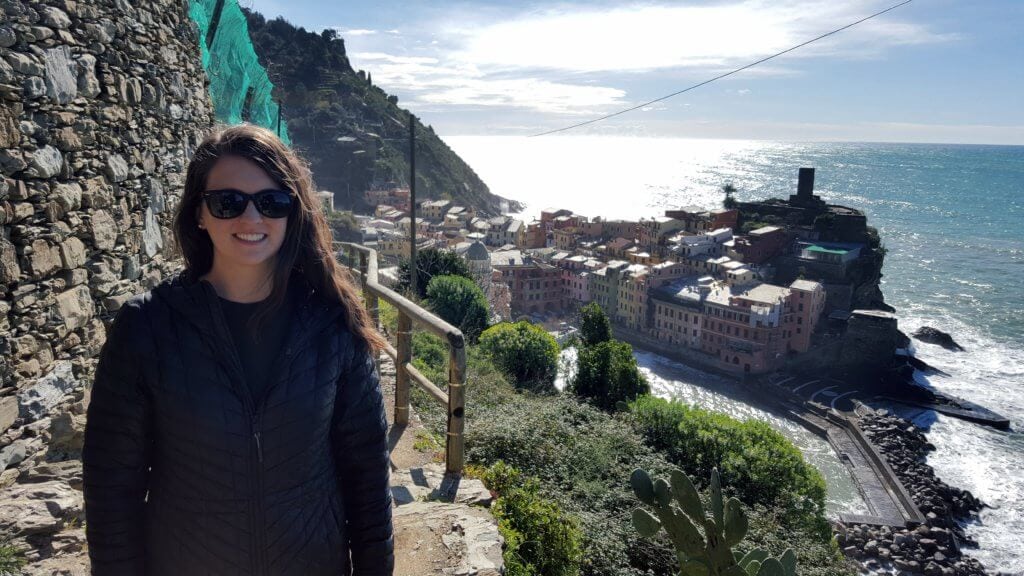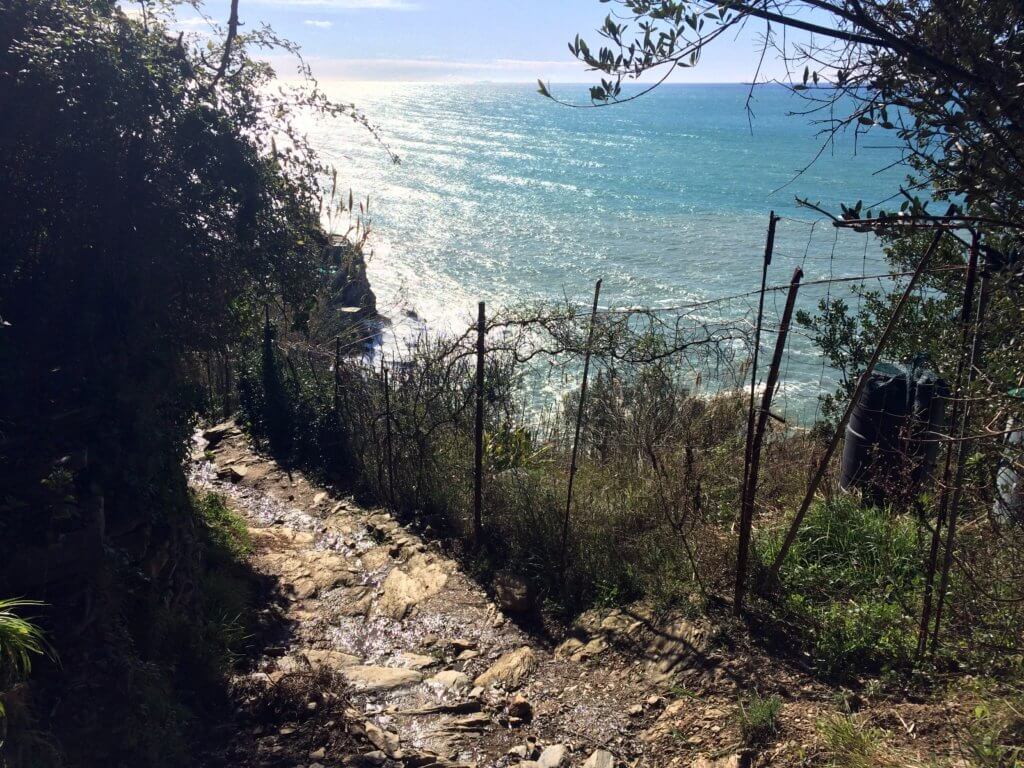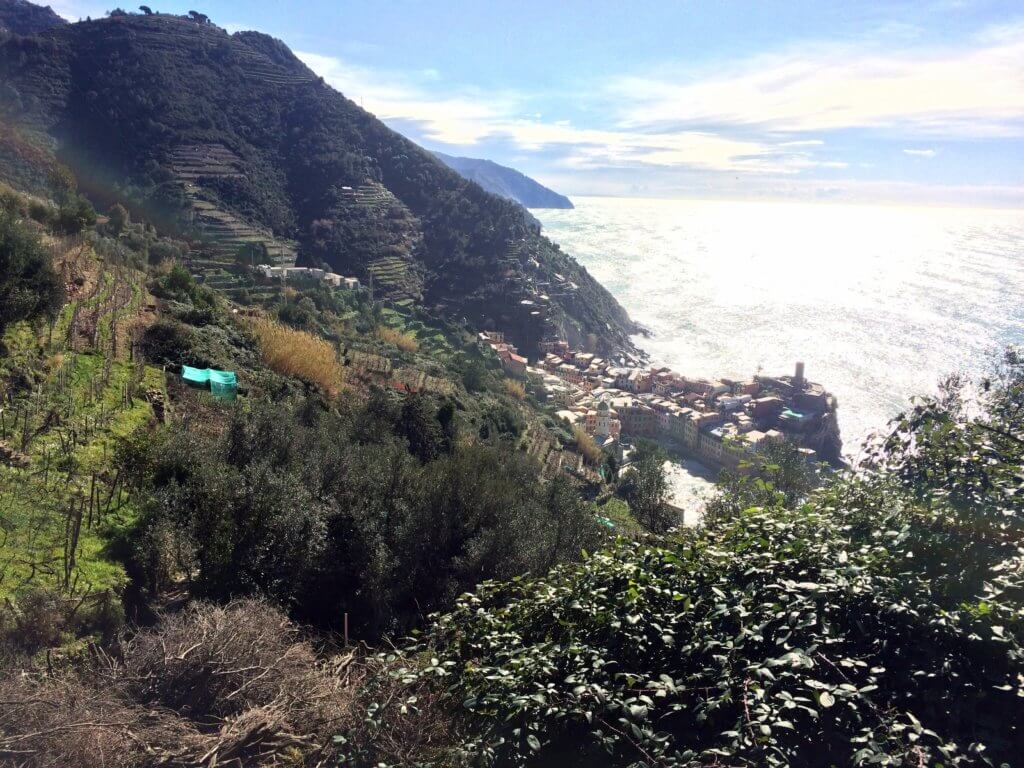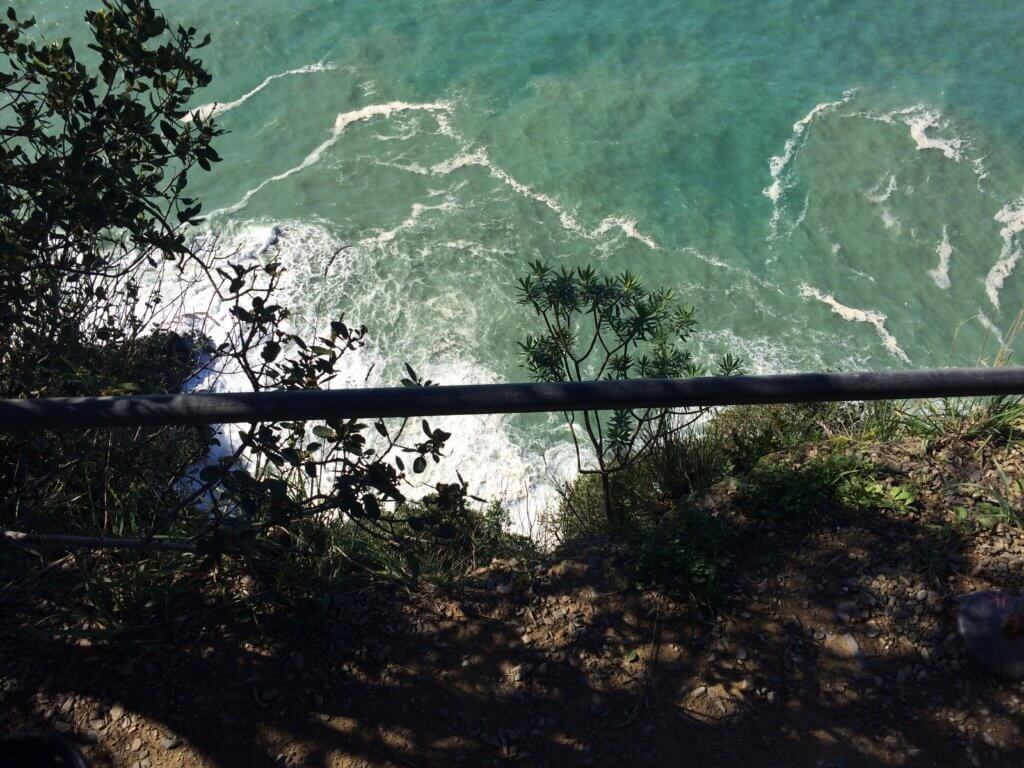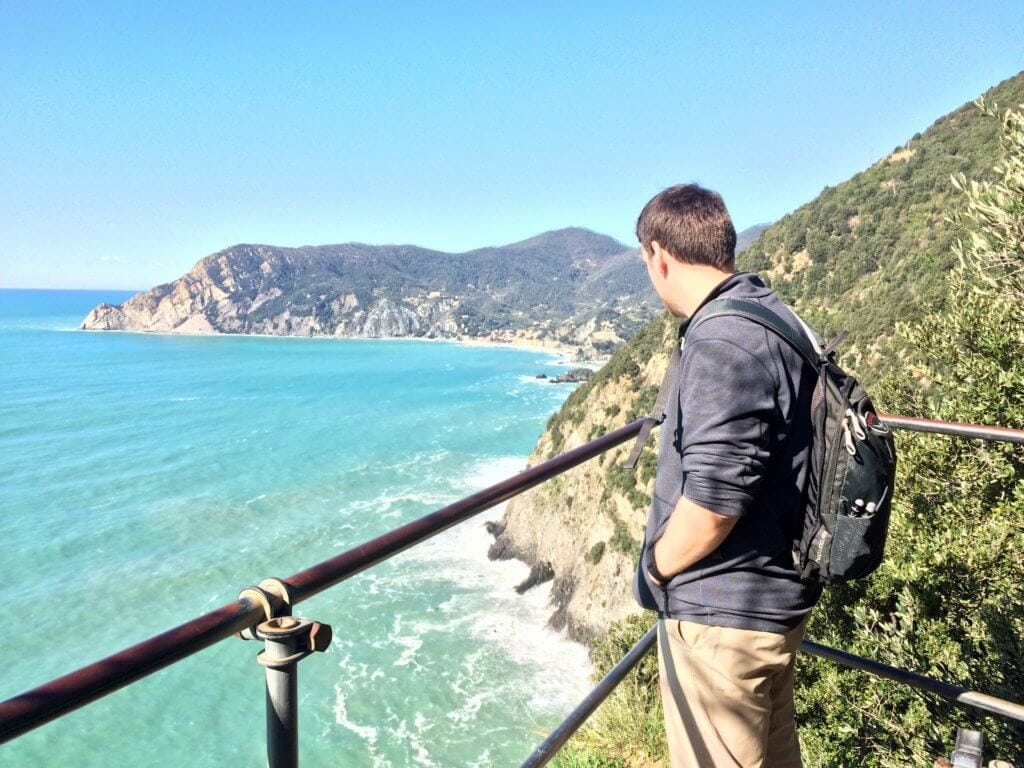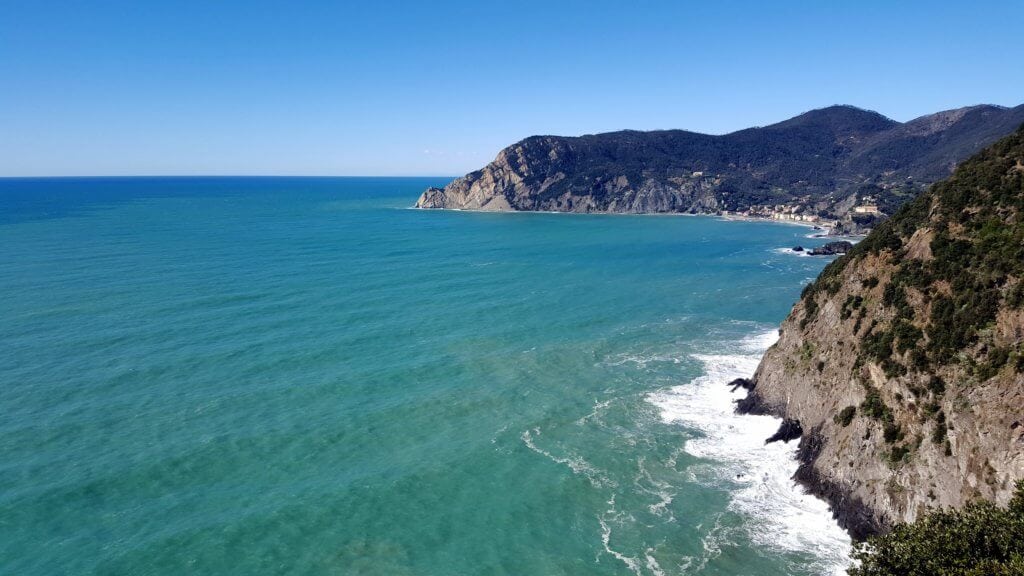 Along the trail, we found a stray cat sanctuary where hikers can feed stray cats. The cats weren't trapped inside – it was just a safe place for them to go and get some food. I thought it was a nice idea!
Monterosso
And, after 2.5 hours of hiking, we made it Monterosso! The first stop on our mind was lunch.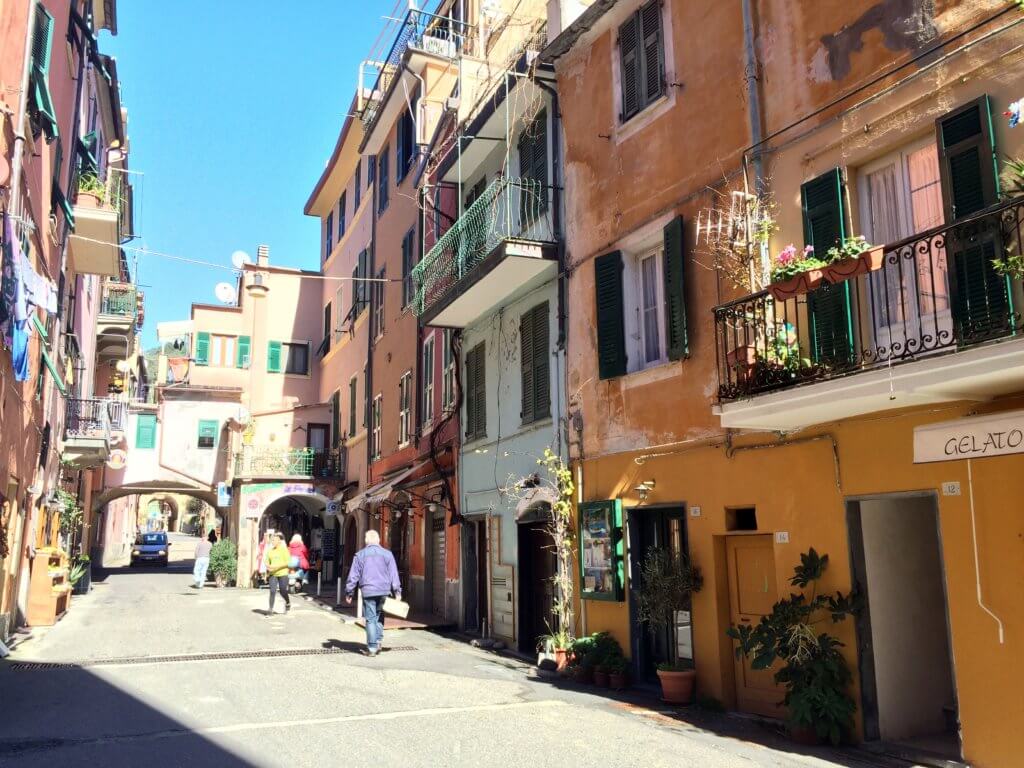 We got a bit ambitious with our lunch choice. We like seafood, but this one was a bit too… tentacley? It was very fresh though. We just had to pick through a lot of stuff to get to the meat.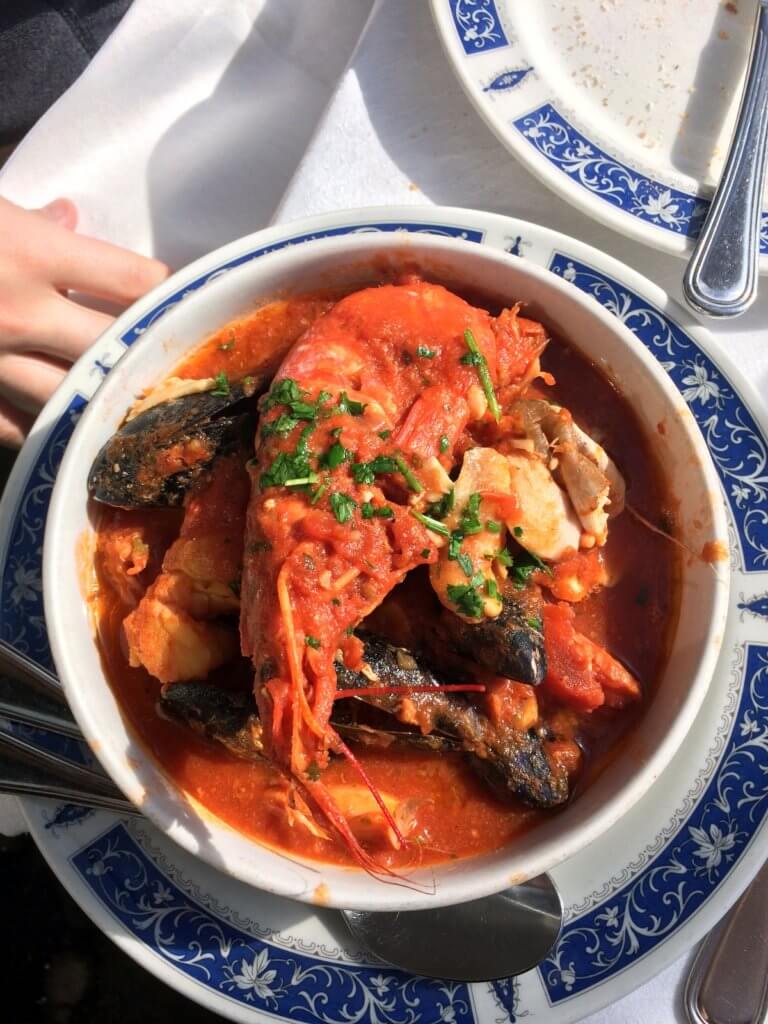 Cinque Terre is known for producing delicious dry white wines, so we wanted to try it while there. We stopped in a wine shop in Monterosso and a very helpful person helped us find a good bottle for a low price.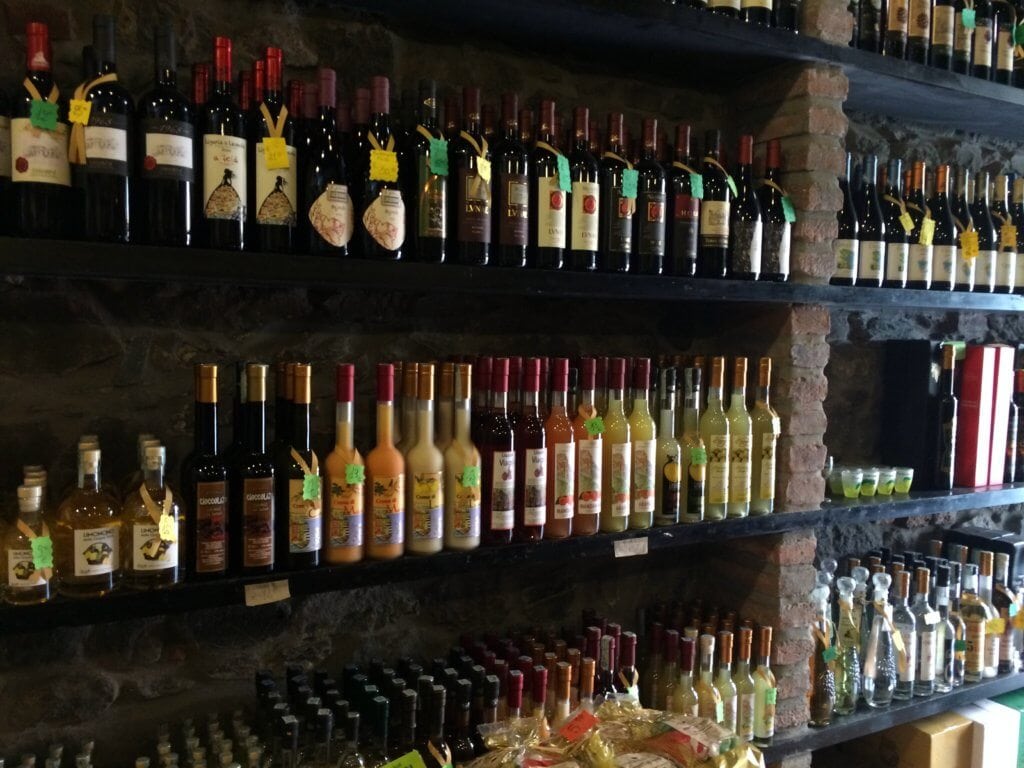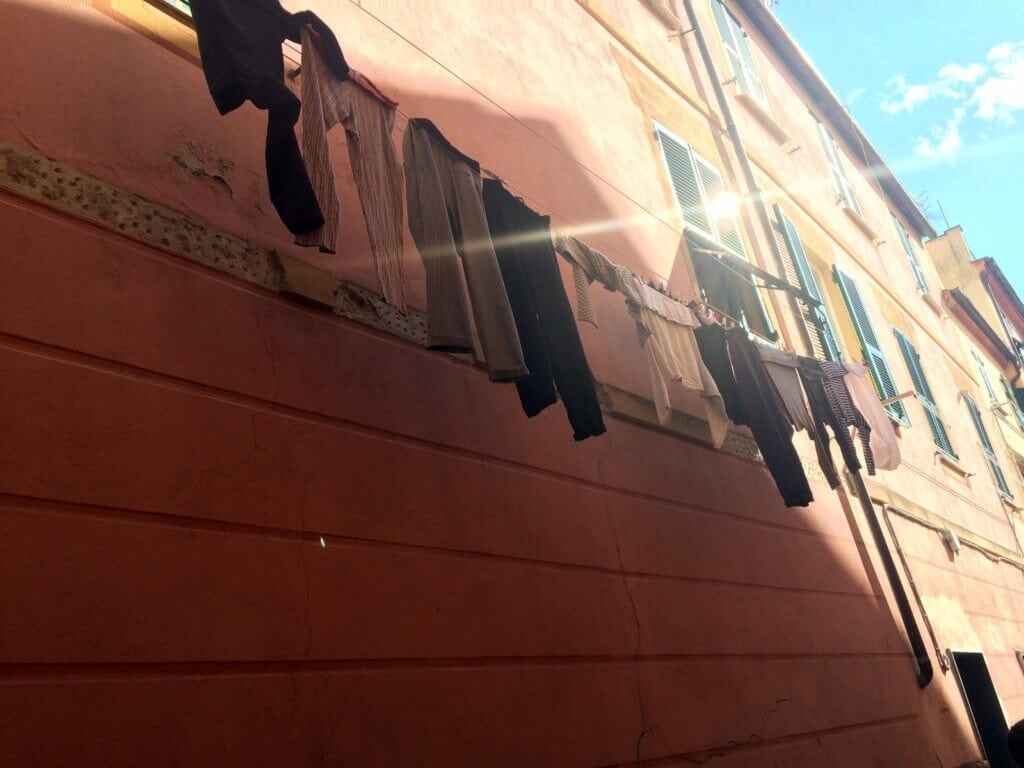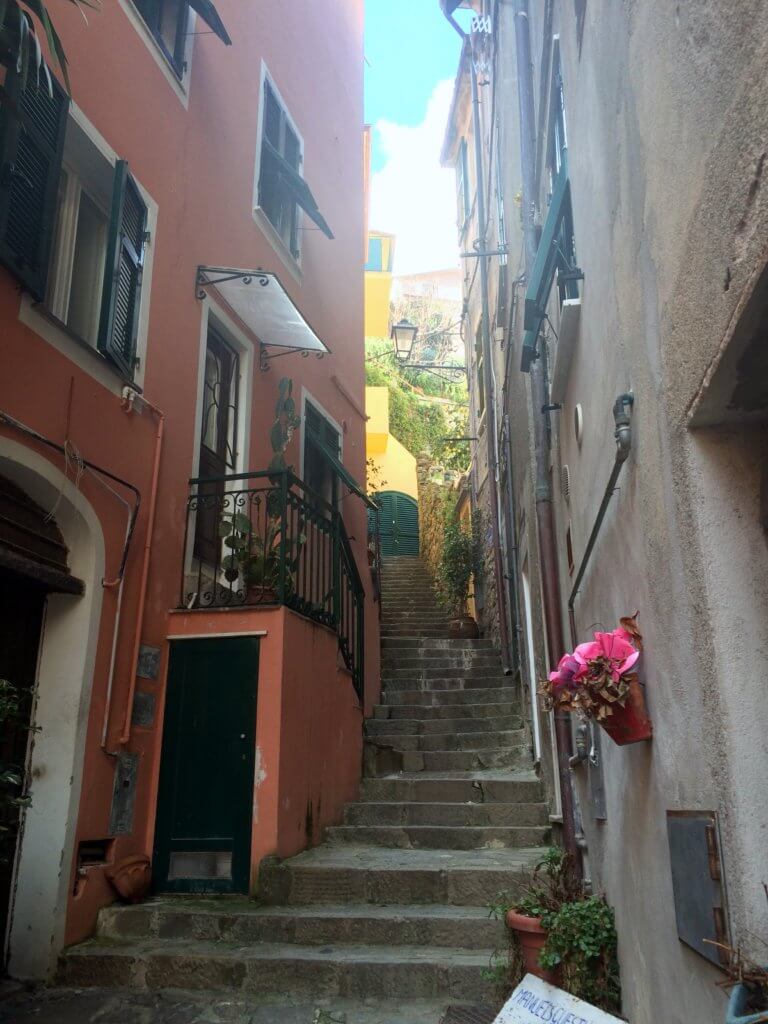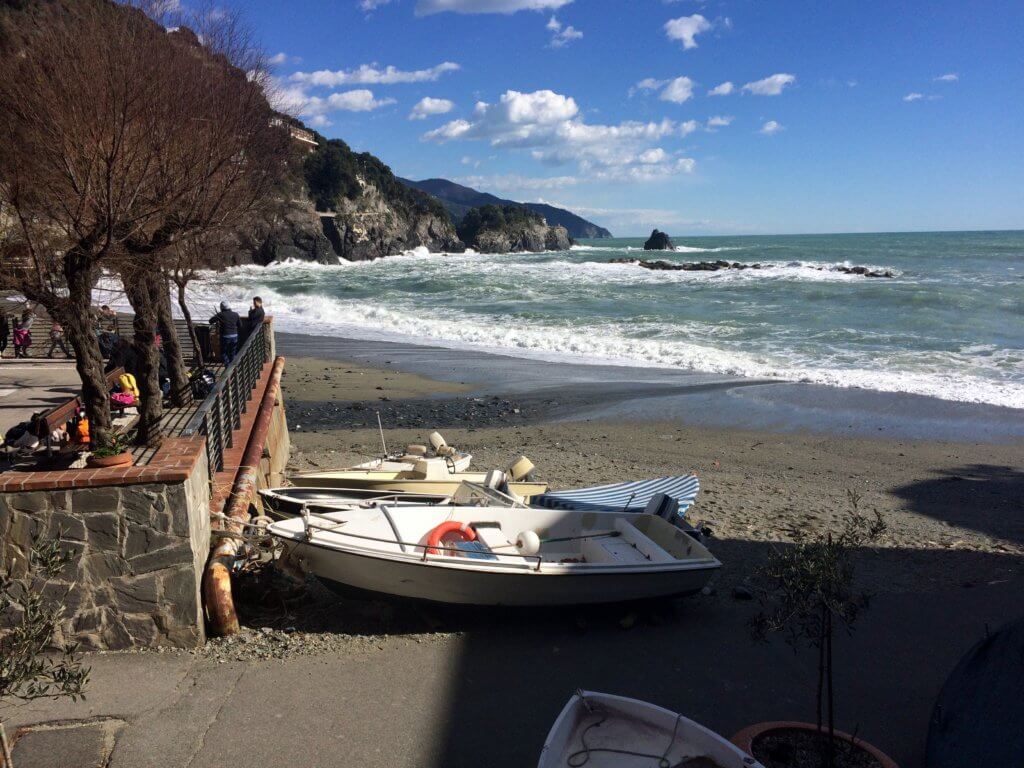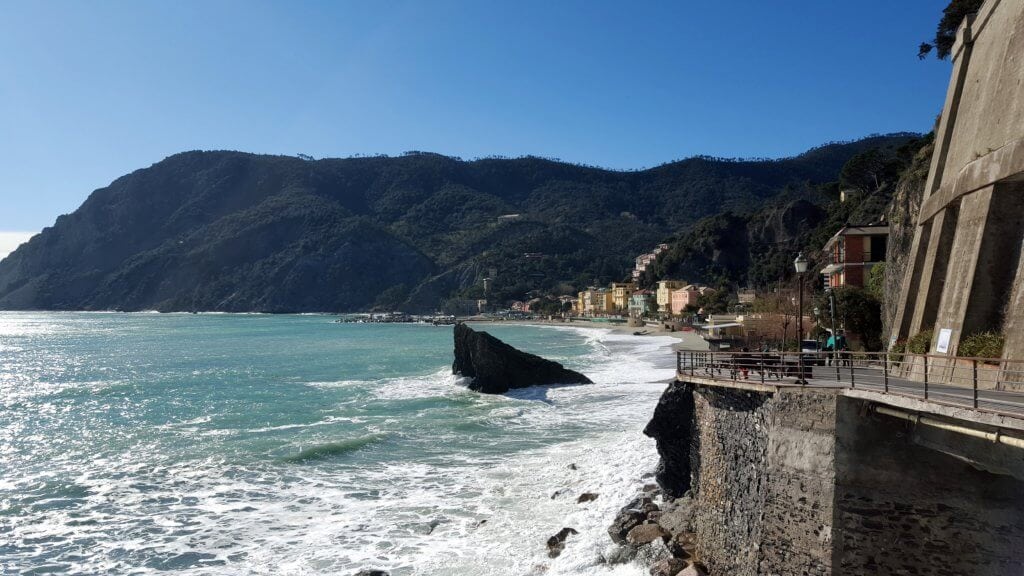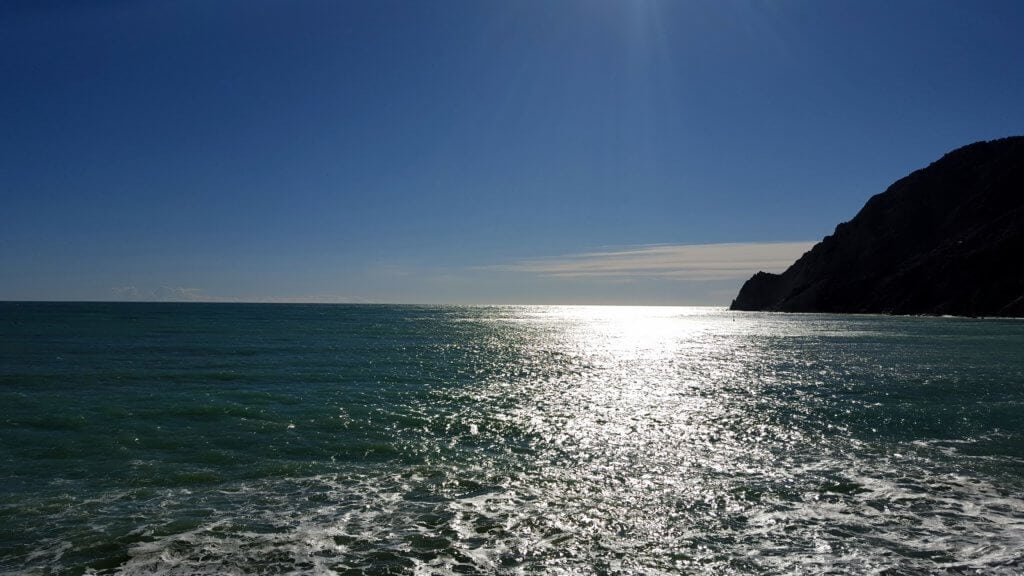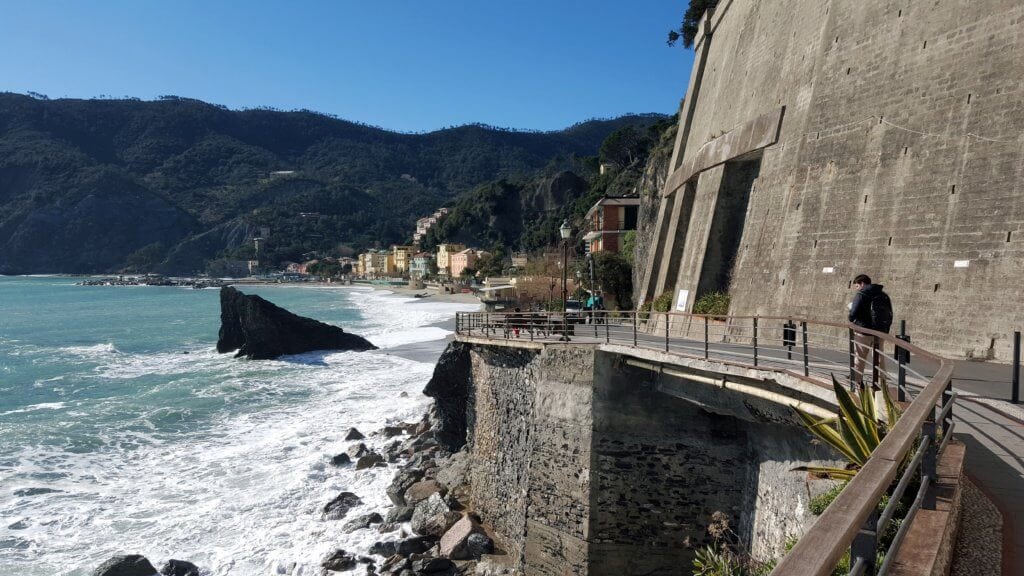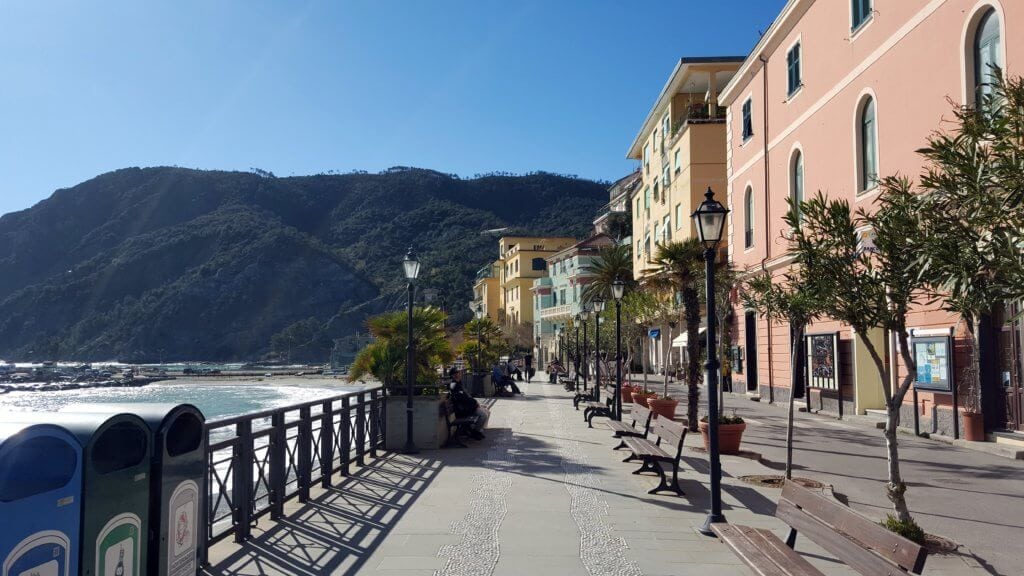 We took the train back to Vernazza. The train system in Cinque Terre is very easy to use. You can purchase your tickets at the stands right at the station, and they take you between each of the five villages.
Vernazza Trail View at Sunset
Once we got back to Vernazza, we went straight back up the first part of the trail to get sunset photos of the famous view of Vernazza.
Dinner
After our hike, we went to have dinner at the only other open sit-down restaurant in town. We had a really good pizza for our meal and pie for dessert. It was the perfect way to end our last night in Cinque Terre!
Day 3
Manerola
For our last morning, we wanted to see one more of the villages. We took the train over to Manerola. Manerola felt much bigger and busier than Vernazza, but it was just as colorful and beautiful.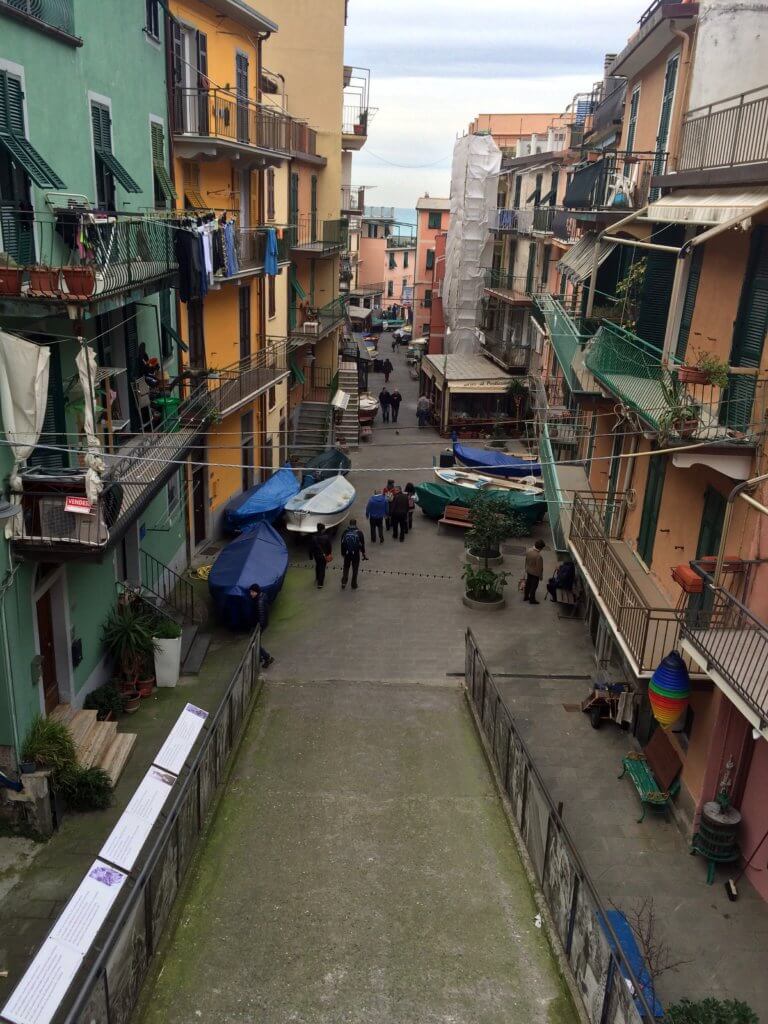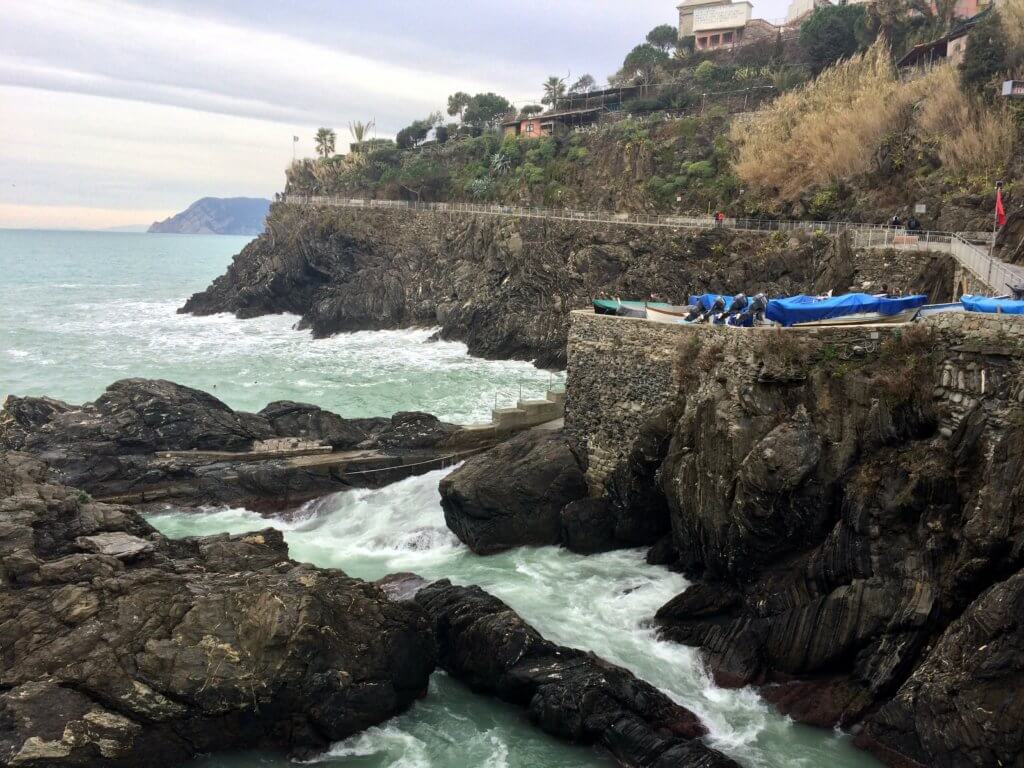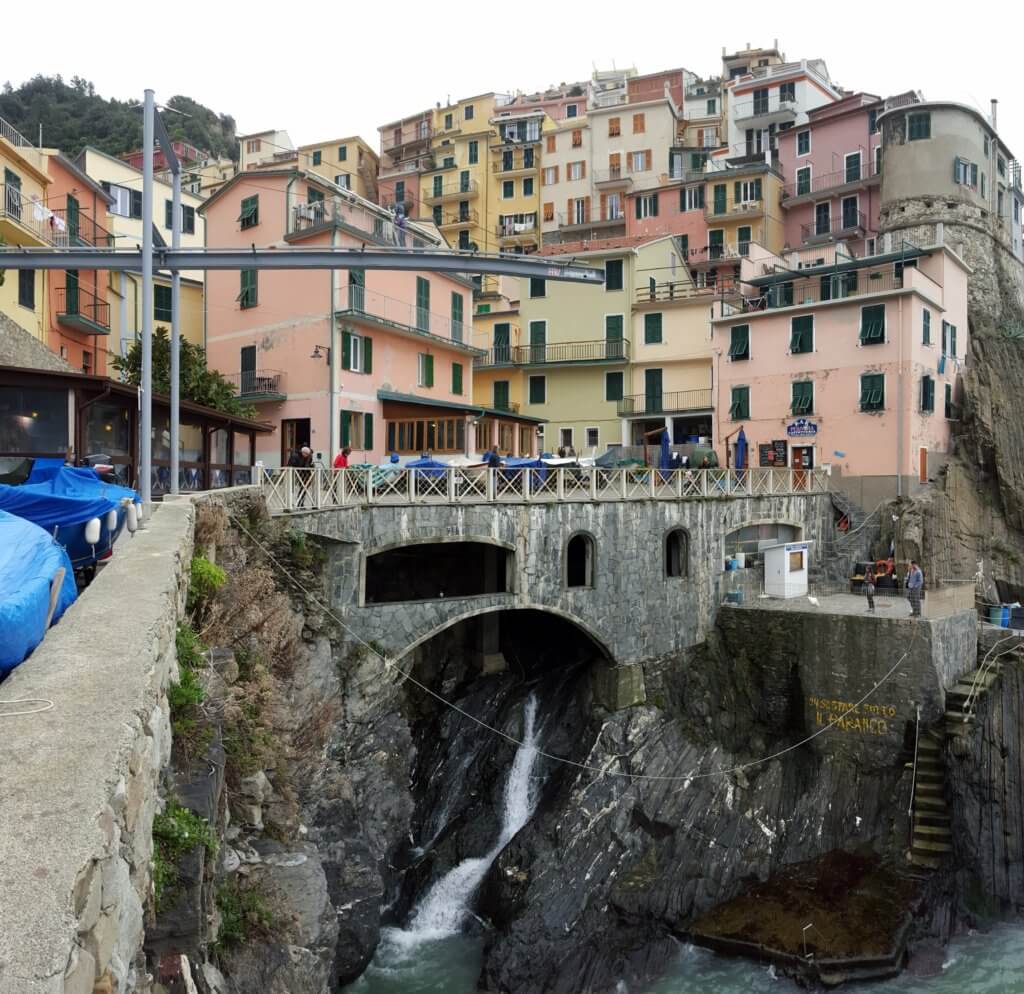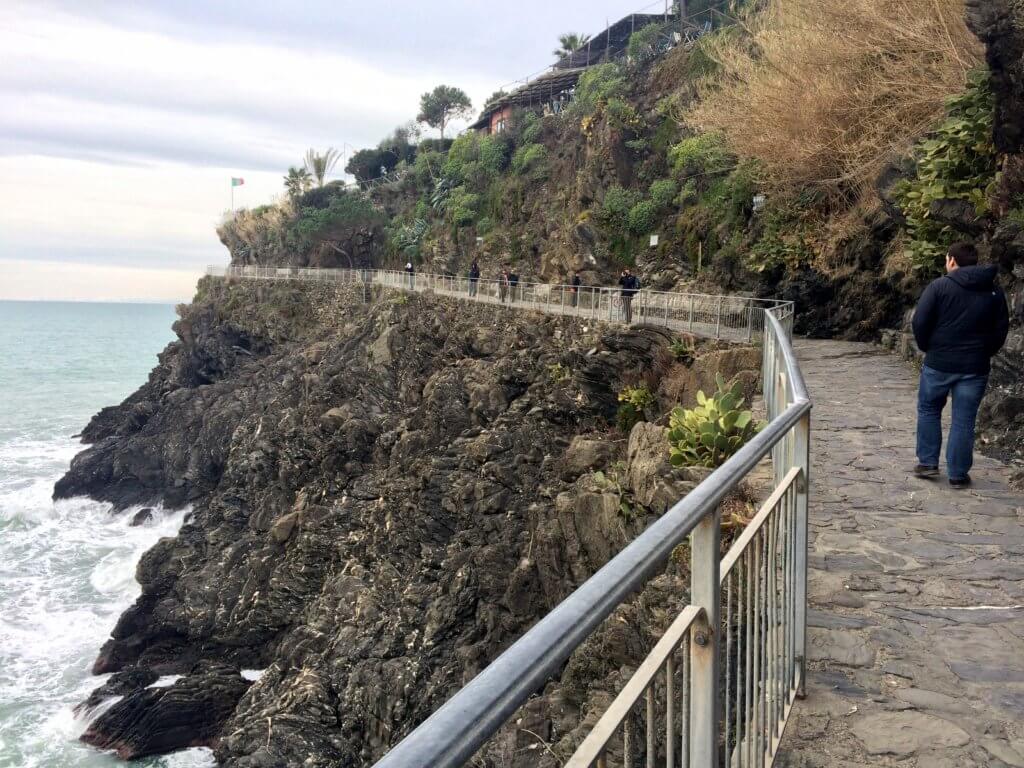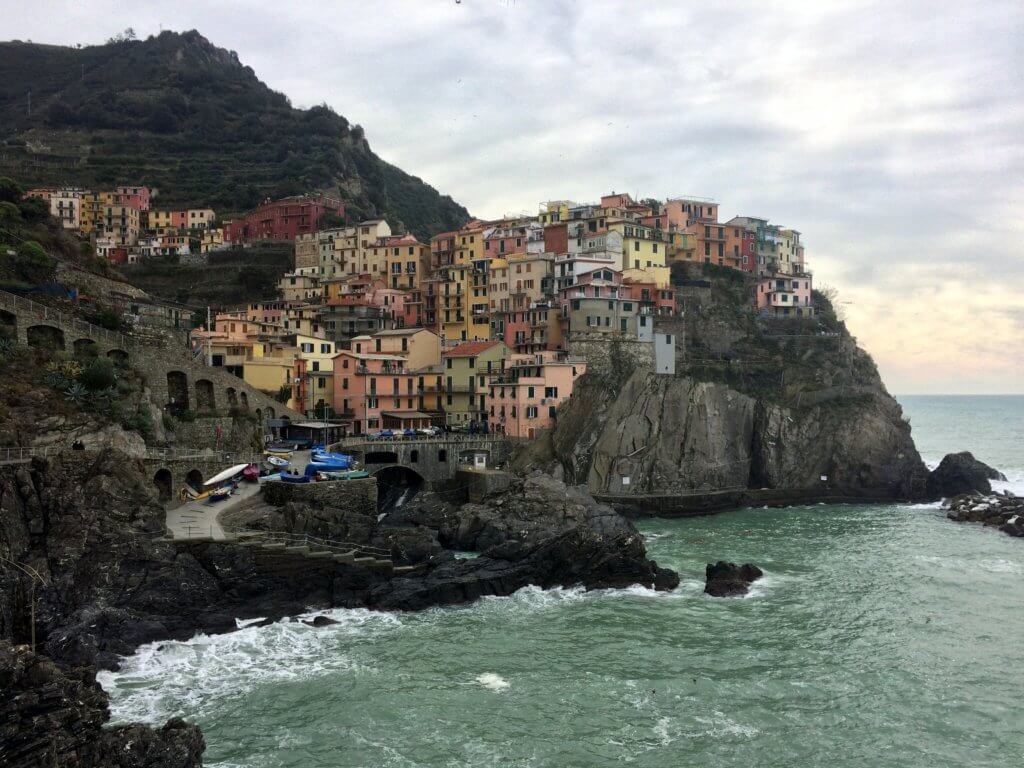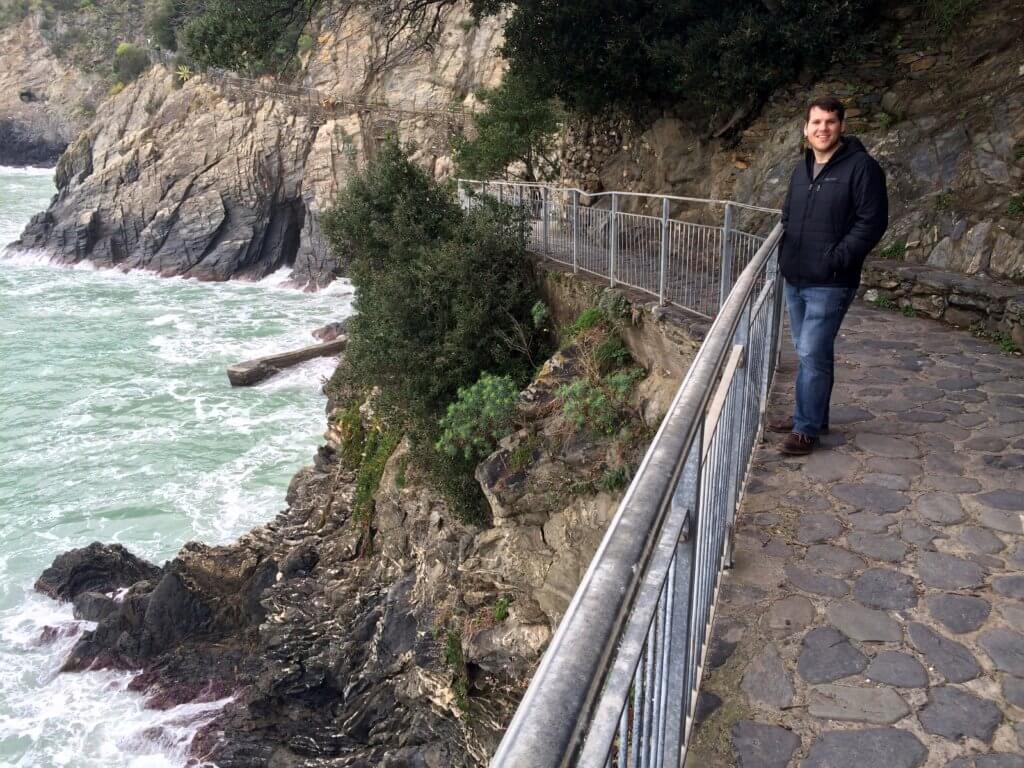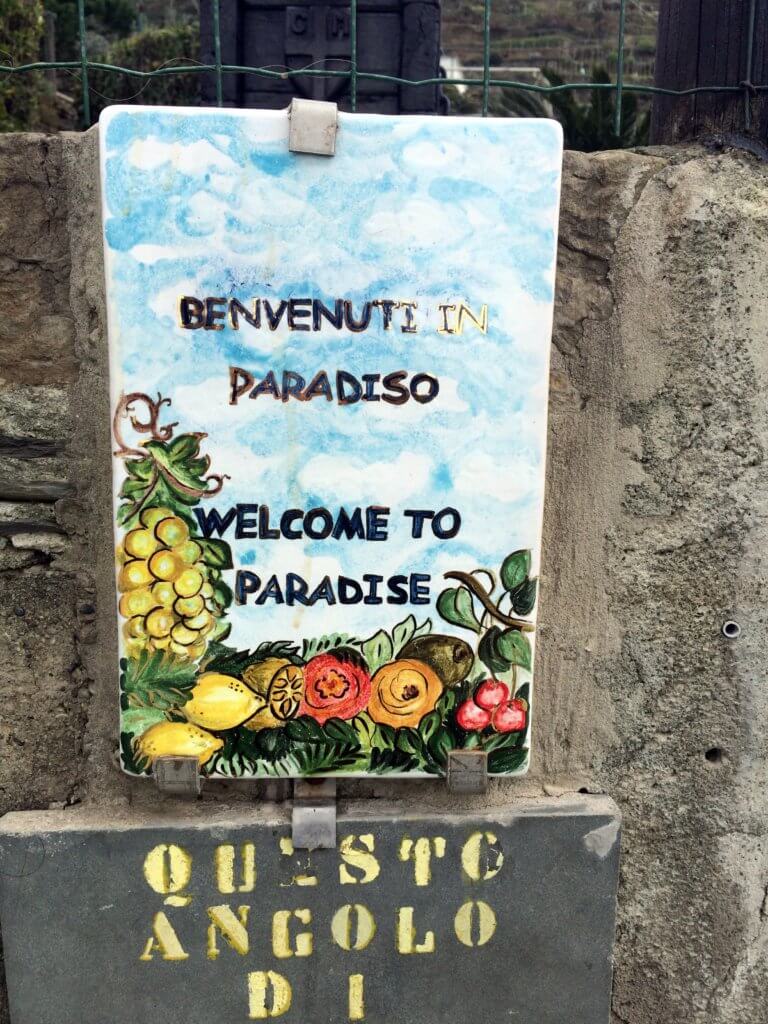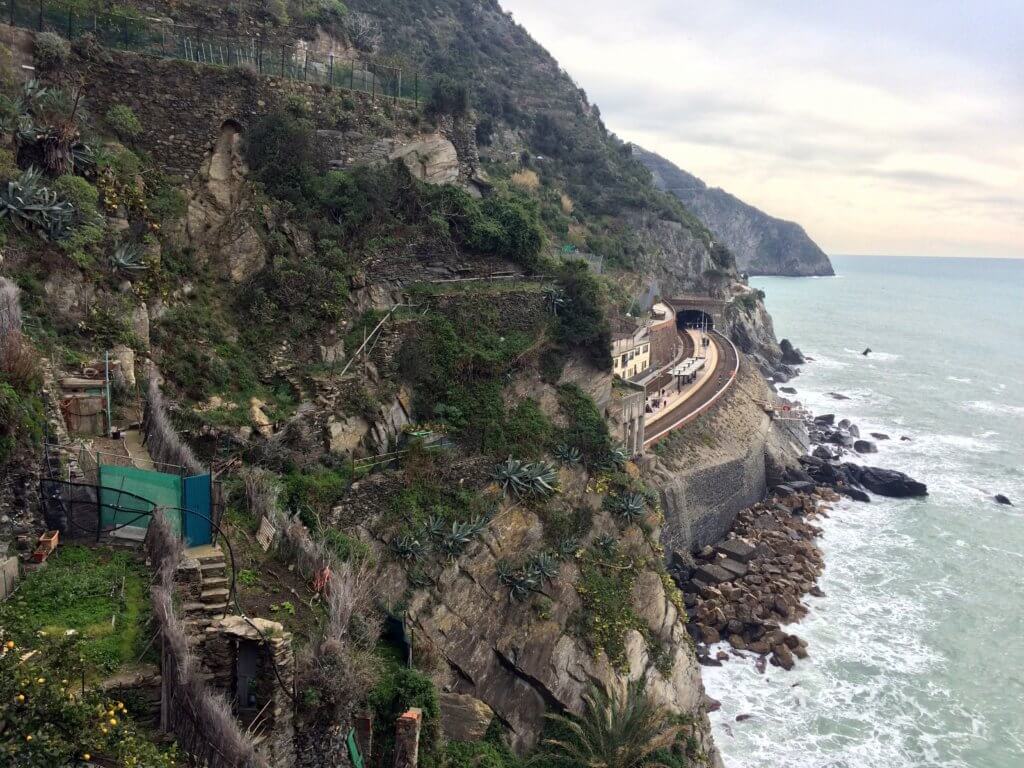 You can't go far in Cinque Terre without seeing more scenic hillside wineries….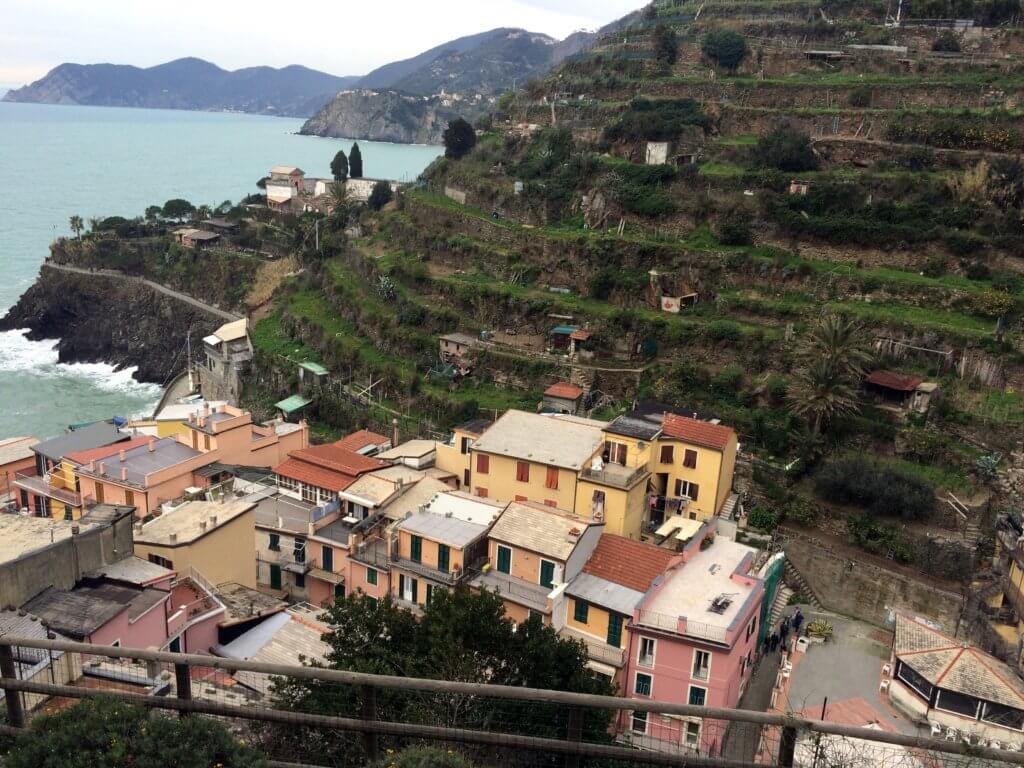 Trattoria Dal Billy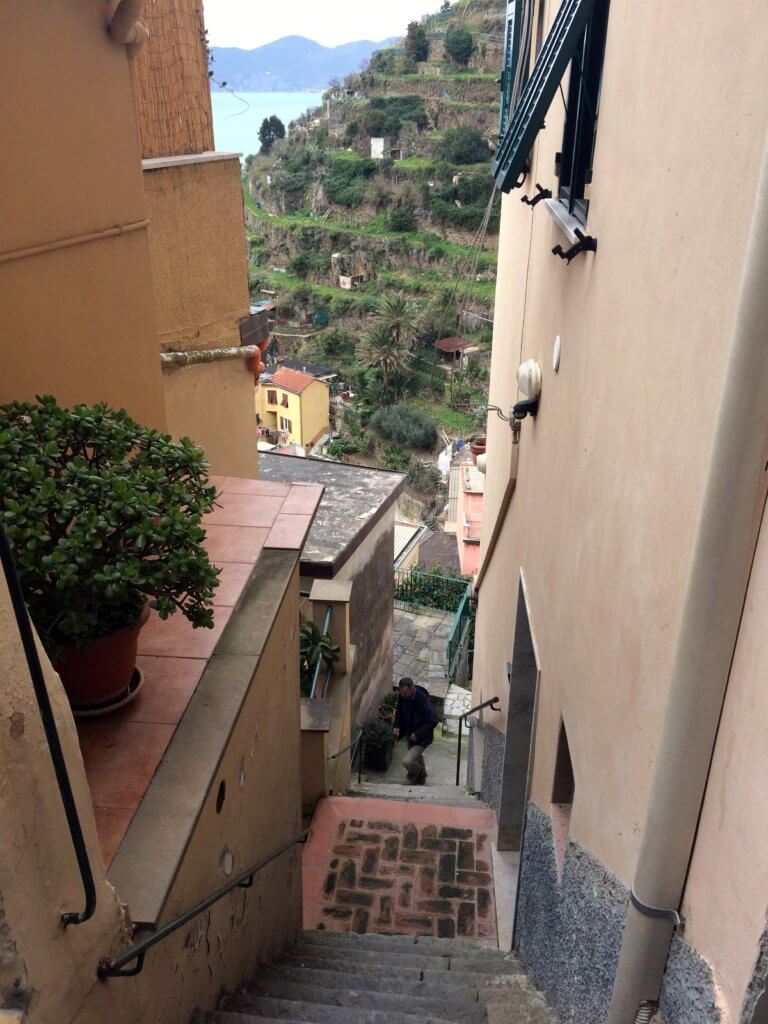 We had to walk a bit "off-the-beaten path" to get to our lunch destination. I had read good reviews online, so I was determined for us to make it. It ended up being so worth the hike! We had our favorite meal at this restaurant in Cinque Terre, and the view from our table could not be beat.
We had a little more of that Cinque Terre white wine with our meal.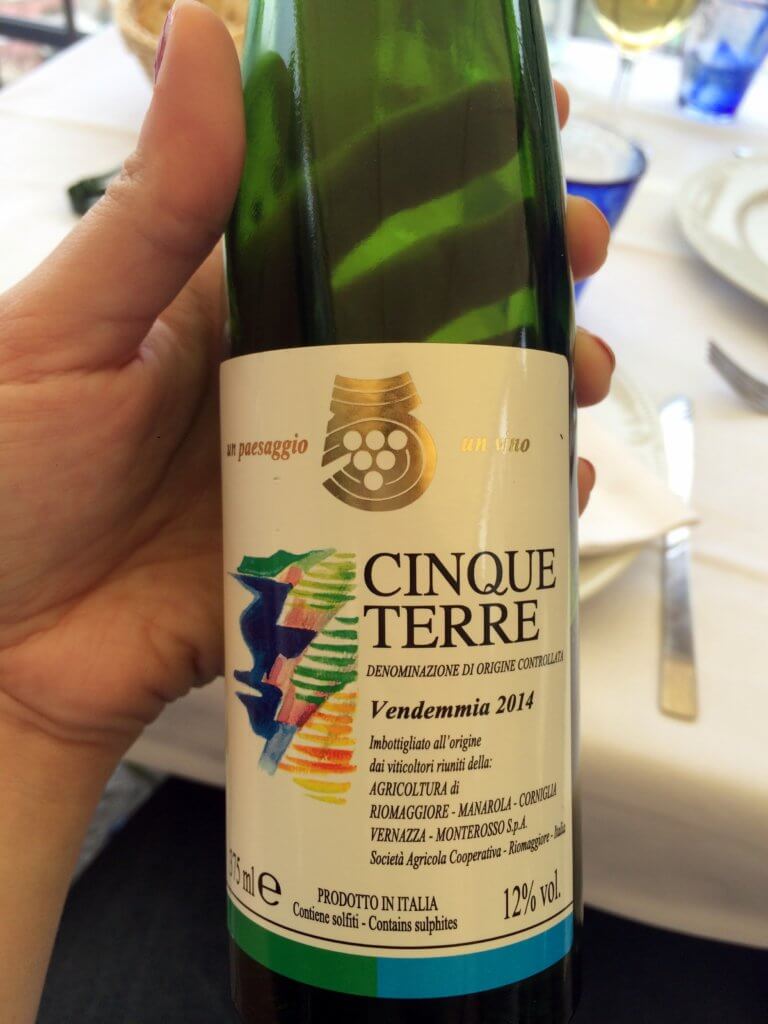 And this was the view from our table!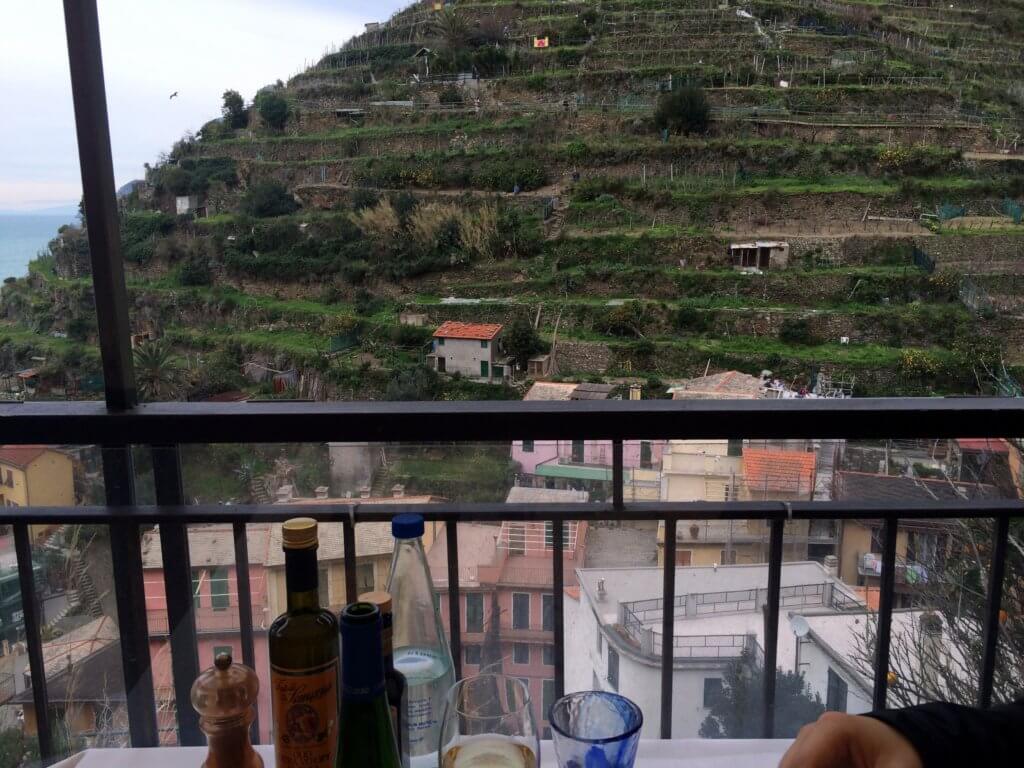 For our meal, we shared the pesto pasta and some fish. It was so yummy! Cinque Terre is not only known for its hikes, views, and wine, but also for its fresh pesto and fish.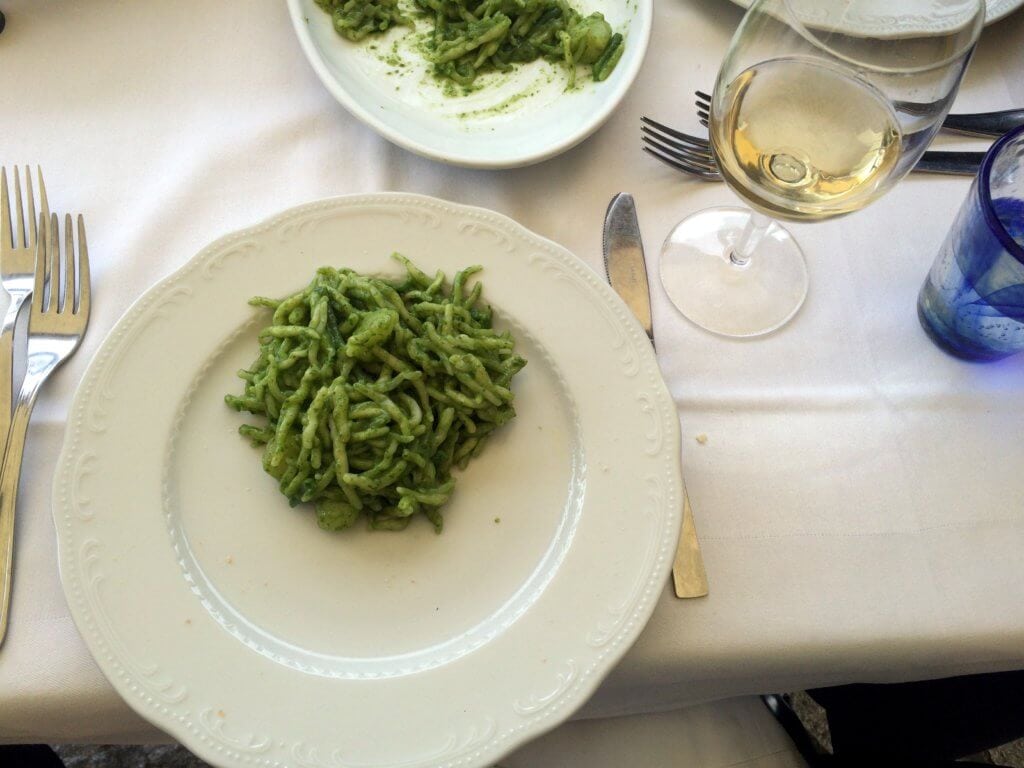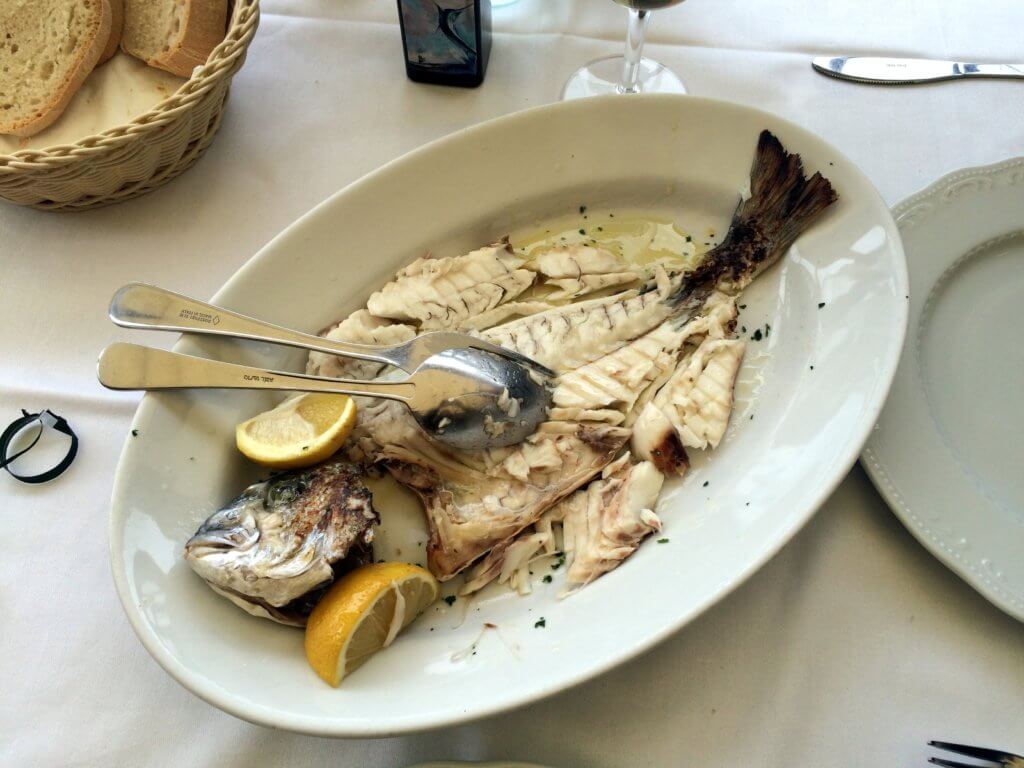 There was a beautiful orange tree right by our table as well.
Gelato
And, of course, we ended our time in Manerola with some gelato!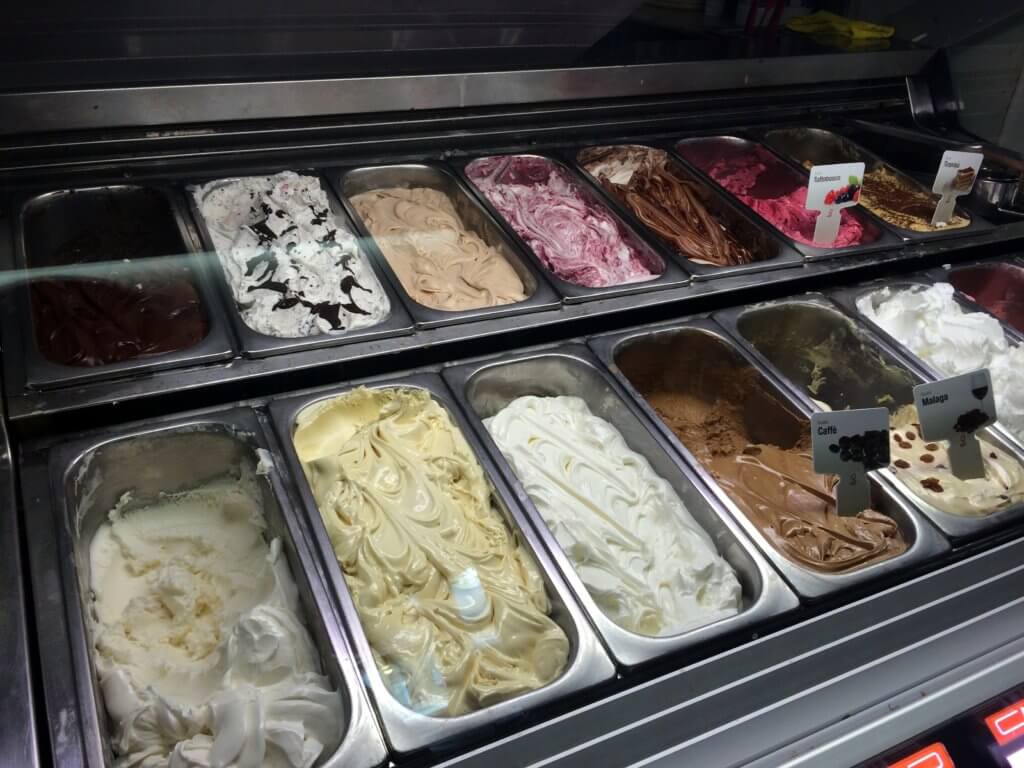 Before leaving Cinque Terre, we wanted to peek as far as we could into the famous Via dell' Amore hiking trail. This trail has been closed due to mudslides since late 2012 and was still closed at the time we were there (late February 2016). As far as I can tell, the trail is still closed today. We walked as far as we could before being blocked by a gate.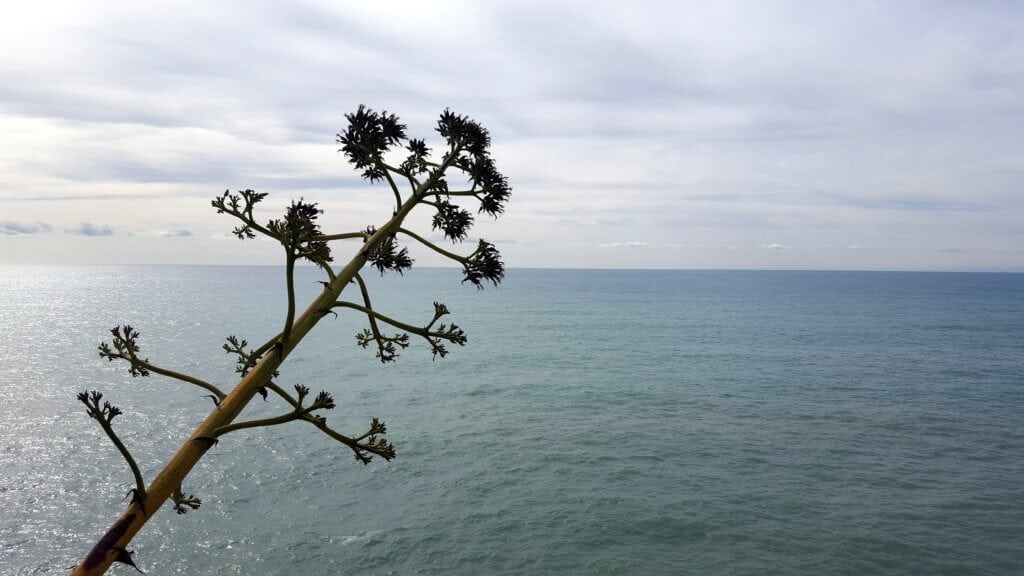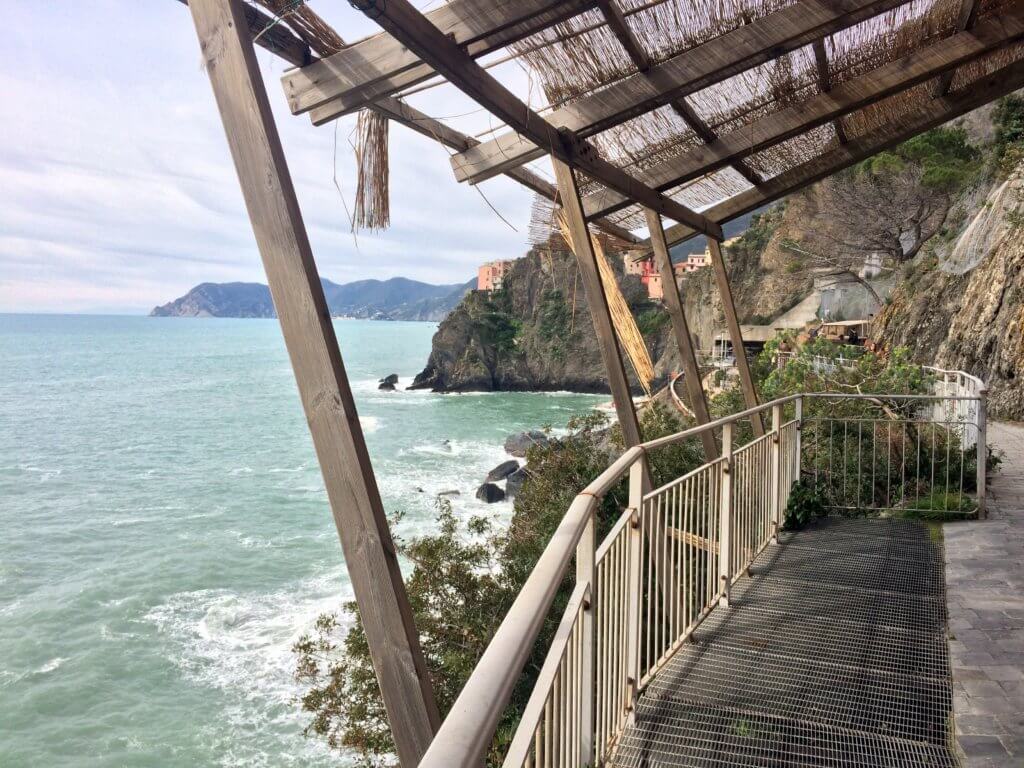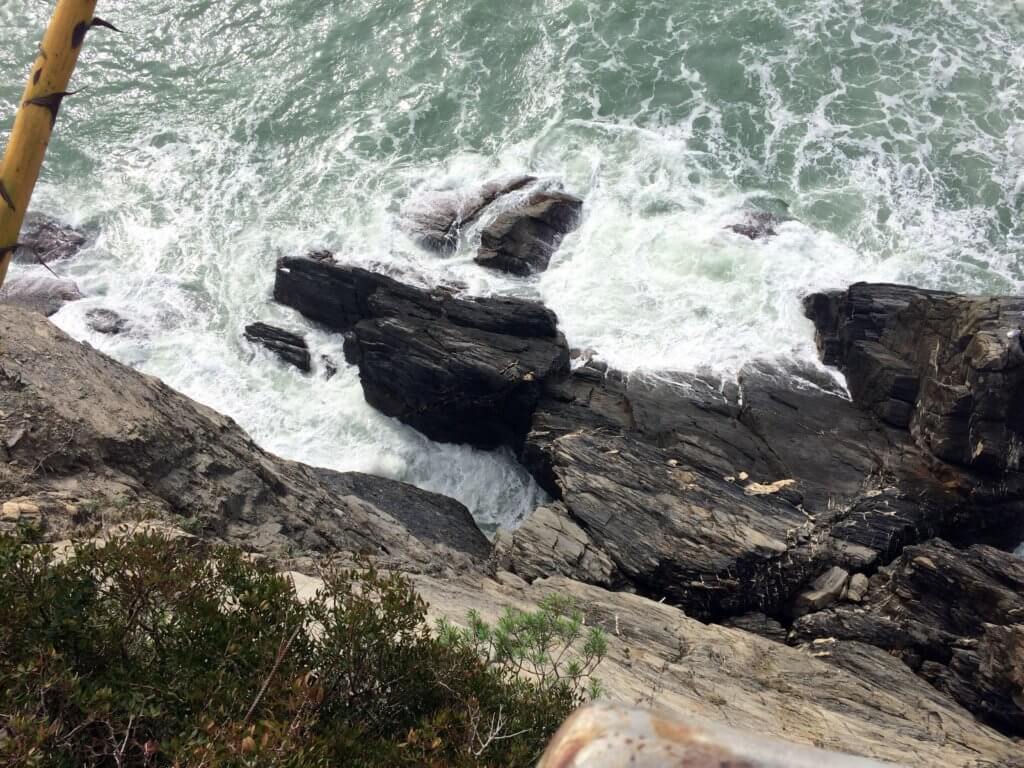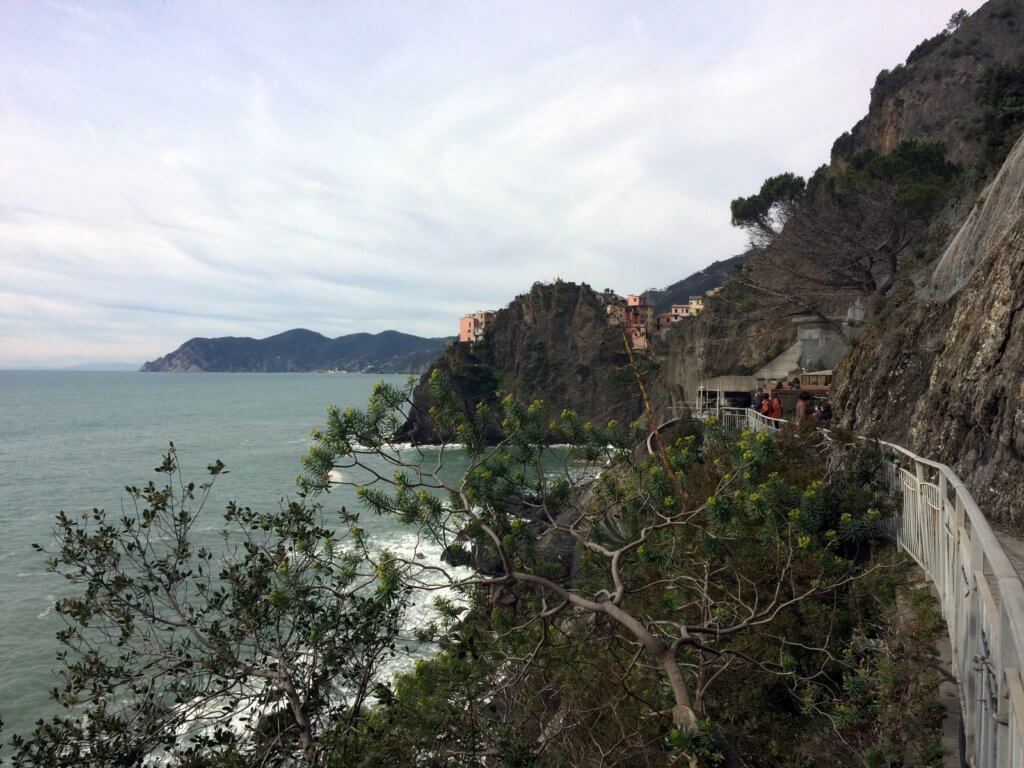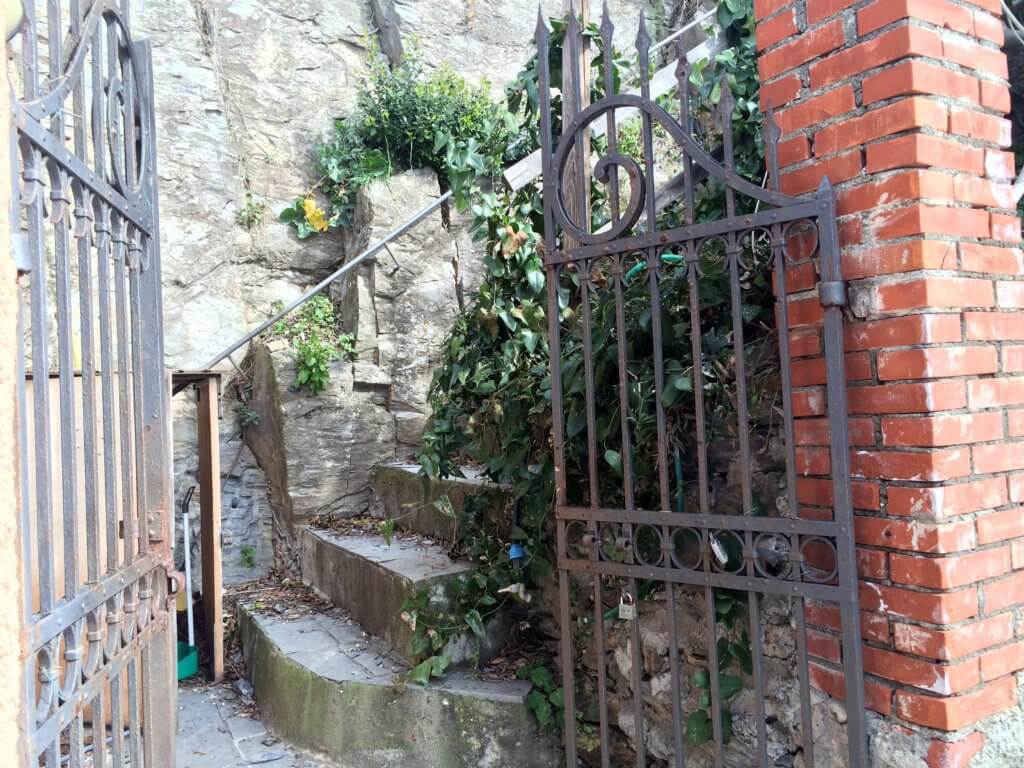 We then had to hurry back to catch the train back to Vernazza, grab our bags, and hop on another train to our next Italian destination!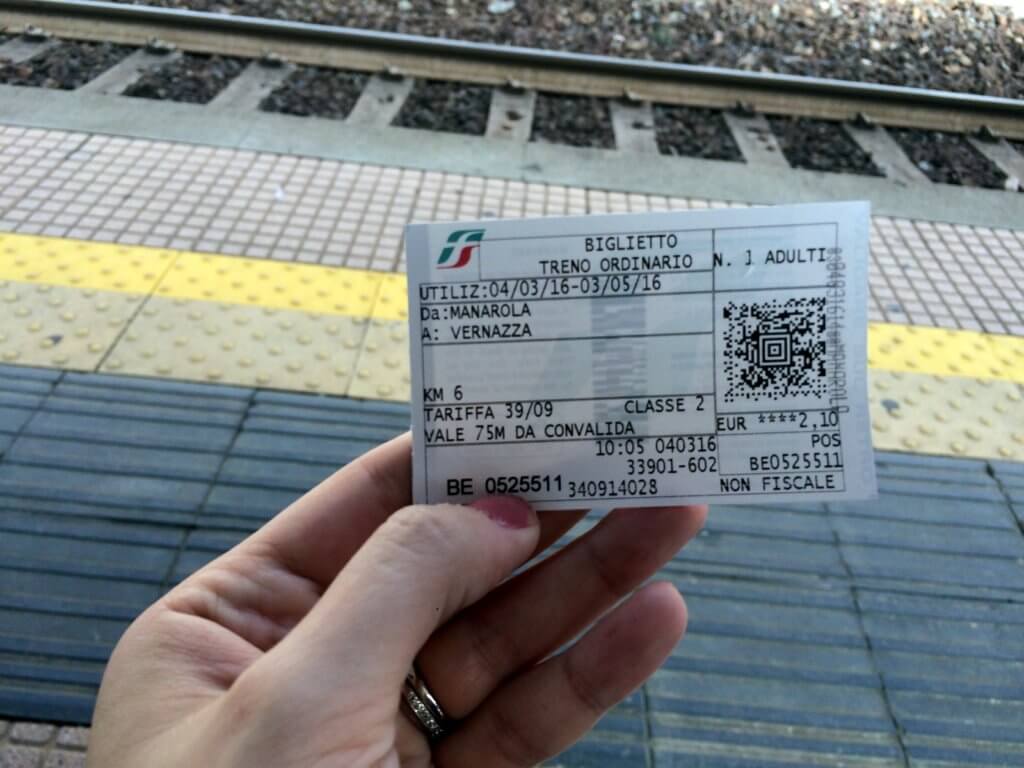 Cinque Terre, we loved you! Our time there was too short, but if you only have two spare days in Italy, it is well-worth your time!
Our time in Italy was part of a 2.5 month trip across Western Europe.  Click here to check out all of my posts from this adventure!
Like it? Pin it!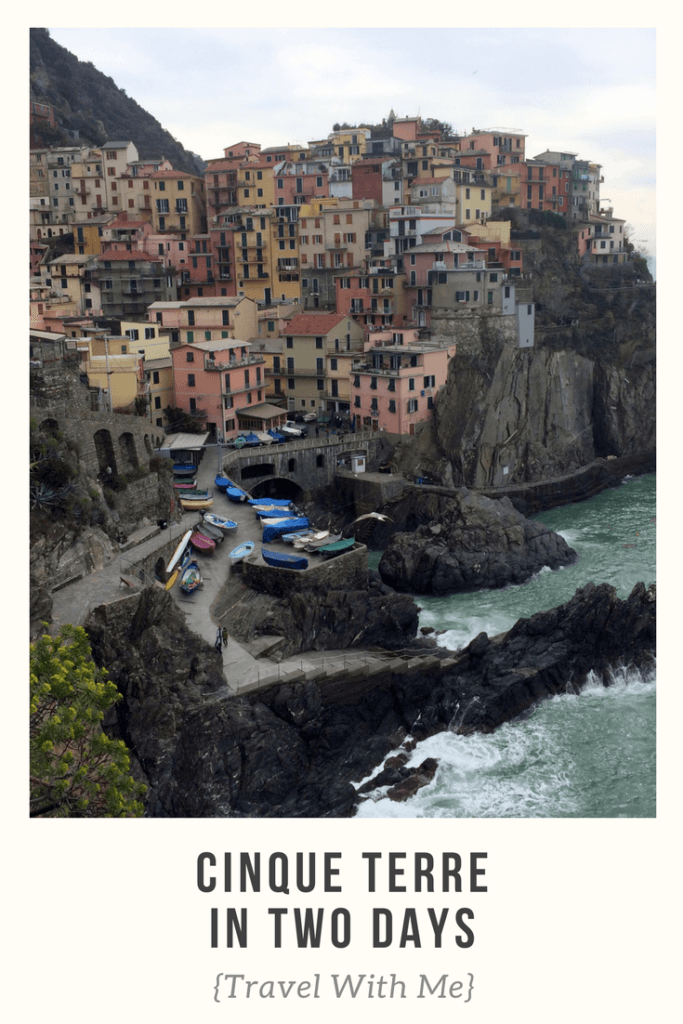 {Thanks for reading! Want to know a little more about me? I'm a CPA learning how to balance a career with frequent travel while planting roots at home in Austin, TX. When I'm not exploring my home city with my husband Daniel or cuddling with our chubby orange cat Banana, I'm probably planning, packing, traveling to, or daydreaming about our next adventure. After all, my travel mug collection is never complete. If you have wanderlust too, be sure to follow me on Instagram, Pinterest, Snapchat (emilya89), or subscribe to my blog!}