Welcome to my Scenes From the Week series! In these posts, I share the highlights from my previous week ranging from the simple, everyday things to the more memorable events. One of the primary reasons that I blog is to keep a scrapbook that I can look back on in the future, and these posts help serve that purpose.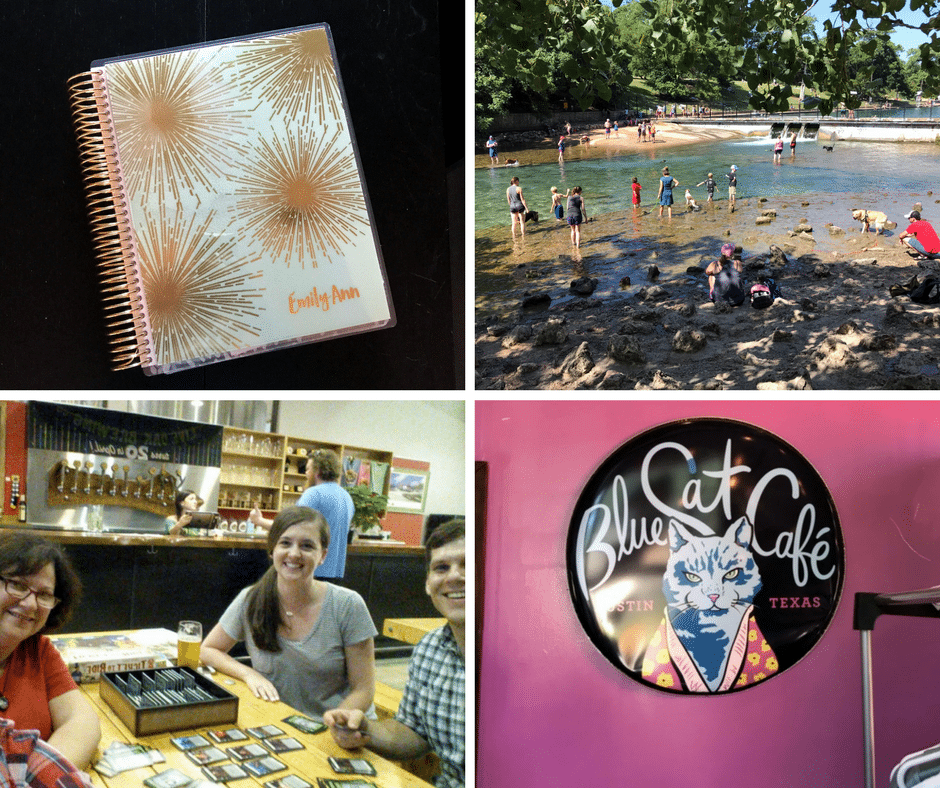 After a short and incredibly busy work week following last weekend's trip to Philly, Daniel's parents and sister came to stay with us over the weekend, and we took them on a fun foodie tour around Austin and the Hill Country! It's always so fun to show off our city to friends and family. 🙂 We also enjoyed celebrating Fathers' Day together. I missed being able to celebrate with my dad this year, but we have a delayed Fathers' Day escape room activity planned in a few weeks!
Photos from the week, top left to bottom right:
(1) During the week, my new planner for July 2017 to June 2018 arrived! I switched back from the Inkwell Press planner to Erin Condren. I love both, but I was just ready for something a different. I'm hoping to learn how to make better use of the planner this year. Does anyone have any posts on how they use their planner?
(2) One of the things we did with my in-laws was walk by Barton Springs Pool and the area right next to it. We didn't want to stand in line this time around, but it was fun to stop in and see all the cute dogs and kids playing in the area next to the pool! I still can't believe we have never gone to the pool ourselves. That's definitely a wish list item for this summer!
(3) Friday night after dinner (at Kemuri Tatsu-ya – yum!), we went to Live Oak Brewery and played Dominion, one of Daniel's favorite new games.
(4) Daniel's sister's main request for the weekend was visiting the cat cafe on the East Side, something Daniel and I had been wanting to do for a while. The cafe is really cute and full of old objects repurposed into cat beds and play areas (think a hollowed out drum set and a TV!), and there were places for cats to crawl around all over. The cats weren't really in the mood to be social, but it was still a fun experience.
Not pictured:
Time spent at the pool both Saturday and Sunday – I am not excited that we are already reaching triple digits in Texas, but I'm okay with it when I'm by the pool!
A Saturday drive out to the Hill Country for a a couple wine tastings and a visit to a local peach festival in Stonewall
Another visit for some delicious BBQ at Micklethwait's
A wonderful sermon at our church on Sunday morning. I feel so blessed to be able to attend a church with such wonderful, Biblical teaching.
Have a great week!
Click here to see all of my Scenes From the Week posts. I'm linking up with Biana at B Loved Boston for the Weekending link-up!
{Thanks for reading! Want to know a little more about me? I'm a CPA learning how to balance a career with frequent travel while planting roots at home in Austin, TX. When I'm not exploring my home city with my husband Daniel or cuddling with our chubby orange cat Banana, I'm probably planning, packing, traveling to, or daydreaming about our next adventure. After all, my travel mug collection is never complete. If you have wanderlust too, be sure to follow me on Instagram, Pinterest, Snapchat (emilya89), or subscribe to my blog!}