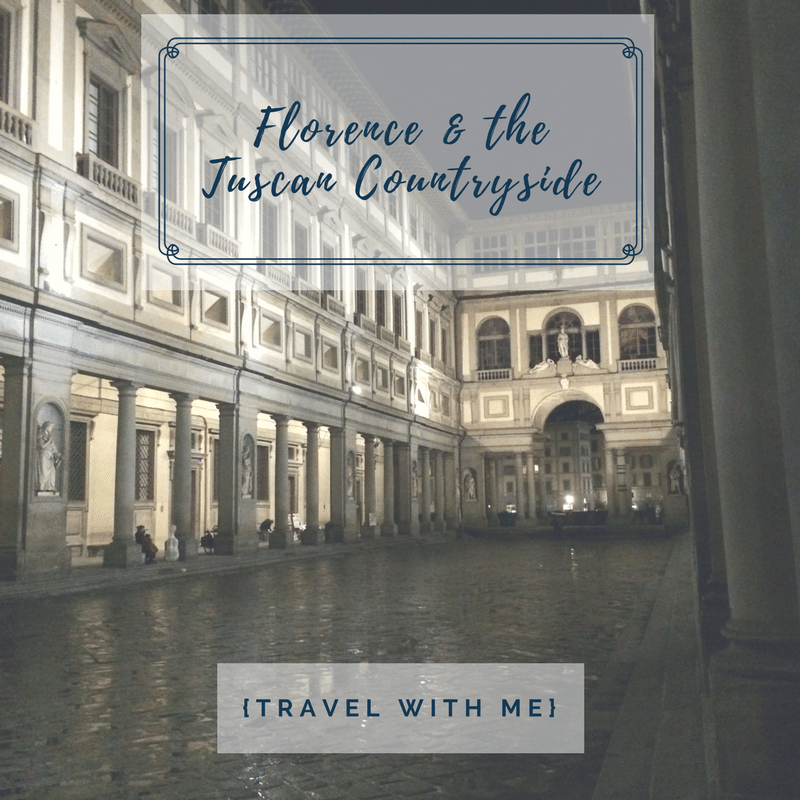 As we made our way south by train from Cinque Terre to Florence, we could not have been more excited to explore the capital of Tuscany. The Tuscany I had seen in movies and read about in books seemed to offer many of my favorite things: pasta, cheese, wine, culture, a slower life pace (la dolce vita!), etc. I was so looking forward to diving in! We spent three nights in Florence (including one day touring the countryside), and we were very happy with how we spent our time, so I wanted to share it as an ideal three-night itinerary for travelers with similar interests.
First Evening
Our train arrived in Florence in the early evening. Our Airbnb host had given detailed instructions for check in, and we just needed to pick up the keys from the host at the restaurant across the street from the apartment building. It was about a ten minute walk from the train station. This apartment location was perfect for what we wanted to see and do in Florence, as it was right in the historic district of the city. The space itself is very well-designed and comfortable. If you click over to the listing at Airbnb, you will see from the amazing reviews that we are not the only ones who enjoyed our stay!
Strolling Down the Ponte Vecchio
Once we dropped off our things, took photos of the apartment, and cleaned up, we headed out to see the city at night and find a bite to eat. The apartment was very close to the Ponte Vecchio, so we walked across the river on it. The bridge itself holds many jewelry shops – it was beautiful with the shops all lit up on the bridge at night!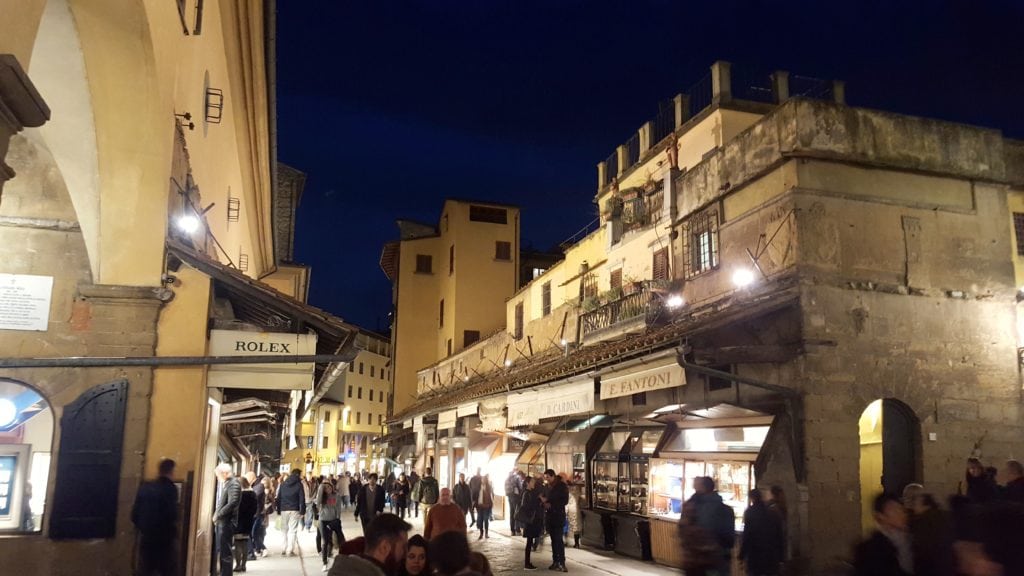 Across the bridge, we were happy to see streets full of amazing looking restaurant options filled with all kinds of people – locals and tourists alike. We were in the Oltrarno area of Florence, and everything seemed so full of life! We walked along the streets, taking in the sights and sounds, and came across an interesting looking Italian deli. We ordered a couple sandwiches for dinner. The deli had a cute painting of the Ponte Vecchio on the ceiling (see photo below).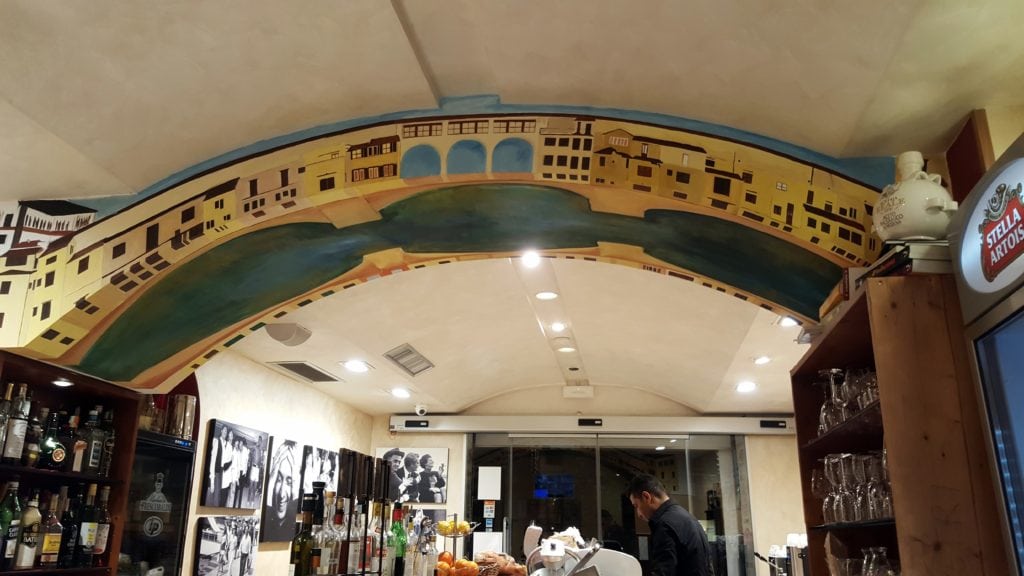 Day 2
Morning Stroll
We started our morning out by leisurely walking near the Ponte Vecchio on the other side of the river to catch the view of the bridge by day. We then headed to the meeting spot for our upcoming tour. Florence is such a beautiful city, day or night!

Wine Tour
We took the Super Chianti Tuscan Wine Tour by Grape Tours, and it was amazing! The tour offered eight hours of bliss and all things Tuscan: rolling hills, cheeses, meats, bread & olive oil, and, of course, wine! Our guide Matteo was very knowledgable and passionate about the wine, food, and people of Tuscany. He was able to teach us well and give us a glimpse of Tuscan culture. This tour is only available March through October, and our time here was at the very beginning of March. We were happy to catch the beginning of tour season.
We visited three wineries in the Chianti and Chianti Classico regions and had tastings at each one. At one of the wineries, we had cheese and bread and olive oil with our wine. We were able to tour two of the wineries. Additionally, we stopped at a local Italian butcher for lunch and stopped at another small village to explore.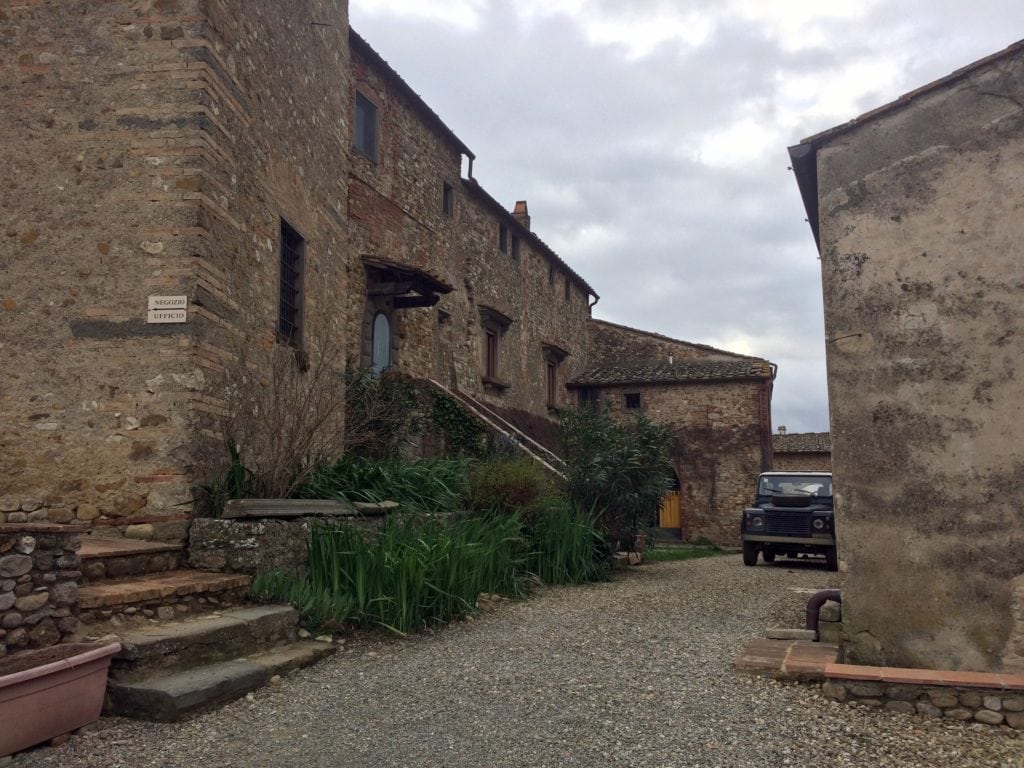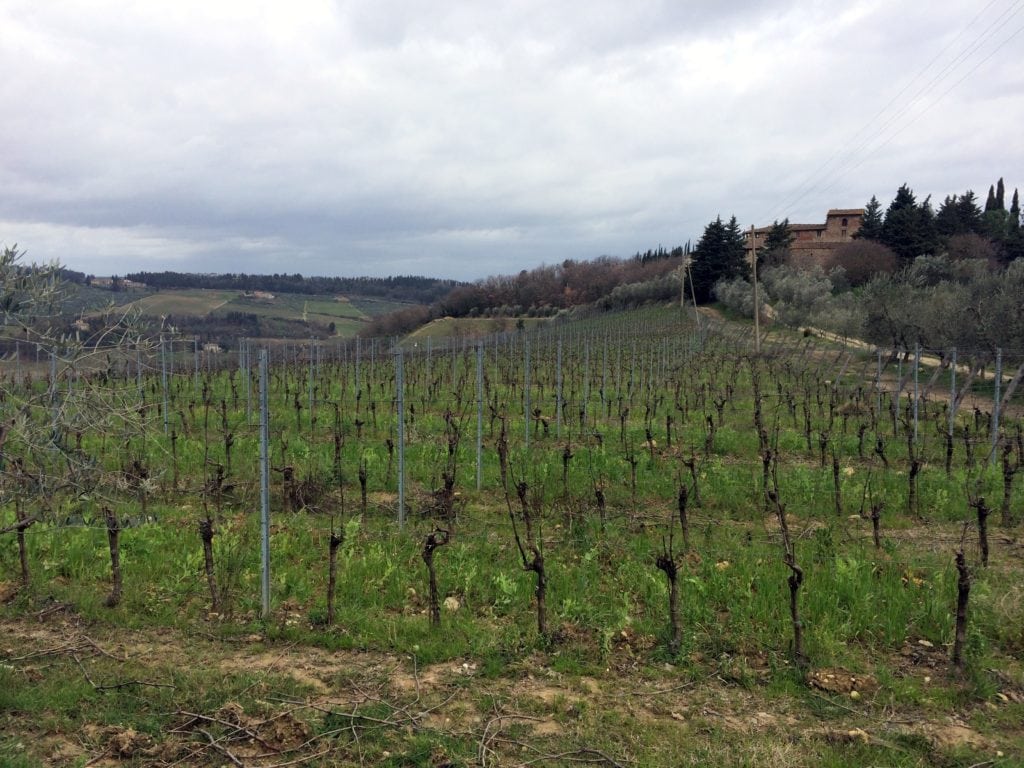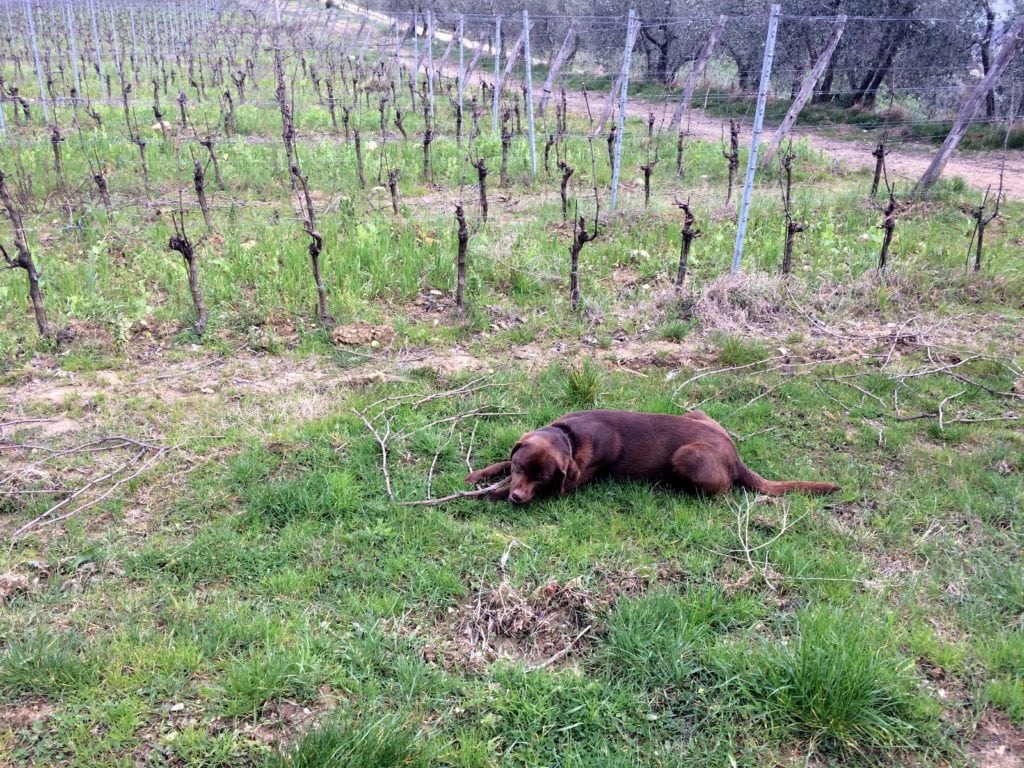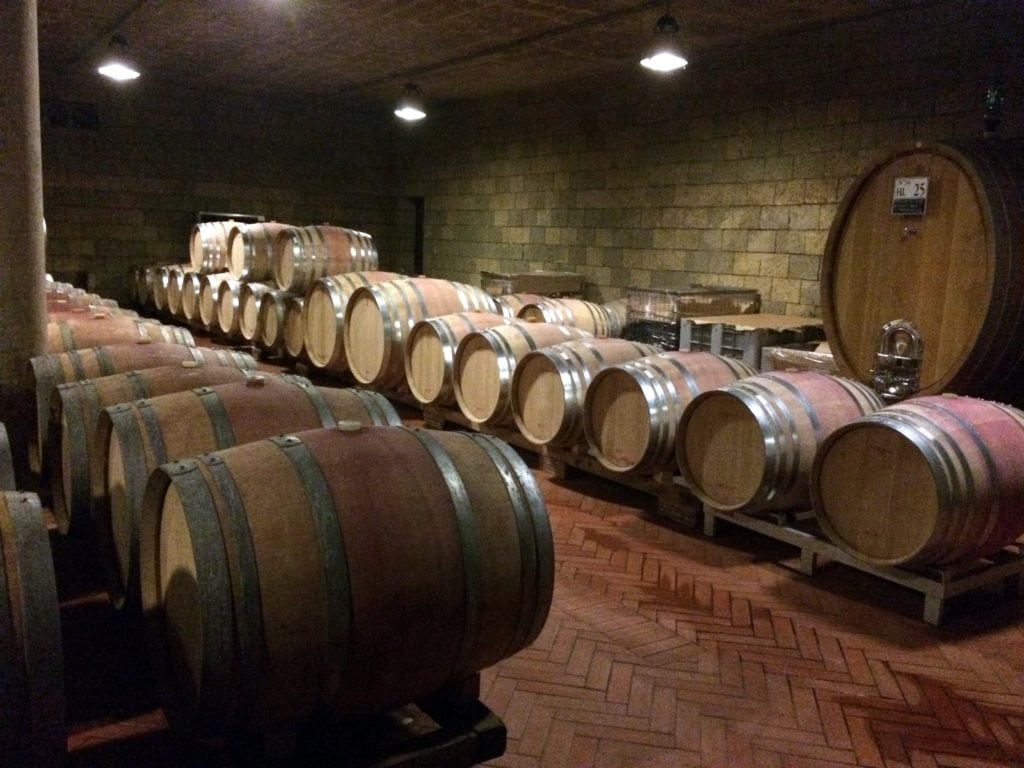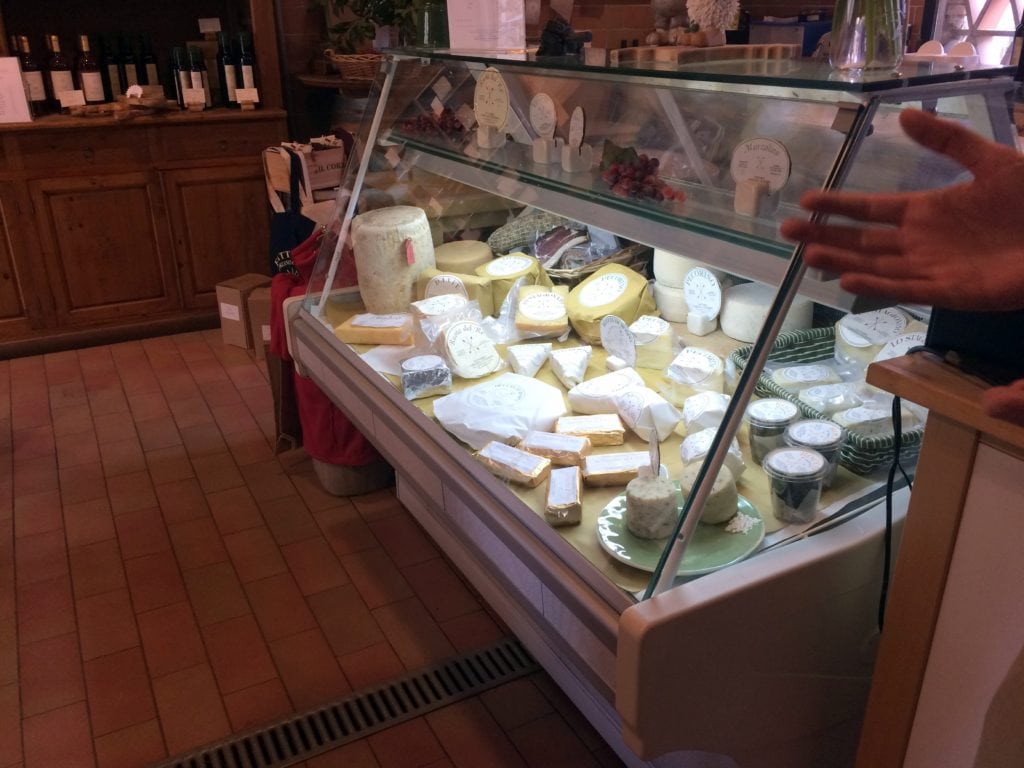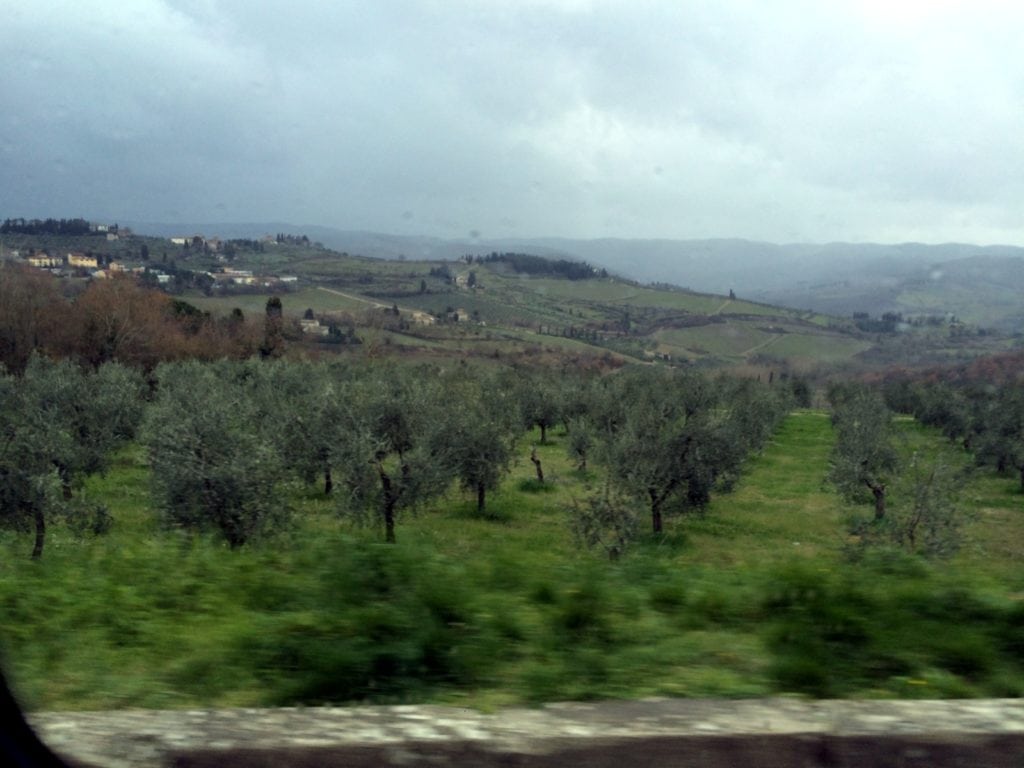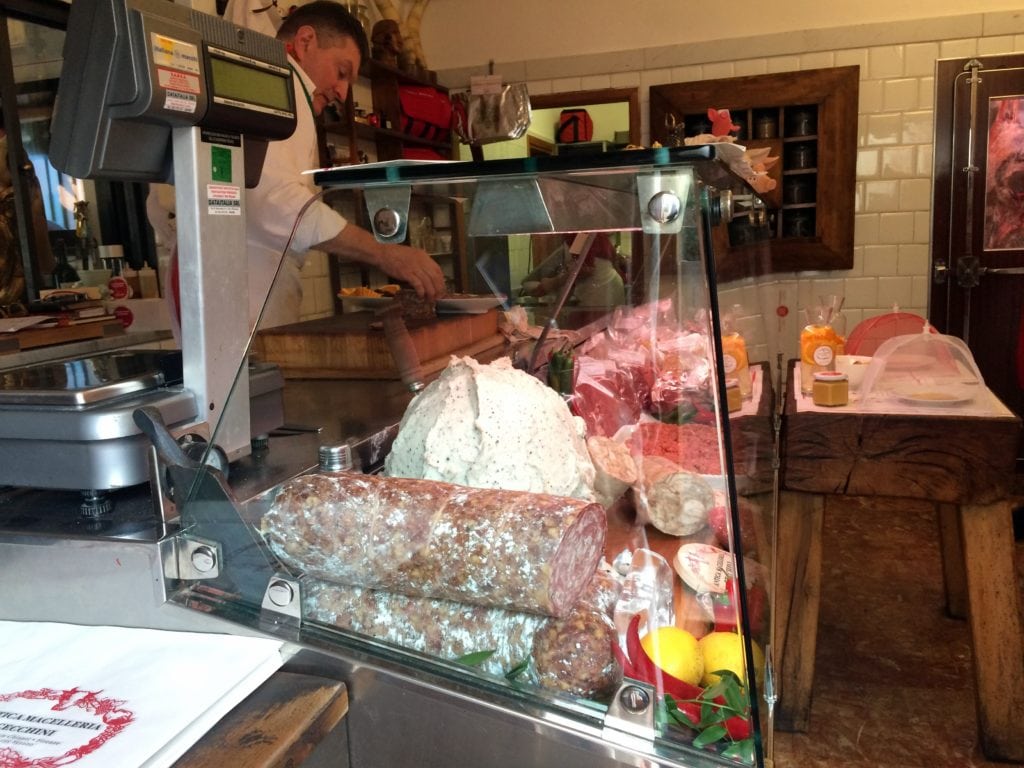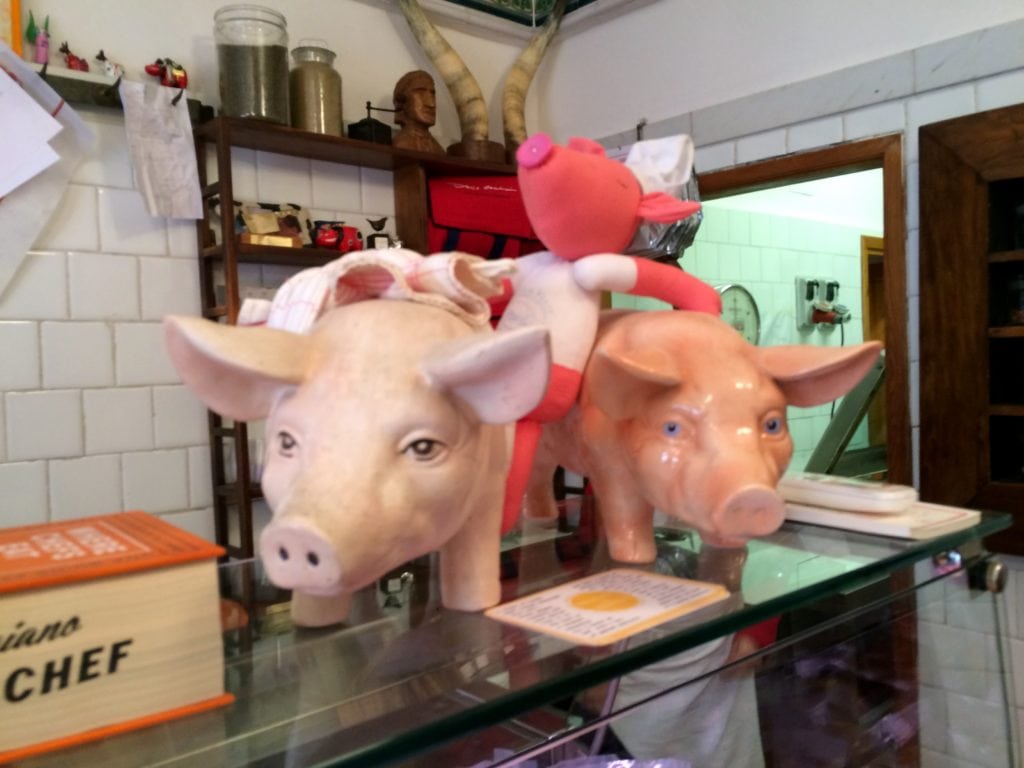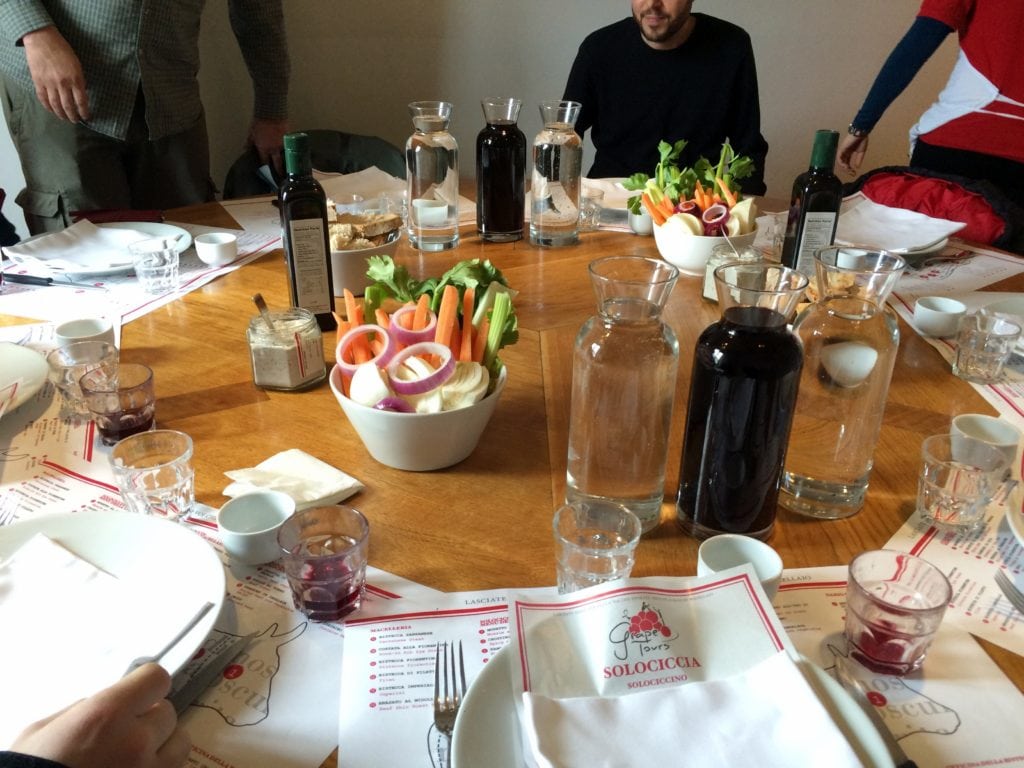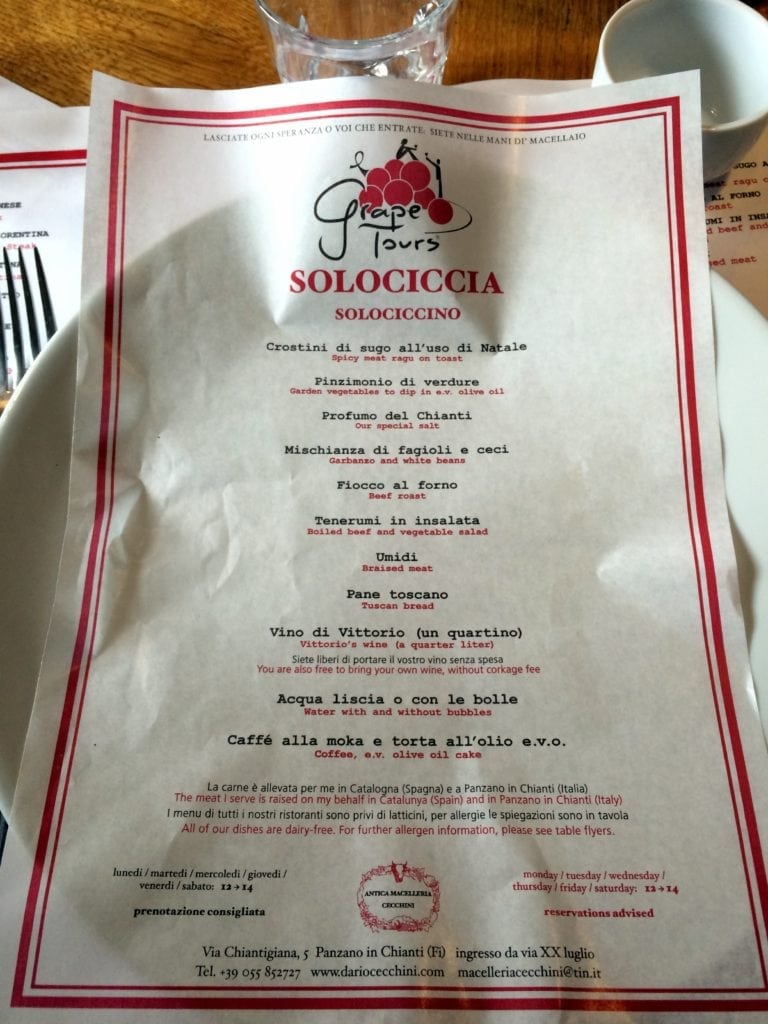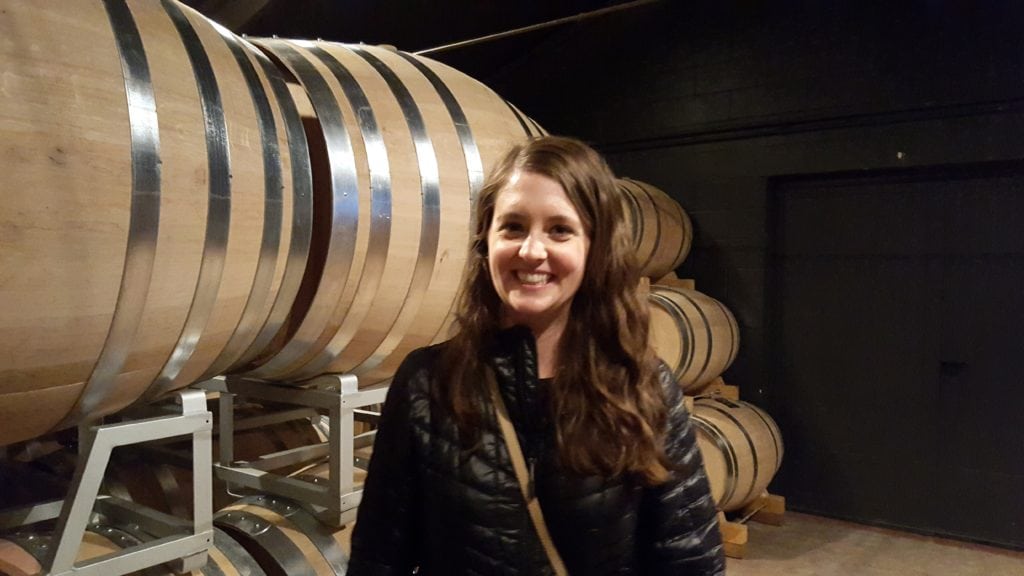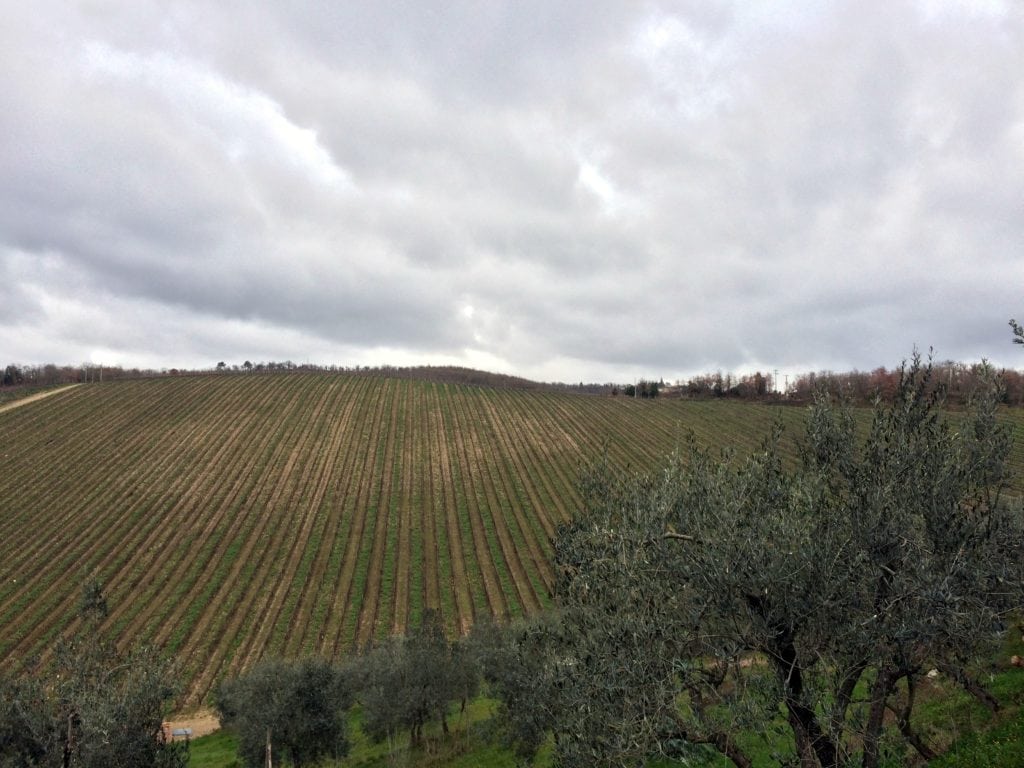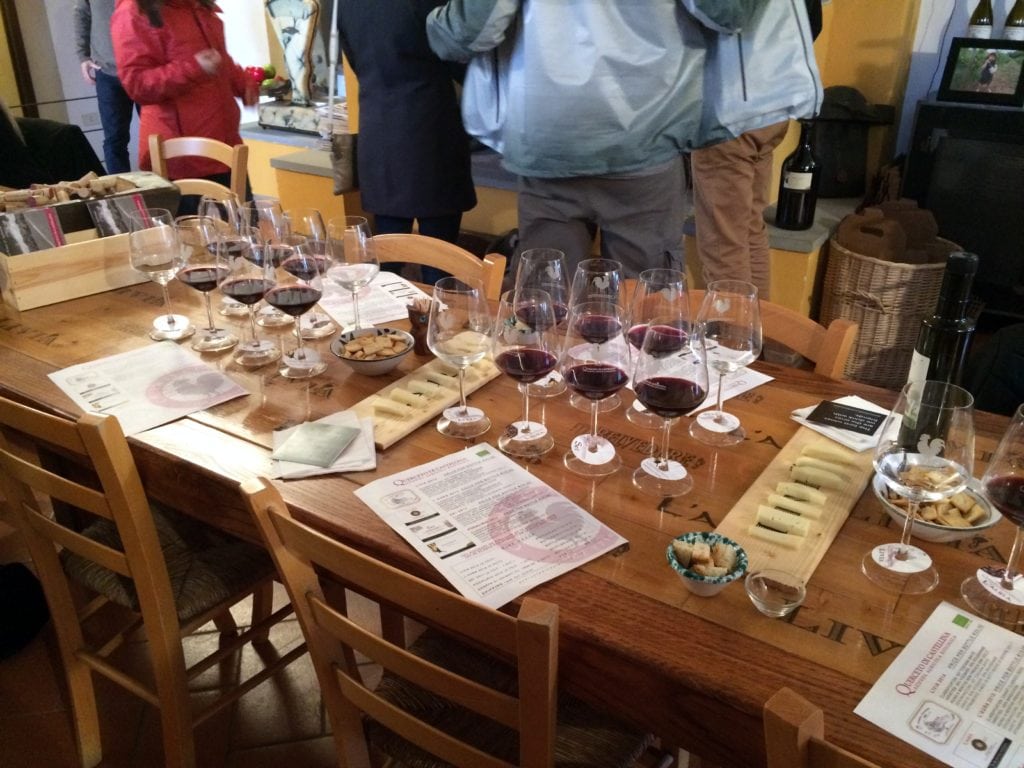 That ended our first full day in Tuscany.  A big rainstorm started toward the end of the tour and poured down as the guide drove us back to Florence. Since it was such a satisfying, full day, we called it an early night when we got back into town.
Day 3
The next morning we woke up excited to explore the city of Florence and get a taste of its culture, history, and food.
The Accademia Gallery
Our first stop was at The Accademia Gallery, primarily to see Michelangelo's David, but also to spend some time learning about other important sculptures and works of art.
Il Mercato Centrale
After wandering the museum, we wanted to check out the nearby indoor market, Il Mercato Centrale. There were so many wonderful food options from local farms and other vendors, but we decided to opt out of those because we had a nearby Italian cafe in mind for lunch.
We were introduced to the market by the below adorable map.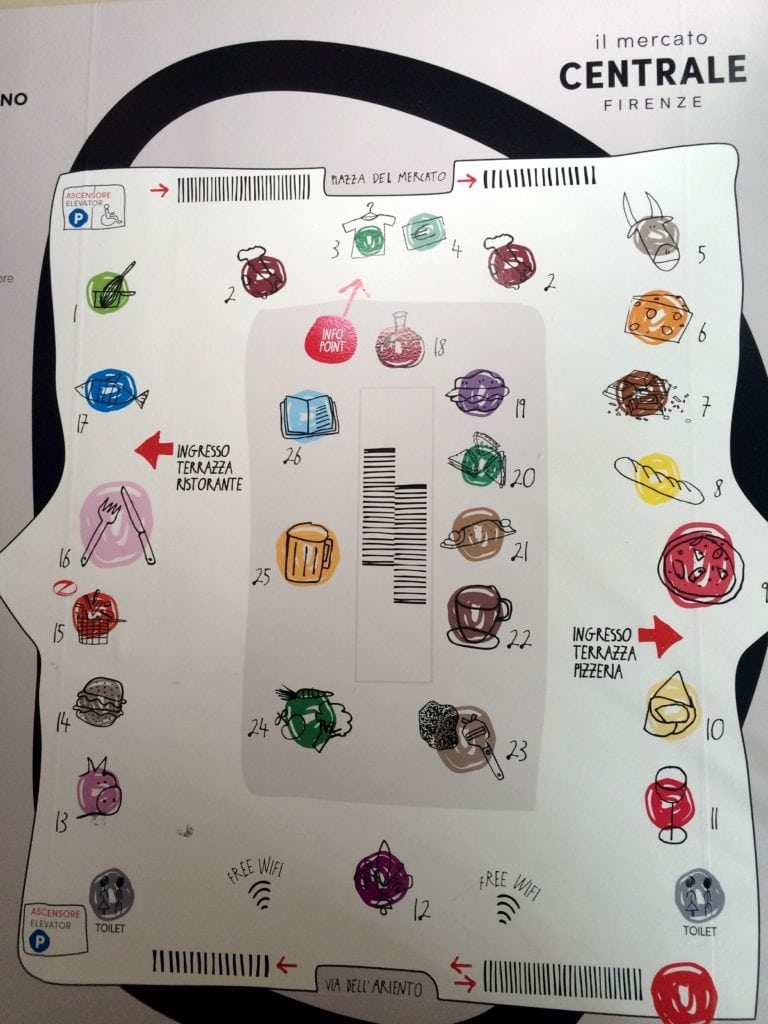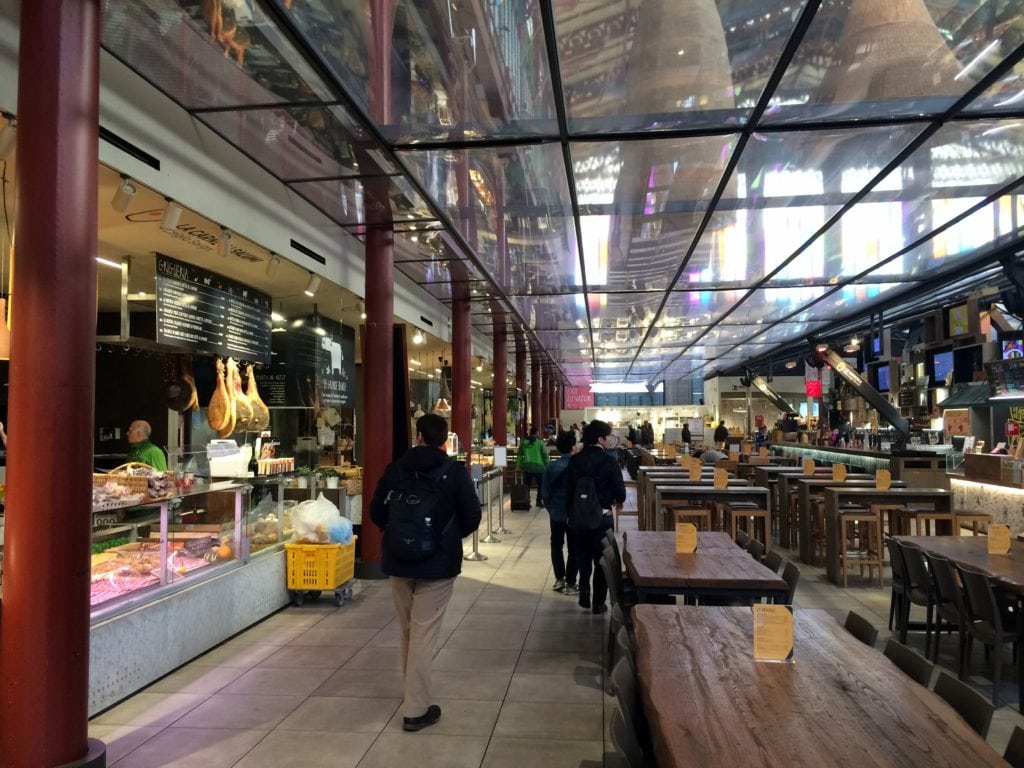 Outside there was craftsman market with primarily leather good vendors. Florence is a popular place to buy purses, jackets, shoes, and other leather goods, but these were unfortunately outside of our backpacker budget. Next time!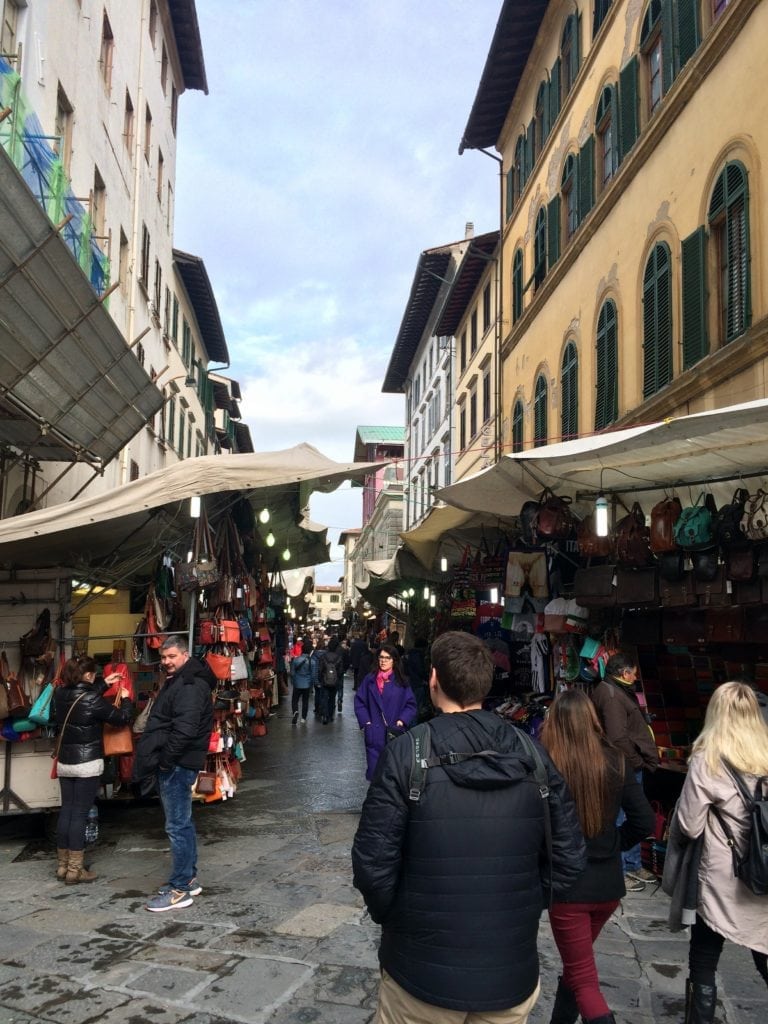 Lunch
We went to Cantinetta Verrazzano for lunch. This Italian cafe has a beautiful setting that invites you to sit down, order a warm cappuccino with a plate of pastries, and stay awhile, so that's exactly what we did!
Rick Steves Audio Tour – Rainy Day Exploring
For the rest of the afternoon, we popped in our headphones and listened to the Rick Steves Audio Tour of Florence while venturing in and out of the rain.
Florence Cathedral ("Duomo")
The Florence Cathedral (aka the Duomo) has one of the top three most beautiful building exteriors I have ever seen. It has an intricate marble facade with various shades of pink and green and showcases ornate sculptures representing historical figures and events. The entire exterior is a stunning, detailed work of art.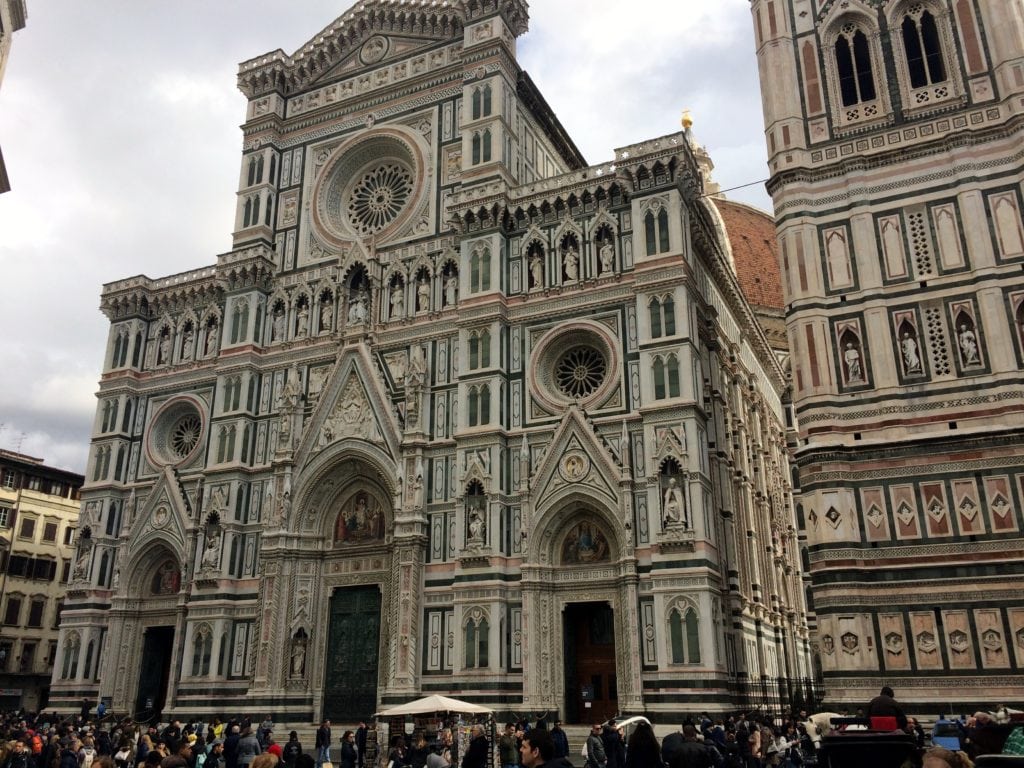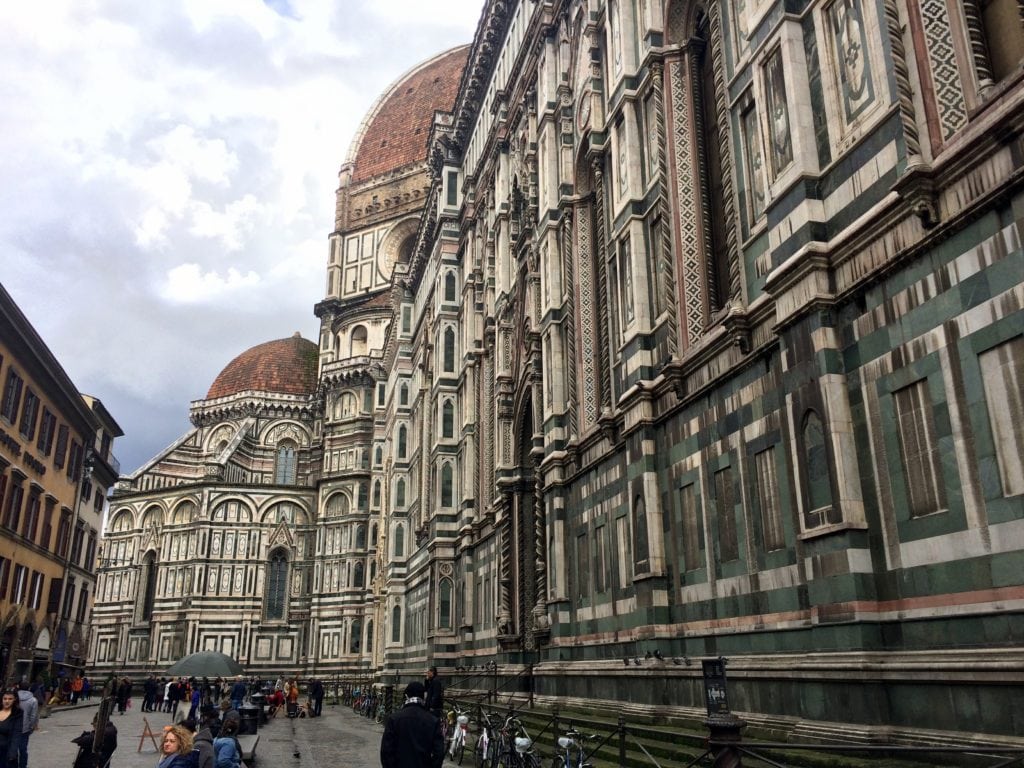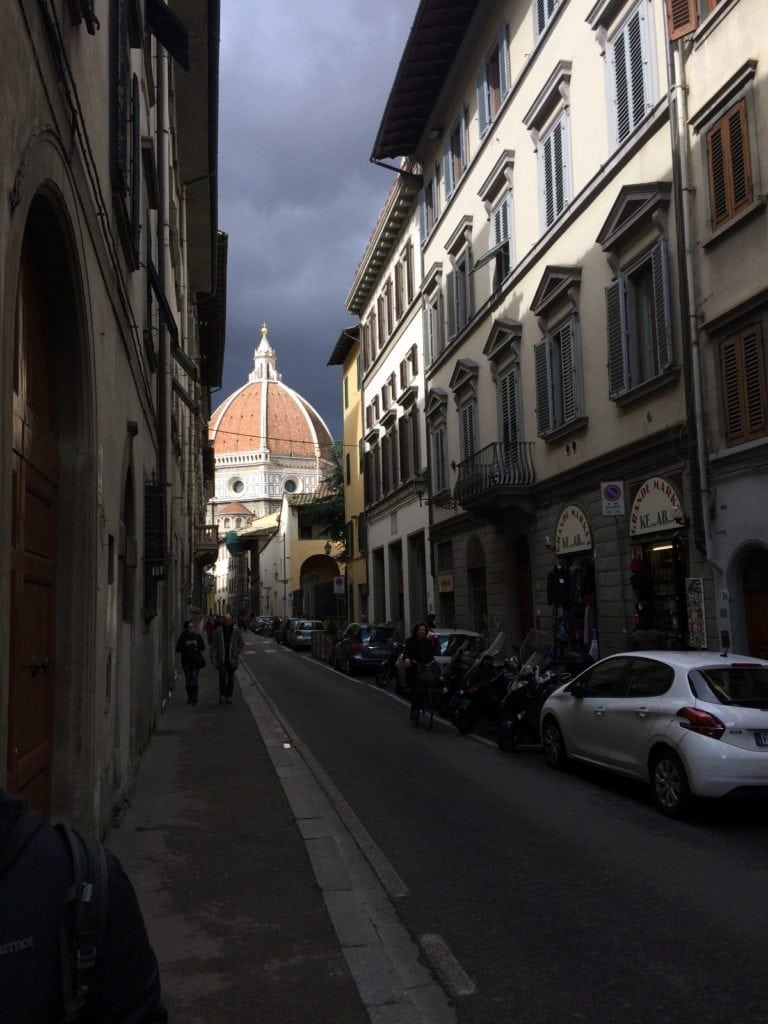 The dark gray-blue of the stormy sky gave the Duomo a backdrop that looked like a painting.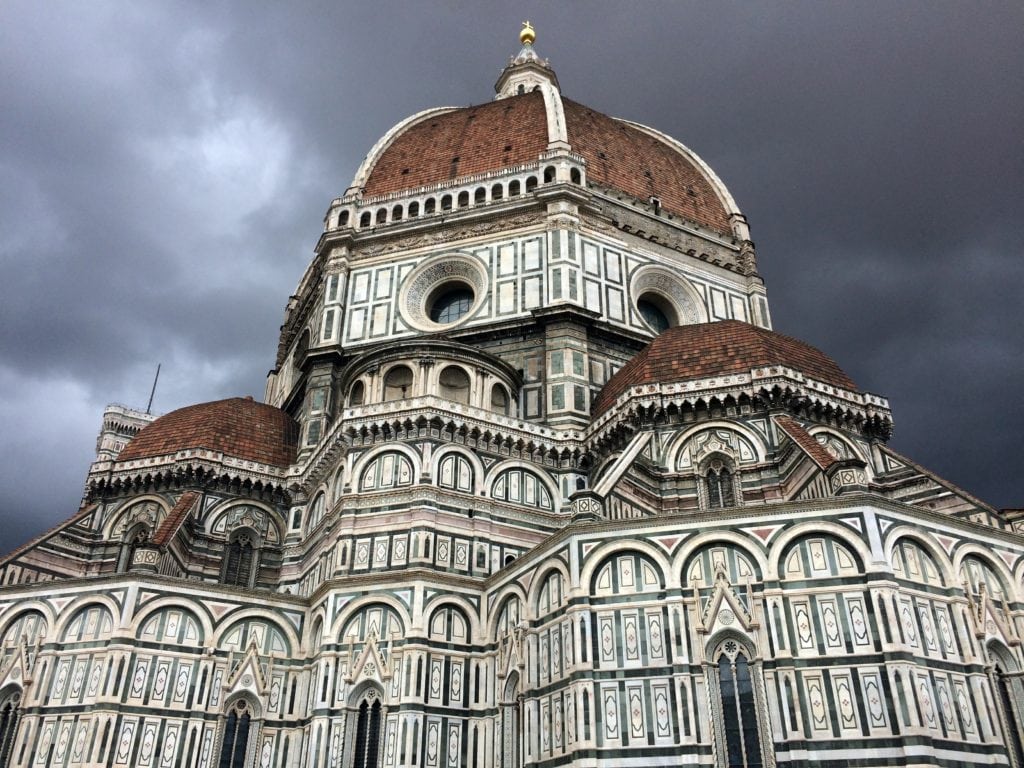 More rainy day shots of Florence….
Gelato Break!
And, because we couldn't break our daily Italy routine, it was time for our daily gelato break. Il Gelato Gourmet offered delicious gelato, and we enjoyed chatting with the friendly owner of the place. Unfortunately, it looks like this shop has closed since we went there, but Florence has numerous other wonderful gelato shops to choose from.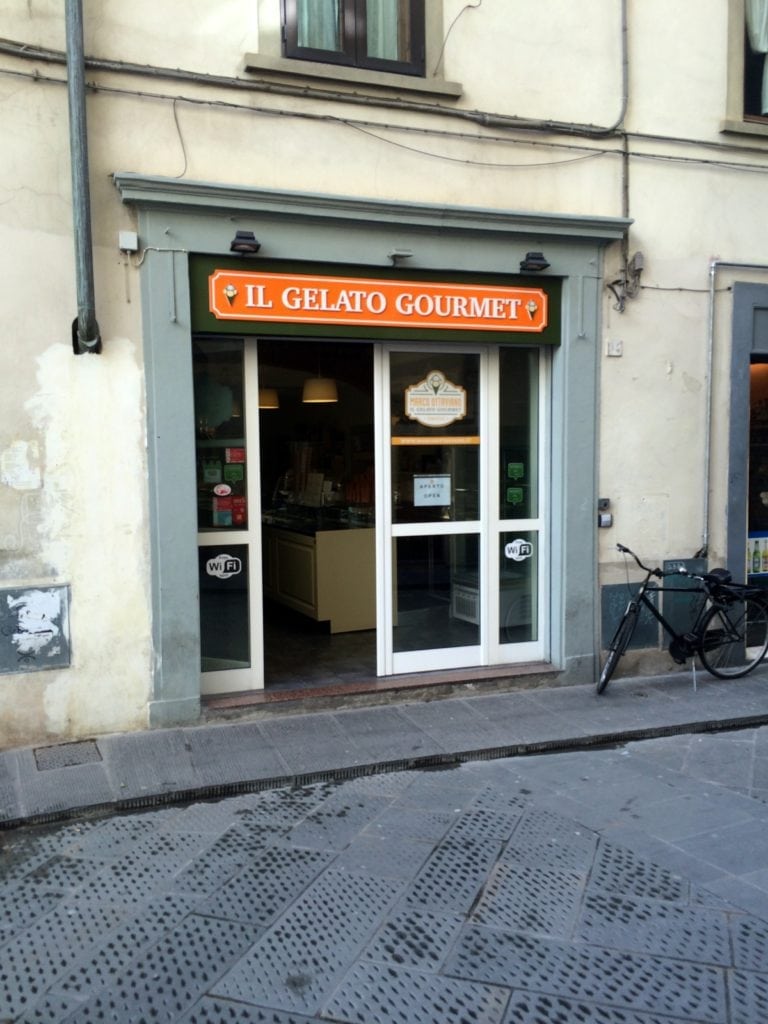 Cheese Break!
One of the best ways to try out as much food as you can in a short amount of time is to order a snack-sized portion at several different places, and that's exactly what we were doing this day. Since the rain continued to come down, we decided to find another cozy restaurant and order a cheese plate (basically we are in love with dairy). We were lucky to be able to grab two spots at the bar in Il Santino Gastronomia, because this little eatery was packed! The bar seats gave us a view of all the food being prepped, and we were able to chat with servers as we ate. While the photo below isn't the best quality, I wanted to share and point out the meats hanging in the back, the warm, ready-to-slice bread on the cutting board, and the fresh local herbs on the bottom left. ?
Uffizi Gallery
We were exhausted at this point in the day, but we could not miss the opportunity to explore the Uffizi Gallery, a world-renowned art museum primarily showcasing artworks from the Renaissance period. Masterpieces created by Botticelli, Raphael, Michelangelo, and numerous others are showcased in a beautifully designed set of exhibits.  The museum is closed on Mondays, so keep that in mind, but it stays open until about 7pm the rest of the week. During the summer, they offer some extended hours until 10pm, so check the website before going. Not many museums in Europe are open that late, so it's a good way to get your visit in even if you have a busy morning and afternoon already planned. Keep in mind that Uffizi is a large museum – we didn't allow much time for our visit, so we weren't able to see everything.
Dinner at La Fettunta
Yes, after eating all day, we still wanted to have one more traditional pasta dinner for our last night in Florence. Walking the streets of Florence at night is a treat. All of the restaurant and shop windows were lit up, inviting us in from the rain. La Fettunta drew us in with the friendly environment and fresh ingredients showcased in the window. As you can see below, Daniel was hungry and tired of waiting on me to stop and take photos. 🙂
More Nighttime Strolling
After dinner, we decided to walk off all the pasta and cheese from the day since the rain had mostly subsided.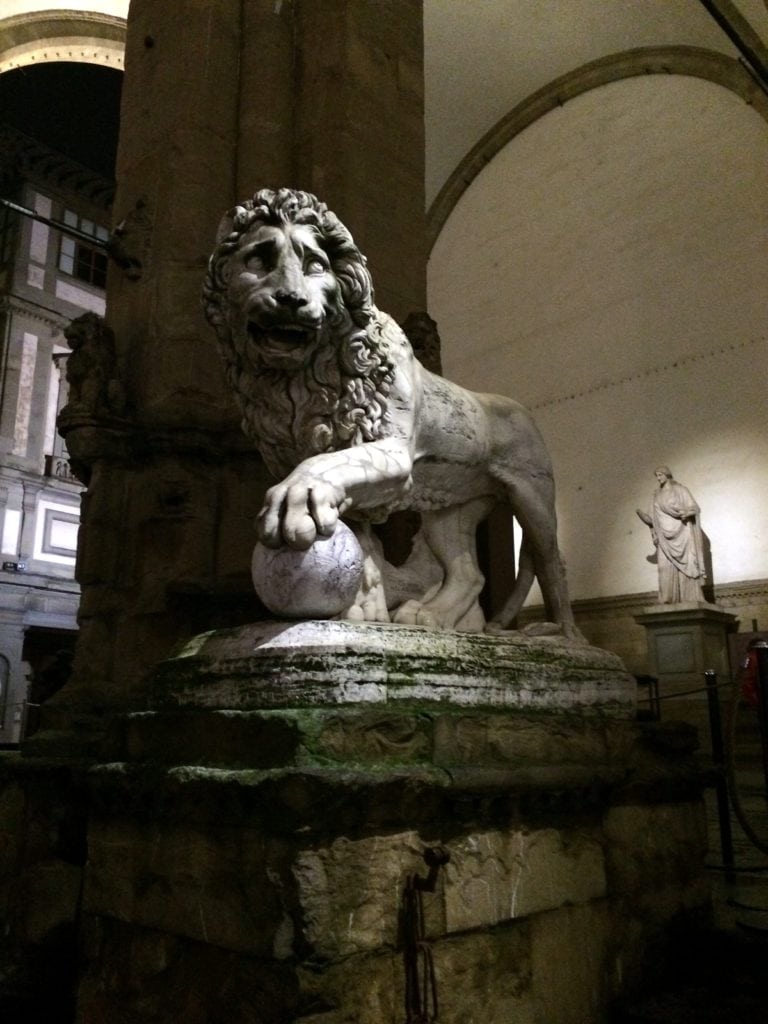 The Uffizi Gallery is a beautiful site at night.
Day 4
Final Stroll
As you can tell, our favorite thing to do in Florence was just stroll the beautiful streets, take in the stunning architecture and sites, and enjoy feeling like we've stepped into another era. I highly, highly recommend leaving plenty of time to wander during your time in Florence.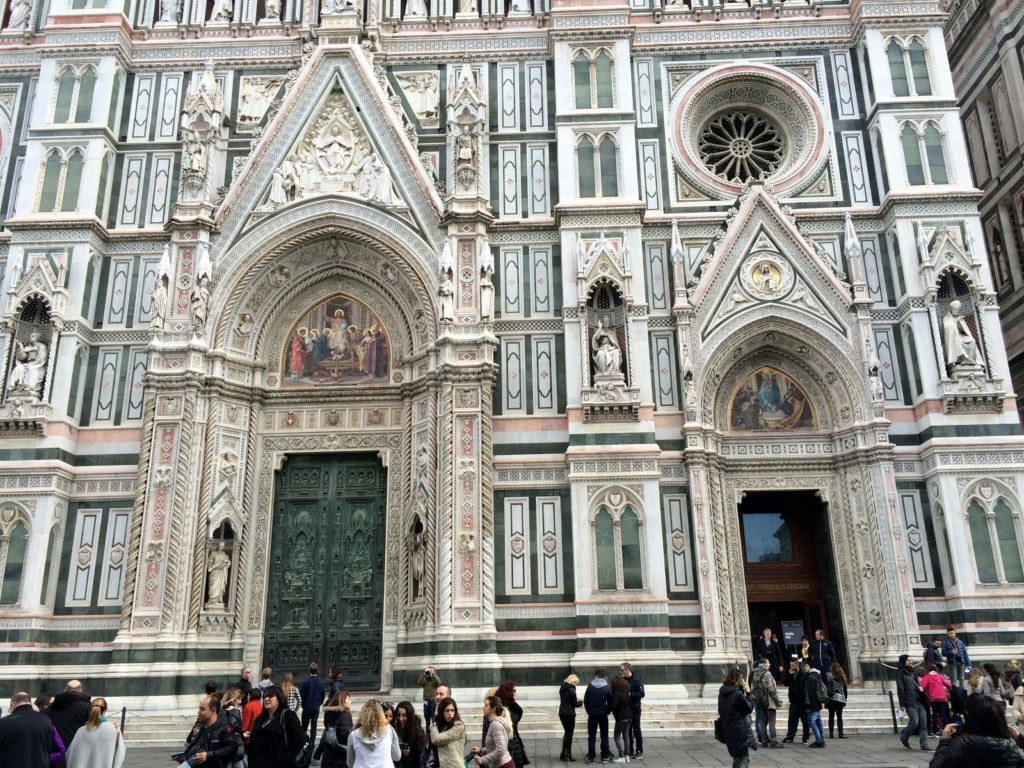 And before we knew it, it was time to grab our backpacks and head to the train station. Next stop, Siena and more Tuscany!
Our time in Italy was part of a 2.5 month trip across Western Europe.  Click here to check out all of my posts from this adventure!
Like it? Pin it!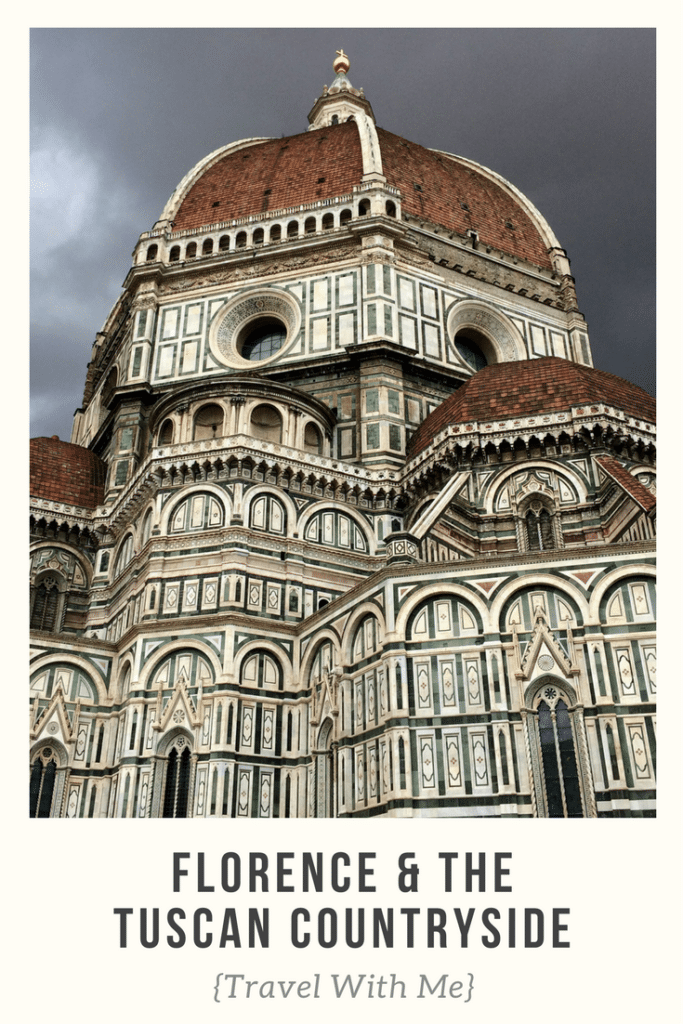 {Thanks for reading! Want to know a little more about me? I'm a CPA learning how to balance a career with frequent travel while planting roots at home in Austin, TX. When I'm not exploring my home city with my husband Daniel or cuddling with our chubby orange cat Banana, I'm probably planning, packing, traveling to, or daydreaming about our next adventure. After all, my travel mug collection is never complete. If you have wanderlust too, be sure to follow me on Instagram (and InstaStories!), Pinterest, and Facebook, or subscribe to my blog!}