Welcome to my Scenes From the Week series! In these posts, I share the highlights from my previous week ranging from the simple, everyday things to the more memorable events. One of the primary reasons that I blog is to keep a scrapbook that I can look back on in the future, and these posts help serve that purpose.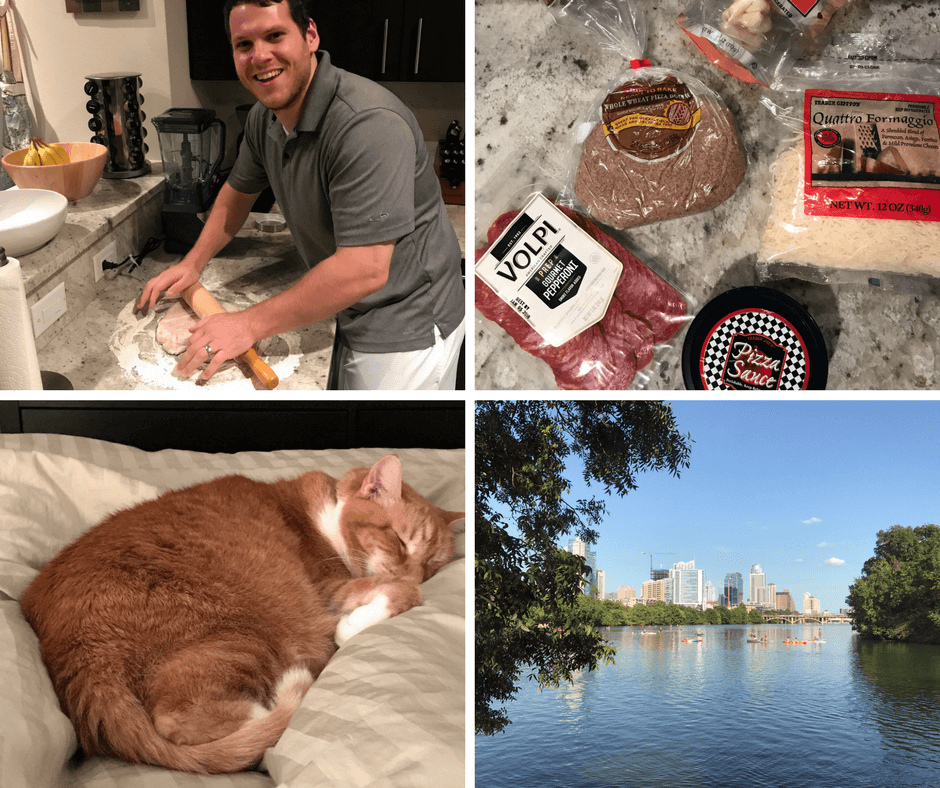 Happy Tuesday everyone! Daniel and I were both lucky enough to have a four-day weekend for Labor Day. This Labor Day weekend was also extra special because it was the first one in my almost six years at my company that I didn't have to work, so that was wonderful! Since I was prepared to work the weekend, we hadn't made any travel plans or even many plans for home, so we had a wide-open weekend to do what we wanted.
Photos from the week, top left to bottom right:
(1) & (2)  Daniel and I had never made a pizza together before this weekend, and that's something we've always talked about doing. So, we picked up some dough and ingredients at Trader Joe's and made the pizza Sunday night. By the way, it was super easy and took all of twenty minutes, so we really shouldn't have taken so long to get around to it….
(3) I couldn't resist sharing this adorable photo of Banana, and it also represents all of the wonderful hours of sleep we were able to catch up on this weekend. Banana got lots of cuddles too!
(4) We ended the weekend with a walk by Town Lake. Love this city!
Not Pictured:
Driving out to Lockhart for BBQ and another stamp in Daniel's Texas Monthly BBQ passport
Eating tacos and catching up with Kaelin and Andres before they embarked on their trip to Spain
Air Canada returning my suitcase on Labor Day #finally
Reading two mystery books with a similar theme: In the Woods by Tana French and In a Dark, Dark Wood by Ruth Ware. I'm not quite done with the second one, but I'm close. It's pretty good, but I think I've guessed the ending which makes is less fun. In the Woods was fantastic! It's the first in the Dublin Murder Squad series, and I'm loving that series. I actually read the second one (The Likeness) first, and I really enjoyed that one too. The character development and writing and suspense are all so well-done!
Watching two movies: The Trip (funny!) and Split (creepy!)
Getting lots of organizing and cleaning done around the house
Doing a couple of at-home workouts
On the Blog:
This week I shared a post about our time on the magical Amalfi Coast of Italy – specifically Sorrento and Positano – along with specifics on how to get around and see the highlights of the area. It was wonderful!
Have a great week!
Click here to see all of my Scenes From the Week posts. I'm linking up with Biana at B Loved Boston for the Weekending link-up!
{Thanks for reading! Want to know a little more about me? I'm a CPA learning how to balance a career with frequent travel while planting roots at home in Austin, TX. When I'm not exploring my home city with my husband Daniel or cuddling with our chubby orange cat Banana, I'm probably planning, packing, traveling to, or daydreaming about our next adventure. After all, my travel mug collection is never complete. If you have wanderlust too, be sure to follow me on Instagram (and InstaStories!), Pinterest, and Facebook, or subscribe to my blog!}