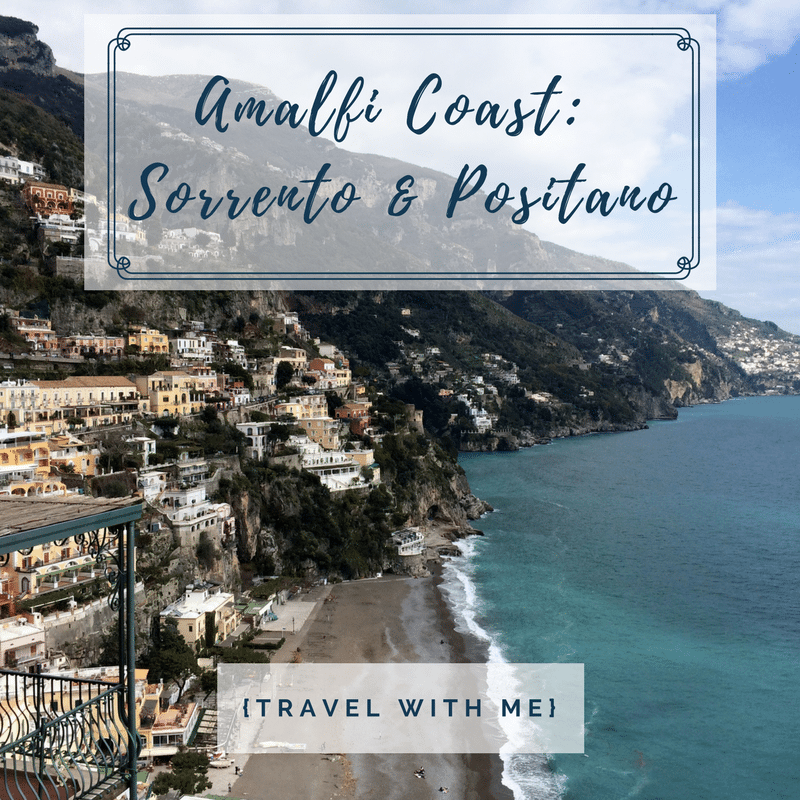 After soaking in a bit more of Tuscany with two days in Siena, and after our most "dramatic" train mishap of the entire 2.5 month trip (story for another time), we headed south down the west coast of Italy toward the Amalfi Coast. Known for its colorful fishing villages, its rocky Mediterranean terrain, and its breathtaking cliff-filled coastlines, the Amalfi Coast is pure magic. We picked Sorrento as our Amalfi Coast home base, primarily because it allowed for easy day trips to both Pompeii (just north of the Amalfi Coast) and Positano and because we found an amazing deal on an Airbnb there.
Travel to the Amalfi Coast
It's not exactly convenient to get from Siena to Sorrento by public transportation, but we made it happen. You can take a regional train from Siena to Naples with one change in the middle. That part of the journey should take about six hours (if you don't miss your train like we did). The next part of the journey doesn't even show up on Google maps for whatever reason. From Naples, there is a local train called the Circumvesuviana that will take you to Sorrento with stops along the way that include Pompeii. This leg of the journey takes a little over an hour. Switching trains and finding the right place at each stop to buy your next fare can be a challenge, but as long as you aren't too shy to ask locals for guidance and do a little preliminary research before going, you will be fine.
Arrival
We arrived in Sorrento just as the sun was setting. The train stop was a short 5-10 minute walk away from our Airbnb. We got the keys to our place (a cute top-floor apartment with a view of the main square, Piazza Tasso), settled in, and ordered some pizza from the restaurant just below us (Pizzaria Aurora).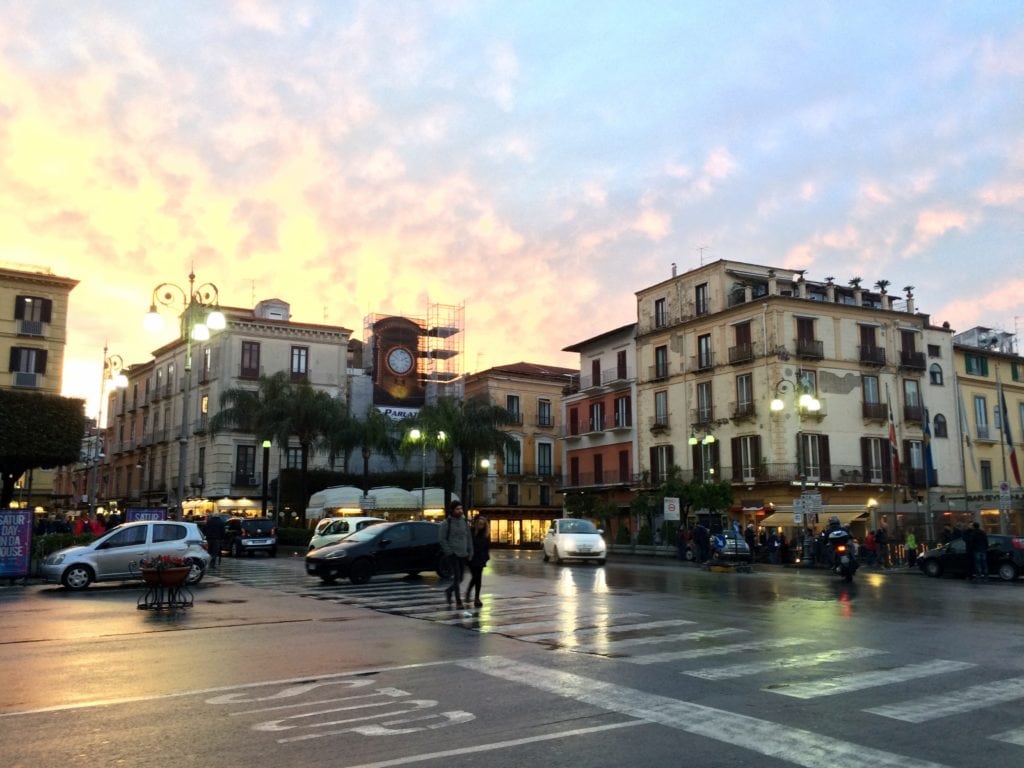 Pompeii
The next day we took a day trip to the ancient ruins of Pompeii. Pompeii is actually just off of the Amalfi Cost. I will be sharing more details of our visit there in my next post. It is a really easy day trip to get to Pompeii from Sorrento.
Sorrento
Sorrento is a colorful, coastal town dotted with citrus trees and lined with beautiful cliff-side ocean views. As you can imagine, it is quite a treat to stroll the streets and linger on a bench in this town. While we never spent a full day in Sorrento, we soaked up as much time as we good in the mornings before our day trips and in the evenings whenever we got back.
By Day
Our mornings in Sorrento were short, but we enjoyed walking by the local shops and sitting on a bench on the seaside square.
By Evening
We had a bit more time in the evenings in Sorrento than we did in the mornings, so we used this time to take longer walks further away from the main square.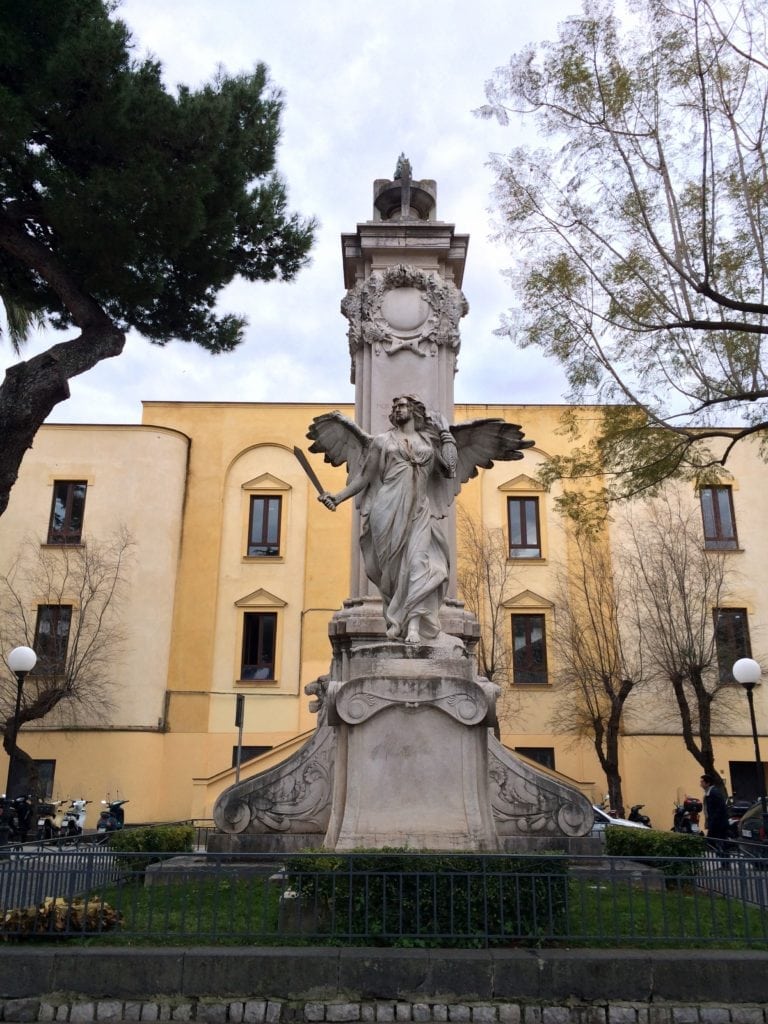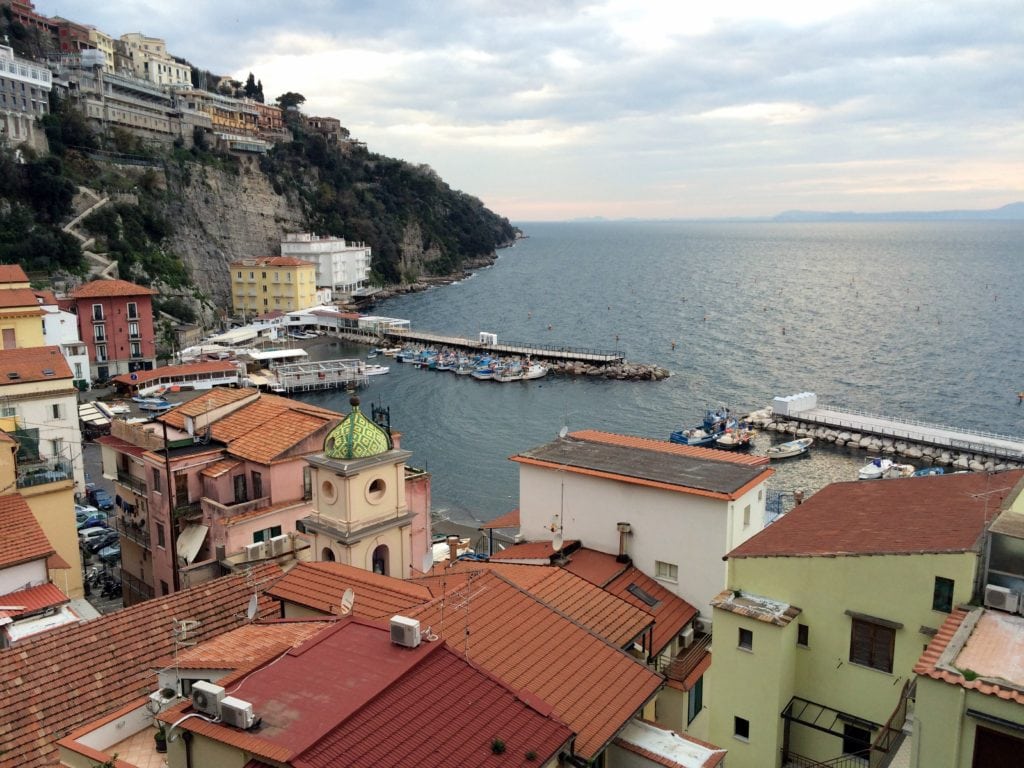 Sorrento (and the Amalfi Coast, really) is known for its limoncello, a lemon liqueur. The shops are filled with the bright yellow bottles and many other lemon-y treats.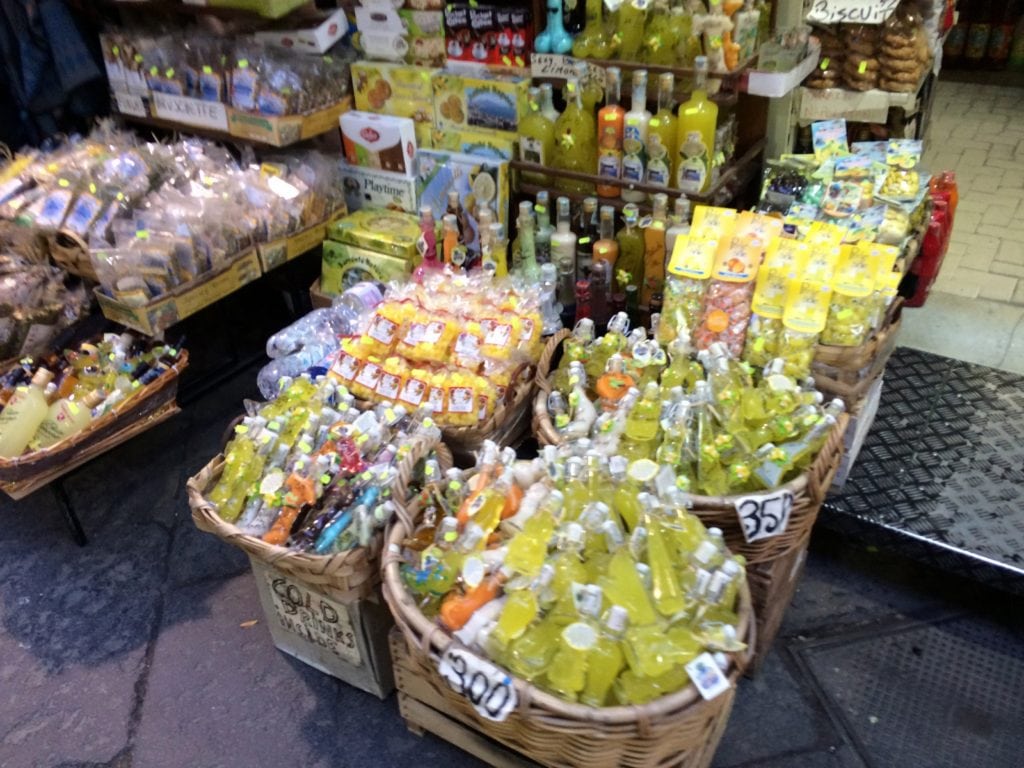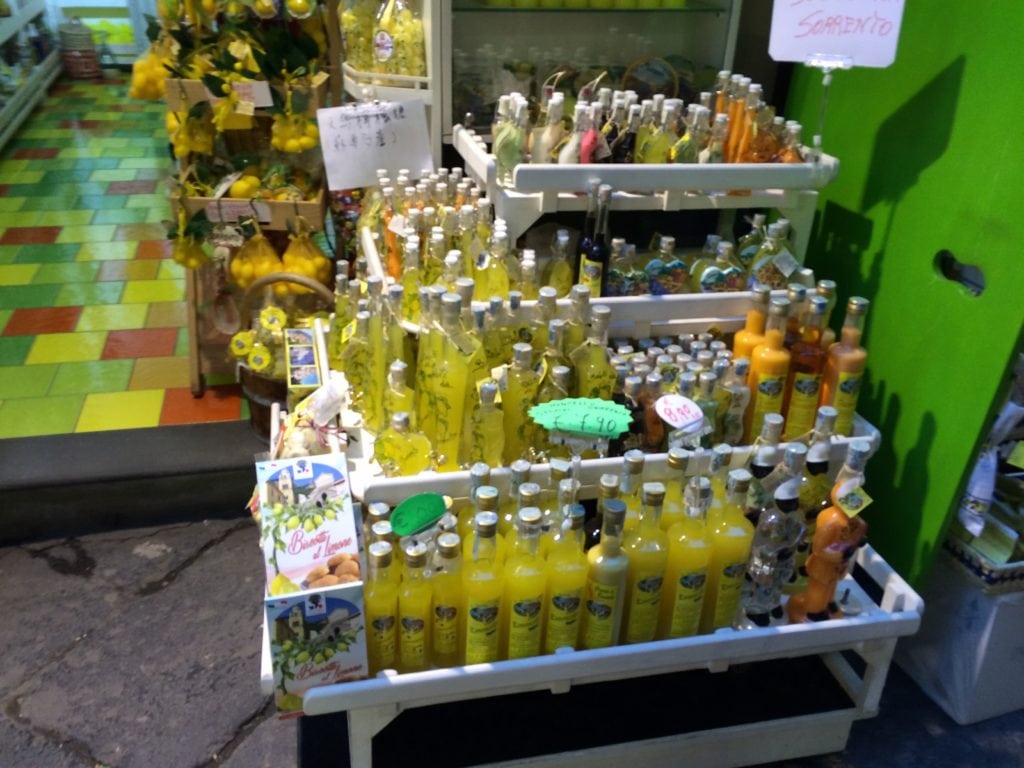 We found a favorite gelato shop in Sorrento called Raki. We loved it so much that we had to go both evenings we were there. My favorite flavors were lemon and coconut.
Positano
During our second day on the Amalfi Coast, we took the bus over to Positano, another seaside village. I know I've said this before about other places, but I really do believe that Positano is one of the top three most beautiful places I've ever seen.
Getting There
We took the local bus from Sorrento to Positano and back. We got to the bus stop in Sorrento a half hour early because we had read that these buses sometimes run out of space. The line for the bus was already a bit long when we arrived. The ride there was spectacular. Just look at the views in the photos below!
Exploring the Village
Positano is another Italian water-colored village with gorgeous cliff sides, but there is something unique about it that makes it stand above the rest. We were there in early March, and the village was definitely still very much shut down for winter. We didn't have much time, so we just enjoyed walking the windy, steep walkways and soaking in the architectural and natural details.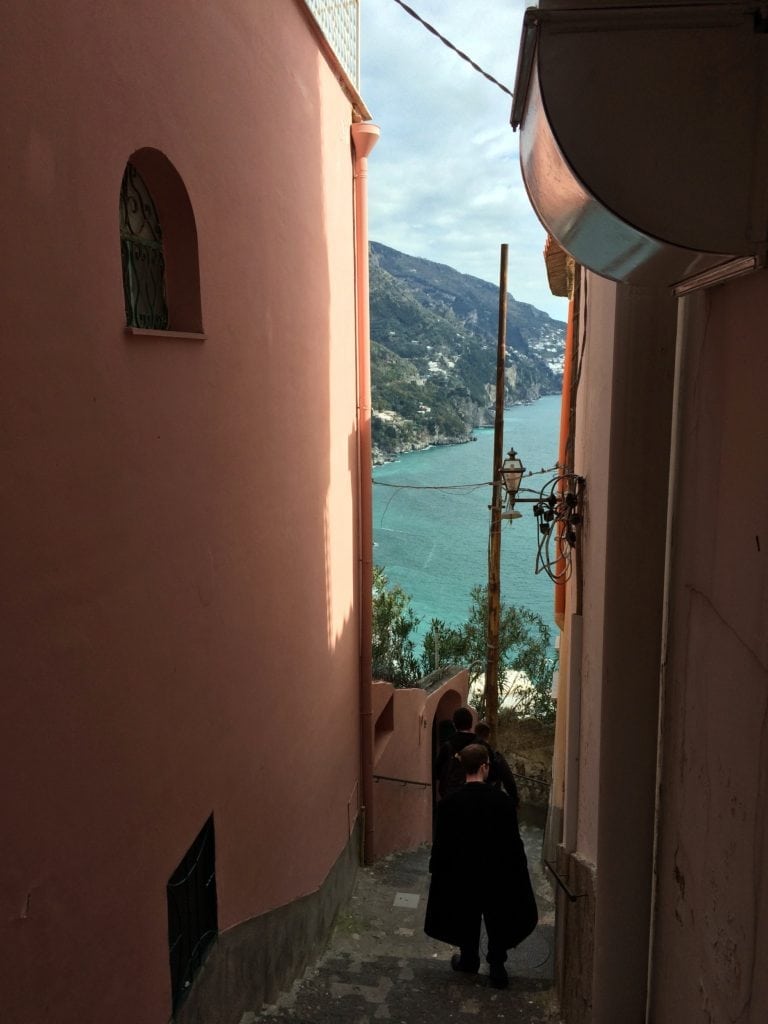 The steep, windy, narrow staircases gave us quite the work out!
Lunch
We didn't have any choice when it came to where we had lunch in Positano. After looking for over an hour for an open restaurant, we found one right on the beach. We were a little concerned with the prices, but we were starving and could find no other food. In the end, we were really disappointed in this restaurant. Let me start by saying that the setting of Chez Black could not be more perfect and picturesque. The covered outdoor area sits directly on the beach with views of the seaside cliffs. Because of this, we didn't feel like we wasted our time. But the food was just not good… I had the worst gnocchi ever there. We don't know if it's always like that or if the main chef was off-duty or something else, but we cannot give it a good review. If you have the option of any other restaurant in Positano, don't pick Chez Black, unless you are just getting a drink or dessert to enjoy the view.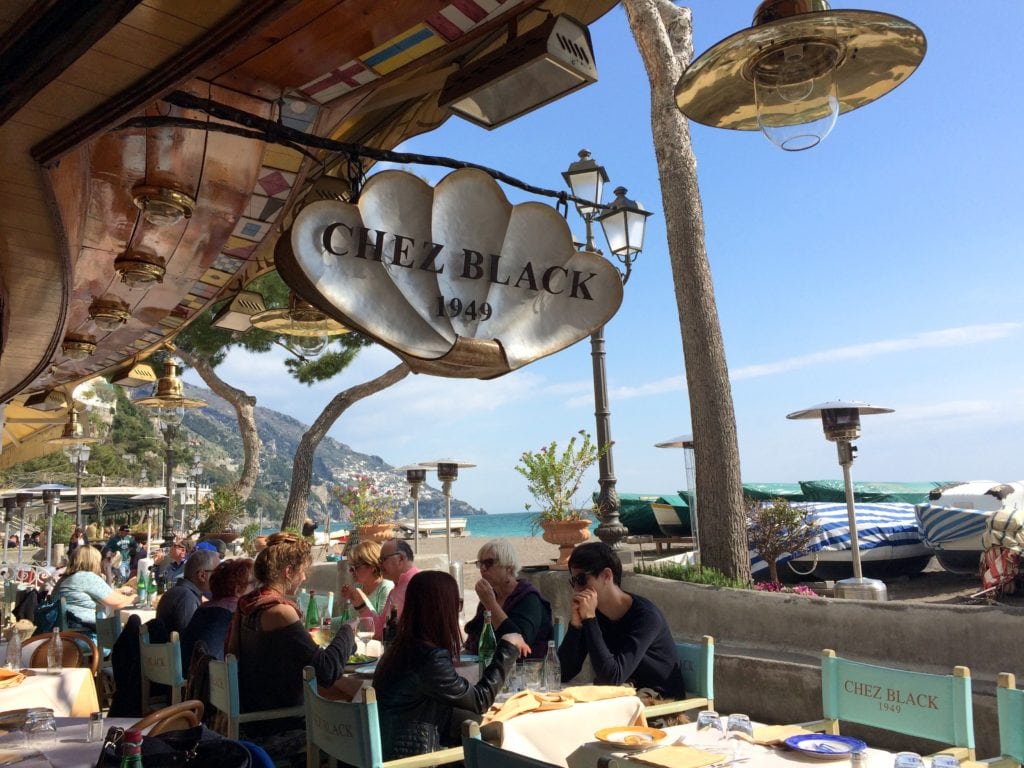 More Exploring
Getting Back
The bus ride back was not quite as easy…. After climbing up very steep and narrow walkways to the bus stop and waiting for the bus for a while, we were barely able to fit on the bus. It was hot, completely packed, and smelly! As long as you are prepared and you are able to stand on a moving bus, you will be fine. Just be prepared for this scenario.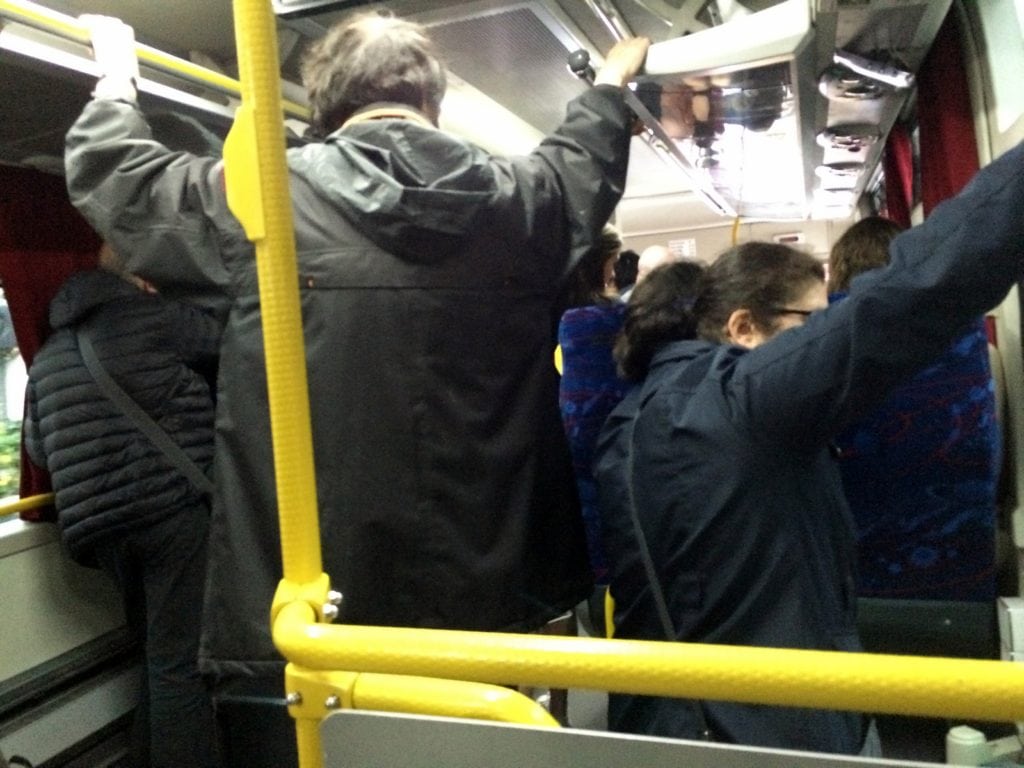 We wish we had more time in Positano! And next time, we will try to go when more than one restaurant or business is open.
And that sums up our short time on the Amalfi Coast. In my next post, I'll share our experience exploring the Pompeii ruins and how to get there from Sorrento. I hope that each of you can make it to the Amalfi Coast at some point in your life because it is truly amazing!

Our time in Italy was part of a 2.5 month trip across Western Europe.  Click here to check out all of my posts from this adventure!
Other Italy posts:
Like it? Pin it!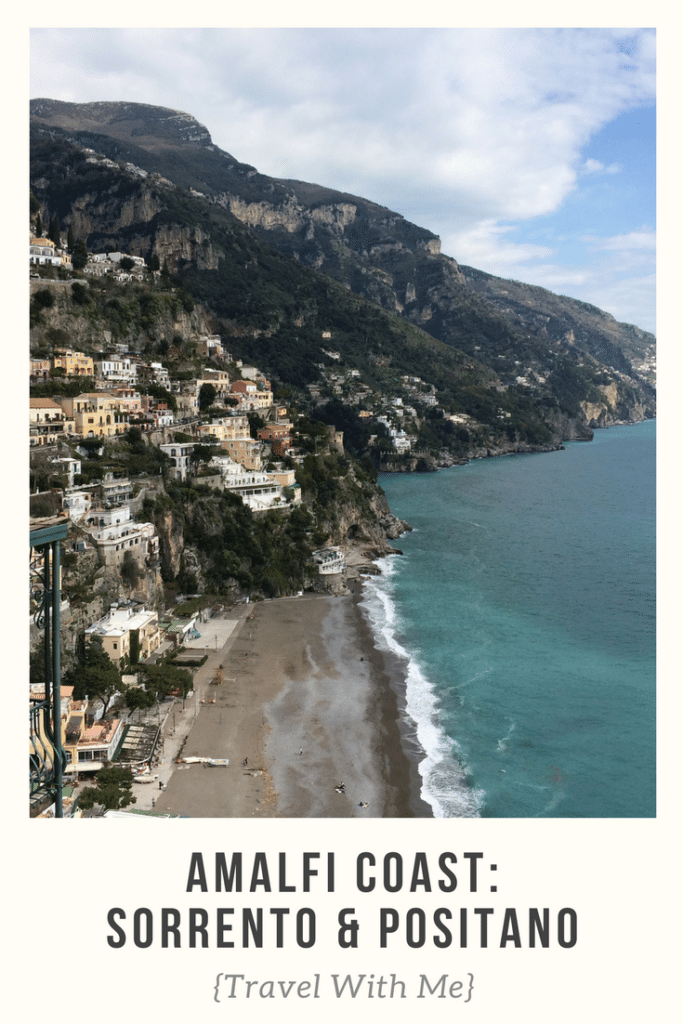 {Thanks for reading! Want to know a little more about me? I'm a CPA learning how to balance a career with frequent travel while planting roots at home in Austin, TX. When I'm not exploring my home city with my husband Daniel or cuddling with our chubby orange cat Banana, I'm probably planning, packing, traveling to, or daydreaming about our next adventure. After all, my travel mug collection is never complete. If you have wanderlust too, be sure to follow me on Instagram (and InstaStories!), Pinterest, and Facebook, or subscribe to my blog!}