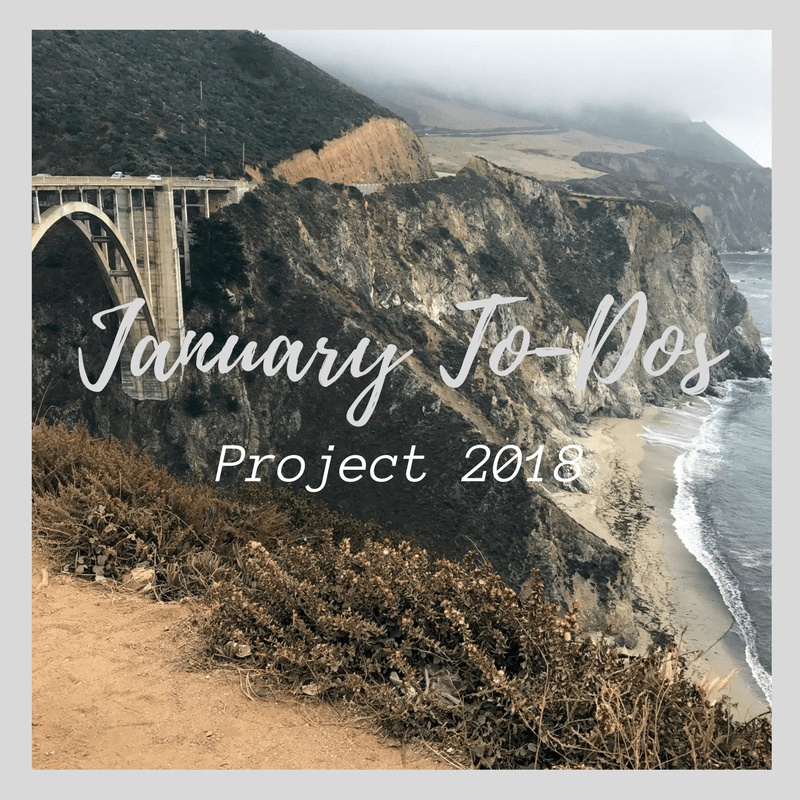 I love sitting down at the start of a fresh new year and planning out the projects I want to work on and the things I want to accomplish during the year. There is so much inspirational content out there (blogs, articles, books, vlogs), and I've spent a lot of time seeking out these resources and reading them over the past week. I'm very excited to get moving on a new year and keep myself accountable by starting a new little monthly series on the blog. Instead of sharing my annual goals on the blog, I'm going to share the monthly to-dos I'm setting for myself. Most of these "to-dos" will be progress steps leading up to the annual goals I have written in my Lara Casey Powersheets.  Sharing these little monthly steps not only seems much less scary and much more achievable for me in 2018, but it also motivates me to take action sooner rather than push everything off to the next month. I know I will have action items that don't always get completed, but I'm going to give myself grace in those situations.
The Calendar
So, what do I have in store for January? Well, January is going to be VERY busy with work. It is the kick-off of busy season for me, and the start of my final quarter at work before I'm out on maternity leave in April. Next weekend, I'll be back in Waco with my mom and sisters for a girls' weekend (can't wait!), but after that, I will have two weekends at home to round out January. I've kept this schedule in mind as I've formed January's list.
January To-Dos
Write and post 7-8 blog posts.
For the first time… ever…. I've planned out post ideas over a month in advance in somewhat of an editorial calendar, and I really want to stick with the plan. In the past, when I've been busy at work, I've defaulted to only posting my Scenes From the Week posts (which I love and are generally very easy to put together but do not add much value to the reader) or stopping posting altogether. I hope that this month, with the help of my editorial calendar, I can keep up with posting a variety of content.
Make it to spin class three times per week, and do a Yoga with Adriene video 3 times per week.
I've technically already failed at this one. I completed the goal last week, but I have not worked out at all this week because I've gotten sick again and have chosen more sleep over working out. I've decided that this is okay, and I can still consider this one a success if I manage it for the remaining weeks of January. While I had hoped to complete Yoga with Adriene's True Challenge (30 days straight of yoga), I'm going to instead work more slowly through the videos and try to complete the challenge over the span of a couple months.
Read several books (and share a summary of January books read on the blog).
I have a specific goal of books to read this month in mind, but I hesitate to share it here. It's very ambitious for a busy work month, but I think I can do it with the mix of personal development and fiction books I have planned, as well as a mix of audiobooks and Kindle books. I may become more transparent in these reading goals as I become more confident in my ability to keep up with them!
I worked on this December memory keeping project in early December (read more about it here), but I knew I'd be setting it aside for all of the travel and family time mid- to late December. My plan was to complete the album in January, so let's see if I can do it by utilizing my two weekends at home.
I've been loving it so far. I want to make sure I'm reading the Bible every day in 2018, and keeping up with wonderful studies and resources like this one will help me do it!
Clean out and organize my shoes and the baby items we have already received.
As I mentioned in my previous Scenes From the Week post, I went through all of my clothing and was able to come up with four large bags to donate and one large bag to throw away using the Marie Kondo method in this book. Using this same method, I want to go through my shoes in the closet as well as the baby items we have received from people so far. The baby items are all new, so I don't plan to get rid of any of those, but they do need to be organized and put away.
Complete two hours total of Spanish Duolingo.
I've always loved learning Spanish, and I used to be pretty conversational. That ability has faded away over the years. I want to slowly get back into regular Spanish learning, and I'm going to start this January by completing at least two hours of the Spanish Duolingo course by the end of the month. If I succeed, I will increase my goal for February. The app is free, if you'd like to join!
Do you have any goals you are excited about for January 2018? I'd love to hear about them in the comments below!
{Thanks for reading! Want to know a little more about me? I'm a CPA learning how to balance a career with frequent travel while planting roots at home in Austin, TX. When I'm not exploring my home city with my husband Daniel or cuddling with our chubby orange cat Banana, I'm probably planning, packing, traveling to, or daydreaming about our next adventure. After all, my travel mug collection is never complete. If you have wanderlust too, be sure to follow me on Instagram (and InstaStories!), Pinterest, and Facebook, or subscribe to my blog!}