Welcome to my Scenes From the Week series! In these posts, I share the highlights from my previous week ranging from the simple, everyday things to the more memorable events. One of the primary reasons that I blog is to keep a scrapbook that I can look back on in the future, and these posts  help serve that purpose.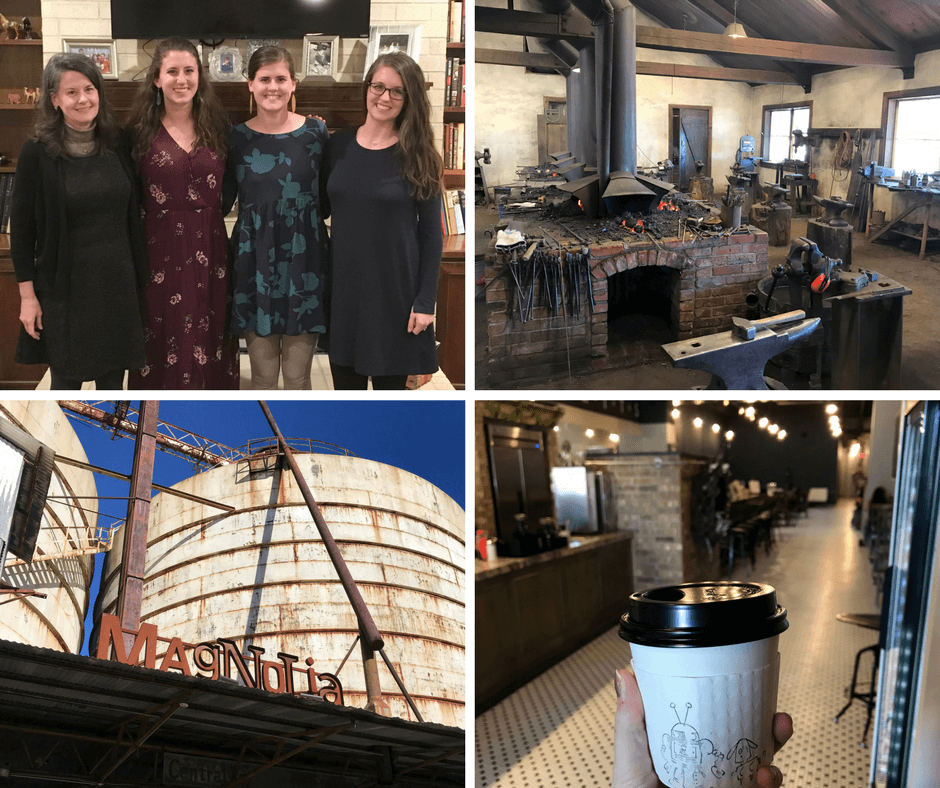 This afternoon I got home from a wonderful 28 hour trip to Waco. My mom texted me and my sisters several weeks ago to see if we could get together for a girls' weekend in Waco (where my parents live), and we made it happen! We had a wonderful time eating out, shopping, and watching a movie together. That time was definitely the highlight of the week, so that's what all of my photos this week are from.
Photos from the week, top left to bottom right:
(1) I spent all day Saturday and the morning of Sunday with my mom and sisters in Waco. I'm glad my dad had us take this photo all together, or we wouldn't have had one that included all four of us.
(2) Our first stop after getting together in Waco on Saturday morning was Homestead Heritage for brunch and  a walk around the grounds. Homestead Heritage is an agrarian Christian community in Waco, and they welcome the general public to their restaurant and grounds on certain days of the week. You can tour their Craft Village, where they sell baskets, soaps, and other crafts that they make, and their blacksmith (pictured here) and woodworking workshops, where they also offer classes to the public. It's a neat place to visit! I think that the highlight is the cafe where they serve locally-sourced food – many of the seasonal ingredients are sourced from their own farms. Our brunch was wonderful!
(3) One of our stops this weekend was at the famous Magnolia Market. I've been a couple times before, but it had been awhile. I was surprised to see that there is no longer a line to get into the main store, but there is a MASSIVE line at the bakery (which wasn't open when I last went). We weren't up for waiting over an hour for a cupcake, so after my mom kindly bought each of us a Magnolia candle, we scoped out another dessert place. We ended up at Collin Street Bakery where I got a very yummy apple cinnamon muffin.
(4) On my way out of Waco back home on Sunday afternoon, I found myself to be really sleepy, so I stopped at my favorite Waco coffee shop, Dichotomy, for a pour over. I loved the cute stamp on the coffee sleeve today!
Not Pictured:
Shopping at another cute craft shop in Waco
Starting the book Seven Days of Us. I love it so far! It's kind of a Christmas book, but it took so long for my turn on the holds list at the library, that I just now got it.
Starting the John Adams HBO series. It stars Paul Giamatti and Laura Linney, and it's very well-done. I don't think it's something we will speed through, but we'll enjoy watching an episode here and there.
Having dinner with Mom and the sisters at the Baylor Club Saturday night. It's always cool to eat a meal in our football stadium!
Arriving home to a very clean apartment. My sweet husband spent most of his free time on Sunday cleaning and organizing some of the clutter around the apartment. It was such a wonderful surprise to come home to!
Trying out Postmates for the first time. The service was great, and I had my pho at my door in under 45 minutes. However, even though I had free delivery on my first order, it was so expensive after the service fee and tip. I feel like everyone is loving it. What am I doing wrong?
On the blog:
I started a new series for 2018 this week: my monthly to-dos! The idea is that these monthly to-dos will ultimately add up to my personal goals for 2018 by the end of the year. I'm excited to share them in this way and to keep myself accountable!
I hope that everyone has a great week!
Click here to see all of my Scenes From the Week posts. I'm linking up with Biana at B Loved Boston for the Weekending link-up!
{Thanks for reading! Want to know a little more about me? I'm a CPA learning how to balance a career with frequent travel while planting roots at home in Austin, TX. When I'm not exploring my home city with my husband Daniel or cuddling with our chubby orange cat Banana, I'm probably planning, packing, traveling to, or daydreaming about our next adventure. After all, my travel mug collection is never complete. If you have wanderlust too, be sure to follow me on Instagram (and InstaStories!), Pinterest, and Facebook, or subscribe to my blog!}