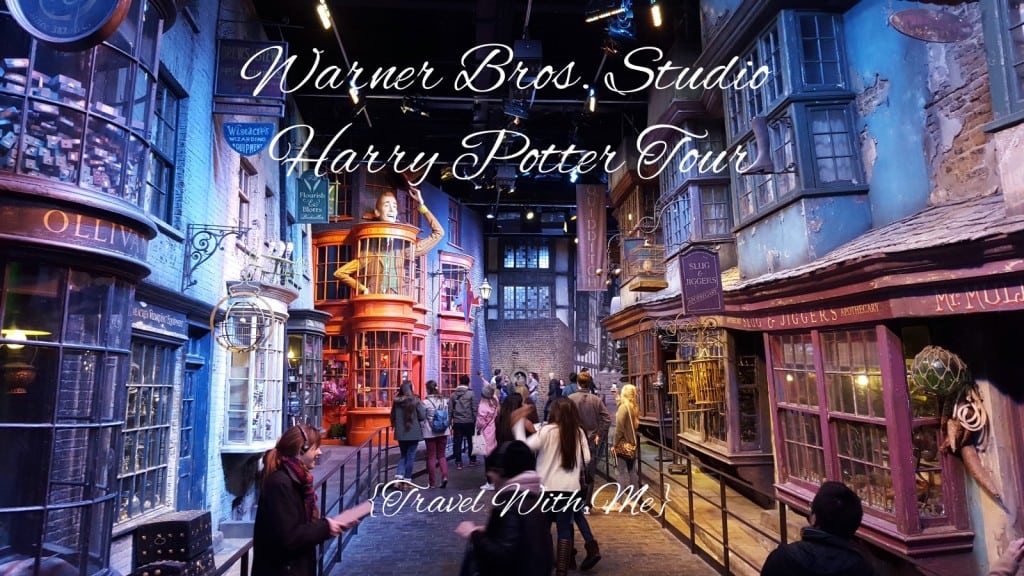 After staying in Bristol and taking day trips to Bath and Oxford, we headed back to London to catch a train to Watford, a small town that many probably haven't heard of before. Why did we book a night in an unknown town? Because it is next to Leavesden, the town famous for being home to the The Warner Bros. Studio Tour London featuring the Making of Harry Potter exhibits! Now, I like Harry Potter, but I'm not a super fan. I've read the books once. I've watched the movies once (give or take a couple I've seen twice). I've been to Harry Potter World at Universal Studios twice. So, we didn't know for sure that we wanted to use a day of our big trip around Europe to come so far out for this tour. But when we arrived and realized that we'd be walking through many of the sets, looking at virtually every single important prop used and costume worn by the actors, and learning so much about the making of the HP movies and filmmaking in general, we knew we had made the right decision!
We were lucky enough to make it for one of the last dates of the Hogwarts in the Snow exhibit. It was basically the same as the normal tour, but many things were festively decorated for Christmas and glistening with snow.
When you first walk in, you see pictures of the actors on the walls and a few props from the movies along with a cafe and a desk where you can pick up an audio tour for an additional fee. We chose not to do the audio tour to save money, and I don't think we were at a disadvantage because everything throughout the tour had signs with detailed descriptions.
While waiting for your turn to enter the tour, you get to peek into Harry's little room under the stairs at 4 Privet Drive. Remember, this is the actual set used in the movies as is everything else you will see here!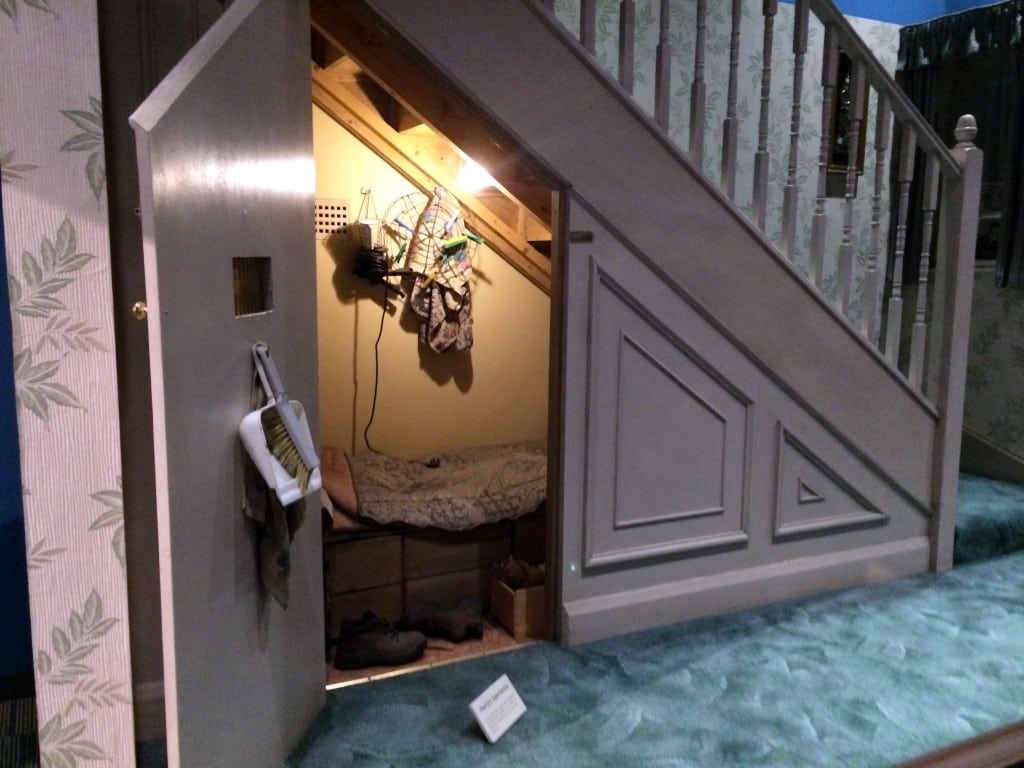 Once your group is let in to start the tour, you are seated for a short video clip describing the making of the films. Once that's over, the screen lifts up to reveal the grand doors of Hogwarts! A tour guide gives a quick little introduction by those doors.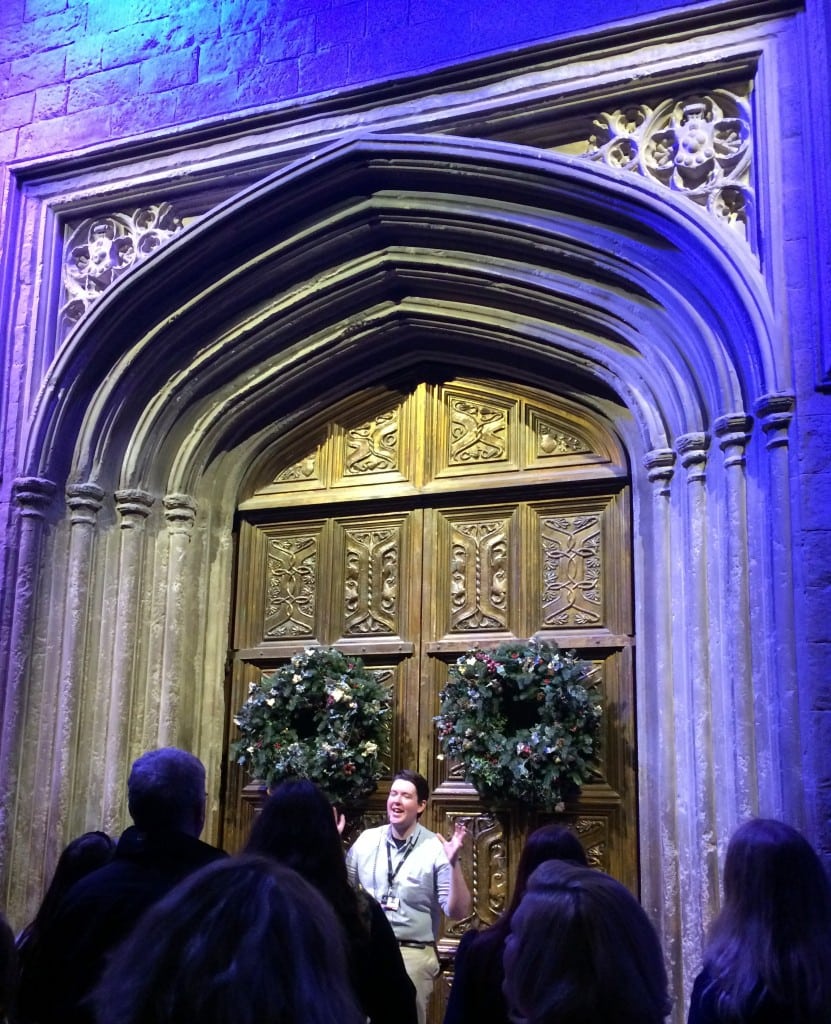 Once the doors open, you walk straight into the Great Hall! It was neat to see this set the day after going to the Great Hall of Oxford's Christ Church (which you can read about here). The tables are set for a festive Hogwarts Christmas feast! In this room, your guide will give you more information on the sets, show off some of the features in the room, and introduce you to the costume displays for each of the main actors from each House (Gryffindor, Ravenclaw, Hufflepuff, and Slytherin, if you aren't familiar).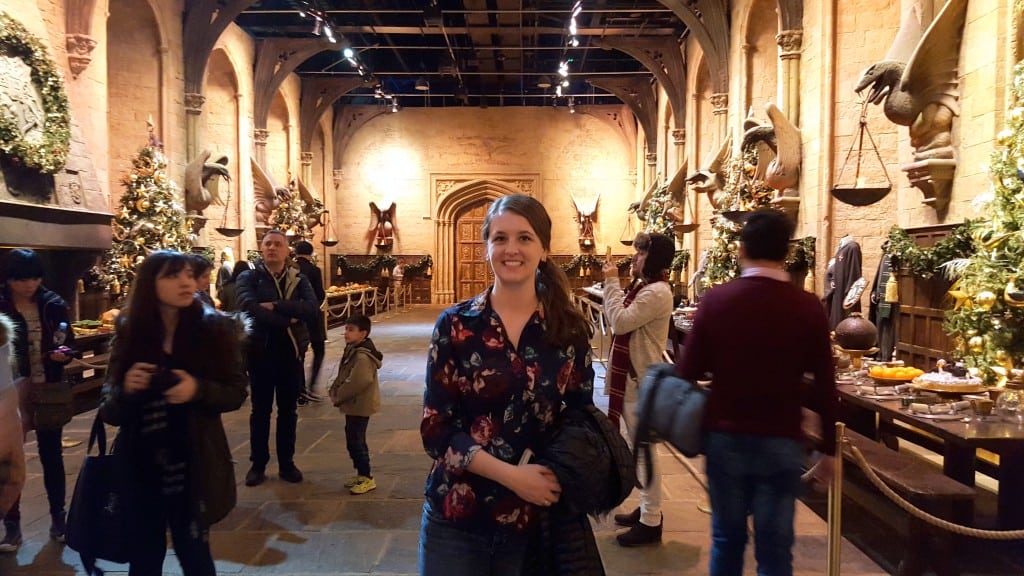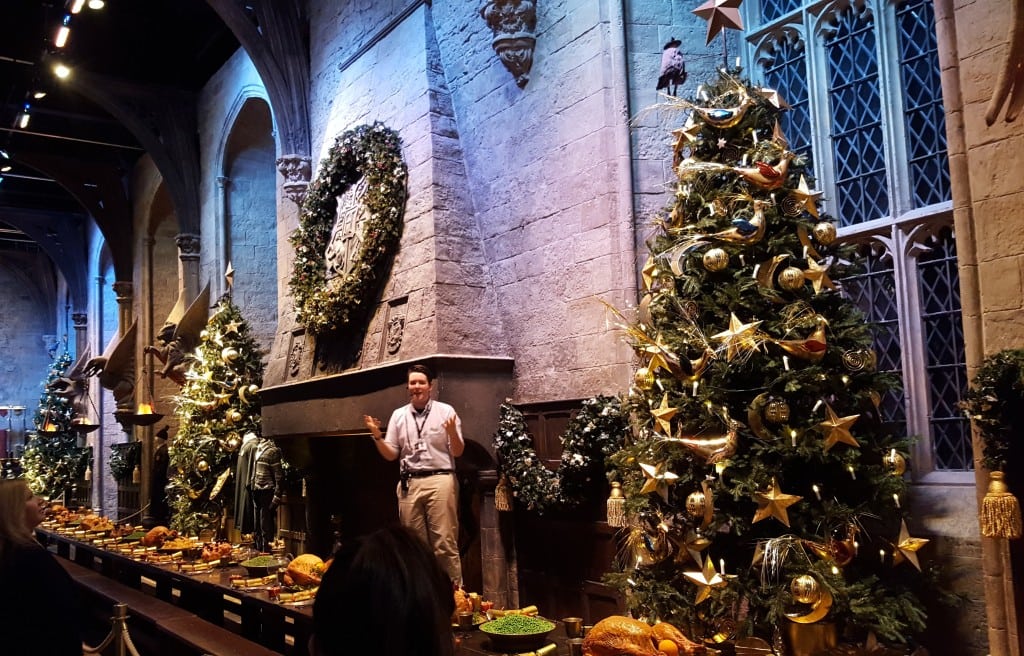 Once you exit the Great Hall set, you enter the rest of the exhibit where you can walk around looking and reading everything at your own pace. I won't go into detail about everything in the tour, but I'm pretty sure you can find almost anything you'd want to see from the making of the movies. I'll just walk you through a few parts of the exhibits.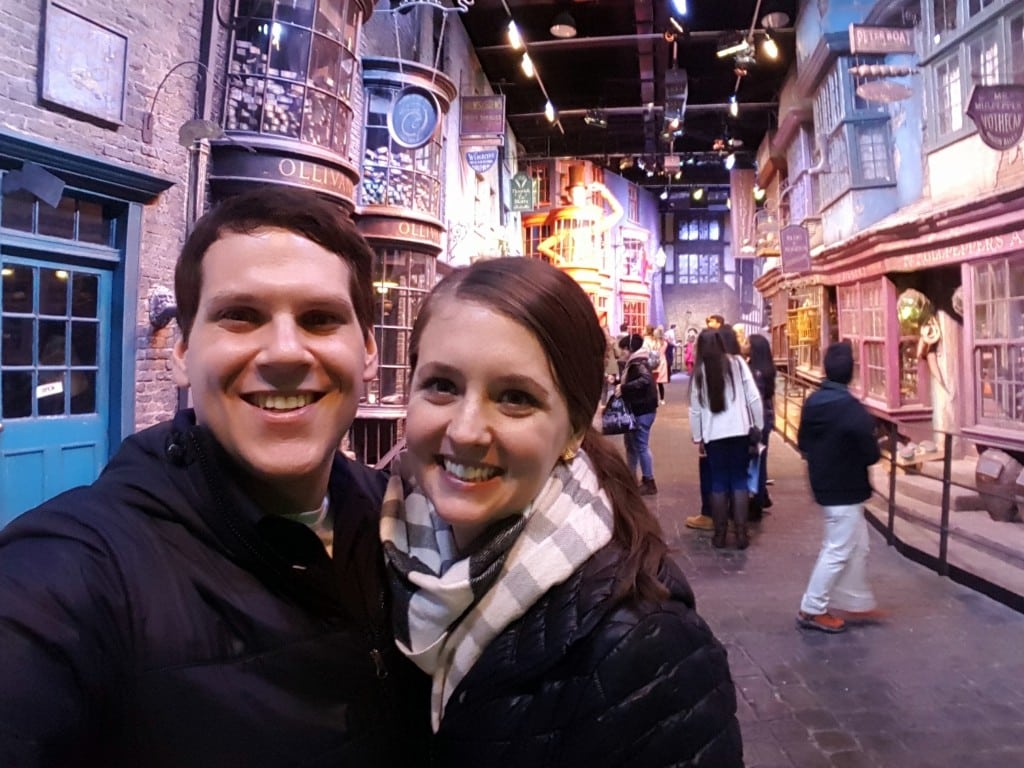 Right after stopping in the cafe to have a snack and some delicious butterbeer, you step outside to explore some more sets including 7 Privet Drive, the Knight Bus, and the beautiful Hogwarts wooden bridge.
My favorite part of the whole tour was walking into the room with the giant Hogwarts Castle model. These pictures don't do it justice at all, but I'll share anyway. This model was used to film the scenes where the camera flies through and around Hogwarts. I had no idea they used an actual physical model rather than just one built on a computer!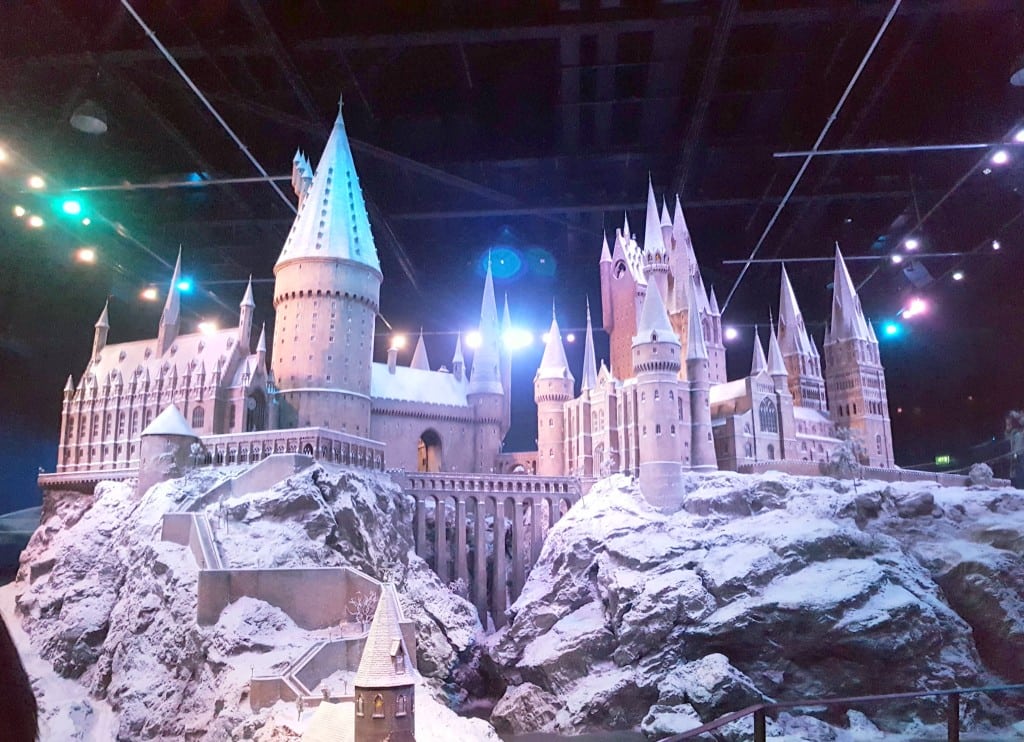 There is so much more to the tour. You will learn about the character development, the actor selection, the set building, the creature creation, and the details of costume design and hair and makeup. You will see many (if not all) costumes worn by the leading characters, original drawings of the sets, and behind-the-scenes film footage.
This is a great experience. I would even go so far as to say even people who don't like Harry Potter but have an interest in learning about filmmaking would enjoy this exhibit. I'm not sure there is another tour or exhibit out there that will teach you how a film was created from start to finish in such detail.

Logistics
Booking and Prices
Booking is easy! We booked far in advance because we read it was recommended, but I can't really comment on how quickly tour dates and times sell out. You can book your tickets here. Tickets cost about $50 for adults and  about $38 for children (although children 4 and under enter free). When I first booked our tickets, this seemed too expensive to me, but that was before I realized how much I'd learn and get to see during the tour.  I'm glad I decided to book them anyway!
Time
Daniel and I spent three hours going through the tour. On my own, I probably would have spent a little over two hours, but Daniel was really into reading everything. So, if you are like Daniel and like to read everything, plan on three hours. If you just like to go quickly through an exhibit and not read much, you could probably complete the tour in an hour and a half. I'm somewhere in the middle.
Where We Stayed
We found the closest Airbnb that we could to the WB Studios since we could not find any affordable hotels in the area. We found this Airbnb listing for a private room, and we were very pleased with the set up. While we normally prefer to book entire homes through Airbnb, this was perfect for one quick night at a very good price (about $35 for one night). It was only about a twenty minute walk to Warner Brothers from the house. The bed was very comfortable, the internet was good, and, although we didn't have time to use it, the host gave us permission for full use of the kitchen for breakfast. From London, it takes about a twenty minute train ride to get to Watford's main station, and then another fifteen minute bus ride to get to either the Airbnb or to the Warner Bros. Studio.
From what I've seen online and from talking to others, it seems that most people commute to Leavesdon from London and back in the same day. This is definitely doable, but we were happy to stay in Watford since we had late evening tour tickets and wouldn't have wanted to travel back to London after 10pm.
As you can see, we loved our time on the Harry Potter tour at the Warner Bros. Studio in London! I hope that I've convinced you to visit. 🙂
{My husband and I are currently on a 2.5 month trip across Western Europe.  Click here to check out all of my posts from this adventure!}