Welcome to my Scenes From the Week series! In these posts, I share the highlights from my previous week ranging from the simple, everyday things to the more memorable events. One of the primary reasons that I blog is to keep a scrapbook that I can look back on in the future, and these posts help serve that purpose.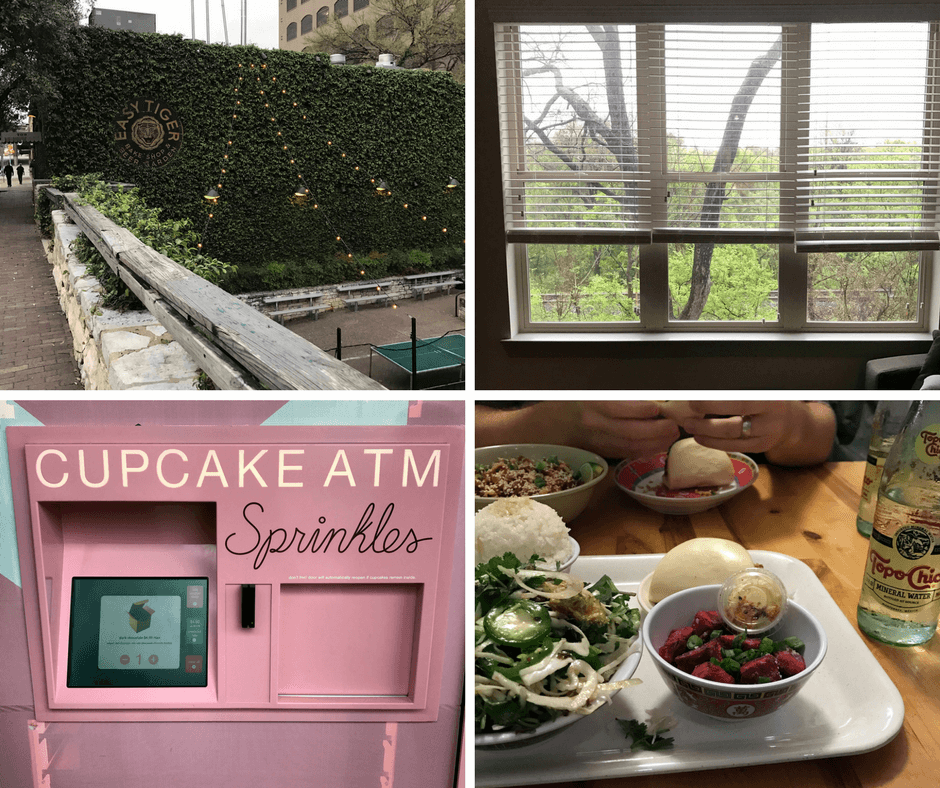 After three busy weekends in a row (see here, here, and here), it was nice to have a slow weekend at home. We can't seem to have a weekend without eating way too much good food, but we try and remedy that by working out and eating relatively healthy on weekdays. I can't say I've been doing a great job of that either, but I'm definitely planning on being good this week. That means I better get to that 6am spin class in the morning!
Photos from the week, top left to bottom right:
(1) Since Daniel now works downtown near me, we are starting to try out the occasional downtown happy hour together. This week we went to Easy Tiger, a German bakery and beer garden with some delicious food options. Apparently they have the best king cake in town during Mardi Gras, so I'll have to remember that for next year!
(2) I'm sure I've shared this view on the blog before, but I just love the view out our window. Even though we are right in one of busiest parts of Austin, we have a view that makes it looks like we are right in the middle of a woodland oasis! There are train tracks right out there with trains constantly passing by, and if you peek around to the left, you can see downtown, but from this angle, at this moment, it was very peaceful, especially on this gloomy day.
(3) Saturday we found ourselves meeting friends up at the Domain for lunch at Culinary Dropout. The restaurant was excellent, but the highlight of the afternoon was our stop at Sprinkles! The Austin location recently just opened, and they have this amazing cupcake ATM. They charge a little more for a cupcake out of the ATM, but you get to skip the line, and it's a very satisfying experience!
(4) One of the essential Austin restaurants is Eastside King. This Asian fusion restaurant offers a relatively healthy meal compared to our usual weekend spots, and it is delicious! If you go, definitely try the steamed pork buns, the brussel sprout salad, and the beet fries!
Not Pictured:
Going to two happy hours with co-workers – we were all feeling very social at work this week!
Watching the craziness of SXSW kicking off in the city – there is a temporary surfing pool in the parking lot across from my office right now! Downtown is completely transformed during SXSW, and it's fun to witness (even if the daily commute becomes much more of a pain during this time).
Reading and finishing another excellent Beatriz Williams book – A Hundred Summers. It was slow at first, but it really picked up in the middle, and then I couldn't put it down!
Hunkering down on Sunday afternoon at our favorite local coffee shop and finally getting back into writing travel blog posts. A travel guide on Lucerne, Switzerland is coming this week!
Getting through what I consider the worst day of the year – the start of Daylight Savings! I love having the longer days as a result of the time change, but losing an hour in the weekend is the worst!
Ending the weekend with Indian takeout while catching up on This is Us (what an amazing show!)
On the Blog:
Nada, but I've already written a post going up this week! Hopefully I can keep up the blogging momentum into this week and next.
Have a great week!
Click here to see all of my Scenes From the Week posts. I'm linking up with Biana at B Loved Boston for the Weekending link-up!
{Thanks for reading! Want to know a little more about me? I'm a CPA learning how to balance a career with frequent travel while planting roots at home in Austin, TX. When I'm not exploring my home city with my husband Daniel or cuddling with our chubby orange cat Banana, I'm probably planning, packing, traveling to, or daydreaming about our next adventure. After all, my travel mug collection is never complete. If you have wanderlust too, be sure to follow me on Instagram, Pinterest, Snapchat (emilya89), or subscribe to my blog!}