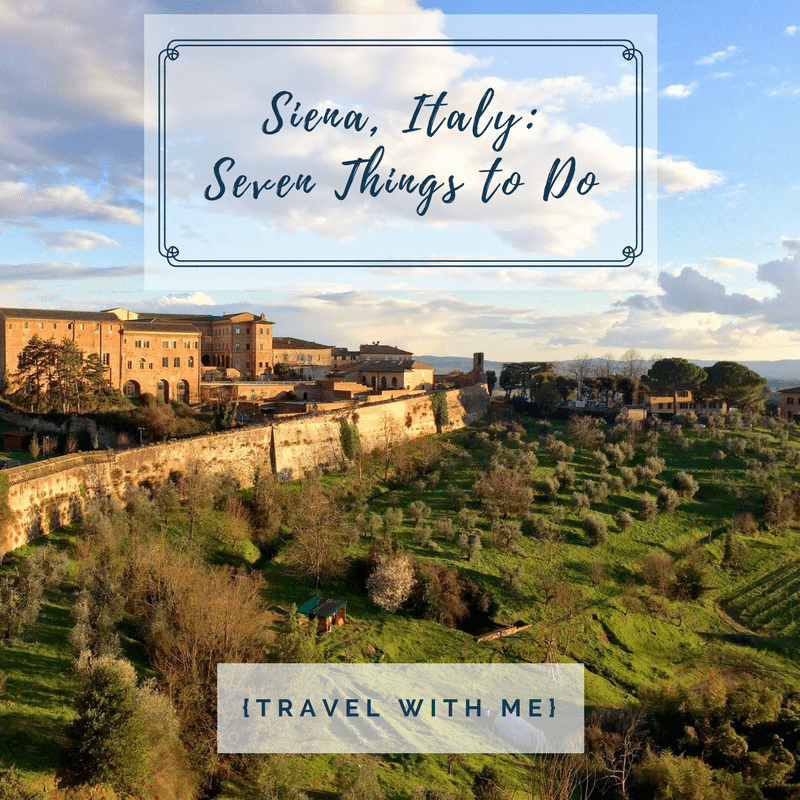 After exploring the culture and food amidst the hustle and bustle of Florence, we were ready to get a taste of more Tuscan countryside. We escaped to the slower-paced Italian town of Siena. While smaller and less frequented than Florence, Siena isn't lacking in things to do. In fact, the historic center of Siena is a UNESCO World Heritage Site and has many cultural spots worth visiting. At the same time, a natural calm fills the streets of this stunning Tuscan hill town that forces you to relax and enjoy.
Siena was one of those unexpected, amazing travel surprises. I don't even remember how I picked Siena as an addition to our travel itinerary on our European adventure, but we had never heard of it before planning our trip. All we knew is that it was a beautiful town in Tuscany with a rich history and an abundance of sights to see. I'm so glad that we visited. Based on that visit, here are seven things that I recommend you should do on your trip to Siena.
1. Stay at the Hotel Athena
Two words: rooftop views. I'm not sponsored in any way by this hotel – I just genuinely loved the view. The customer service and accommodations were pretty great too.
When we first arrived in Siena from Florence, we walked the hilly streets from the train station to this hotel in central Siena. If you are planning to do the same walk, keep in mind that it's a long one and may not be doable depending on the luggage you are carrying and your appetite for walking. Once settled into our room, we immediately went to check out the view from the rooftop. It was stunning!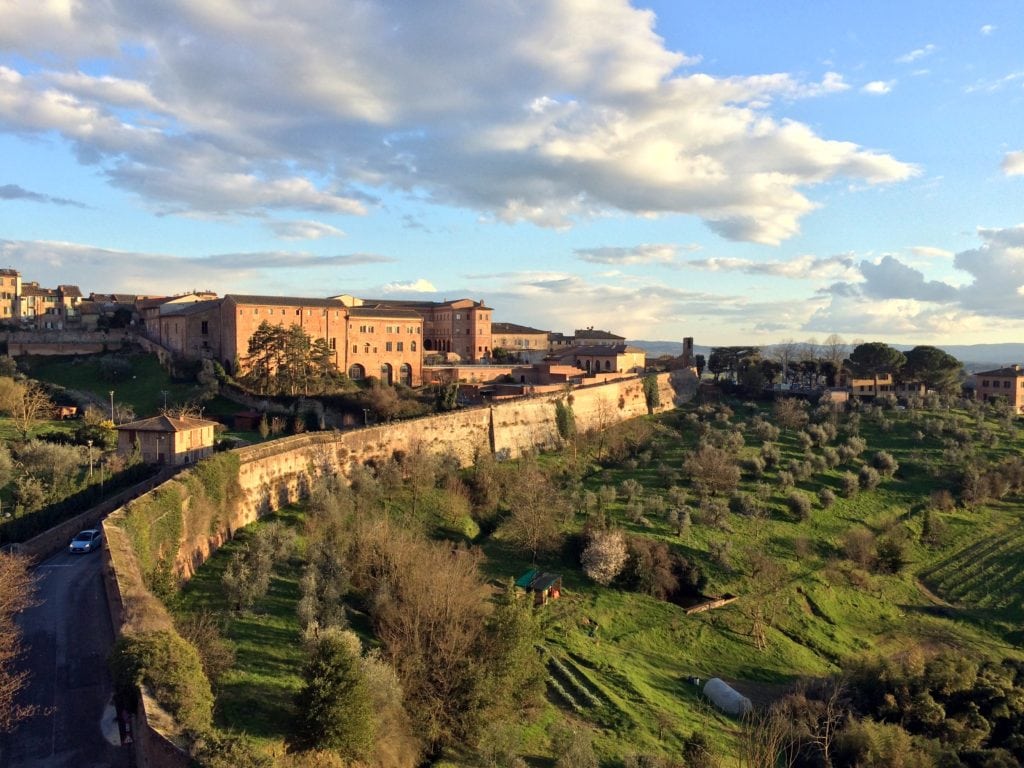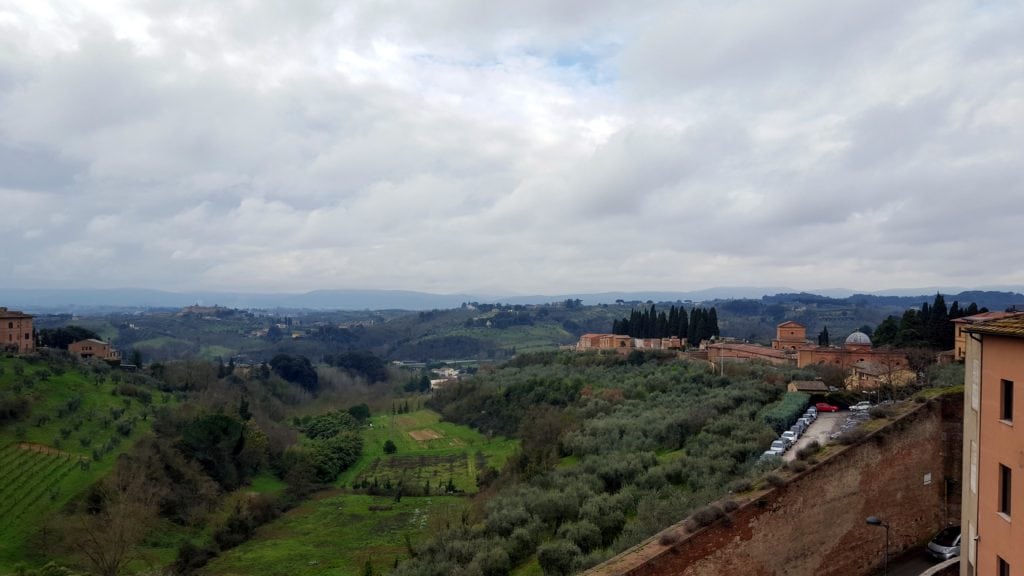 When in Italy, do as the Italians do! We grabbed a quick aperitivo (pre-dinner drink) at the hotel bar. I took this opportunity to try out an aperol spritz (see below).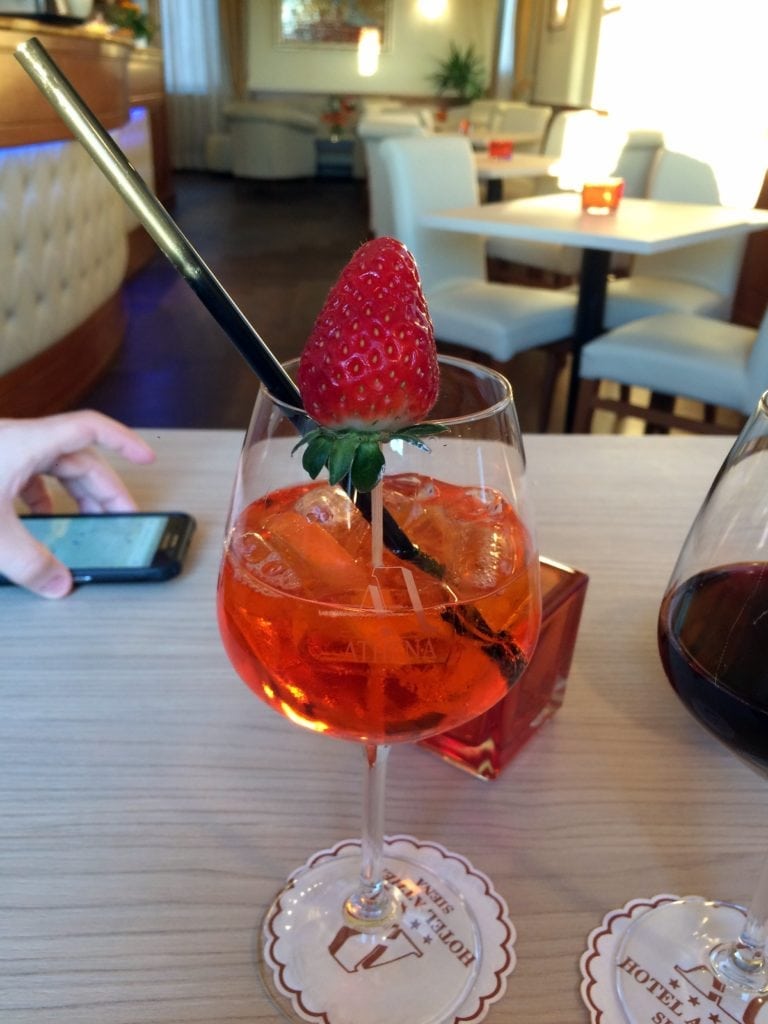 2. Eat Fresh Pici
That evening we decided to walk around and look for a place to have dinner.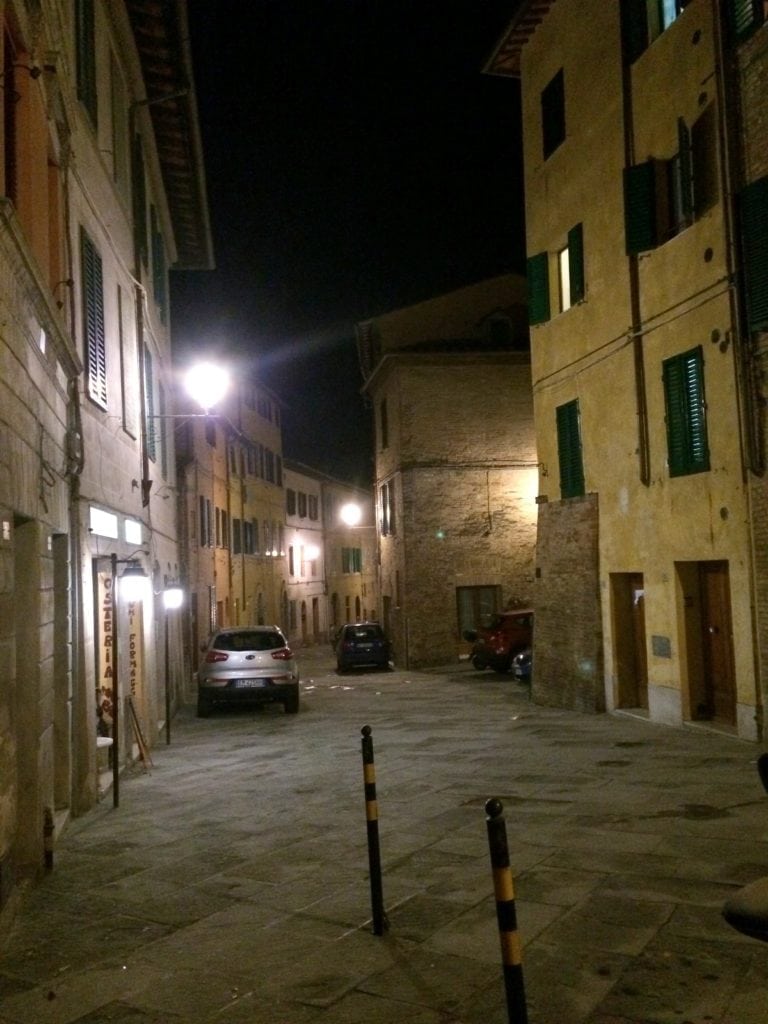 We arrived at Osteria del Gatto, a cozy, family-run establishment right at 7pm, and the restaurant wasn't open yet. When we returned a few minutes later, they were just opening up, and we were the first ones to arrive. In fact, by the time we left around 8, only a couple of other parties were there. It was obvious to the locals that we were Americans based on our dining hours. 🙂 We had already learned during the previous two months that it is very typical for Europeans to begin dinner at 9pm or later, even on weeknights, but it was especially apparent that night.
The food was fantastic, and we enjoyed visiting briefly with the owner about his restaurant and his life in Siena. We started with a plate of pecorino cheese drizzled with honey, and we each had pasta dishes for our entrees. It was here that I first tried pici, a thick, hand-rolled pasta that actually originated in Siena itself. It was my favorite pasta dish during all of our time in Italy! I continued to order it when I saw it on menus throughout the rest of our Italian adventure, but I felt this one was the best – perhaps because it was my first time trying it!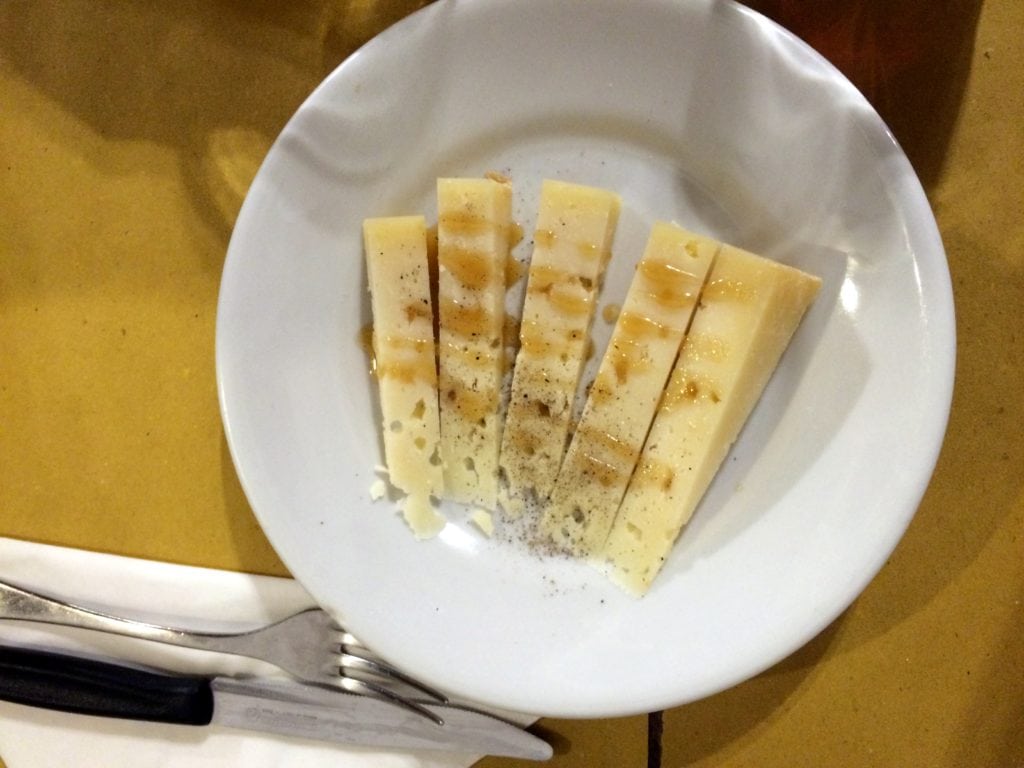 3. Pick up the Opa Si Pass
We had a packed schedule the next day. We purchased the Opa Si + Gate of Heaven Pass at the ticket office for the Siena Cathedral which gave us access to the many different parts of the Duomo di Siena complex, including a tour of the cathedral rooftop, and allowed us to skip the line at each one. The pass was less than $20 each, and it ended up saving us money because of how many places we visited in our one full day in Siena. It is actually a three-day pass, so it's definitely worth purchasing if you get the chance to stay even longer than one day.
4. Duomo di Siena & the Rooftop Tour
This drop-dead gorgeous Gothic cathedral was built in the mid-13th century. Its alternating black and white striped color scheme on both the exterior and interior make it unique among the other cathedrals we had seen in Europe. Black and white are the city's symbolic colors. The interior is full of fascinating art pieces – sculptures by Bernini and Michelangelo and many beautiful frescoes and stained glass windows. Floor to ceiling, this place has impressive detail that I could have explored for many more hours than we had time for.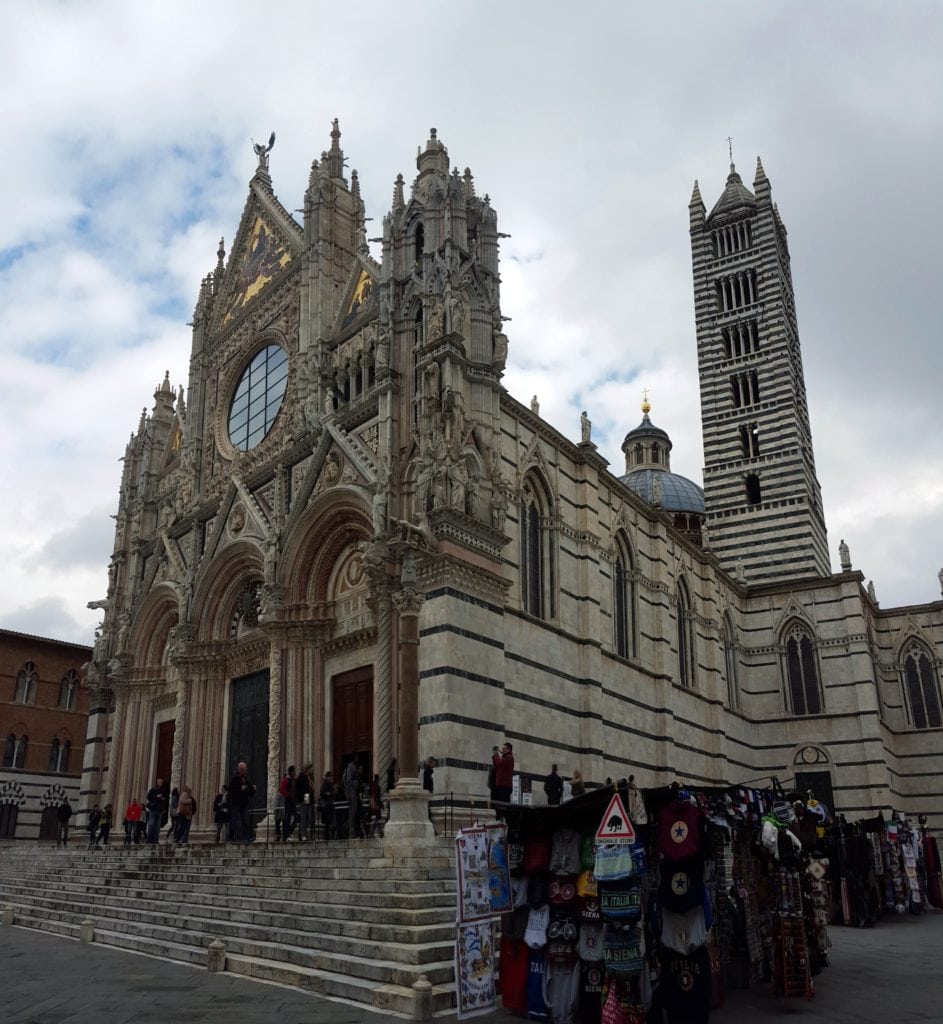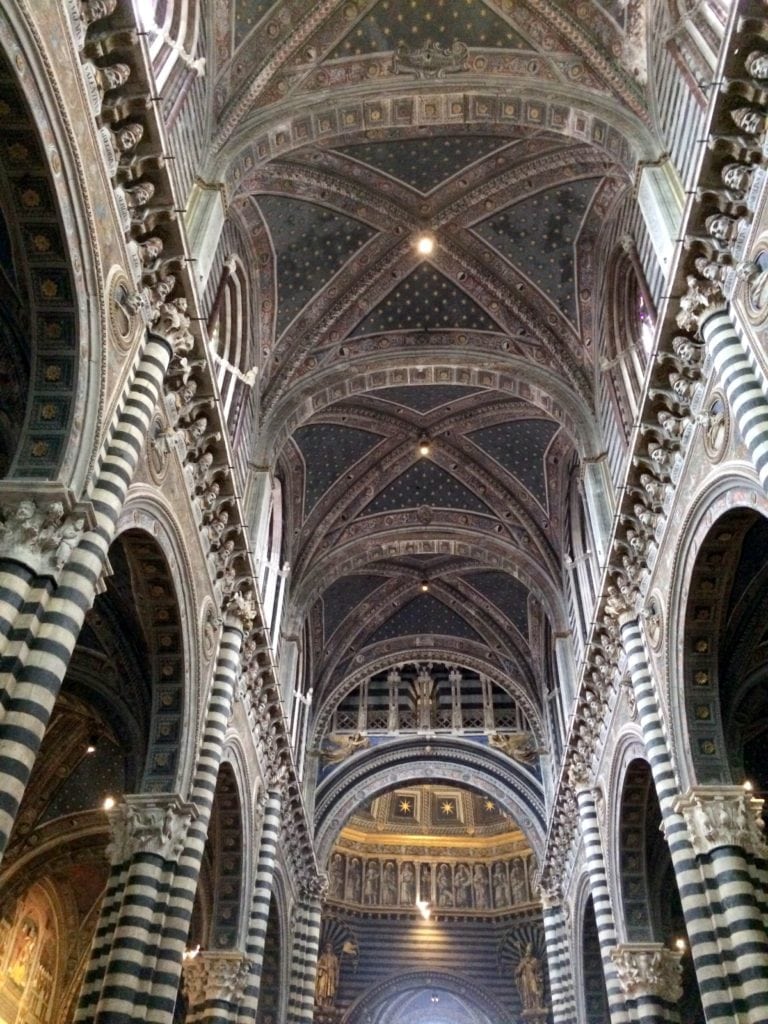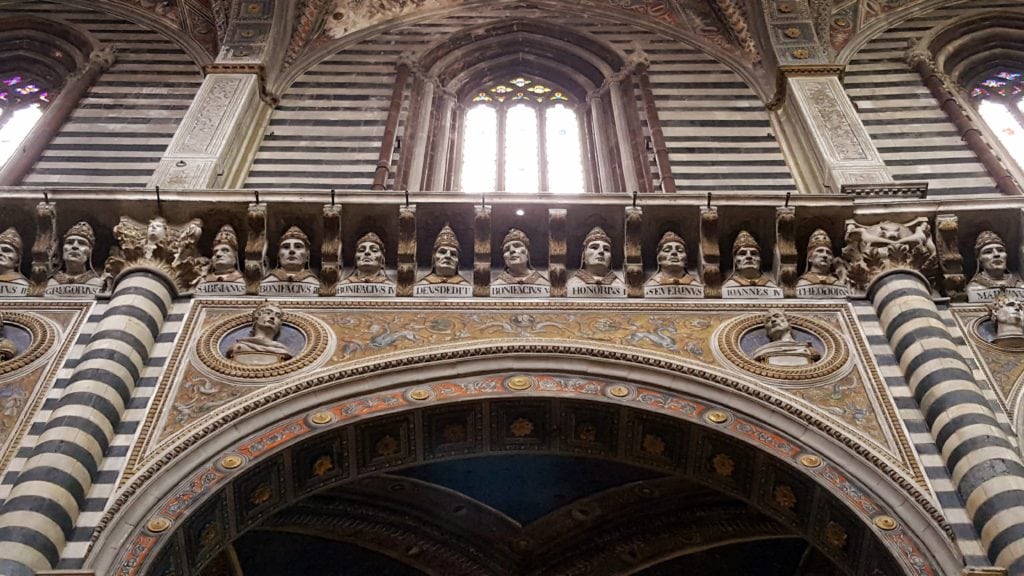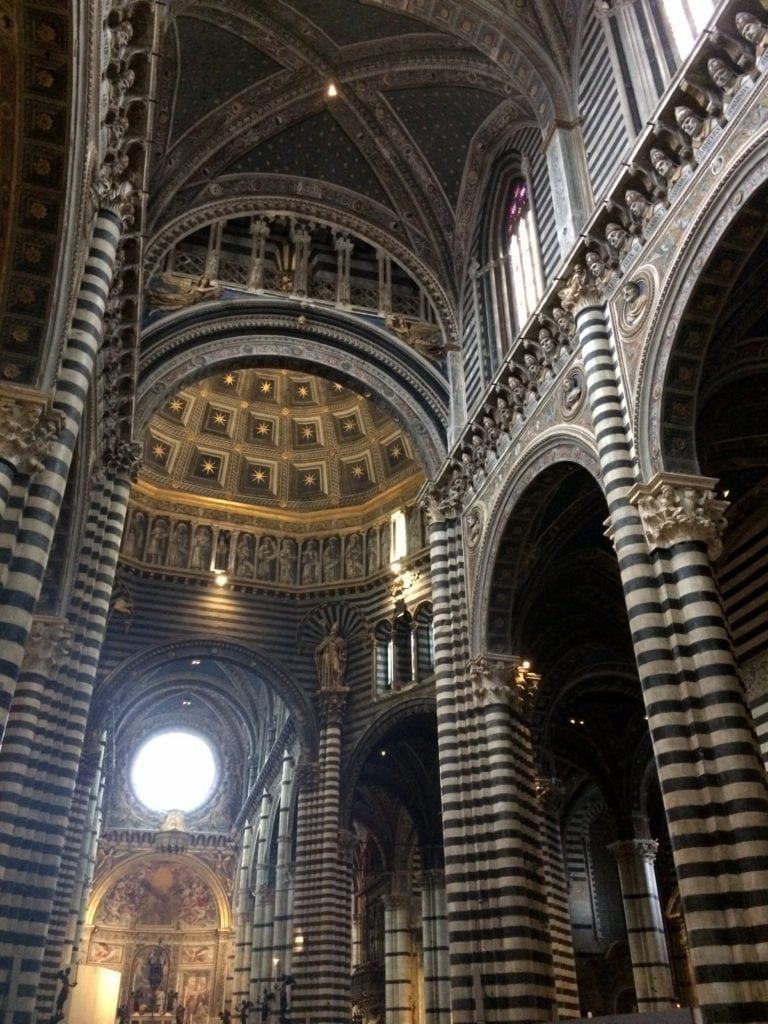 We were able to do the rooftop tour of the Cathedral as a part of our Opa Si Pass. This tour is completely worth upgrading your Opa Si Pass for. Our guide was very knowledgeable about the history and architecture of the Cathedral, and the views of the Cathedral and the city from above were the best part of the tour!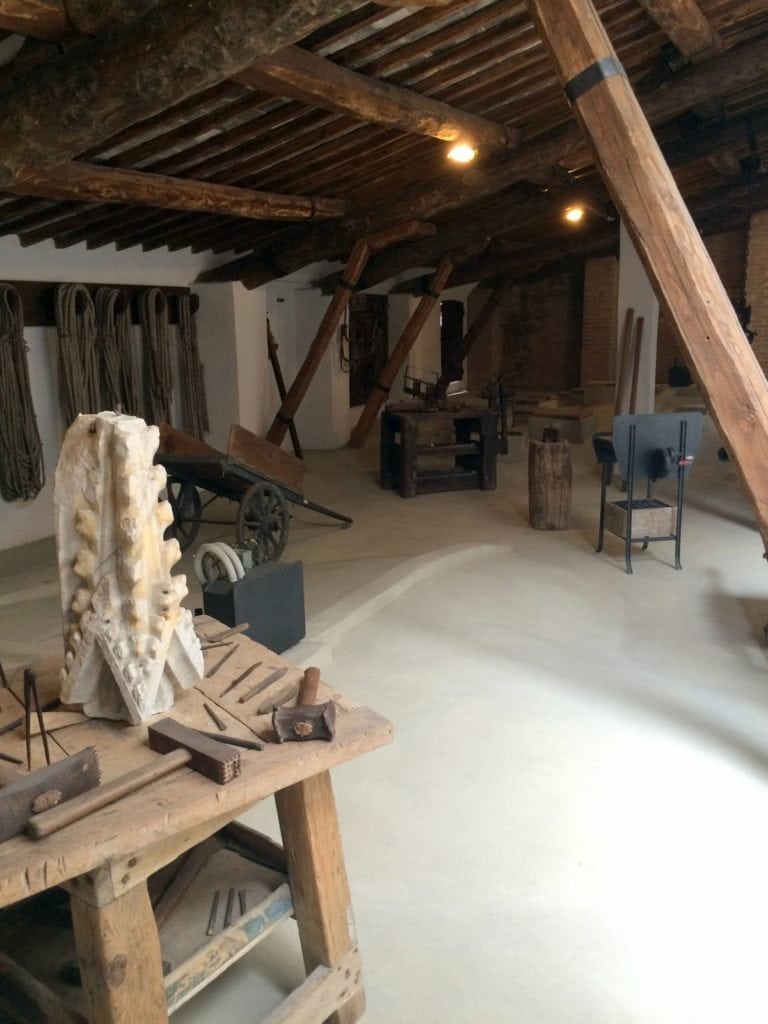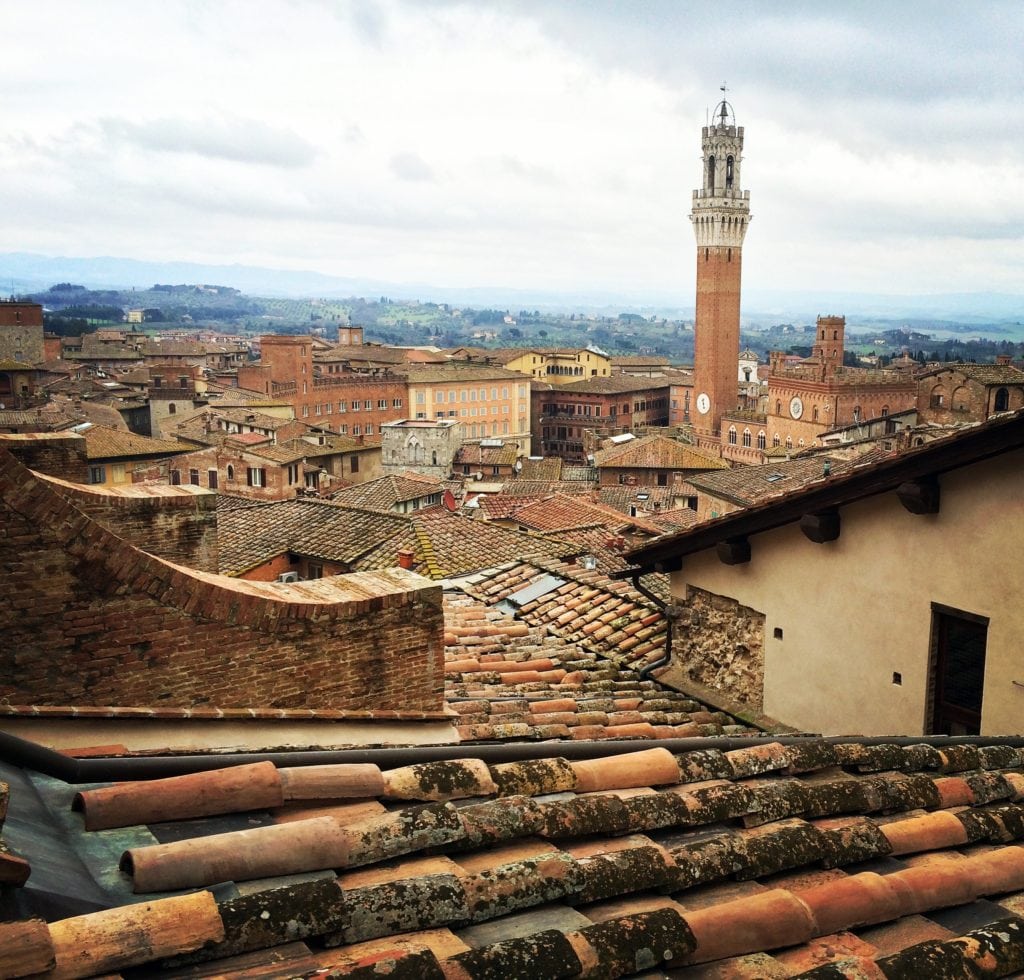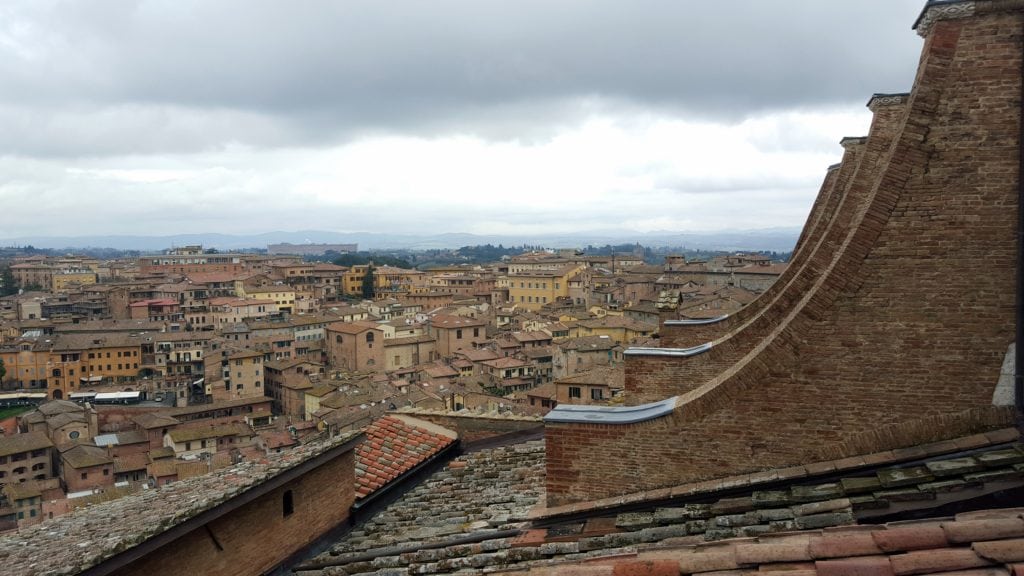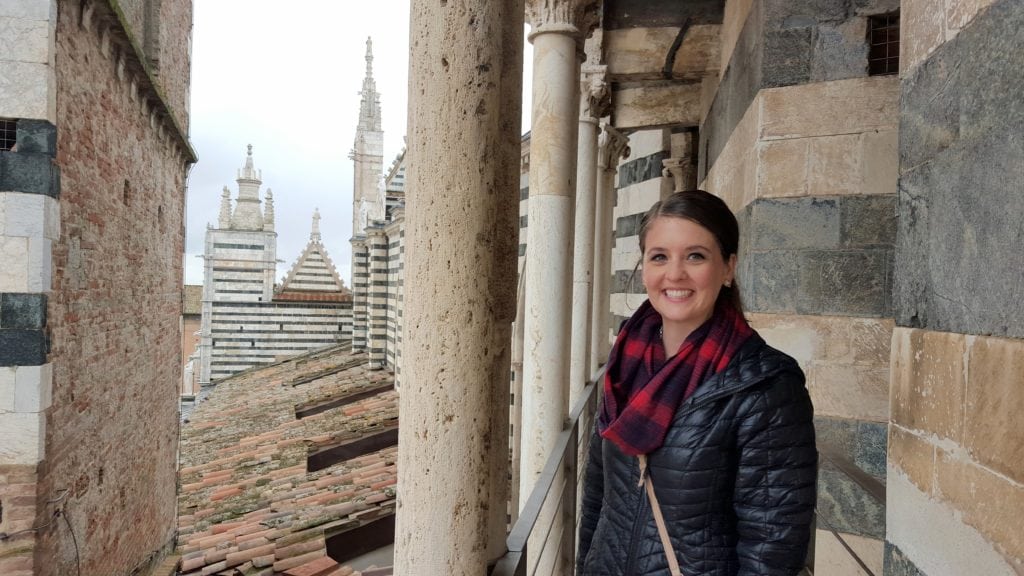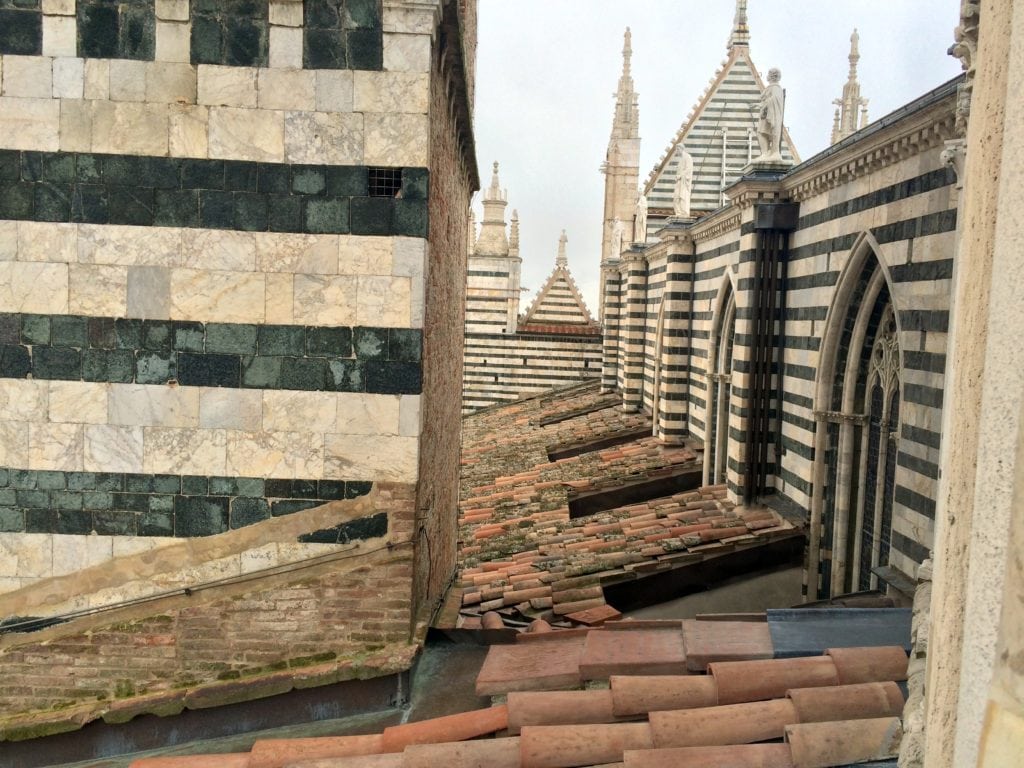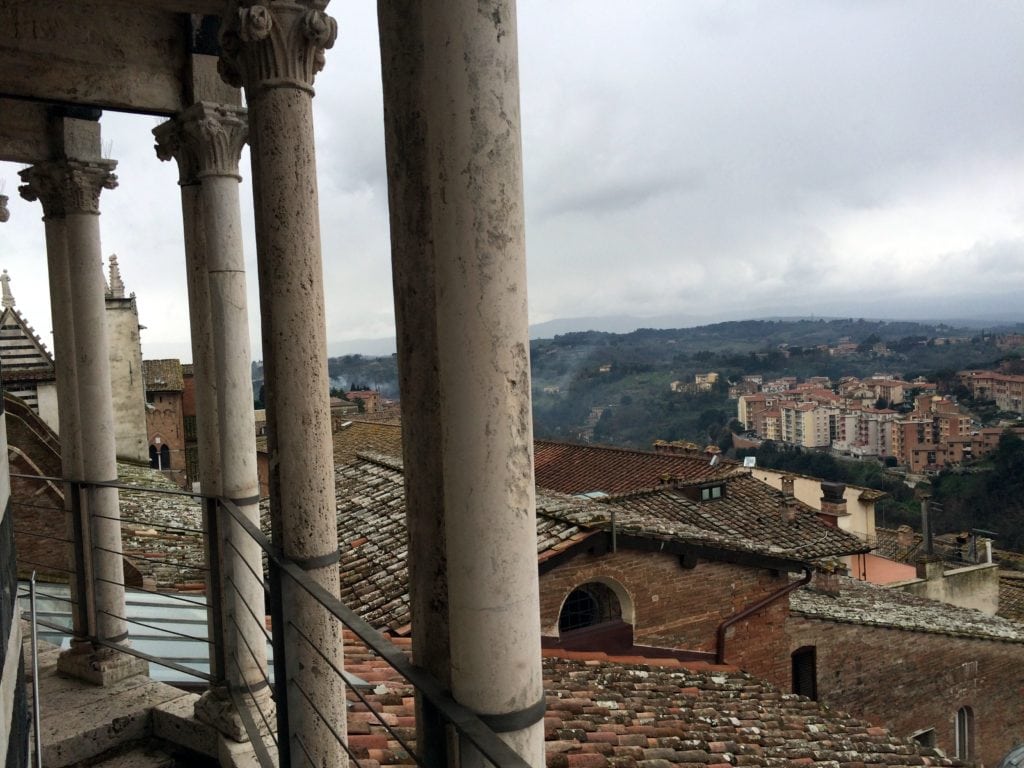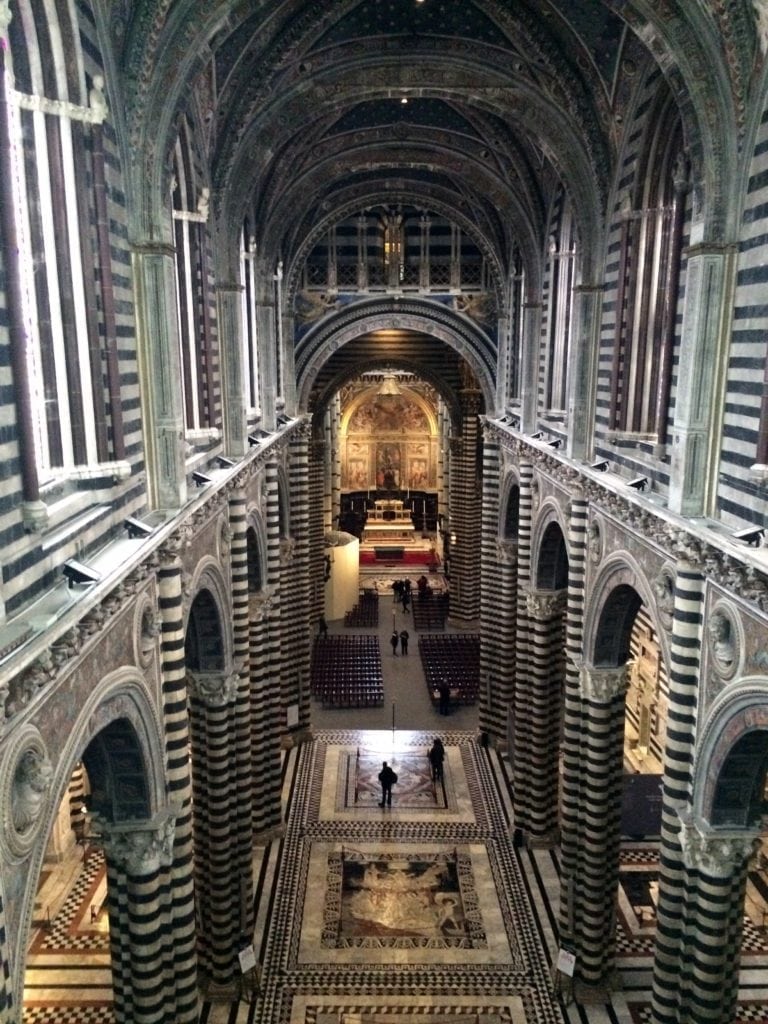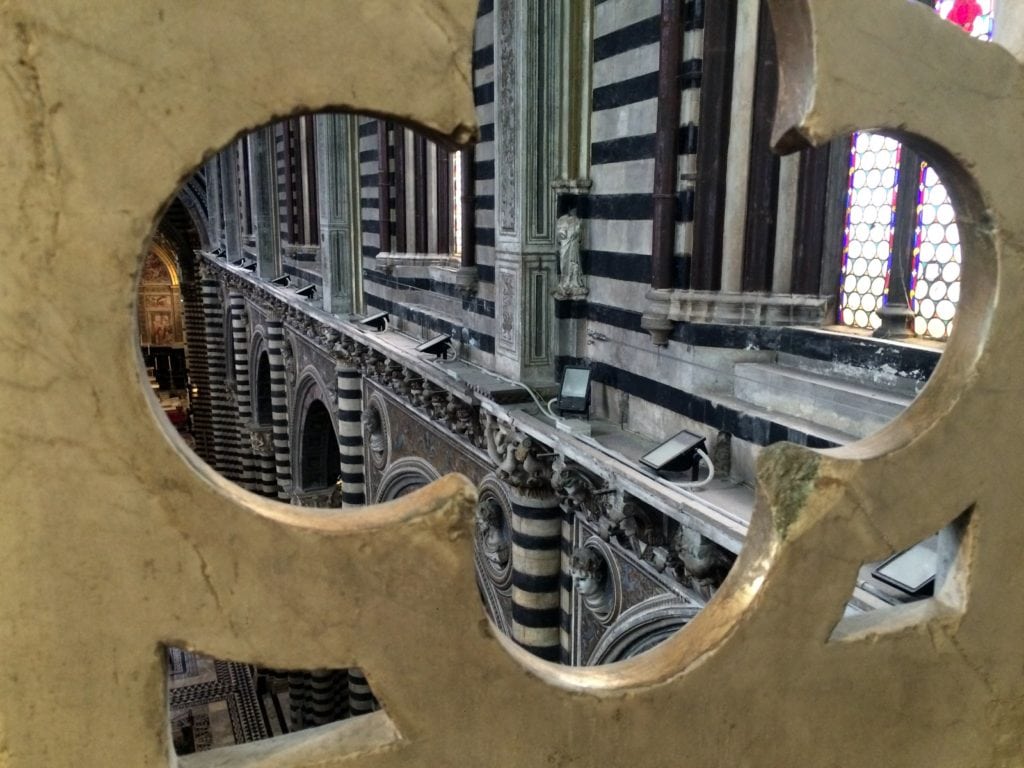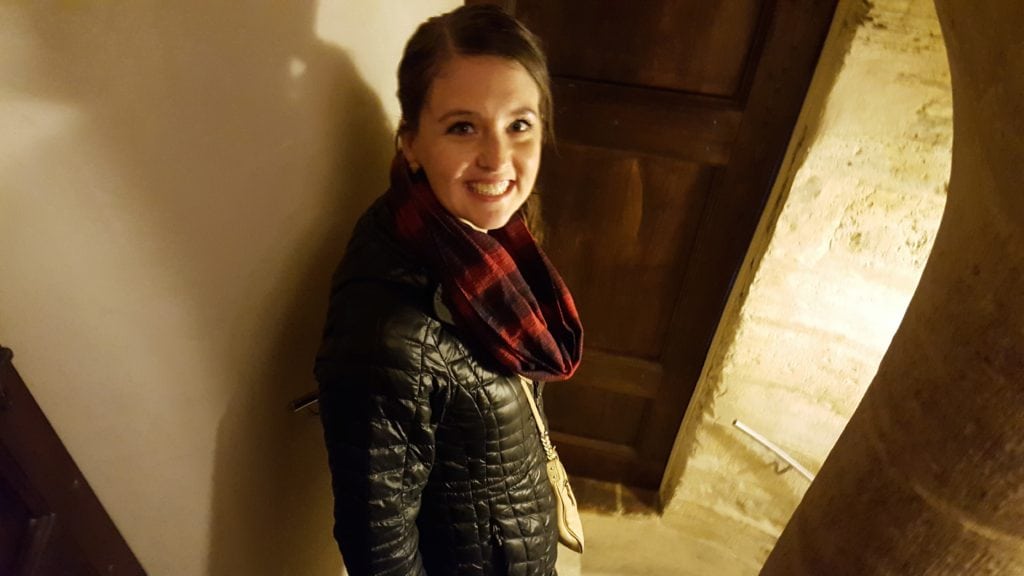 Before leaving the Cathedral interior to explore the other parts of the Cathedral complex, we stopped in the Piccolomini Library off the side of the main area. Following the frescoes from right to left, they tell the story of Pope Pius II, and his book collection is displayed under the paintings along the wall of the library. And, as expected after seeing the rest of the Cathedral, this space was truly stunning!
5. Cripta del Duomo di Siena
Our next stop was a visit to the crypt under the Cathedral. This "crypt" was not actually ever used for burying bodies; it was likely just an entrance into the Cathedral itself before it became filled with debris. Although it was built at the same time as the rest of the Cathedral, it wasn't rediscovered until 1999 during routine maintenance.  Today, the public can enter and enjoy these long-hidden frescoes telling different New Testament stories. Apparently there used to be a series of frescoes telling the Old Testament story, but those have since been destroyed.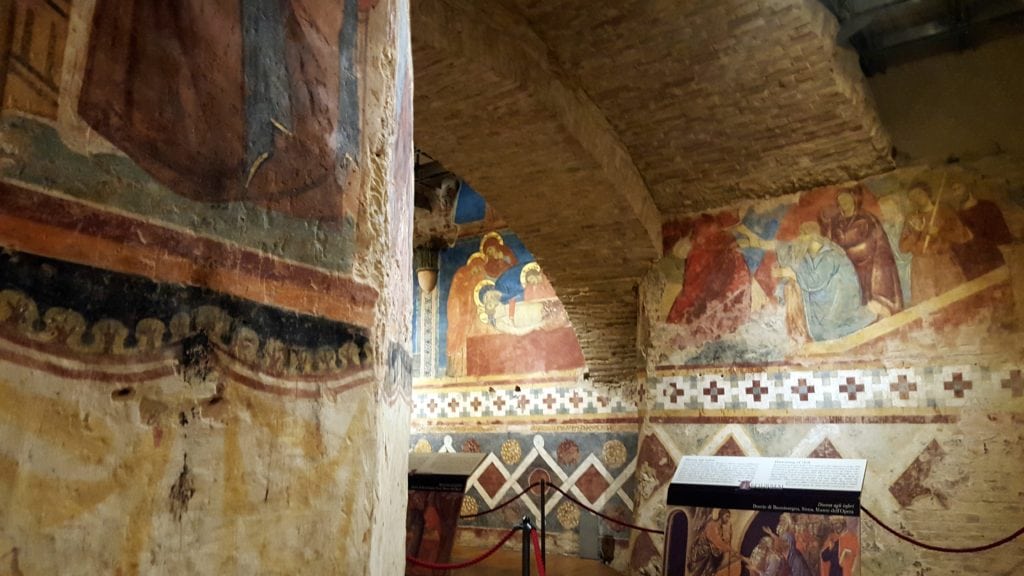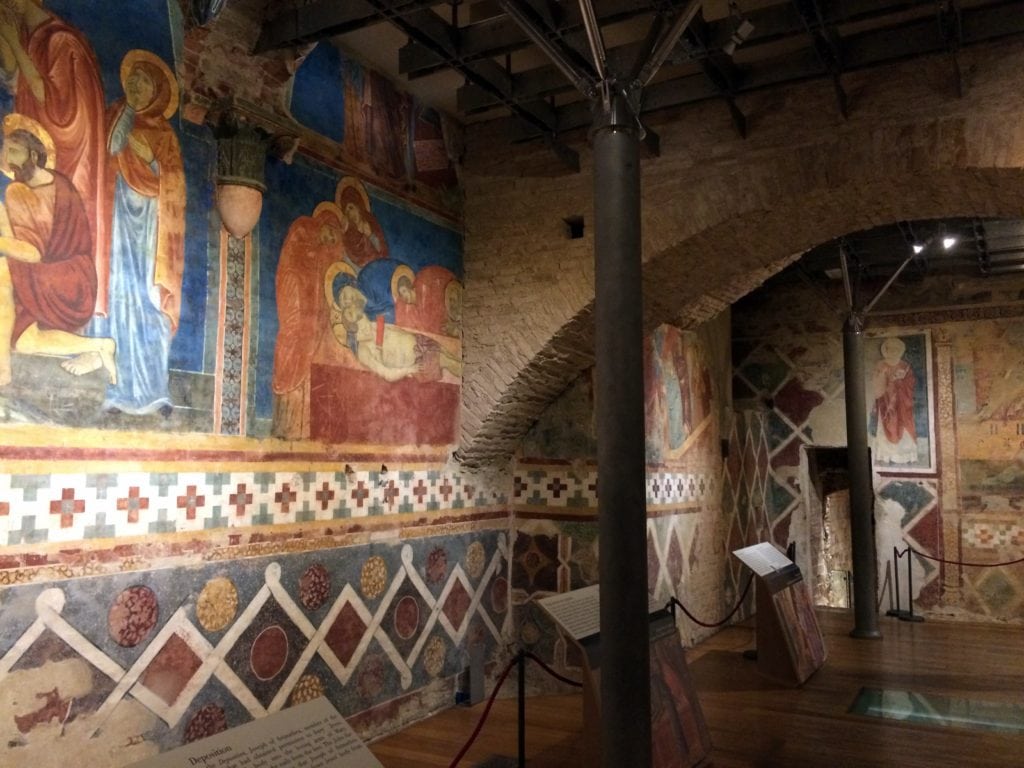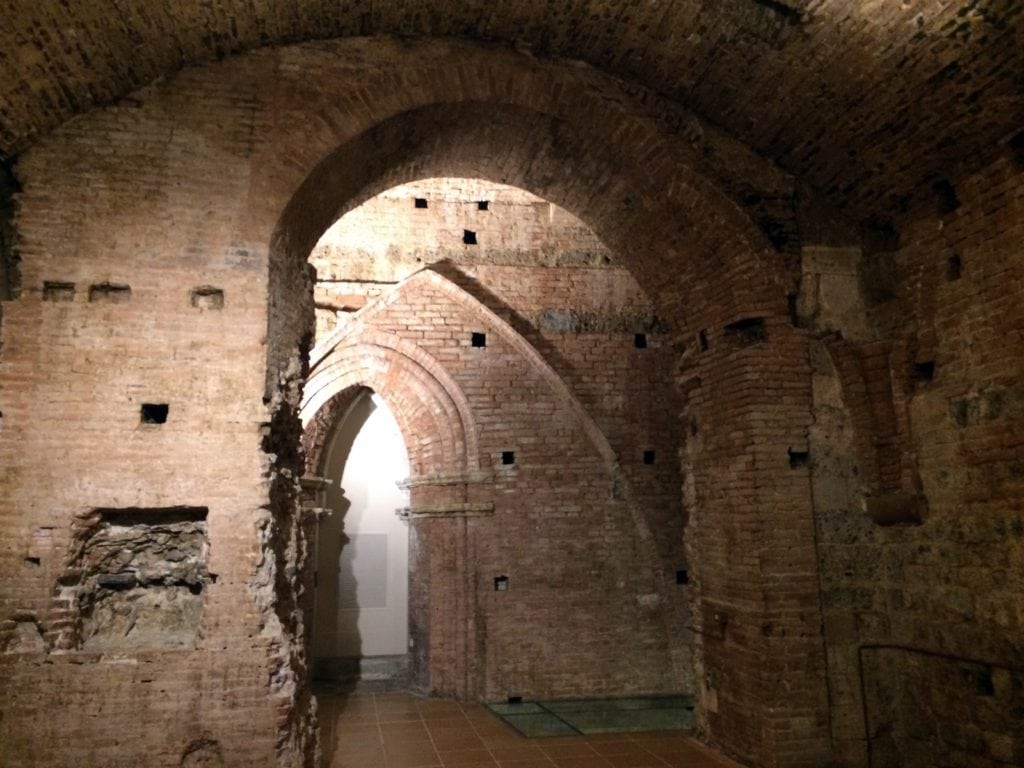 Then, we left the Cathedral and went down the gorgeous marble staircase to our next stop on the tour of the Siena Cathedral complex!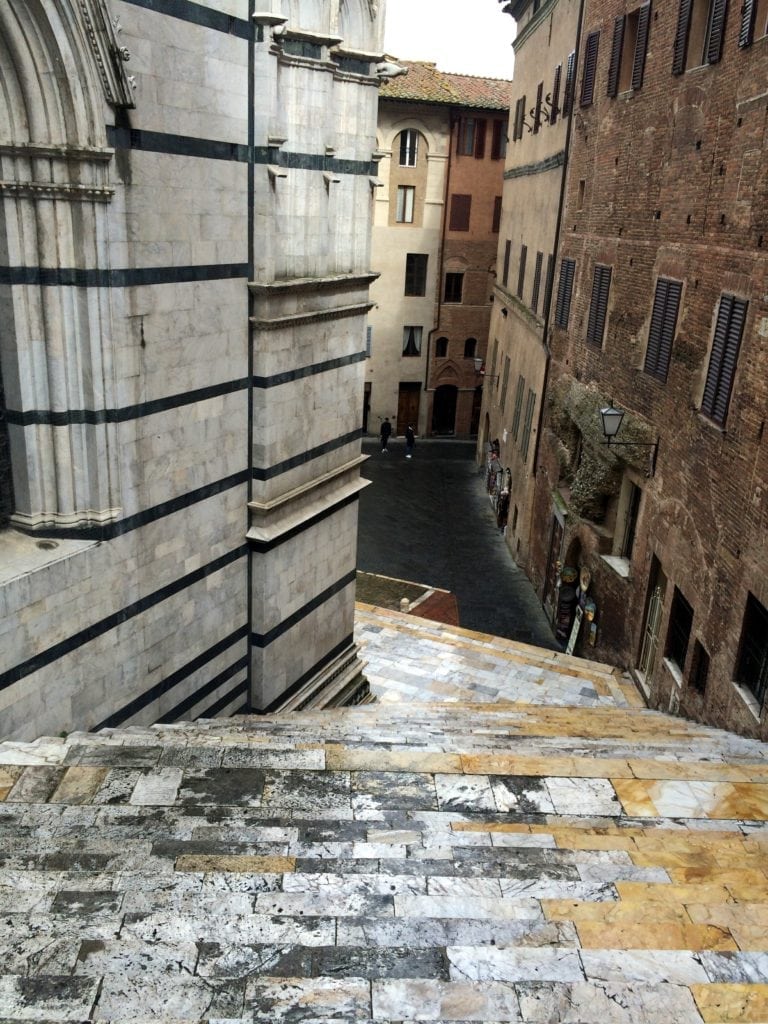 6. Battistero di San Giovanni
Our next stop in the Cathedral complex was the Baptistry of St. John. Inside, there are paintings that represent the life of John the Baptist along with the beautiful marble baptismal font and other frescoes. While a quick stop, it is well worth it.
7. Museo dell'Opera Metropolitana
Our next stop included in the Opa Si Pass was the Museo dell'Opera Metropolitana, which houses even more Italian treasures, primarily Gothic Italian sculptures.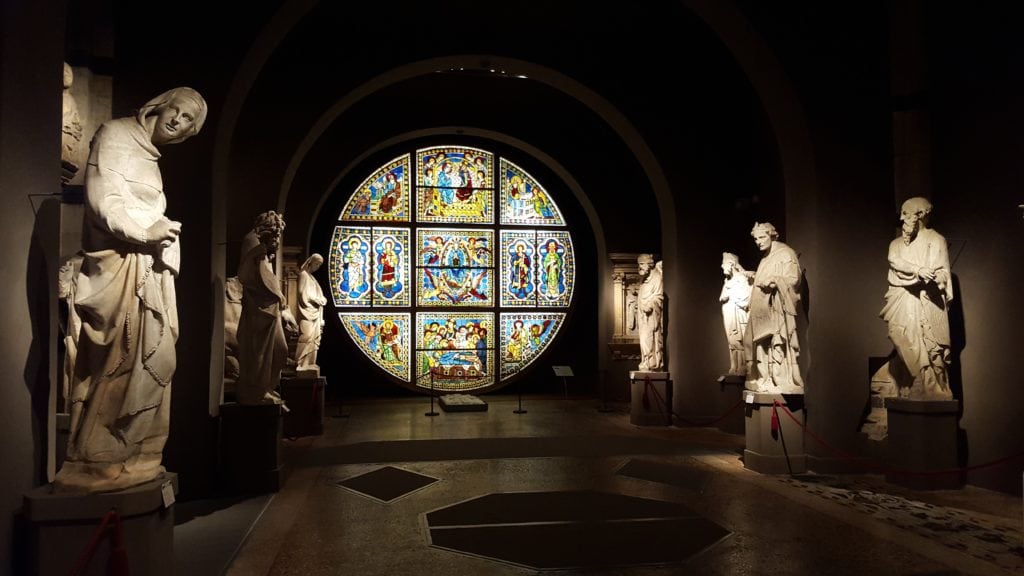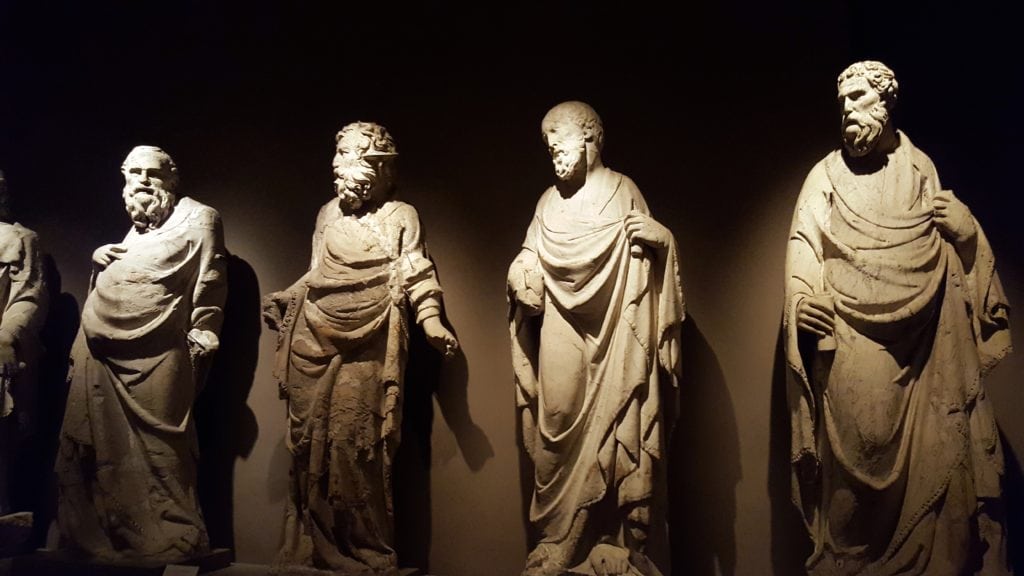 And, for the finale and crème de la crème of our day, we went to the top of the museum for a panoramic view of Siena. It was truly stunning and the perfect way to end our time in this city.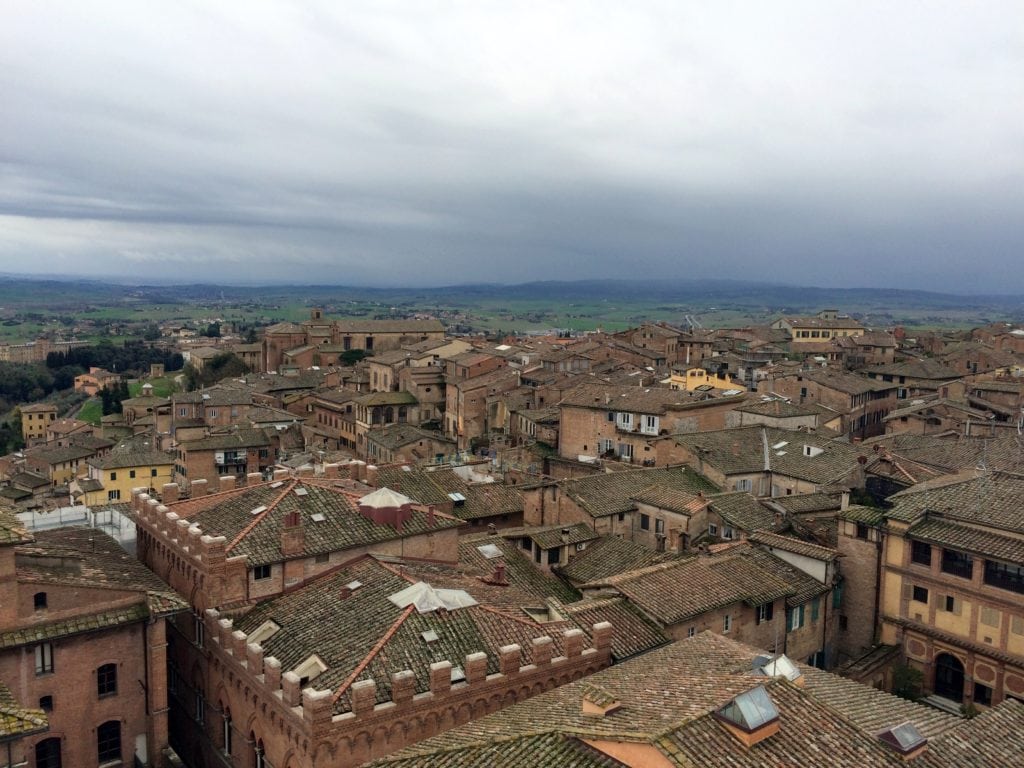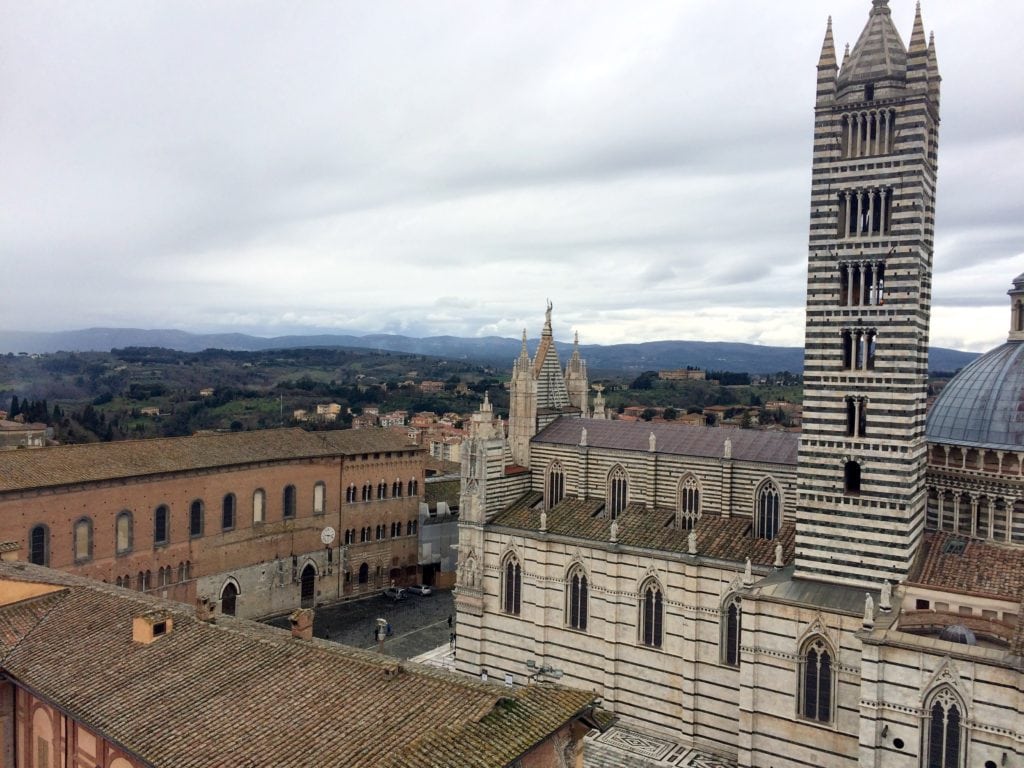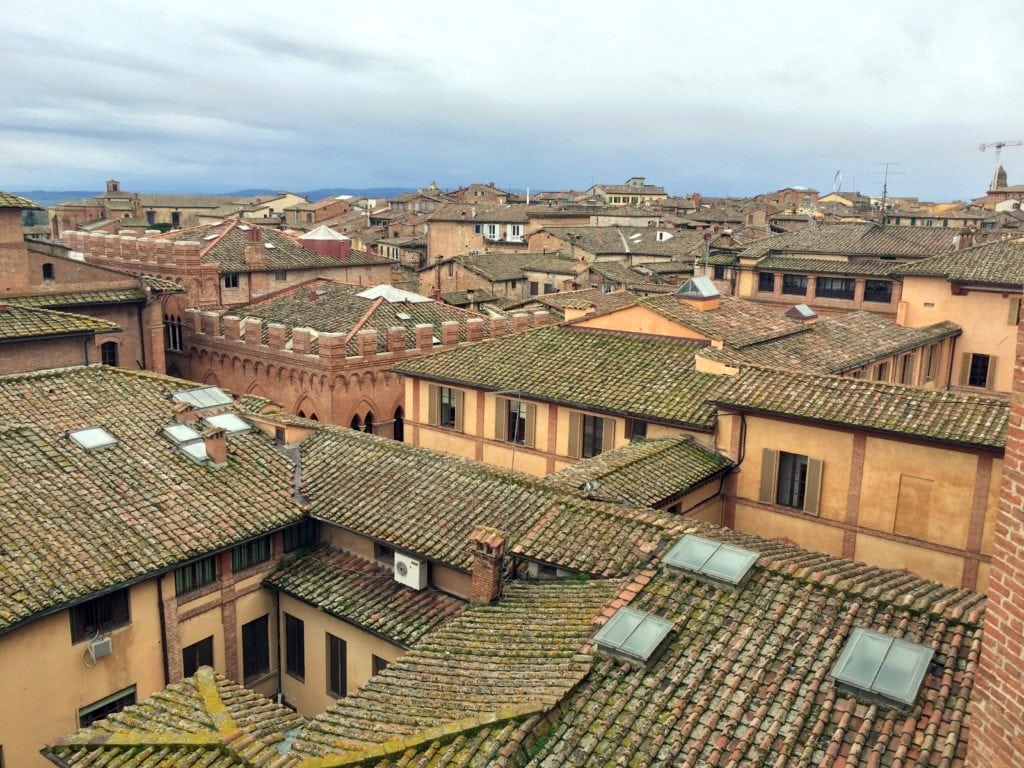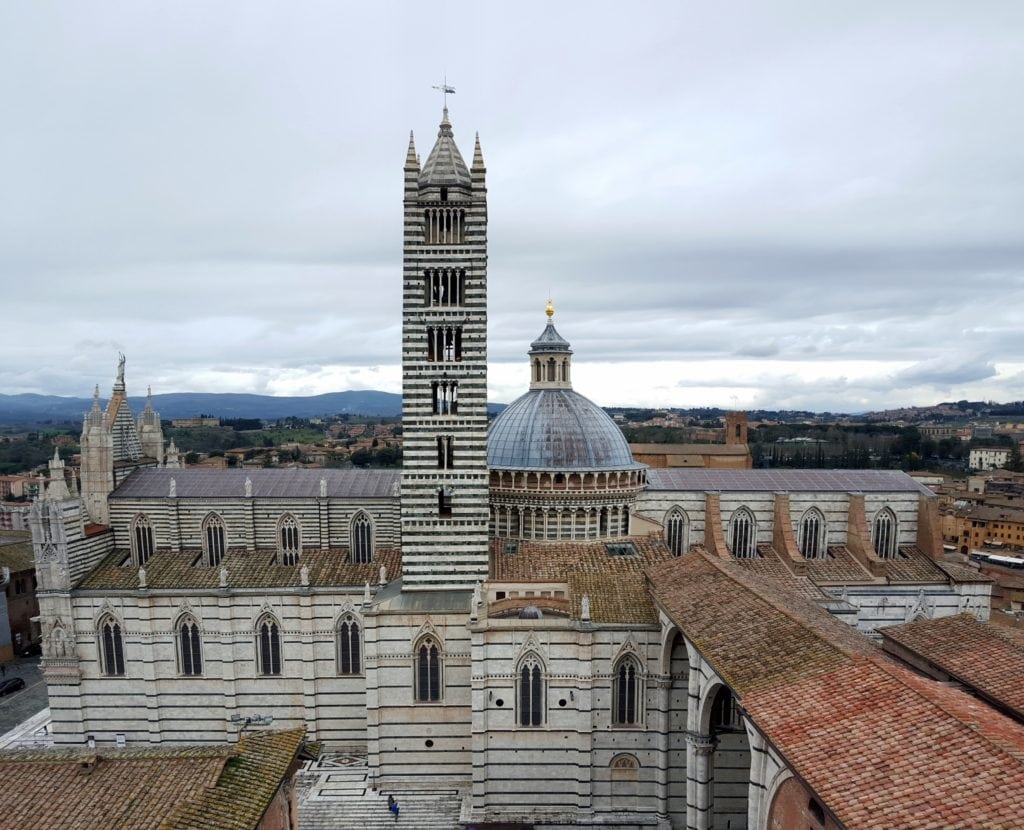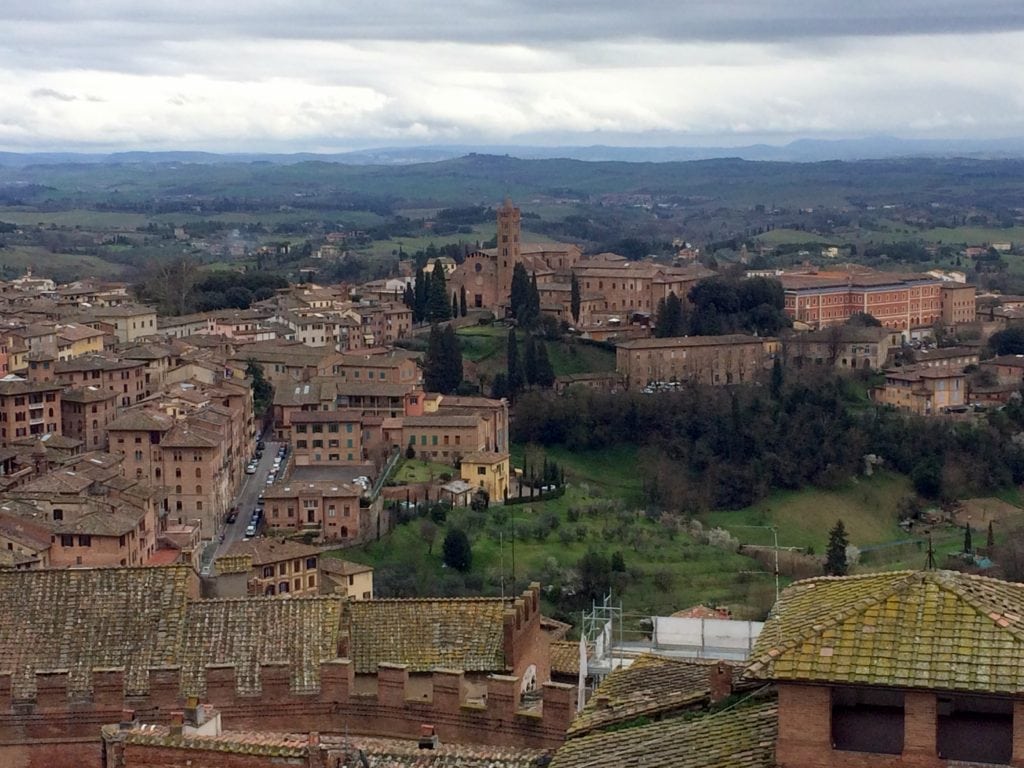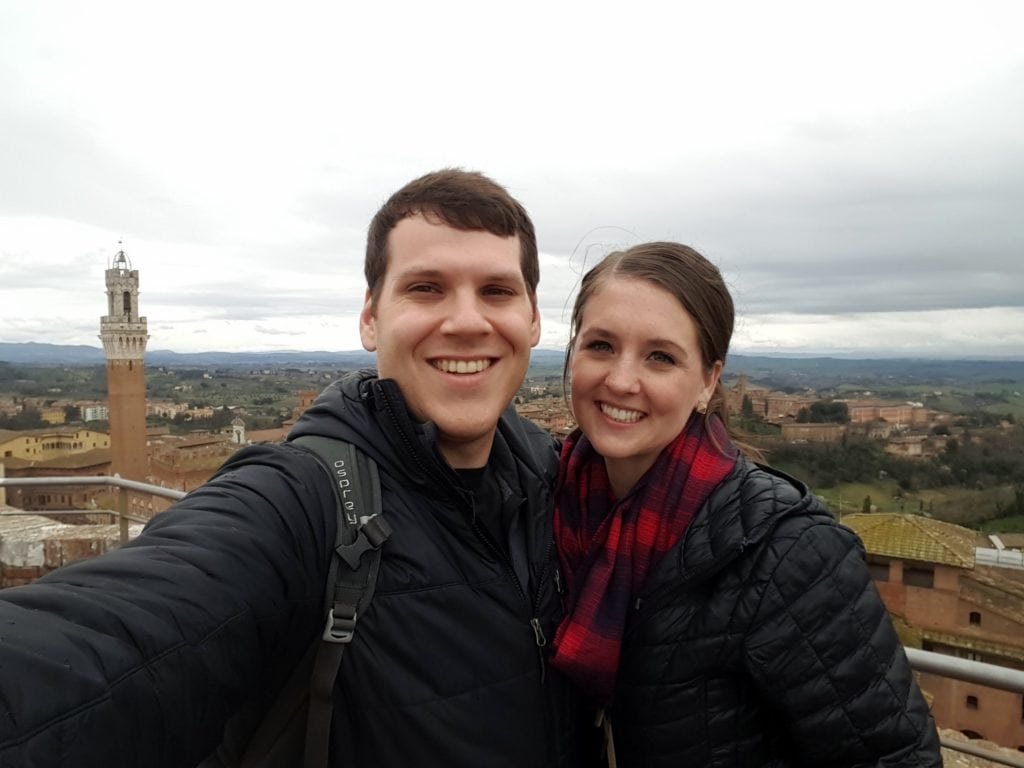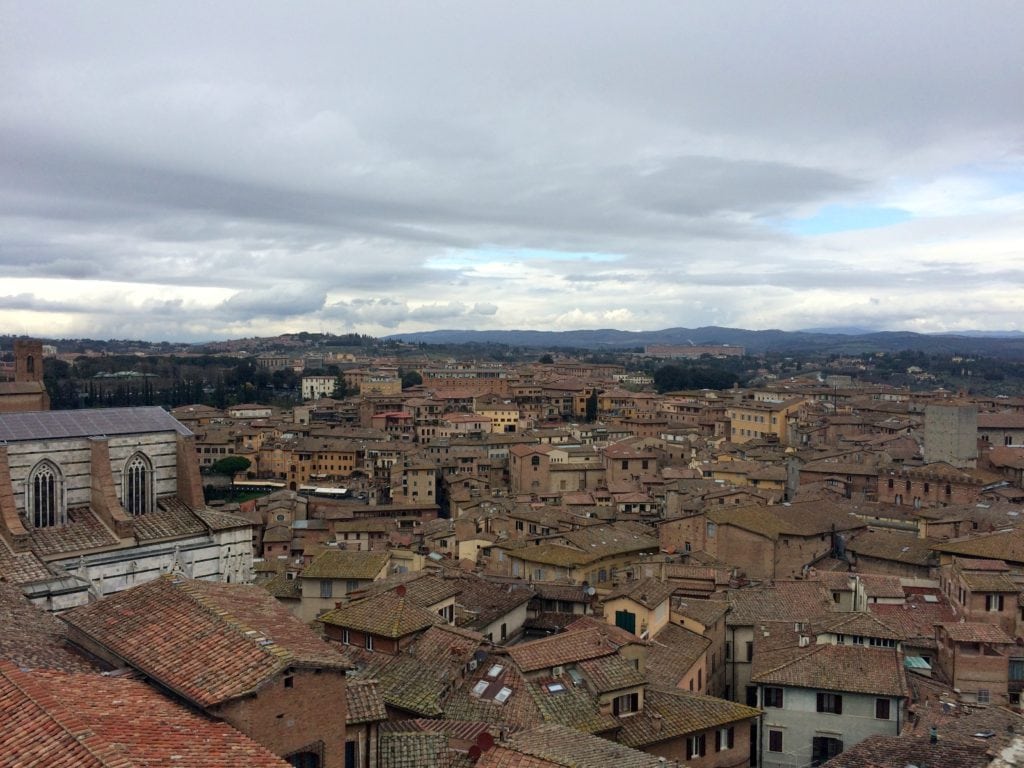 And with that, our jam-packed cultural tour of Siena ended! There is so much to do and see in Siena itself, not to mention in the surrounding Tuscan countryside. You could easily spend three to four days or more with your home base in Siena, but however much time you have, I highly recommend that you start with this list of seven things to do.

Our time in Italy was part of a 2.5 month trip across Western Europe.  Click here to check out all of my posts from this adventure!
Other Italy posts:
This article is now available as a mobile app. Go to GPSmyCity to download the app for GPS-assisted travel directions to the attractions featured in this article.
Like it? Pin it!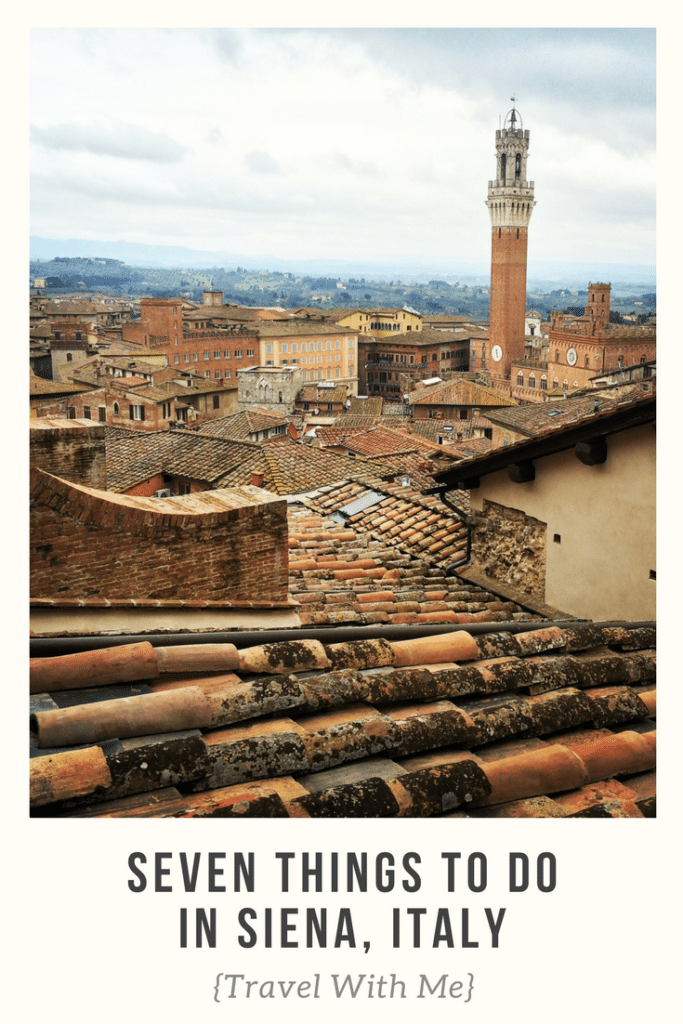 {Thanks for reading! Want to know a little more about me? I'm a CPA learning how to balance a career with frequent travel while planting roots at home in Austin, TX. When I'm not exploring my home city with my husband Daniel or cuddling with our chubby orange cat Banana, I'm probably planning, packing, traveling to, or daydreaming about our next adventure. After all, my travel mug collection is never complete. If you have wanderlust too, be sure to follow me on Instagram (and InstaStories!), Pinterest, and Facebook, or subscribe to my blog!}